Milestone Banners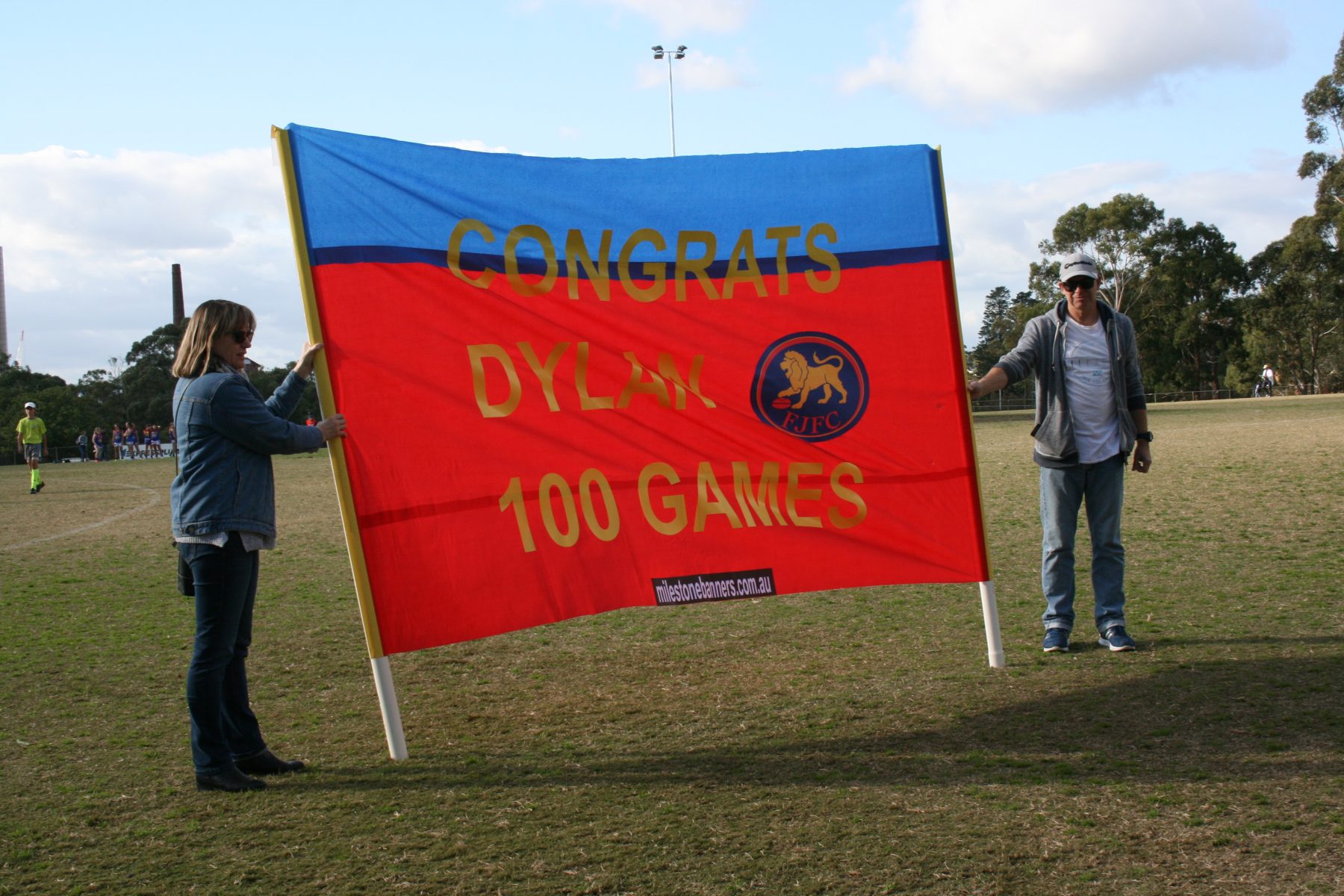 Making an FJFC Milestone Banner
You will need:
Crepe paper available at Officeworks or Northcote Plaza Newsagency on their back wall

1 x royal blue crepe paper
2 x red crepe paper

Yellow or Gold A4 paper
Double sided Sellotape (250 mm wide)
Numbers and Letters (Templates below)
Roys Logo (Templates below)
Craft knife & cutting board
Spray glue or PVC glue
Glue brush
Poles (PVC piping – Plumbers section at Bunnings)
Banner Construction Steps
Lay crepe paper on the floor in sequence (a) 1 x royal blue at top (b) 2 x red at the bottom (see Sample Banner below)
Run double sided Sellotape along the bottom of the royal blue crepe paper and the first red crepe paper. (Important: please remember to use three pieces of Sellotape along the crepe paper rather than one long piece as this will make it easier for your child to run through and break) The last thing we want is for a champion to hang themselves with the tape on their banner as they run through!!!
Peel off backing of Sellotape on royal blue crepe. Carefully lay first red crepe on top of the Sellotape and gently press together. Repeat for next red piece (bottom).
Work out what you want to say on your banner. Then count how many of each letter/number you will need. Write it down!
Use number and letter template (below) to print down the numbers/letters required. Print directly onto gold or yellow paper.
Use craft knife and cutting board to cut numbers and letters out. Place them on the banner to see how they look and if they fit! Don't forget the Roys logo (below).
Glue in place with spray glue or pvc glue. Leave to dry 2 hours at least. This job is probably best with a helper. One person to spray or glue the numbers/letters and one person to place them on the banner.
Run double sided Sellotape around the poles at 6 inch intervals (do not overlap as you will have trouble getting the other side of the tape off). Peel backing tape off.
Lay pole on edge of crepe paper with top of pole two inches over top edge of the banner.
Roll pole until all double sided Sellotape is covered by and stuck to the banner.
Leave to dry and set before rolling up.
Roll up and wrap in glad wrap for safety and protection (rain etc) until ready to use. Place a coloured piece of tape on the end of the glad wrap so you know where to start unwrapping on the day.
Congratulations on your milestone. Super effort!
Enjoy your banner and your day.
Go Roys!!!