Auskick
Auskick 2022
Auskick is back for 2022 and Fitzroy Junior Football Club's (FJFC) affiliated centres, Fitzroy (at Brunswick Street Oval) & Clifton Hill (at Victoria Park) are open for registrations (see links below).
Your child is required to turn 5 years of age in the year to be eligible to play.
Cost $100 per player which includes 10 Clinics, a backpack full of goodies, end of season medal & certificate. Backpacks are sent out by the AFL through Australia Post.
Clinics run on Saturday morning commencing at 9.00 am (90 mins) through to 10:30 am. Season commences on Saturday 30th April 2022 and finishes 23rd July 2022 (Presentation Day).
No Clinics on Queens Birthday long weekend or school holidays.
No football boots.
AFL team top if you have one.
Your own hat & named water bottle are required at each session.
Parent involvement encouraged.
Parents are required to stay at the Clinic at all times.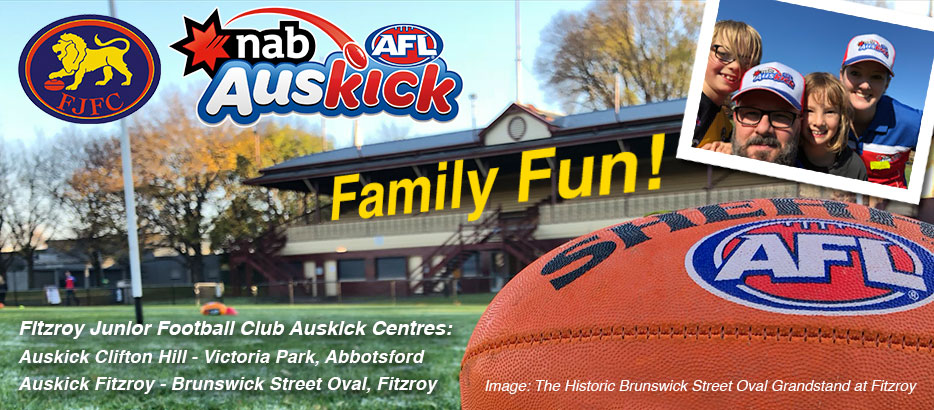 What is Auskick?
Each year, thousands of boys and girls throughout Australia take part in the AFL Auskick football clinics on Saturday mornings. Children from Prep through to Grade Six can join in the program that is designed to provide an environment where making friends, having fun with their parents/carers and improving their skills are the most important goals.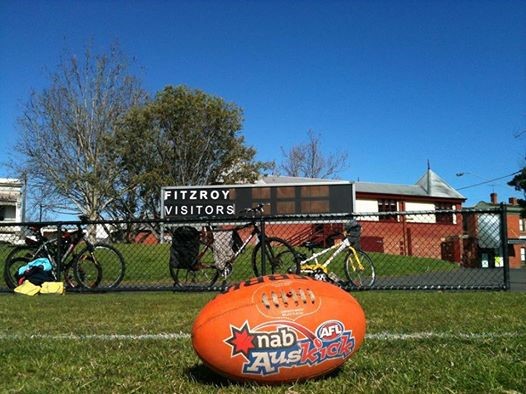 Regardless of their ability, children will improve their ball handling skills, health, fitness and confidence playing a team sport. Children also may get an opportunity to play a match on the MCG or Marvel Stadium – imagine that!
To register for Auskick at your nearest location please use the links below:
Auskick – Frequently Asked Questions
If you wish to contact us with further questions about either of the Auskick programs listed above, please email [email protected].
Fitzroy Junior Football Club (FJFC) Options
FJFC is the home of Junior footy in our area and with almost 700 boys and girls and over 30 teams, there is something for everyone!
Kids develop at different rates and Auskick is the perfect place to start a kids footy journey, but when they have the basics covered, junior football is the next step. Many kids do both Auskick and play Junior footy!
Junior footy games are played on Sunday mornings and kids can begin playing club footy/matches from Under 8's (born in 2014), Under 9's (born 2013), Under 10's (born 2012) or even Under 11's (born 2011). We also have girls' specific teams from Under 10's and older! A proof of age document will be required at time of registration.
For more information including Club/League fees, please visit FJFC Parent Information and FJFC Fees.
To register with Fitzroy Junior Football Club visit FJFC Registration.
If your age group is closed at present please contact Linda ([email protected]) to go on the Club's waitlist. More teams will open if player numbers allow.