Girls Footy
Girls Footy has been developing at lightning pace and the development at FJFC has been as significant as at any other club in the league. If you are interested in a more detailed history of girls footy at FJFC, click here.
FJFC Girls Teams in 2020
In Season 2020 FJFC will field girls teams at all age groups (provided sufficient numbers).
Footballers are grouped in their year of birth. For example, U13 football teams are predominantly comprised of players who will turn 13 in the year that they are playing.
Please see the FJFC Age Group Policy and Girls Player Placement Policy for information about how girls are allocated to age groups and teams.
Girls Registration
If you would like to register to play in a girls team at FJFC, please click here.
For other inquiries specific to Girls Football at FJFC please contact our Girls Development Manager, Sophie Gammon at the following email address: [email protected].
Girls Rules
Please see Rules of YJFL Girls Football for a summary of rules specific to Girls Footy. The general YJFL Rules and By-Laws can be found here.
Click on the image below to see YJFL Girls Football FAQs.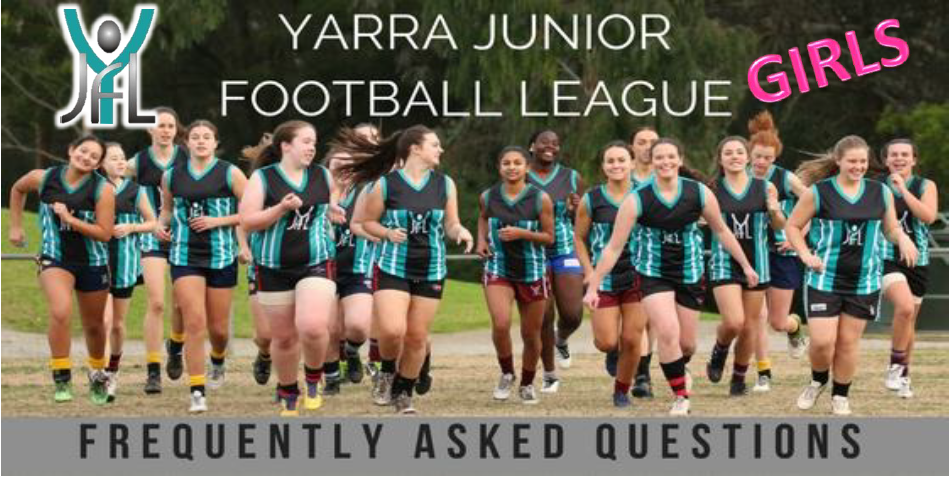 For more on FJFC Girls Footy see the menu options on our website or use the links below:
---
1.1 Latest News (yet to add)
Hot Topics
Current Girls Team Structures
Recruitment Blast etc
1.2 Latest Videos (yet to add)
Need to find cool videos of female player (i.e Katie Brennan)
Link to know her game website
1.3 External Links
Auskick – add special links
SportsTG – add special links
Courses:
Female Coaching – add special links
Female Umpiring – add special links
1.5 Resources:
Girls Footy Rules
Coaching female footballers