Contacts
Coach: Andrew Creasy
0418 548 221
Assistant Coach: Richard York & Stuart McLean
Team Manager: Emma Smart
[email protected]
Trainer: Evan Watts
Team Page Editor: Ruchira de Alwis
[email protected]
Team Photographer
Akila Heshan
0416 548 863
The Team
#01 Zac Creasey
#02 Kirin York
#03 Albert Ley
#05 Alex Carberry
#06 Baxter Gregory-Walker
#07 Jacob Day
#08 Thenuga De Alwis
#09 Nicholas Manickam
#10 Ferdy Ahern
#11 Sam King
#12 Pip Ferguson-Watts
#13 Jesse Hales
#14 Hector McLean
#15 Shol Buckley
#16 Nabil Merhi
#18 Chris Barnes
#19 Willem van den Enden
#20 Aiden Cahill
#21 Alessandro Duric
#23 Will Stephens
#24 Zane Cocco
#25 Clancy McCue
Links
GO ROYS ...!
FUN;   RESPECT;   TEAMWORK;   DEVELOPMENT
TIPS for Round 14 (2017-08-06)
Playing with St Mary's T @ Whatmough Park
AWAY (WHITE SHORTS) WARM UP 10:45AM MATCH 11:30AM
Parent Roles (please let Emma know asap if you are not available)

Runner – Trav
Boundary – Nigel
Trainer – Tim
Goal Umpire – Paul
Time Keeper/scorer – Verity/Michael
Water carrier – Liam
Umpires Escort – Janet
Oranges & snakes – Natasha
Team Page Editor – Ruchira
Best & Fairest 1 – Maureen
Best & Fairest 2 – Samira/Sam
Events & Notices
Sausages & training – Last week of training & we'll have sausages for parents, players & any siblings – at no charge.
Stu's kicking master classes – No master class this week as we are playing the last game, but training starts at 5:30. Thanks Stu for the master class.
Jercey – Return the jersey back after this Sunday's match. So please make sure your boy brings another shirt to change into
50th Match Celebrations – Nick, Ferdy, Zane, Zac, Albert, Aiden and Baxter
Photos – Check the photo gallery
Upcoming matches…
– RD 14: Aug 06: Vs St Marys T @ Whatmough Park, starts at 11:30AM
Stu's performance at Trivia Night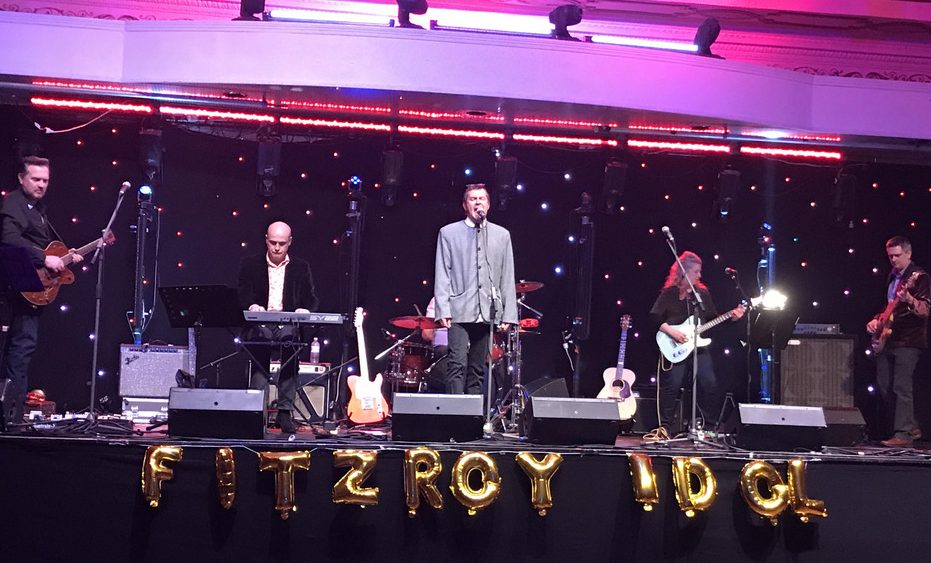 Team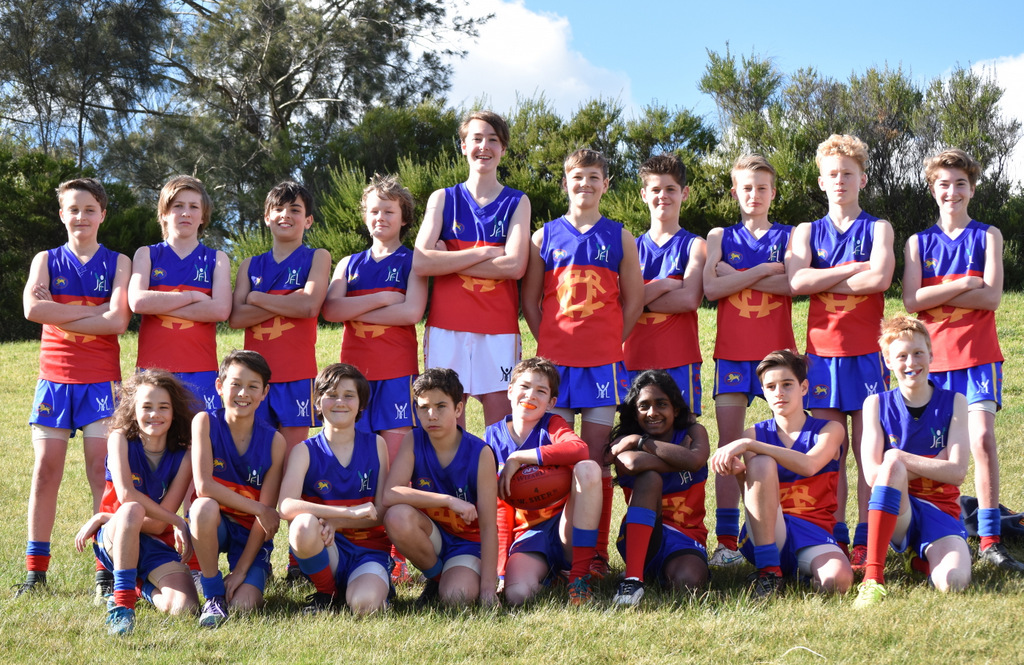 Other team photos
Match Report: Round-11
Sometimes you come crashing back down to earth …
– By Richard York
… other times earth comes along and kicks you from behind!
Fresh off our break-through victory last-up against Camberwell, the boys approached Greythorn full of confidence to make it back-to-back wins….
Unfortunately, Greythorn were undoubtably a good team that taught us a few lessons this week. While the boys tried hard and won the last quarter (and arguably held their own kicking into the breeze in the first quarter), Greythorn really took us to town in the second and third quarters. To my untrained eye, the boys were exposed in three key areas:
1. Greythorn simply outran us in the second and third quarters. In the modern lingo, they played transition football very well – getting up and down the field quickly to outnumber us at the drop of the ball on many occasions
2. Greythorn again exposed some deficiencies we have when it comes to contested marking – they seemed to get a free run at marks and were stronger in their ability to take overhead marks. They also used their bigger bodies to break a few tackles we would normally hope would stick
3. They managed to get a number of repeat entries into our defensive 50 – they successfully used a zone defence that undermined our huddle kick-in drill. That meant we often were unable to clear the ball from our defensive 50 effectively, and the defence was at times under siege as the ball seemed to come back into our defence as quickly as it exited.
With our focus on development, the coaching team has decided to use these as three areas to work on at training this week. That means we should expect the boys to have to do a fair bit of running as part of their skill drills; do a fair bit of contested marking and tackling work; and to work on our defensive kick outs. Channelling his best Tom Hafey impersonation, Coach Creasey barked out "bring your mouthguards" for training this week.
The boys sure will earn their feed for pie night! Cue reminder to tell Emma how many pies you want by tonight please!
Cue: reminder 2 – Stu will again be doing kicking practice at 5.15 up the hill for 30 minutes before training.
Despite the loss, it would be remiss of me not to note how much fun it was to have the boys all back together again after the break. Despite being noticeably distracted by each other in the warm up to the game as they sought to swap notes from their holidays (rather than focus on warming up), they did seem really happy to be back together again. I really admire the way the boys have come together as a group this season.
I also wanted to praise the way some of the boys – especially Alessandro, Clancy, Chris, Jake and Nabil – pushed on despite discomfort and some heavy knocks/hits at some point. They showed true grit and determination. It was also nice to see Kirin get his first goal for the season; and some boys a chance to play new roles (seeing Zac in the centre in the last quarter, and Clancy playing rover to Will, were highlights for me).
Finally, I wanted to thank our 2 U-12 fill-ins (Lachlan and Laird) who backed up from their own game to give us invaluable cover on the bench and additional run around the ground. They were great kids who quietly fitted in with team. I hope you both enjoyed the experience.
Match Report: Round-10
(2017-07-02) Vs Camberwell 2 @ W T Peterson Oval
Breaking the drought
– By Richard York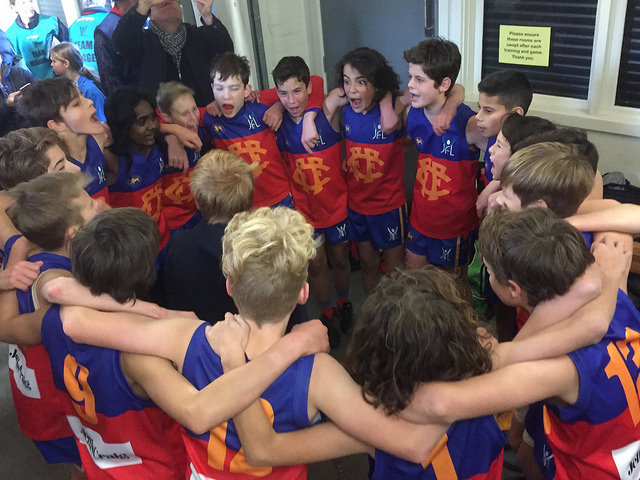 More Photos…
Well, how good was it to hear the boys sing the team song? Sent shivers down the spine. What a win – 8 goals scored; and a 4 point "come from behind" victory in front of a 133-year old grandstand.
The coaching team took a bit of a risk in the last week or two and had built this game up for the boys as a real chance for victory. The opposition – similar on the ladder to us – and the chance to play at the historic home of the famous Fitzroy Football Club helped establish a bit of a finals-like atmosphere. And the boys responded so very well. Before the game there was a real intensity as the boys prepared for the game. There was also great leadership from Schol, Chris and Kirin whose intensity helped to switch on and focus the boys before the game. Despite being injured and unable to play, Ferdy was also there to urge the boys on. It was a great improvement on earlier games where we didn't seem to focus ahead of the match.
And despite falling a coupe of goals down early, the boys never dropped their heads. Schol was inspired in the first quarter; and Zane's great work in front of goal kept the scoreboard pressure on the opposition. There was also great work around the ground, with Alessandro stepping up to play in ruck given the absence of our two normal ruckman (Clancy and Hector); and Aiden fighting hard in the forward line despite feeling a little under the weather before the game. He walked away with a goal at the end of the match; and a giant smile on his face.
As always, however, it was in the third quarter where we turned the game around. Albert lifted to a level I've never seen from him before – he just willed himself to contest after contest and kept driving his team forward. It was truly inspiring. Jake started intercepting the ball well on the half back line; Zac began reading the play well on the wing and collected heaps of possessions; and Zane just kept banging through goals. As 3/4 time approached, Sam drifted forward to kick his first goal of the season with a clutch kick just before the siren. And somehow, we were only a point down at 3/4 time.
The mood in the huddle was electric going into the final quarter. Coach Creasey said intelligent things about wanting the ball and if we kept our intensity up we would run over them; Assistant Coach York simply blathered out emotional excitable kinds of babble….but somehow it all worked. After months of practice and coaching, they knew what to do and wouldn't be stopped.
What a stirring start to the last quarter. Within a minute of the start of the quarter we had hit the front. Defying all sports gods, I turned to Creasey and said I reckon we've got it – you could just see our boys had had enough of losing and wanted the ball more. Pip, Will and Nick lifted to win ball through the middle of the ground and keep pushing the team forward. Camberwell started to look rattled and even started targeting Pip with some rougher stuff; only to face the fiercest little guy on the ground (Kirin) stepping up to fly the flag for his team mate (I have no idea where that kind of bravery comes from). It is great when the boys stand up for each other; while still not crossing the line and doing anything silly.
And with game in the balance, enter Nabil from stage right to bang through two incredibly classy goals (including one banana kick from deep in the pocket). What a natural forward; and what a beautiful kick of the ball he is.
As I foolishly gave Creasey the biggest bear hug of all time, he reminded me the game wasn't over yet. And how true those words were – somehow Camberwell got a second wind and started attacking us again. Alex and Thenuga lifted and started tackling like men possessed; and Jesse, moved to full back, started launching 40-meter ball bursters to clear the defence. Zac displayed Creasey-like speed and zip to chase down opposition forwards and lay crunch tackles, but still somehow Camberwell grabbed a couple of goals and as we entered time-on we were only 4 points up. In the moment of truth, the boys won the clutch centre clearance and surged forward to lock the ball in our forward line. As the siren sounded, the ball was in our hands and victory was assured. Cue general child and parent madness as we finally broke our duck.
The boys were humble in victory though – and shed a thought for Camberwell who, like us before the weekend, hadn't had a win this season. Like us though, they will have learnt so much resilience this season; and hopefully are laying the foundations that will see them develop a great team over the next few seasons.
Thanks so much for all the help and support from parents. And well done to the boys on getting that first win. Such a shame Stu and Travis couldn't be there this season after all the work they have put in to help coach the boys over the season.
Match Report: Round-08
(2017-06-18) Vs Bundoora @ Ramsden st Oval
Empathising with pancakes…
– By Richard York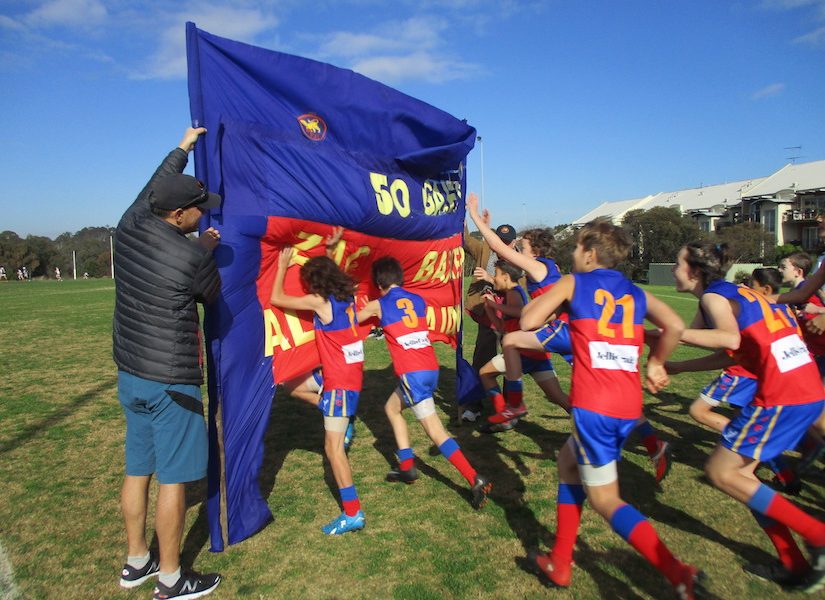 More Photos…
Welcome back to football after the bye; and welcome to the second half of the season.
Damn, we just don't seem to match up well with Bundoora. I think that, with the exception of Warrandyte (who went up to a higher division), we have had parts of every game against every other team where we have been on top. In most games we have won a quarter or two (in one case, we bizarrely won 3 quarters but lost the game!!). But those boys from Bundoora truly seem to have our measure this season.

Despite that, I keep seeing things in our game that make me enthused:

– once again we saw a "Barnes"torming run down the ground from Chris resulting in a glorious pass and team goal
– I saw passages of play in the second half where we had 3 or 4 successive passes to team mates as we moved the ball down the ground – the work on kicking and marking drills at training is bearing some fruit
– Alessandro continued to increase the number of overhead marks he takes (as well as improve the depth of his kicking) – by my count he took 3 this week
– Pip is starting to truly gain in confidence and now attacks the ball with intent – each week he seems to get better and is now not only getting the ball but starting to dispose of it quickly and effectively
– Ferdy stood out with his support for team mates – sprinting 20 meters from behind to provide a handball option for a team mate who had taken a mark (just needs to sharpen up the kicking skills once he gets the ball!!). That is really advanced stuff though, and a great example of giving extra for his team mates. He is one boy who really tries to implement the things we teach him
– Albert did a stunning job to turn around the centre clearances in the second quarter when swung into the middle
– William managed a wonderful goal on the run and showed real ability when moved further up the field and away from his traditional spot in the goal square
– Clancy continues to show he is equally adept in the backline as he is in the ruck
– Nick showed he can gun and run from the half back line – I keep marvelling at how balanced he is with his movement an evasive skills
– Nabil and Zane keep showing us how dangerous they are up forward – it is truly a dilemma knowing whether to play them up forward or through the midfield. It has been great seeing Nabil score his first goals for the club in recent weeks
– Kirin, Zac and Baxter worked hard with the "one percenter" tackles and shepherds for team mates – even if they are not having a game where they get lots of kicks, they can always be relied upon to contribute to the team and support their team mates
– Aiden "unleashed the beast" in the final quarter to show he had had enough of Bundoora getting the better of us – his attack on the ball showed real leadership
– Schol did a masterful job filling the hole as the loose man in defence in the second half – his kicking on the run has really improved over the season and he has such lovely balance when he disposes of the ball
– Sam came back and started to find his feet again in the second half with his determined attack on the ball
– Hector bravely fought to hold back the opposition at full back – despite having to get off his sick bed after a few days being down with the flu – really gutsy effort there
– Alex tried his hardest to again lock down the opposition's best attacking player; and Jake continues to be a brave lock-down defender who tackles hard and goes in well for the ball.

So, much to be enthused about. It was also great to see 4 of our boys (Aiden, Albert, Zac and Baxter) charge through the banner at the start of the game to celebrate their 50th games with the club. I am so proud of each of them for reaching the milestone. They are all wonderful boys with such great character – they always put in and give the best of themselves.

But I do have to admit, there was a bit of a feeling of flatness after the game. I could certainly sense some of the boys were a bit dispirited – the start was disappointing with six goals conceded in the first 10 minutes; and a real struggle to gain control of the game after that.

But I could also sense a determination to really strive for that first win. And they did lift and show me they are still invested in trying to improve in the last quarter. I sensed something change at the end there – perhaps a resolve to stop being beaten has started to form.

Please keep encouraging the boys. In my view, there has been really strong improvement over the season. I also believe we have a couple of more evenly matched games coming up. If we can put our poor starts to games behind us; switch on right from the start; man up tightly in defence and win the centre battle right from the start, I can really see us with a couple of great opportunities to push for wins over the next couple of weeks.

Training is again this Wednesday at 5.45. Stu is unable to take kicking at 5.15, but Andrew and/or I will be down there again at 5.15 to help the boys with extra kicking skills practice. I can certainly see the improvements coming.

Also, stay tuned….Emma has a pie night plan hatching for a future training night.

Looking forward to Sunday's game and a chance to stiffen the resolve further and push for that first win.
Match Report: Round-05
(2017-05-21) Vs Glen Iris H @ Righetti Oval
Huge improvement on the weekend!
– By Richard York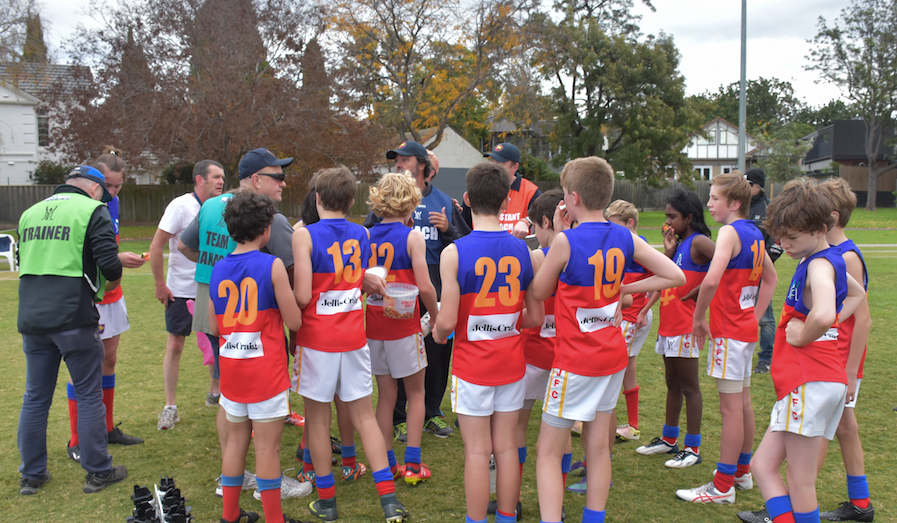 Wasn't it great to have Head Coach Creasey back in the saddle directing play from the boundary line! I really respected the way he was able to focus on individual development and asking each boy to set individual goals for themselves for the game. When the team is struggling (as we have to admit we have been!), it is great to focus on how we can each incrementally improve – it helps the boys to get a sense of achievement out of each game, even if the scoreboard is against them. 
Importantly, we also focussed on breaking the game down into 4 individual games (one for each quarter). This helps to take the focus off the scoreboard, and gives a focus for every quarter they play  – if you lose the first quarter, put it behind you and go out and play a new game in the second quarter.
And didn't we see some great results? Yes, we lost the first quarter by 5+ goals, but then held our own or won every quarter after that. In the end we went down by 27 points, but I think it is fair to say we won the game after quarter time. 
It was also pleasing to see so many boys play their best game of the season – Pip really impressed the coaching team with his ball winning ability in the backline, and has greatly improved his ability to smartly dispose of the ball and get it moving forward. Thenuga also started to show improved confidence as he got more of the ball; and Jesse got his first set shot at goal for the season after a towering mark in the forward line. Jake also stood up again and found more of the ball than we've seen this season; and Alex did a fine shut down role on their best attacking forward. We also had some fantastic performances from our star players; and the midfield stepped up this week and were able to stop their opposition getting the ball forward quickly (and deliver some fine service into the forward line). 
Numbers were an issue this week – due to injuries and other absences, we were down to 17 players (2 of which were not fully fit). So a very brave effort for those who were able to play. This week we look like having a much fuller list to play.
It was also great to see Sam get down and support the boys despite being unable to play, and run water for the team. A great show of support for his team mates.
There is so much to work on and look forward to this week. We take on Brunswick – another team that has struggled early in the season and lies outside the top 4 like us.
Training is on again

tomorrow

at 5.45 at Ramsden – please try to get there on time to get the most out of the training session.
A reminder again that Stu runs kicking and marking practice drills for the boys to improve their skills if they get there at 5.15. I would greatly encourage as many boys to get there as possible., I am seeing great improvement in the depth and accuracy of many boys kicking.
Match Report: Round-04
(2017-05-14) Vs Hawthorn Citizens B @ Ramsden St Oval
The agony and the ecstasy
– By Richard York
With hope in our hearts and belief in our souls, we attacked Hawthorn with a genuine attitude of thinking we could take on and bring down the mighty Hawks.
And there were such wonderful efforts to praise:
Chris with his Manasa/McGuane-like 5-bounce from half-back goal of the season contender – facilitated by a fine overhead mark and pass at centre half back from Alessandro and a tenacious "make my team mate a better player" block from Ferdy – still inspires me remembering it

Nabil with his last quarter attack on the ball that ended with a ferocious contest in the middle of the ground – great to see him and his Hawthorn opponent go in hard, but safely, and carry on with the game after

Jake responding to his role as co-captain (with Ferdy) to attack the contest in defence in the third quarter – I saw a look of "I've had enough of this in his eyes" … loved the desire

Kirin with his great leading and marking up the wing (waiting for his team mate to win the ball and then lead in to space as we asked from the boys before the game); not to mention his beautiful 45 degree pass onto the chest of a leading full forward late in the game

Will S channeling Lionel Messi and dribbling the ball forward – under extreme pressure from his defender – and jagging the team's first goal of the day

Pip getting to the ball first in the back line and deciding to run and gun with fast handball to his team mate to get the ball moving forward

Typical inspired efforts from all our backline heroes – Albert; Schol; Hector; Aiden; Willem; Thenuga; Alex – to repel attack after attack from the opposition (any damn wall will eventually break under relentless pressure – our boys did so well to hang in for so long)

Clancy the super star ruckman proving he actually could be a gun full back with his great height and overhead marking

the non-stop efforts from Zane, Baxter and Jesse – even when spending much of the time starved in the ball in the forward half. They continually pushed up the ground waiting to provide options. Each of them also did well when given roles outside the forward line.
Alas, it was, in the end, another tough defeat. But as always, I love coaching these boys because they never give up. The day will come when all our improvements come together on the one day and we get a win to cheer in fine style.
The gradings are now over, so hopefully the horrible mismatches will not come up again.
However, it is clear that we have plenty of scope for improvement – and that is, in a perverse kind of way, the most inspiring thing of all. I can genuinely see so much improvement – individually and collectively – in all the boys. We are a fair way back from some other teams, but with step-by-step improvements we will close the gap and get some wins on the board. I believe it – I hope the boys do too.
This week, we will turn our focus at training to making sure we win more of the centre square contests to try to relieve the pressure on those gallant backmen (and provide some good service into the forward line for our forwards). We will also focus on creating more contested marking for our opponents in our defence. 
We will also continue to work on kicking skills with the boys – another reminder that Stu gets to the ground

on Wednesday

at 5.15 to help practice kicking before training. Those boys wishing to sharpen up their skills have been benefiting considerable from the extra practice.
Finally, I want to thank two group of boys for special efforts yesterday – our two fill-ins from U-12 (Oscar and Sacthmo – two great kids that really helped us out – thanks Matt for organising the fill-ins); and our injured boys (Zac and Sam) who came down to support the boys and cheer them on. The coaching team really appreciates that support and team-focused effort.
Once again, we lick our wounds, send the coaching staff searching for skill-improving drills, and focus on closing the gap to the opposition.
Match Report: Round-03
(2017-05-07) Vs Warrandyte @ Warrandyte Reserve
Grading season can be tough….
– By Richard York
well, the coaching team knew we would be up against it a bit today … it turns out that Warrandyte (our opponent) beat Bundoora (the team who beat us by 12 goals in round 1) by 5 goals last week. I remember something about a law of transitivity from High School maths which might suggest they would be a 17 goal better side than us. On top of that we were down 4 boys before kick off with various injuries and absences! Despite these obstacles, the boys were enthusiastic and, as always, gave their best for each other. They are a great bunch of boys that we should all be so proud of.
Yes, we did lose the game and it was by (say it quickly and softly)
almost
15
goals. But again, the coaching staff were impressed with the boys efforts. They responded well to our changes in team line up and team talks at 1/2 and 3/4 times; and I felt actually had the better of Warrandyte for the first part of the third and last quarters.
I also want to stress that during these first 4 rounds of the season, we can come up against teams that clearly belong in a higher division. As with Bundoora, this was Warrandyte's only U-

13

team. With their performances, I don't expect they will remain in our division beyond round 4. As our team settles down and the gradings are sorted out, I expect we will get more games like last week and less games like this week.
For all that, there were some undoubted positives:
Albert was fantastic in his 50th game with plenty of rebound off defence (and kicking a wonderful left foot running goal in the third quarter)

Chris and Willem did well when both moved to defence in the second half (until they both realised they were playing as a spare man in defence and left Warrandyte's centre half forward to each other – put that one down to poor communication from the coaching staff!!)

Jake was fantastic playing on the wing and rebounding out of defence

Schol was his usual dynamic self; and along with Aiden was tenacious and got so much of his own ball

Baxter played the best game I've ever seen him play – running to position well, taking a mark and almost jagging that long-awaited first goal for the team. I will love it when he finally nails it!

Alex was always popping up unexpectedly to win the ball and then deliver with his wonderful kicking

Alessandro took a great mark above his head – it will be great when other boys start to gain confidence in their ability to mark above their heads.
Overall, we went down, but there were so many individual highlights that keep me so enthusiastic about coaching these boys.
On a less positive note, Sam was concussed with an accidental head-on-head knock late in the game. I am advised he was checked over at hospital, and released. However, he won't be at training this week and is unable to play next weekend. Please join me in wishing him a speedy recovery – he is such a brave boy and a wonderfully disciplined leader and defender.
Ferdy and Zane also picked up minor knocks but bravely pushed on to help their team mates out and making good contributions.
Looking forward to seeing the boys at training

on Wednesday

night, before returning to our home fortress for

next Sunday's

game.
Heads up…..keep pushing….we are improving (I can see it) and the results will come soon.
Match Report: Round-02
(2017-04-30) Vs St Marys T @ Ramsden St Oval
Wonderful to see the improvement
– By Richard York
Apologies for the late game report – I am in Sydney on a court case this week, so things are slightly hectic work wise.
Wanted to say how genuinely thrilled we were with the boys performance on Sunday. As Andrew said after the game, every boy contributed and would have had good things they could talk about. While Andrew mentioned a number of stand out performances after the match, I had some other less obvious ones that I wanted to note:
I loved the way the boys bought into our game style and took on the roles we asked of them

I enjoyed seeing boys I knew less about before the season starting to play key roles – in particular, I thought Will S did a great job at full forward; Jake played a blinder in the first quarter and took the game on with his wonderful kicking; Zac showed us how well he actually can run and kick when he takes the game on; Nabil continues to kick the ball so wonderfully well; Hector took to his new role at kick-ins like a duck to water; and new boys Thenuga and Alessandro started to use their strength and (in Alessandro's case) height to tackle effectively and also get key intercepts to stop the other team launching into attack

From a personal perspective, I loved seeing the improvement in my son and also in Nick – he has such great evasive skills and can glide past opposition players with lovely changes of direction and pace.
Every boy is contributing and improving – it is so rewarding to see.
And of course we managed to win two quarters – and were so close to our first win. I'm not sure what the final score was (our focus isn't so much on the scoreboard), but suspect there was only a goal or so difference at the end.
It will be so nice if we can jag that first win and all sing the song together as a team.
Emma will likely send details for the next game

tomorrow

night. In the meantime, I will note that:
Andrew is away again for a couple of weeks (surfing in Bali no less), so Stu and I will do the coaching this Sunday
I am in Sydney this week, and so Stu will take training

tomorrow

with the help of Travis. If any other parents are able to help out at training, it would be greatly appreciated. I think the focus will be on marking and kicking skills
Stu has started running extra kicking skills sessions up the hill from the ground at 5.15 before training

on Wednesday

. It is entirely optional, but if your boy gets there early and/or wants to work on his kicking, feel free to join in with Stu's extra coaching session. Many boys are already showing the benefits of it
Emma has asked whether anyone has any IT skills and would be interested in being our Team Page Editor? If so, please contact Emma.
Finally, I wanted to note that at training last week I set the boys a challenge and promised them a bag of mini mars bars to share if they completed the task. They managed it well, and I want to reward them. However, I wanted to check if any parent would prefer their son not have a mini mars bar before distributing the "winnings" to the boys.
Match Report: Round-01
(2017-04-23) Vs Bundoora @ Telfer Drive
The journey of a thousand miles … Rome wasn't built in a day
– By Richard York
First, on behalf of Emma and the coaches, thank you so much for those parents able to get their boys to the game today. We had 20 boys play, and were able to cover some knocks/injuries during the game because of this. Ferdy and Chris were both very brave today with neck and leg knocks – we hope they get better soon. We now have 23 boys registered for the season thanks to the additional registrations during the week of Thenuga, Chris, Nabil and Alessandro (welcome boys – great to have you with us). Thank you also to all the parents who performed a match day role today – we couldn't run the game for the boys without your help.
Second, while not the result we hoped for, the coaches were so impressed with the boys' efforts and dedication. I could see many boys were disappointed at the end – that is natural – but they never stopped trying. That spirit will soon lead to closer games and wins. Most importantly, we prioritise the boys having fun and developing (individually and as a team) over results on the scoreboard. There were plenty of positives today – a particular highlight being the passages of play where the boys moved the ball with chains of passes (especially for the second goal we managed for the day).
Third, we want to keep reminding the boys that it will take a few games for us to gel as a team and find our best positions for the boys. At the moment we are throwing a number of boys together that have not previously played with each other; and trying them in different positions through the game. Consistency will come with the boys playing more time together.
Finally, a quick reminder that training will resume at 5.45 on Wednesday; with our second game next Sunday. Emma will confirm the times later in the week, but my understanding is it is a home game at Ramsden St against St Mary T at 11.30 next Sunday.
As always, if your boy is unable to attend training or next week's game, please let Andrew, Stu, Emma and I know as soon as possible so we can plan around the absences.
Let's lick our wounds, learn some lessons and work towards more improvement over the next week.