Contacts
Coach: Damien Wright
[email protected]
0447 728 882
Assistant Coach: Rory Nation
[email protected]
Team Manager: Sophie Gammon
[email protected]
Team Manager: Bryce Gammon
[email protected]
0417 557 399
Trainer: Lana Nelson
Trainer: Jodie Mcerlain
Team Page Editor: Grant Hargreaves
[email protected]
0423 144 528
The Team
#1 -- Estela
#2 -- Aiva
#3 -- Sabine
#4 -- Alexandra
#5 -- Molly
#6 -- Evelyn
#7 -- Claudia
#9 -- Phoebe
#10 -- Charlotte
#11 -- Harriet
#12 -- Maeve
#13 -- Madeleine
#14 -- Jessica
#15 -- Sophie
#16 -- Stazja
#17 -- Genevieve
#18 -- Matilda
#19 -- Elyse
#20 -- Fionnuala
#21 -- Esme
#22 -- Esther B
#23 -- Kaisha
#24 -- Eva
#25 -- Zoe
#26 -- Annie
#27 -- Esther W
Match Report - Round 12 v Kew Comets - 23/7/2017 (Ramsden Street Oval, Clifton Hill)
Fitzroy  7.12.54  defeated  Kew Comets  1.2.8
A terrific win on Sunday in unruly conditions. There are lots of ways to dissect and digest that game but let's concentrate on just two-teamwork and player development.
It is a great thing to play in a team. The complex dynamics of individualism within a collective. It takes commitment, belief and faith to pursue team beyond cliché. You have to actually believe that it is better to move the whole thing forward with a set of collective and group values than it is to strike out on your own. And yet you want and need players to take the challenges of the game at a deeply personal level. A lot of good things that you do as a player are for the benefit of someone else. But girls don't think for a moment we don't see it, don't respect or honour it. Quite the opposite. Teamwork is what we value more than anything else.
On the weekend the girls played a fantastic style of game. Right across the ground they played with dash and flare. Those blazing moments were created by teamwork, by shepherding, blocking, by real running and fabulous handball.
So many good moments. Here are just a few:
How about Esther B's mark, pause, handball over the top to Sophie H who ran into goal?
How about Estela? Marks (well done) on the half forward line, skips back, quick handball to Molly on the run who pumps it forward. Then later Molly to Estela. Brilliant!
Charlotte's block for Phoebe. Charlotte you had Rory and I speechless with that bit of play. All class and all team.
Sabine's shepherd for Evelyn. Just what we want to see. Sabine you are a very good inside player. You make quick and good decisions with and without the ball in your hands. You are learning from the inside out. It will pay off.
Maeve backing away from the scrum in the goal square making herself dangerous. Her team mates crack in and get it to her for a goal. I was so pleased with that Maeve. Your attack at the ball over the last month has been a revelation. But a good and dangerous forward slips out the back too. Well now that's you.
Matilda playing on the ball. Muscling up. Getting inside. Matilda you have had a great few weeks. You are coming on in leaps and bounds.
Having Annie back straightens us up no end. Annie's power, balance and pace are above all else great to watch. Annie never goes to ground. That is not through coaching that is just natural talent. And Annie it's a good thing and it matters. And it matters more the more you play. Maybe it's a hockey thing?
Genevieve almost got her opponent in a run down tackle. You can and you will. Take it out on them Genevieve. You are allowed to. You will be rewarded for being pissed off. It's great.
Elyse cleaned up time and time again. That sweeping counter clockwise left footer that every team wants.
Phoebe was as graceful, dynamic and creative as ever.
Claudia can't stop taking fantastic marks in the last line of defence or kicking goals. We practise that snap goal at training. I think it is paying off.
Molly cut 'em up. No one could keep up with Molly. Earlier in the year we encouraged Molly to run with the ball. I think she was paying attention. Now we are encouraging her to mix it up a bit. On Sunday she did just that. Keep them guessing Molly. It will give you more time and space.
Stazja has arrived. And not a second too late. Absolutely awesome game Stazja. You attacked the ball, got there first, won it and ran on. Showing courage, skill and some pace. I was so pleased well done.
Esther B up forward reading the play, getting there first and not just winning the odd one but dominating the forward line.
Esme tackling with vigour. Winning your own ball. Great to see your confidence grow. Make it their problem Esme.
Harriet kicked a goal. Wooo!
Alexandra, after missing a running shot on goal, gets another chance to run at goal. Steadies, takes responsibility and nails it. Alexandra you summed up that situation perfectly and owned it. That is leadership and all team. It gives everyone a burst when a player takes command like that.
Zoe's comeback game was solid as a rock. Some great marks and cleaver kicking. You are so hard for the opposition to get around Zoe.
Evelyn showed bursts of brilliance. Some wide running and an inside step. Evelyn your foot was restricting your dash but I think it forced you into a step. You couldn't outrun them on the arc so you sold some candy and got inside your tracker. That is very good. Do more of it.
Sophie Hargreaves had a game to remember. Tap ruck work, winning the ball front and back and goals. Two against the wind for goodness sake. But two things stand out. Firstly the pace you showed on the grandstand wing. That is the fastest I have seen you run. It was great to see you stretch yourself like that. It is a running game. You run like that and it changes everything about your game and our team. Push yourself to find it Sophie. Take command of it. The other moment was right at the end of the third quarter on the centre wing coaches box side you went for a mark on you own. You were running and you leapt and met the ball at full extension at the highest possible point of your jump. You dropped it, landed and kept running. I don't care about the drop Sophie. That is one of the most significant moments of our entire year. That is a step, jump, a quantum leap,a tectonic shift. That is the next level of football. Again find it, practise it, teach it.
Esther W winning the ball on the left half forward flank. Esther senses the goals, she is out, she is stuck on her left,so she puts her head down and tries to outrun them. It didn't work and I don't care. I love that Esther W wanted to beat her opponent. She wanted a goal. Don't give that up Esther W.
Eva put in a stunning game. Her strength and skill standing out. Trusting herself more and more to play on and run with the ball. Eva only got a half on the field and every second of it she dominated. We have a big list of players and have to manage game time for all girls. Eva didn't whinge or fuss. In fact none of our girls do. They are part of a team and that is a grand thing.
Finally two little moments.
Nobody gave more on the field then Madeleine. On Sunday Maddie was rostered off. There she was running water. Helping out. That is inspirational Maddie thanks heaps. You are a ripper.
In the last quarter Kaisha stood next to me draped in a white blanket watching the game. She offered the most genuine and straight forward analysis of the game without an ounce of adolescent insouciance 'I love footy, I would play it all the time if I could.'
Good enough for me.
Thanks to everyone who lent in on Sunday.
Damien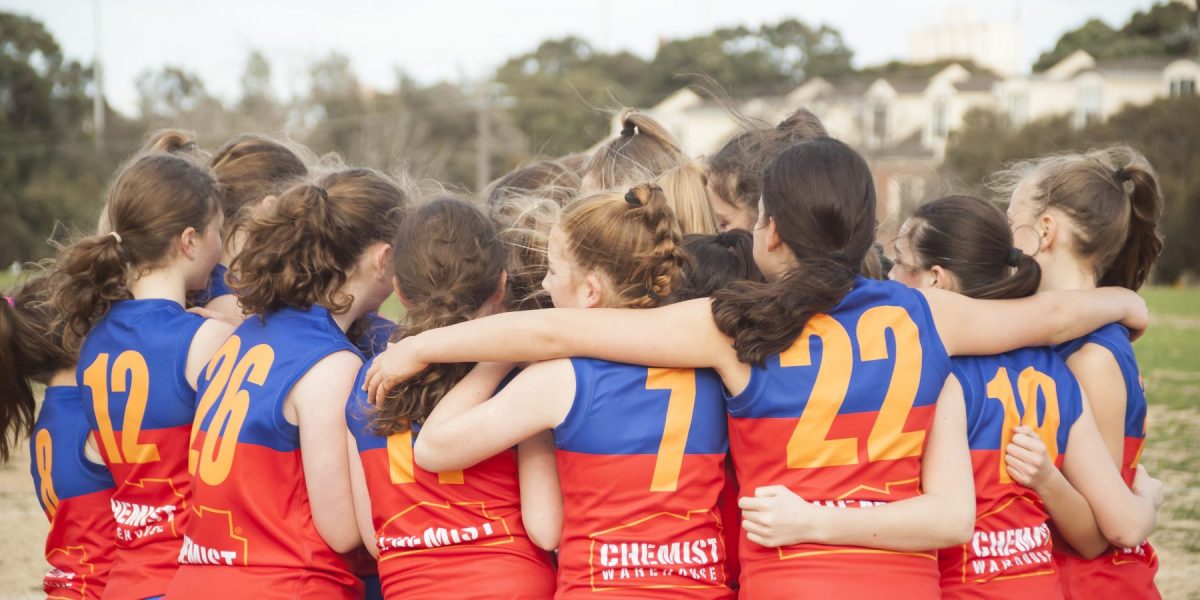 Match Report - Round 9 v Parkside - 25/6/2017 (C H Sullivan Memorial Park, Preston)
Parkside  2.2.14  defeated by  Fitzroy  2.6.18
I love building, construction, making. Seeing things built, seeing an idea realised. A design, a theory, a thought or conversation writ large. The actual making of things. The craft. I had the distinct feeling on Sunday, as I watched our girls dismantle Parkside, that we were witnessing something being built. Watching Matilda win her own ball, take intercept marks, kick with control and purpose, even smile a little, was like watching something being made. An extremely gratifying constructivist moment.
Parkside were great; they were skilled and determined. We do not take them for granted and the tucker after the game was very welcome and much appreciated — but we were better. And we were better because we played like a team. With a mixture of structure, discipline and dare. It was great fun to be part of.
But back to my building metaphor (allegory). Football teams are built by defence. And our defence on the weekend was something to behold. Led by Maddie, Zoe, Elyse, Claudia and Esther W, they were awesome. Well organised, smart, desperate and creative. Over and over again they were able to hold Parkside while our midfield rushed back to help out. I know it's not supposed to be about winning, and it is not, but it is good to know how to win. Girls, you know how to win: by not losing. That is how you do it. You resist and resist and resist and resist and resist. Resistance is contagious; your forwards start defending, not letting the ball out and you score. And that is what happened. And I am sure you agree it was so good to watch. Be proud of the defensive game girls. I know you are. I can see it in your eyes.
There must have been a dozen smothers. Our tackling was ferocious. All that in-close, contested and defensive stuff was superb and the girls reached a new level of commitment to that physical game. But equally as pleasing was the forward play. The hard running of our centre line to get ahead of the ball when we had it. The risk taking and adventurousness of our play-on game was on display. Molly was superb in this. Playing on whenever she could. Winning the ball and taking the game on again and again. Maeve read the ball beautifully off the boot. Leading up to the ball, getting to the contest first. As a forward you have to read the ball and react more quickly than the defenders or oncoming mid-field. Not many can do that. Maeve can do it.
Then Alexandra bashed away in there. Contesting, keeping the ball in our forward line. A game is coming, Alexandra, when you will kick multiple goals. You are doing everything to make that happen. It will. And I can't wait. Kaisha again was inspiring. In Kaisha we have a forward with speed, power, aggression, athleticism and determination who is developing a great kick. Sophie rucking and marking, running with the ball. Giving Sophie a bit more responsibility in the ruck was a good move. Stazja and Sabine were desperate, never allowing Parkside to clear the ball.
A special mention goes to Eva, Charlotte and Phoebe.
Phoebe, that was something else. You were fantastic. You were just plain too good. That was a complete game. You attacked and defended equally. It was a joy to watch Phoebe you are a marvel. Eva, the way you are running with the ball and kicking to our advantage is taking us all to another level. You are setting the standard of field kicking. Charlotte, I was discussing the game with my 18 year old son, Noah. It is the first game he has seen for the year. His words were: "How good is that number 10? "Hundy-hundy she is good!" A somewhat annoying way of expressing himself but his analysis is spot on.
I should finish there but one more thing. When the game stopped too early in the third quarter, you all had to go back out and play another three minutes. I understand why their coach wanted to play those minutes. The ball was in their forward line. That was the scoring end. That was their push. You were all magnificent in your ability to re-group, concentrate and not concede a score. Girls, that is really hard to do. And you all just went out and did it. Be proud of that. But it was Charlotte who lead the way. The first three contests after that restart, Charlotte was desperate. She won or stopped them all. That was the moment. Charlotte, had you not taken us to that level straight up, Parkside had the momentum. But they could not win the ball because you would not let them. You set the tone and your teammates stepped up. Rory and I were very impressed at both the physical and emotional maturity of that moment.
Good win.
Guess what? More practise. Our marking and kicking is getting better but needs to improve. We will continue to practise our set up and run run run.
Cheers,
Damien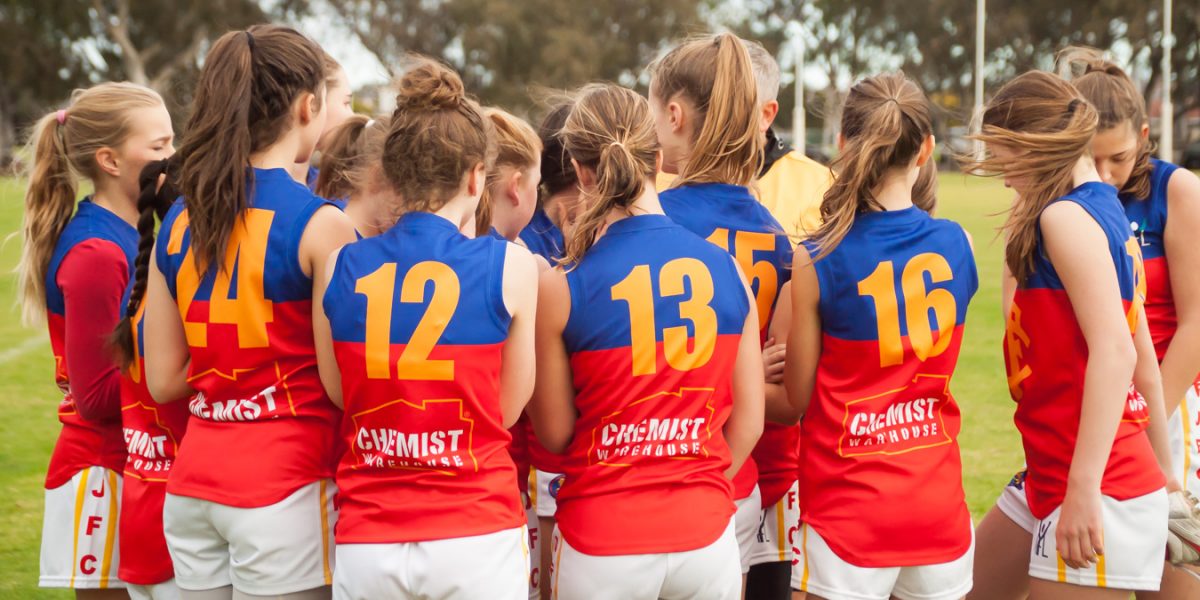 Match Report - Round 8 v Richmond - 18/6/2017 (Olney Oval, Fairfield)
Fitzroy  3.4.22  defeated  Richmond  0.4.4
Congratulations girls. It was fantastic to have a win against Richmond in our first game at Olney Reserve. Thanks to the club for preparing the ground and the rooms. I was a bit trepidatious about the ground at first, but I really liked it. The banner on the wall of our room. The fold-up table with the tucker on it. Little kettle, camp stove. It worked for me. It reminded me of North East Arnhem land. Everyone loves footy. Let's make that ground our own.
So girls, you showed three of my favourite things in life on Sunday: resilience, persistence and ruthlessness.
As a team you have held together, you have kept your chins up and your eyes to the level for the last month. You have all trained hard, listened and learned and got better. And importantly, when you got your chance to win, you took it and you hung onto it. Richmond went in very hard in that last quarter. You could of bent, wilted, given in but you didn't. For us coaches and parents, that is great to see. And you know what? I would expect nothing less.
A couple of special mentions. What a joy it was to have Fionnuala back. I counted five touches and a goal in her first two minutes on the field. Fionnuala was fantastic. She lifted us all. As much as it is about her ability to win her own ball it is the opportunities she creates for her teammates. Both in terms of the speed at which the ball moves and the random options that are created by someone so dynamic. It is also the overall sense of purpose. Once Fionnuala took the field all the girls seemed more mobile and connected to the game. So thanks Fionnuala.
We have been developing a play on style of game. We see our advantage as speed, mobility and the ability to read the play. We have some superb readers of the play especially in defence. Elyse, Maddie, Zoe, Matilda, Claudia, Esther B, Maeve, Esther W, Annie, Charlotte, Jessica, Sabine, Harriet and the dashing Evelyn. This is our big advantage. Our ability and desire to defend is our strong suit. And I love it.
It is another thing to read the ball going forward, especially when we are developing our kicking skills. It is hard to turn. We feel that our best chance is to rush the ball forward. To run and carry, quick hands, share the ball. Play on, run, take the game on, take the risk. On Sunday we had a good go at this. Sometimes it comes unstuck, but whatever. I wanted to mention Esther B in this. Esther B did what we are encouraging her to do: play on and she got caught. I watched this when it happened to see the response and I am so pleased to say that not only did Esther B keep on playing in a focused, determined and adventurous way, but also she kept trying to run the ball. I also witnessed several of her teammates give her a little pat and say don't worry, keep going. That is very good stuff girls.
We really did try and move the ball quickly. We were led in this by Molly, Alexandra, Phoebe, Esther B, Esther W, Eva, Aiva, Kaisha, Genevieve, Estela, Matilda, Esme, Fionnuala, Maeve and Claudia. It was exciting. There was some fantastic play. I think of Esther W running through the middle of the ground with a string of handball getting it quickly to our forwards.
Congratulations to our Captain Eva on a glorious running goal. She won the ball, kept running, steadied and a long beautiful drop punt straight through. Nice. Little bit of reward for couple of weeks of hard work Eva. We are happy for you.
Claudia, what a mark! Sophie, I realise more and more how important the speed that Fionnuala brings to our game is to your forward play. You read the fast play very well. You get in front and attack it. That is what we are going to do. Get it to you quick.
We found out more about Genevieve's play on Sunday too. Genevieve, your game is about will power. When you get there you affect the play. You just have to push yourself. Just keep running. You can do that. No stopping for you.
I wanted to mention what a delight it was to have Alexandra at training on Thursday. Alexandra has another sporting commitment and usually can't get to training. Having you there made such a difference. Your energy and humour and focus were great and you took it all into the game. You played tough, skilful footy. You are getting expert at using your body to get first go at the ball. It is good to watch.
And Phoebe, congratulations on your great snap goal. Terrific all round game. You are learning so quickly. Leading from the front.
Molly, exceptional game. You are exhilarating to watch. I can see you learning by the game. You played on whenever you could and tackled ferociously. When the game was hot and tough you were all in. Well done.
Finally, what a game from our other captain Stazja. I watched your game closely Stazja and was very impressed with how hard you worked. You played on the ball and we asked you to push and push. To make sure you got to each and every play. And you did. I saw you a few times finish a
play and stop. And then realise that you had and you would run again. You push yourself enough and eventually you don't have to think about it. Well done.
Thanks to all the helpers. A very big thank you to Ian for stepping into the manager role.
Great to have Rory back. Thanks Rory.
Thanks to all those who helped with the pack up, especially Ben and Maree who worked the brooms.
See you at training,
Damien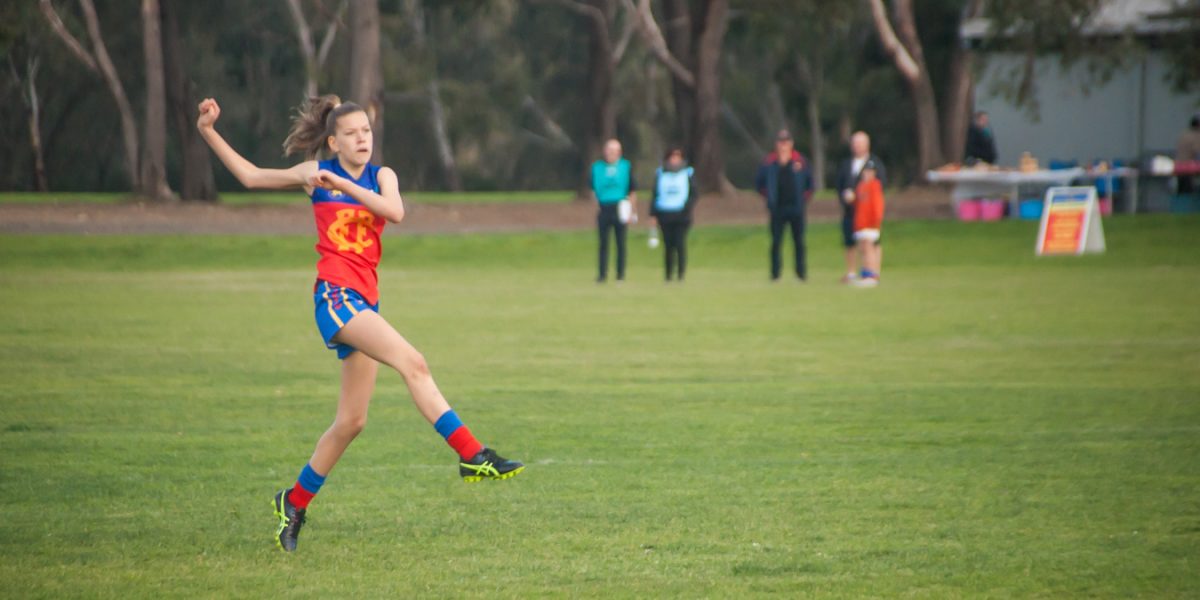 Match Report - Round 7 v Kew Rovers - 4/6/2017 (Koonung Reserve, Bulleen)
Kew Rovers  3.3.21  defeated  Fitzroy  0.3.3
That is half way through the home and away season I believe. And I am very happy with our progress. We have won some and lost some but more importantly we are a team. We have brought together girls from 10 different schools and they are working as a team. What that means is that they are playing together and for each other. I feel like the girls are proud of their achievements individually and as a collective. And so they should be. The results will look after themselves. All one can do is strive to get better and never give in and no-one who watched the game on Sunday morning could deny that our girls were all in.
So let's take stock.
The girls are training. We have nearly 100 per cent turn up week in, week out.
We are very well run. Sophie and Bryce are doing a fantastic job.
Our parents are contributing in a generous and supportive manner.
We are dealing with a large list of girls with a rostering off and a rotation system. Rory is doing an incredible job of making sure the girls all get equal game time across the season. Quite a task I assure you.
With Sunday's game and the season thus far in mind, here is a little mid-season burst for all the girls:
A massive effort from Eva who rucked all day against three opponents or maybe even four. Rucked, tackled, chased, marked, ran with the ball, kicked and punched for her team. Good on you Eva. We are so happy to have you back. You will get better and better.
And Kaisha, who played perhaps the hardest role in football at centre half forward. Constantly contesting the ball. Kaisha, the game is about winning your own ball. And you did that over and over again. You got there first just about every time. Often you could not get away, through or out of the tackle but that will come. You still won it and kept it there. Be encouraged by that game; it is significant for you and for us. If you can hit the ball like that you will get through and then there is no stopping you. It is a very positive thing to have someone in your team who can absorb that much pressure.
Elyse, your skill and courage to stand in the way of traffic stood out. More than anyone else on the ground, you seemed to understand the need for lateral running. You got yourself between the play and the goal with hard running and terrific game sense.
I know I am a broken record, but I love the way Aiva stands up in traffic. And I am sure that is the most kicks you have ever had and perhaps your first mark. It will not be long before you are dancing around them. Well done.
Sabine, I have a vision of you grabbing the ball in the middle of the pack and searching for the hand ball out. Just that little bit faster than everyone else. The more we play, the more your teammates will be able to read you and benefit from your ability to extract and dish off the ball. Sabine, watch the big footy – men's or women's. You are the player every good team wants. The kid who gets it and gives it. It's great.
Matilda, you are a tackling machine. I can see you getting frustrated at times. Not being able to get some space. Then I see you get back in again with another tackle or smother. Or push back hard to defend the goal. They call those things 'pressure acts' and they are an essential part of the game. We need them. We need you to keep doing them. The other stuff will come.
And Stazja, you are in a similar moment. You are new to the game but like all our Roy Girls you get right in there and tackle and chase. You can't teach a kid who won't do that to do it. You can learn all the other bits over time. But a thirst for the contest is something else and you have it.
And speaking of which, Madeleine, half way through the year you are having a stellar season. You have come on in leaps and bounds. You are smart, skilled, as tough as nails and ferocious. You are a inspiration to your team.
Phoebe, you have been a revelation. Your speed, skill and determination are wonderful. You played a great game on Sunday. My favourite play was when you won a mark on the forward flank in the last quarter and just played on with real urgency and got it deep into our forward line. That was a new thing for you. And I can assure you you will do it again.
Harriet, you are having a fine year. Your field kicking is fantastic. You really do stand out when you deliver the ball by foot. I appreciate how you listen and try and do what we ask.
Maeve, you blasted onto the scene with a string of goals. I am not sure you realise how happy it makes a coach that you had to come off for a spell because you were blowing so hard. What more could we ask? You go and go and go until you are spent. Perfect.
Jessica, I love the fun you bring to the game. Your excitement after spoiling that ball last week was contagious. The thing I liked about it was that you knew it needed to be done. You knew it was significant and you were proud of yourself and we were proud of you.
Annie, you have been fantastic for us this year. Your dash and power around the ball and your willingness to learn new aspects of the game are great.
Esther B bounced back with a fine game on Sunday. You read the ball very well. You are a natural attacking half back. And who does not love them. You hit the ball hard, win it and get it forward.
Esme, I am certain that's the best mark you have taken. Well done. Deep in defence, maximum pressure and you caught it. I was so pleased for you. Thats called a 'defensive intercept mark'. Thats what you want back players to do. Keep it up.
Genevieve, I loved your speech to the girls before the bounce. It was wonderful. The team is made up of all these different parts, all these tiny little moments. Seeing you take that lead was inspiring.
Evelyn, I love players who run with the ball. It is a great thing about the game. And you do it better than anyone. When you tuck the ball under your arm and back your run it is truly marvellous.
Alexandra, you are a talented and smart footballer. On the weekend you added another little trick to your trade. You heard you Dad call out to get yourself in front and muscle your opponent out during the chase and then you did. Just like that. Not only did you know what he was talking about, you executed it perfectly. Good on you.
Esther W, we missed you on the weekend. Your strength and desire in the contest help us a lot. You have a very good understanding of when a play can not be lost. When you have to stop the opposition getting it. Not necessarily winning but not losing. It is a very important ingredient in any team.
Charlotte, you are a champ. Sometimes you can't get away. You can't run and carry. Some players sook when that happens. Others get stuck in and just rumble. Guess which one you are and guess which one I like.
Estella, I did have a little smile when I saw you standing on the biggest kid on the park. I was thinking 'well I have got that wrong'. But then the ball got over the top of you both and you sprinted back trapped the ball and forced a ball up. And I though 'what a little ripper'. A bit a pace goes a long way.
Claudia, you have had a great few weeks. It is telling that your best football has been against the three best sides we have played. You have a go. And against good opposition your instinct is to go harder. That is a pretty good thing to have in life Claudia. We are all champs on a flat track but the ones you remember are the ones that go good when it is tough.
Zoe, I think you are having a stand out year. You still do all the things we know you can do from last year but you have added so much. You have added some speed and endurance to your game. You read the ball beautifully and you win the majority of the contests you get to and now you are getting to a lot more. It is fantastic.
Molly, Molly, Molly (or is it Dusty, Dusty, Dusty?) what a little beauty you are. I can't decide wether I like your big don't argue palm off or that sprint out of defence on the grand stand side. Teams are built around players like you. We are never going to let you go.
Sophie, I am loving your high marking this year. You have taken that part of your game to a whole new level. You were starved of options on Sunday as we couldn't get the ball into you. We couldn't break it open. But we will and take those marks you will.
Fionnuala, you are a terrific footballer. I don't think I have seen any other player in the competition who has your mixture of athleticism, determination and competitive spirit. You move beautifully. I can't wait for you to get back into it.
So that is the wrap for all the girls. But what do we do now?
The next bit of the season is the dark wintery bit. It is the hard bit. But it is the bit when you can get ahead of the rest. If you work hard now when other teams are whining about how cold it is you get a burst. The next bit of the season is a wrestle. Where what we value – that is team – comes into its own. We will work and play through the winter together.
We will train and practise harder.
We will get fitter and stronger.
We will learn to kick better and move the ball quickly.
We will learn more about our field position. What does it mean to play a kick behind or in front of the play?
We will teach the girls overlap running, defensive spoiling, playing on, kicking out.
Just for starters.
And we will have fun doing it.
Thanks,
Damien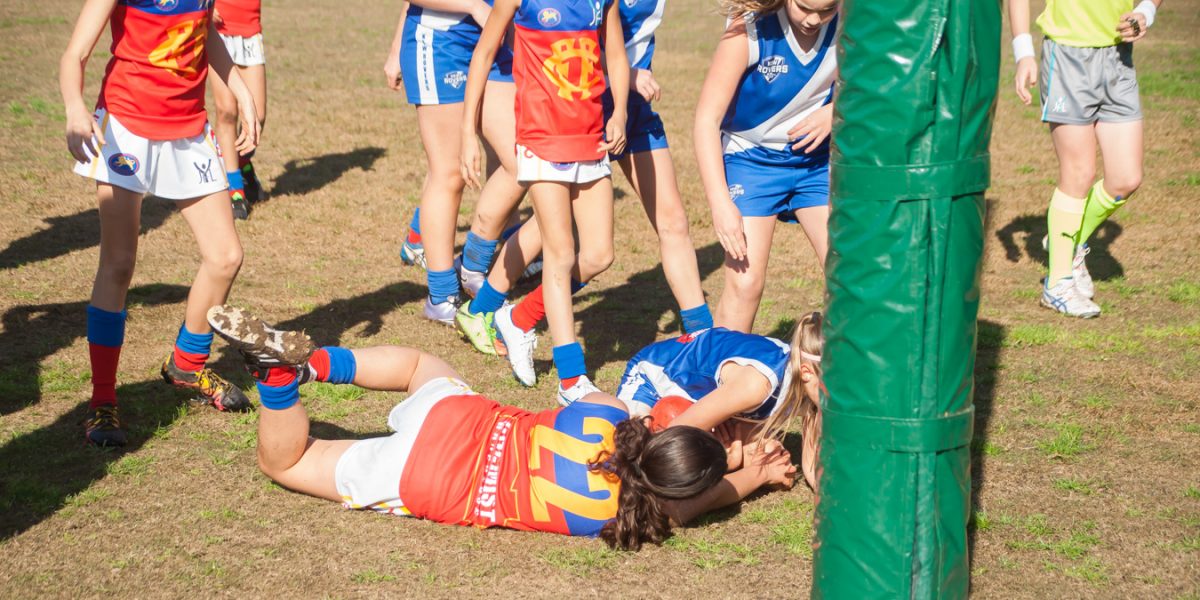 Match Report - Round 5 v Glen Iris H - 21/5/2017 (T H King Oval, Glen Iris)
Glen Iris H  6.5.41  defeated  Fitzroy  1.0.6
One thing for certain is you don't get to win all the time. Perhaps it's why sport is so commanding because it presents us with an opportunity to reconcile this tension between winning and losing. To literally play out the fantasy of victory and vanquish. And all the moral coding that goes along with it. One of the things shown to me as a young man was the tremendous emotional benefit of separating victory from all the other profound achievements that go along with playing the game. Mind you it did take me a long time to learn this lesson. And I am prone to a bit of backsliding.
What we are trying to teach the girls is that there is a difference between being competitive and determined as a form of honouring one's own self worth, one's team mates and one's club and winning. It is much more important to me that our kids respond to the challenges put to them in footy with pride and high self esteem than winning.
With this philosophy in mind I could not be more thrilled with our defeat on Sunday. Our defeat was a spectacular victory. I was deeply moved by the way the girls rallied and fought the game out. Glen Iris are a good team and they played a good game. We can learn a lot from them and we are in a great position to do so. We lost nothing in that game. Yes we were out scored and yes we were out muscled but did you see Maddie tackle that big girl in the last quarter? (No 20- a fine player) Maddie finally got onto her but only after three of our girls had a go, each taking a bit of speed off her then Maddie closed her down. If we had given up why lay those tackles? Why barrel in to tackle the biggest kid on the ground? If not to honour your team mates and display what you think of yourself. That somewhere in you beyond thought is the belief that you and yours are not going to be pushed around. No one has time to think this stuff through when they are playing; that is why it is pure. And that it is why it is so gratifying to see we have got it.
Our girls have belief. They do not want to be run over and they do not accept it. And to Rory and I that is gold.
At half time I asked our girls in no uncertain terms to not give in and they did not. We knew the possibility of victory was very low. We wanted to see the grit. Well they pushed and scraped right to the end. They did not whinge or whine they stuck it out. And by the end of that game the girls were not playing for the scoreboard, they were playing for pride and for each other. And that my dear friends is the point. Because eventually the game ends but the self worth stays with you. They walked off with their heads held high. And I was just a little bit emotional.
Thanks you very much to all those who helped. Thank you Esme for having the guts to stick up for yourself and ask me a question. I trust we sorted it out.
Finally we did our little debrief of the game on the ground rather than in the rooms. It was somewhat selfish of me I know but I very much wanted to capture that moment before the rooms. What I said to the kids was largely what I said above. As we turned to leave the ground I herd Esther W say to someone. 'Its funny, I know we lost but somehow I feel like we won.'
Cheers,
Damien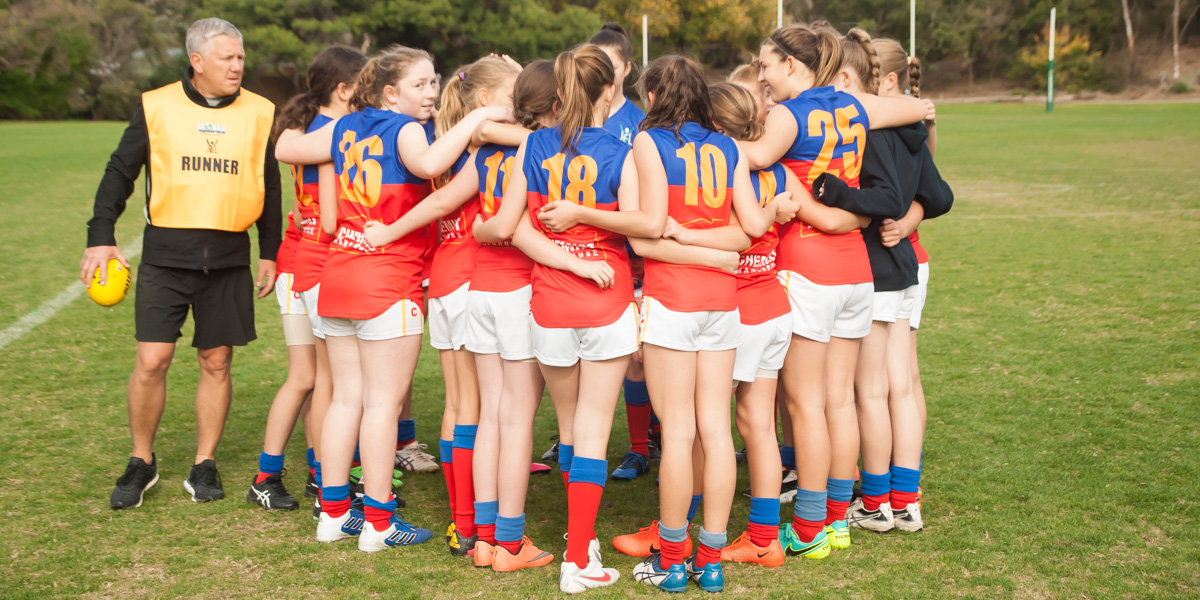 Match Report - Round 4 v Bulleen Templestowe - 14/5/2017 (Brunswick Street Oval)
Fitzroy  6.5.41  defeated  Bulleen Templestowe  1.1.7
I think we could understand that game in terms of Mothers Day.
Behind the scenes in the day or so leading up to the match we lost our ground, we then found out that Bulleen only had 13 players (and all credit to them they were great), and on the night before the match we lost three of our players to illness. Get well soon girls.
We explained these changes and challenges to the girls and introduced the idea of playing for the other team. And without exception they just got on with it. They adapted, they showed resourcefulness, trust and belief and concentrated on making the day work and having some fun. And I think these along with many others are the gifts of the mother. Thank you.
We were the first to play at BSO on Sunday and had the responsibility of setting up the ground. I arrived shortly before 9.00 pretty dishevelled after our second son's 18th birthday party (OMG). And looked across the ground to see four or five girls dragging the monster goal post padding across the frosty grass. Singing and dancing as they went. It set the tone for the day. At some point in the day the church bells rang and rang and rang. Brett suggested there had been a hanging. At our defensive end and well away from the danger Kaisha and Stazja (I think) were cutting some wicked poses to each chime reminiscent of Madonna in her Vogue era. Between Brett's gallows humour and the girls' strut I couldn't help but laugh. And count my sleep deprived blessings.
The game was great. The girls are learning so quickly. During the week under Rory's watch we practised picking the ball up safely under pressure, shepherding and efficiently handballing it. And on the weekend they did it beautifully.
It was a coaching delight.
There were some stand out performances. I wanted to congratulate our captain Esther B on a fantastic game. Esther B is developing so quickly it is frightening. Our Vice captain Sabine also had a great day. For Fitzroy and Bulleen. Sabine's ability to pick the ball up and handball is extremely advanced. She will make a lot of other players look very good. But don't think we don't see your quick hands Sabine.
Zoe kicked her first goal ever. Elyse was rampant in the first quarter. As Rory said "She was a 'ball magnet'". Alexandra was dynamite again. Exceptional skill and pace. But my favourite play was when Alexandra got a bit of a whack in the chops. In the tackle her opponent's arm hit her in the face. The moment between the whack, thinking she should get a free kick, realising that it was not going to happen and getting on with the play was minuscule. That is tough Alexandra. And very impressive.
Charlotte was a cut above the rest. Leading the way with her strength. Pulling away from tackles. Breaking the play up by beating player after player. We are concentrating on these strength aspects of the game for player safety and because it works. And Charlotte is a champion at it.
Harriet had a stand out match. Showing poise and maturity running with the ball against the play to find space and delivering the pass perfectly with her deadly right foot. A very advanced piece of play.
Jessica ran and ran demanding the ball and got a kick. And a big thumbs up from the bench when she did. Evelyn was superb. Evelyn is our dashing half back flanker who works as hard to get back as she does to burst forward. Genevieve can say with certainty that that's the best game she has ever had. All that running and contested play is paying off and Genevieve is winning some of her own ball.
Madeleine continued to dominate every contest she got to. There is a power about Madeleine's play that I am constantly surprised and delighted by. Maeve is a wizard, Phoebe a magician and Molly a circus act. Keep taking them on girls. It is great footy.
Sophie took mark of the day. Full extension one grab. Estela was in everything. Looking for that moment. It will come again in no time Estela.
Claudia again lead from the front in everything she did. From helping with the warm up, to her talk on the ground, to keeping the girls focused while on the bench, to winning contest after contest.
Stazja, Matilda and Esme all had breakout games. Esme dashing down the wing. You nearly bent your elbows Esme. To Stazja who will not stop tackling. And Matilda who in the last quarter while playing full back was encouraged to leave her player and follow the ball. She did this and got some touches but because she felt so defensively responsible had to run the length of the field several times to get back to her girl. There is nothing a coach likes more than desperate defensive running. There will be other games when we are more challenged and Matilda – that drive to not let her get a kick will be the difference.
And a big congratulations to Kaisha who, along with Zoe and Sophie, shouldered the ruck responsibility. A few weeks back the prospect of rucking was an unpleasant one for Kaisha. But she has met that challenge, faced it down and with a look in her eye of sheer determination she is doing it. And doing it very well.
And last but not least Aiva who gets in there and gets bumped and tackled and just keeps getting up. It is a tough game Aiva and you are a tough girl. Hang in there and in no time at all you will find some space.
A great game girls. You are a bunch of rippers.
A special thanks to Sophie and Bryce. First there and last to leave. And Rory who is doing an incredible job managing a big list of kids. It is one thing to say you want to give every kid a fair go. It is another thing to actually organise and plan it out. And Rory is generously doing that work, doing it exceptionally well and we appreciate it.
Well done everyone,
Damien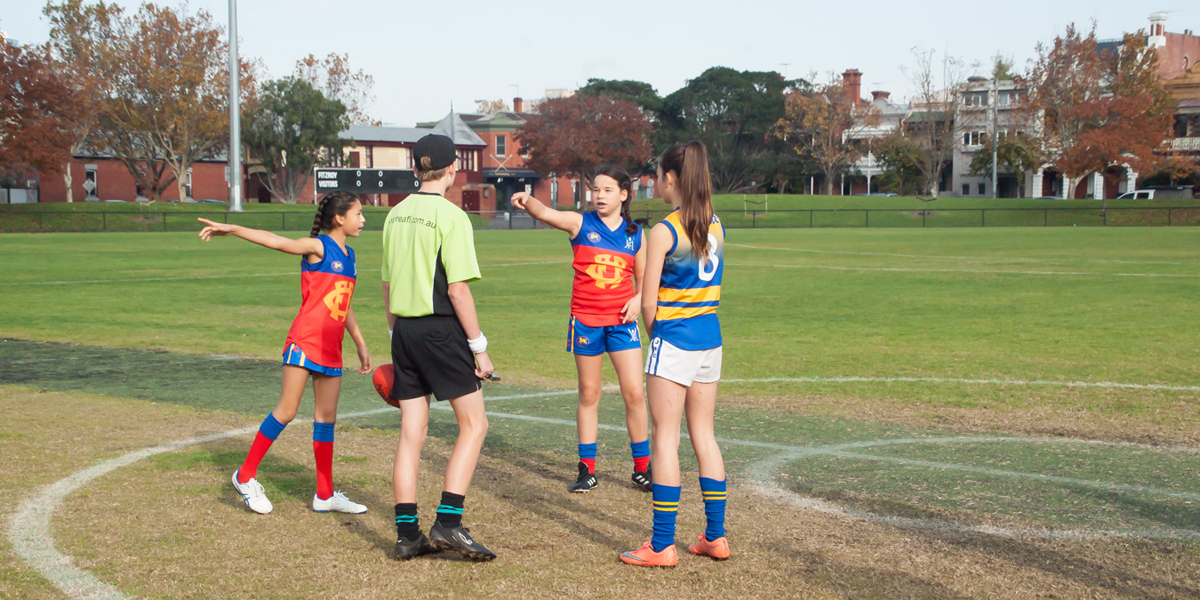 Match Report - Round 3 v Kew Comets - 7/5/2017 (Victoria Park, Kew)
Kew Comets  2.1.13  defeated by  Fitzroy  7.18.60
Another fantastic day. Great win. The girls were determined and resourceful from the start. They seem happy and to be having fun. And when you are happy and having fun you learn a lot quicker.
Hours after the game I was washing up for the five millionth time and realised I felt genuinely elated. Now there is a lot of washing up or washing clothes or whatever in all our lives but I can assure you that standing at the sink is more fun in the after glow of a fantastic day of footy.
The girls were nothing short of brilliant and they should be acknowledged as such. We dominated the scoreboard and all that, great, not to be taken for granted, but it the was overall approach that Rory and I were so impressed with.
When you are coaching you are not just looking at where the ball is you are looking at where the ball is going. The various possibilities of the next transition, the next contest. And we endeavour to teach the kids to do the same. Last week it did not work. We talked about it and practised it. They held the space. Covered the exits. Pushed to the next kick. And it worked.
It is very gratifying seeing kids learn and discover themselves in the game. There are so many moments it is unfair to pick on just a few. But seeing Estela take them on- putting the foot down, and having the spacial awareness to know that they missed her not once but twice was delightful. Everyone should know that moment. When you realise you have beaten someone. Sometimes you get your foot to it sometimes you don't. But when you are trying to burst away and you feel your opponents grip slip you are never the same. Never the same in what ever field you choose to test yourself in.
From a skill point of view I was particularly pleased with our handball and marking game. The girls are getting better very quickly. Our defensive work tough and smart and our transitions were exciting and adventurous.
My day was capped off by two lovely things. Firstly seeing Jo Hogan who coached many of the girls in under the twelve. Jo had come along to see Claudia's 50th. How good is that? That is community, that is the village and we are lucky. And finally Claudia after a stunning game, came up to me to thank me for the day she said 'thanks Damien I had a great day today.' So there you go.
Thank you all for your help.
Damien Wright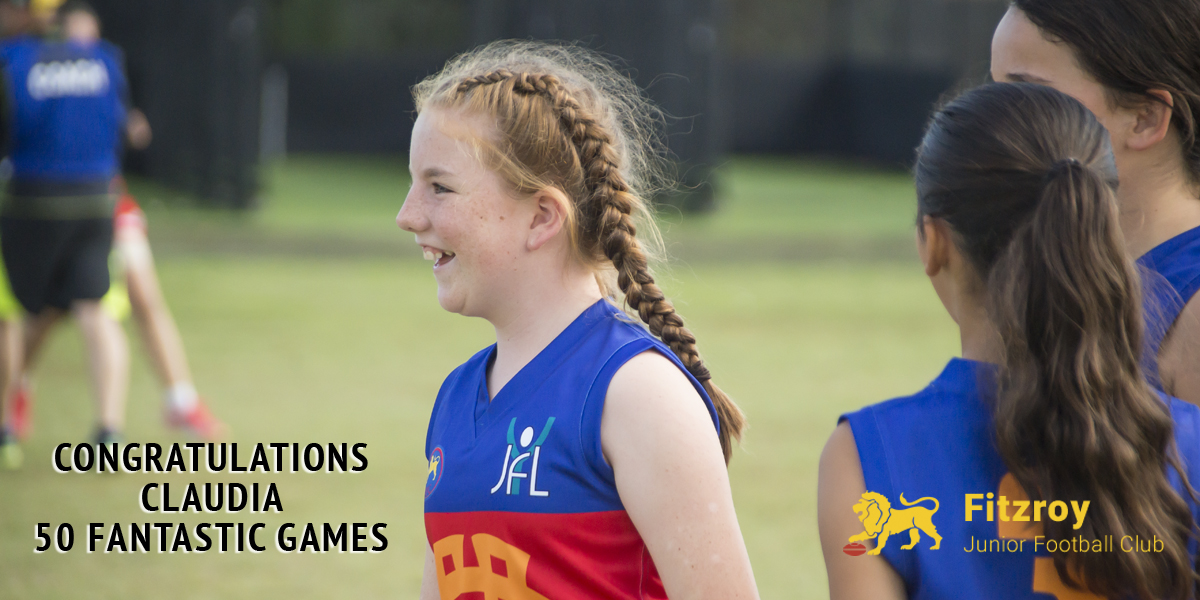 Match Report - Round 2 v Surrey Park - 30/4/2017 (Ramsden Street Oval)
Fitzroy 3.2.20 defeated by Surrey Park 5.11.41
Well, we may have lost that game. But sitting down to write this report, the first thing that comes to my mind is the image of Fionnuala prostrate on the ground reaching up to grab her opponent in a tackle. She didn't grab her leg to trip her or do anything silly or dangerous. Fionnuala used her fantastic athleticism, her strength and her drive to launch herself upon the Surrey player.
Then I think of Harriet, under pressure in the last quarter, showing tremendous concentration and courage to kick out with precision and dare to our advantage. Now my mind drifts to Jessica, on the boundary in expectation of contact, bracing herself against the impact. Being strong in the tackle – something we are training for.
Now that I am into it, I am thinking of Phoebe gathering the ball at pace with one hand and dashing on. Of Alexandra scooping the ball running away from her (the hardest thing to do well in football) without missing a beat.Of Kaisha busting through the pack to set up a goal against the wind. Of Molly willing herself to the defensive side of the contest and immediately gathering the ball at the back of the pack, taking on the players in front of her and banging it forward. Of Annie dropping her shoulders and exploding forward with genuine pace and power. Of Esther B who ran and ran from contest to contest eventually finding the flow of the game with a difficult intercept mark. Then having the poise and confidence to kick to our advantage.
I am thinking of Maddie on the back flank tackling once, twice, three times; keeping her feet, winning the ball, kicking it forward then instantly turning and running to mind her player who was only just getting up. Of Aiva who the first time she goes near the ball gets bowled over, the second time gets tackled to the ground, the third time wins a kick from the boundary and sprints forward following her kick to the next contest. Of Claudia breaking hard to the coaches' box side, marking the kick and playing on immediately setting up another stylish transition play. Of Sabine, in heavy traffic, gathering the ball, turning to the back of the pack and hand balling to a Roy girl. Just like we train for.
Of Esther W pushing herself in a long chase for the ball against two Surrey girls on the wing. Esther trapped the ball in the contest and forced a ball up. Oh, and also, cool smother Esther W. Of Maeve who moves so smoothly my eyes can't keep up, fending off the tackle, pushing away and getting her kick forward. Esme marking the ball cleanly. Good hands are gold Esme. And Charlotte, who we know is brilliant across the ground and in close, is teaching herself contesting pack marking. Some she won but none she lost. Charlotte is introducing to the team another level of aerial competitiveness. And Evelyn who last week chased and chased and this week got in early with the tackle. It is a very nuanced skill but persevere Evelyn. Elyse banging those long kicks out of full back against the wind. And I can picture Zoe, after a contest on the ground like a beetle on its back, springing to her feet and running to the next skirmish, which shows vastly improved fitness and mobility. And Stazja, circling the pack with her arms wide like a basketballer guarding a zone, then latching onto the Surrey girl making the break.
And finally our captains. Matilda who was able to train and play after getting a painful kick in the leg last week. When we named her vice captain and recognised her courage, her look of slight terror at being singled out shifted to deep pride. Bottle that Matilda. And finally our captain for the day, Sophie. Thrown into the ruck, using her brains to edge her opponent under the ball, protecting the drop and getting the tap.
So congratulations girls. We are all learning. This is where we are at, but it is not where we will stay. Win, lose or draw, it's good watching you play footy. The tackling and second efforts were fantastic. Your support for one another is great to see. We will work on our structure and positioning and go again.
Thanks to all the helpers and supporters. We appreciate it greatly.
Cheers,
Damien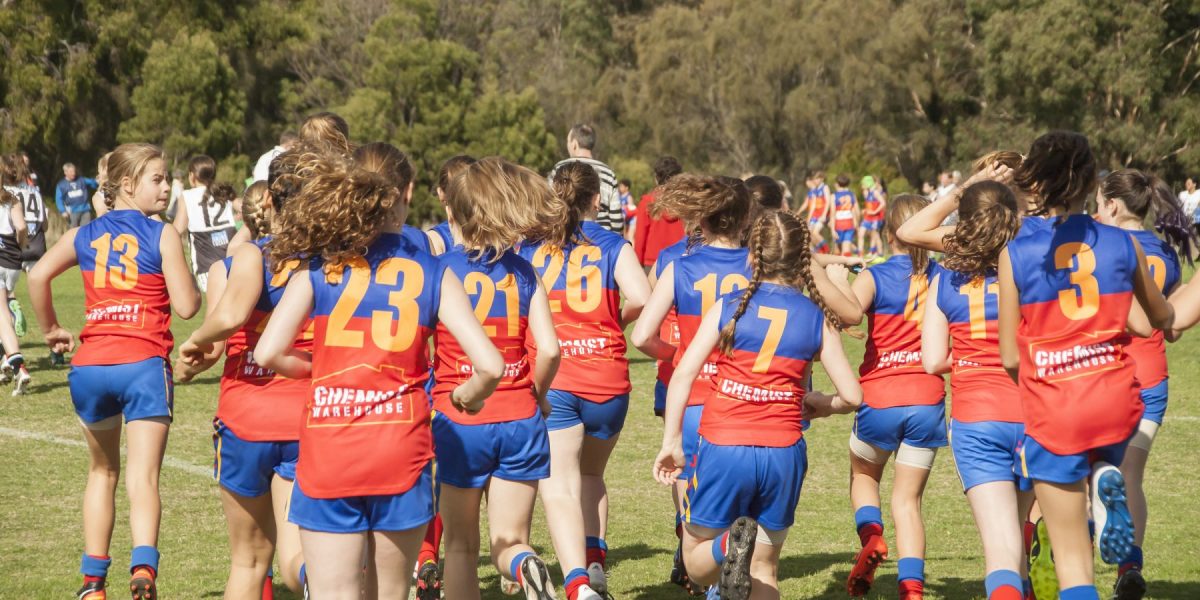 Match Report - Round 1 v Ashburton - 23/4/2017 (Burwood Reserve)
Ashburton 3.0.18 defeated by Fitzroy 11.9.75
Well that was fun. Congratulations girls on a terrific game. We thank Ashburton for a lovely day. The ground was perfect the rooms were really good. Ashburton's girls played a spirited and exciting game of football. Apparently they had only four girls who had played before. They will get better and better.
Ashburton had some talent and were able to challenge us at different times in the game. But it was very pleasing to watch our girls led by our captain for the day Estela Pintos-Lopez cope with pressure, persevere and ultimately overwhelm the opposition. Yes we established a lead early but in the second quarter through good play and hard fast running Ashburton were able to kick three unanswered goals. They dominated this period of the game. There are many ways, good and bad, that a team can respond to losing the ascendancy. Retreat, panic, blame. Our girls didn't do that. They looked to enjoy the challenge. They stuck to the task. They continued to take the game on, to share the ball, to tackle and help each other out. These are really good signs and Rory and I recognise and celebrate them.
Yesterday we had 12 girls who had played before and 10 who had not. We asked the girls with some experience to share their knowledge and to teach. A challenge they rose to quite literally. There was one particularly gratifying moment when one of our more experienced girls was caught holding the ball. The Ashburton girl who had won the free kick did not know what happened next. Our Roy girl handed the ball back to her and told her 'go back a bit and kick over the top of me to one of your girls.' Priceless.
There were so many fantastic efforts across the game. Our experienced girls shone. And our new girls were thrilling. But there are also lots of things for us to work on. We will practise and we will get better. We will get fitter, stronger and more skillful as the year goes on. Those who have been around before think of how far the girls came last year. We are going to have the pleasure and privilege of watching them learn a great game. Yes we will face many challenges. And not all days will be like that. There is a lot to learn but the basics are there for all to see. And as Rory said "it's the smiles that I like".
Thanks to all who helped out. In particular Sophie and Bryce. Nothing happens unless this thing is managed properly and you are doing a great job.
Cheers,
Damien