How to request a Team Photo Gallery
This page provides instructions on how to make a request for your Team Photo Gallery to be established.
The club has a Flickr account which teams are encouraged to use for loading up photos of their team. This will provide access to all team photos from the Team Page "Photos" link, as well as allow for links to be created from individual Team News entries to particular photo albums.
Some teams may choose to use another photo repository and if so, the Team Page Editor should contact the FJFC Webmaster to determine how the Team Page can be linked to the photo repository.
Step 1 – Contact FJFC Webmaster to request Team Photo Gallery
At the start of each season, any teams that wish to have a Team Photo Gallery established in the club Flickr account should send an email to the FJFC Webmaster. This will allow teams to upload match photos for each round, or for other specific team events, and make them easily accessible from the Team Page. The request should simply state the team name and ask for a Team Photo Gallery to be set up.
Step 2 – FJFC Webmaster creates Team Photo Gallery
Upon receipt of the Team Photo Gallery request from a team, the FJFC Webmaster will establish a Flickr Collection that will act as the Team Photo Gallery for the season. The FJFC Webmaster will then update the Team Photo Gallery link on the Team Page as shown below:
Once the Photo Gallery Link is updated on your Team Page, you will now see a "Photos" icon for your team on Team Page as shown below:
The Team Photo Gallery "Photos" link will also appear in the links at the base of the Feature Image of the Team Page as shown below: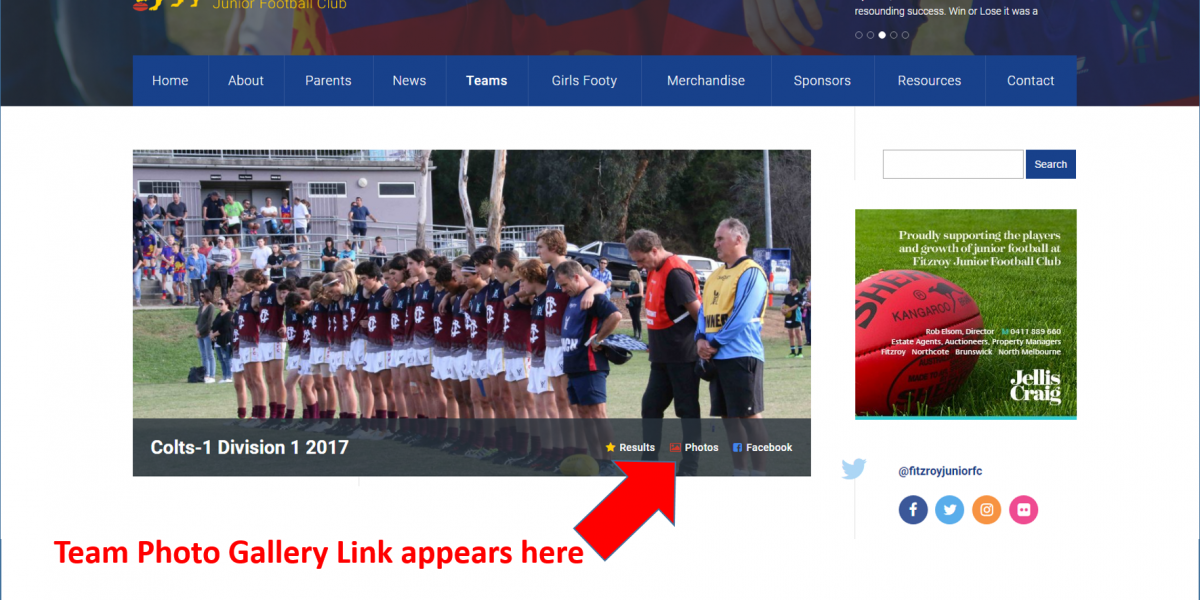 Step 3 – Upload Team Photos
Now that you have your Team Photo Gallery established, you can now start to load your team photos into Flickr Albums and make them accessible to your team members and families. See How to upload photos to a Team Album in Flickr.