Youth Girls Coach 2017
December 13, 2016
Youth Girls Coach 2017 announced – Melissa Bibby
Following three amazing seasons of strong growth and development in girls footy, we are thrilled to announce our 2017 Youth Girls Coach, Melissa Bibby.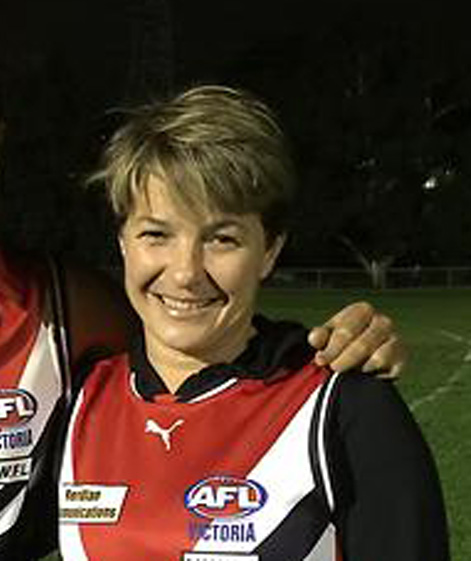 Mel comes to us with a wealth of experience at the highest levels of sport and we are looking forward to drawing on her extensive knowledge and passion to help take us into the next phase of our girls development.
See some comments from Mel below and also check out her amazing sporting achievements here: Ice Hockey Bio – Mel Bibby
I'm sure you'll agree, Mel will be a marvellous role model for our girls in 2017!
From Mel:
I grew upon Stawell in country Vic playing football whenever I could, but was never allowed to play in games. I played ice hockey for Australia, competing in 7 world championships from 2000-2011, being assistant captain from 2001-2004. MVP for the 2003 world championships and currently the games record holder.
I started playing AFL in Sydney in 2003, playing a total of 4 seasons including 3 grand finals and winning 2 premierships. I moved back to Melbourne in 2012 and played for the Darebin Falcons, playing in a losing grand final in 2012. I played for Melbourne University in 2013/14, before moving back to Darebin and winning a senior, premier division premiership in 2015 and played with their VFL team in 2016.
My coaching philosophy revolves around trying to help my young athletes become better people as well as better footballers. Teaching them to be resilient, caring, prepared, and to be the best that they can be. This competition is about improvement, not about winning at all costs, and I would like to foster positive relationships within the team, amongst the girls, the parents, the club and the coaches! A good sense of belonging and a safe place to come to is paramount with young athletes.
The absolute number one thing for young girls playing football is to have fun, so I would make this my number one focus, along with learning the game of football.
I am big on high performance sport, and would also like to provide differentiated training where the girls who want to push towards becoming footballers in the AFL, can move towards that goal.