Senior Coaching Team Season 2021
March 8, 2021
The Fitzroy Junior Football Club is excited to announce the coaching team for our senior Colts/Youth teams. The group brings a team of coaches together that epitomise the values of our club and we are looking forward to what season 2021 will bring under their leadership.
Congratulations Brett, Charles, David, Phil, Paul H, Jason, Paul D and Richard!
Please see below for Coaches Biography and perspectives on coaching junior football.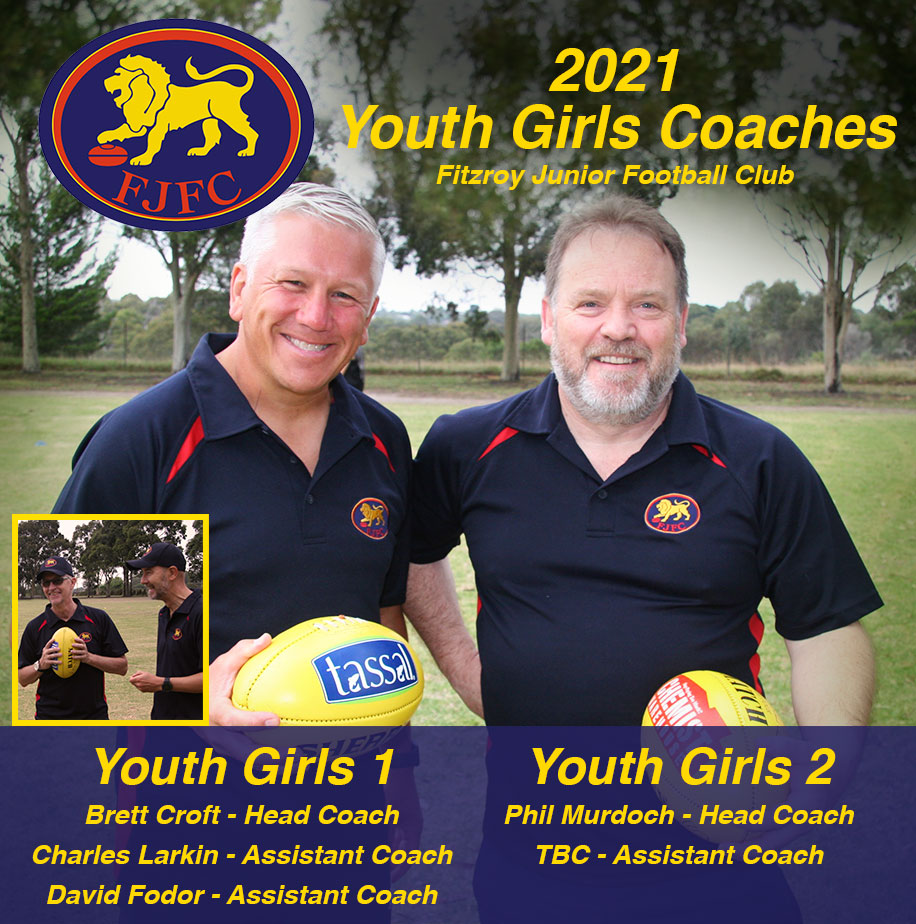 Youth Girls 1 Team Coach – Brett Croft
Brett will coach the Youth Girls 1 Team this year, supported by Charles Larkin and David Fodor.  Brett, Charles and David were the coaches of the U16 Girls 1 team last year.  Brett's philosophy to coaching the Youth Girls will be to build on each girl's unique strengths to provide them with every opportunity to succeed and to build character through improved confidence and resilience.  Brett sees football as providing great life lessons and improved decision making capability on and off the field and will seek to draw this out through shared experiences.  Brett has had all three of his children play at Fitzroy (two still playing) and is currently the Treasurer of the club.  Brett coached AusKick for four years and played for over 20 years at Templestowe, Bulleen-Templestowe and Bonbeach football clubs. He still harbours the thought of a comeback…but until then, will focus all of his energy into seeing the Youth Girls succeed as individuals and as a team.
Youth Girls 2 Team Coach – Phil Murdoch
Phil began coaching 17 years ago at Fitzroy/Carlton Auskick and continued with the Fitzroy Junior Club where he was also able to coach his children, Ben, Louis and Claudia.
Most recently he coached the Clubs first Colt 3 team (2015), the first Under 10 Girls team (2016), the first Under 16 Girls team (2017) and the COVID affected Youth Girls team last season.
"I feel passionate about the growth and development of Girls football.
I coached the Under 16 Girls a couple of years ago. Again last year, the Youth Girls. With the COVID interrupted 2020 season I felt that I had unfinished business"
"So when the opportunity to coach the Youth Girls this year, I particularly wanted to coach the Youth Girls 2 team. My style is as a nurturing and development coach. My focus will be on developing these girls in their kicking, ball handling and physicality in a fun environment."
Phil is Fitzroy through and through and with his coaching and interpersonal skills he is the ideal person to lead and develop the Youth Girls 2 team.
---

Colts Boys 1 Team Coach – Paul Harris
Over the last 7 years, Paul has held several coaching roles at FJFC, including:
U11-1 Boys through to U13-1 Boys (2014 – 2016); and
Member, Coaches Development (2017 – 2018).
In 2021, Paul takes on the Colts-1 Boys coaching role with renewed enthusiasm and commitment. "With the YJFL's recent decision to make Colts level an Under 17 and 18 age group, it gave me the unique opportunity to coach some of the boys I coached when I first came to FJFC in 2014 (now young men) in their last year of junior football. I really look forward to helping our bottom age players adjust to the rigour of Colts football, and prepare our top age players for their transition to senior football".
Paul also understands the demands that Year 11 and 12 school can bring. "Ultimately, my job is to create an environment that promotes work:life balance, mental health and physical well-being, and maximises the potential for these young men to enjoy playing their football".
Colts Boys 1 Team Assistant Coach – Jason King
I was fortunate to spend my entire junior career at FJFC, and to be coached by Phil Murdoch, Paul Broderick and Monty Stuart, whom many boys will know. These guys have formed a significant proportion of my coaching philosophy and ingrained in me the FJFC values.
This season, I will be assisting Paul Harris with runner/assistant coaching. I am excited by this opportunity, especially from the early signs at training. I have spent the last three years coaching AFL and cricket at my old school, as well as running leadership and personal development programs/camps. Evidently, the growth of young men both on and off the field is a real passion of mine, and I look forward to helping in whatever way possible.
Finally, as a current player and only a couple of years older than the boys, I hope that I will be able to act as a bridge between coaches and players, helping them to relate to each other and the current trends in the game. I have very recently lived through the enormously challenging time of juggled commitments through Year 11 and 12, and hope to be able to assist the boys with managing their demands outside of FJFC as well. Can't wait to get stuck in, go Roys!
Cheers,
Kingy