Roys Recovery with guest Sam Docherty
April 27, 2018
Sponsored by:


Special guest at our Roys Recovery this Sunday 29th April is Carlton Vice Captain Sam Docherty interviewed by the man himself Marco Donnini.
Sam Docherty (born 17 October 1993) began his AFL career having be selected 12th in the AFL Draft for Brisbane Lions in 2011.
In 2013, arriving at Carlton was a lifelong dream for Sam; however, he had an unfortunate preseason for the Blues. Before leaving for Calrton's preseason camp in America he woke up one morning with a puffy eye, looking like he had been punched. It turned out to be a rare auto-immune disease which required surgery. He was still able to attend the camp but received a phone call to hear that his father Eddie had died suddenly after a heart attack.
2017 saw Docherty perform at an elite level. Docherty led the AFL in kicks, marks and was top 5 in overall meters gained and rebounds from defensive 50. Docherty was rewarded for his stellar season with his maiden All-Australian selection in 2017 in the half back line.
Unfortunately Sam ruptured his anterior cruciate ligament during pre-season training on 15 November 2017, meaning he will miss the entire 2018 AFL season. Despite his injury he was newly endorsed by the playing group as the club's joint vice-captain prior to the season commencing.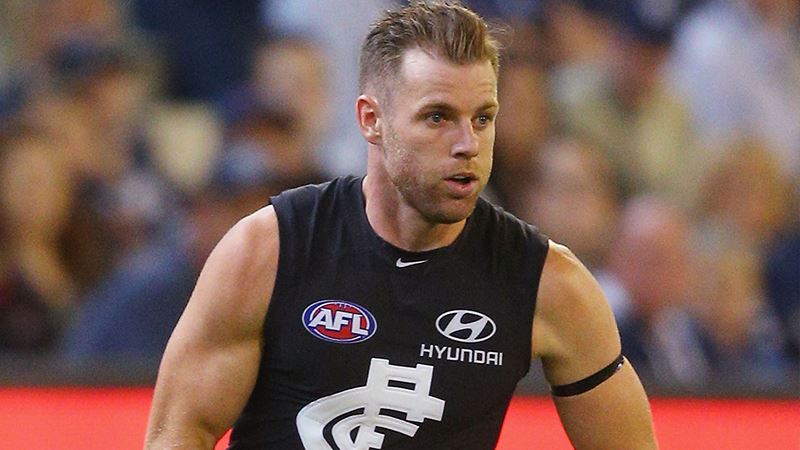 Auction: SOS & Jack Silvagni Carlton Guernsey
Donated by DONNINI'S RESTAURANT
We will also be auctioning this coveted Guernsey signed by both Stephen and Jack Silvagni (see pictures).
The under bidder will take away $200 towards dinner at Donnini's Restaurant.
Join us this Sunday evening from 5.30 to 8.30 pm at the Fitzroy Bowling Club.
It's also a great excuse not to have to cook dinner, as the Bowling Club starts dinner service at around 5.30 pm (see menu).
Children are not permitted on the Bowling Greens.
Younger children can watch a supervised movie upstairs
Older children can have a kick on Brunswick Street Oval under lights
Looking forward to seeing you all there.
It's All About The Kids
Celebrating 25 Years
Phil Murdoch
President FJFC

Go Roys!!
2018 Roys Recovery Dates
Round 5          13/May 18     Mothers Day (Lucia Hair)
Round 8          3/Jun/18      Indigenous Round (Super Shine & Panel)
Round 10        24/Jun/18      Girls Round (Merryville Home)
Round 15        12/Aug/18      End of Minor Round
Semi Finals     19/Aug/18      Semi Finals (Club Recognition Awards)
Prelim Finals   26/Aug/18      Preliminary Finals
Grand Final      2/Sep/18      Grand Final