Roys Recovery – Indigenous Round – Sunday 28th May
May 27, 2017
Join us with MC Ian Cohen along with our special guest Courtenay Dempsey to know of his Indigenous heritage this Sunday 5.30 to 8.30pm.
Since 2011 the Fitzroy Junior Football Club has recognised our Shared History during Indigenous Round alongside the AFL.
Courtenay has Indigenous Australian heritage and his ancestry can be traced to the Kalkadoon, a tribe from Queensland's South/Central West region. He played 133 games with Essendon.
The Joe Johnson Medal
We award a medal to two players from each game this round (one from each team) who demonstrate:
"Endurance, Tenacity, Courage, Loyalty and Pride"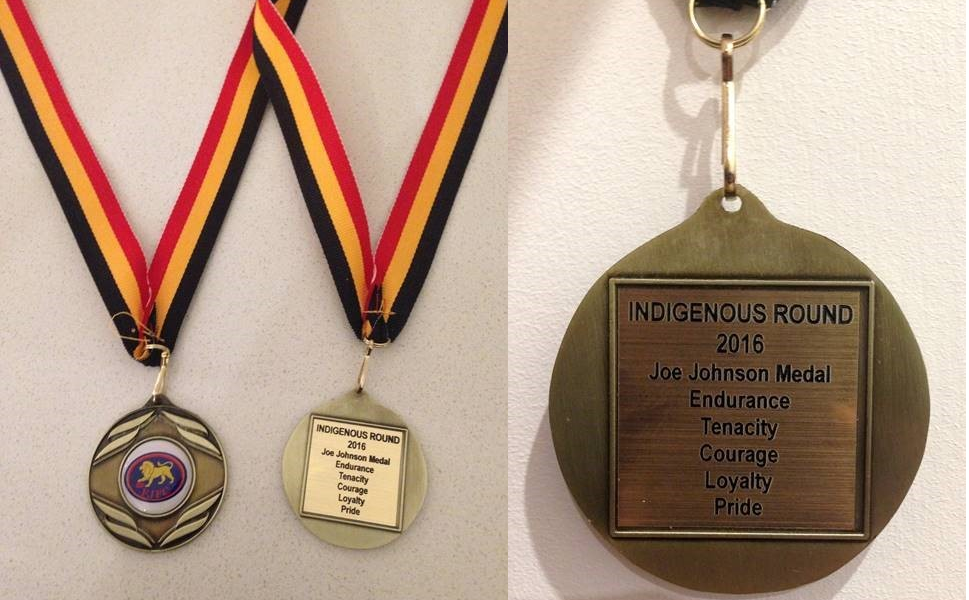 Courtenay will re-present the medal to those children who are at Roys Recovery
Fitzroy Football Club is known as the club where in 1904 the first "known aboriginal" player Joe Johnson, played football.
Joe played for 3 years with 2 premiership caps in 1904-05.
His great grandsons went on to play at Fitzroy – Robert and Trent Cummings.
It's also a great excuse not to have to cook dinner, as the Bowling Club starts dinner service at around 5.30pm.
Children are NOT permitted on the Bowling Greens.
Younger children U12 can watch a supervised movie upstairs.
Older children can have a kick on Brunswick Street Oval under lights.
Looking forward to seeing you all there.
Phil Murdoch
President FJFC
Go Roys
ROYS RECOVERY DATES
Round 6          28/May/17     Indigenous Round
Round 8          18/Jun/17       Umpires Appreciation (Jellis Craig)
Round 11        16/Jul/17        Girls Round (Chemist Warehouse)
Round 14        6/Aug/17        End of Minor Round
Semi Finals     13/Aug/17      Semi Finals
Prelim Finals   20/Aug/17      Preliminary Finals
Grand Final     27/Aug/17      Grand Final
Presentation Day    10/Sep/17       Season End Presentation
BISTRO MENU $20
FITZROY LIONS PARMA hand crumbed breast fillet, mozzarella, crisp prosciutto, tomato salsa
250g SIRLOIN STEAK red wine sauce, mushroom chutney
WAGU BEEF BURGER swiss cheese, bacon, beetroot & onion marmalade
FISH & CHIPS barramundi fillet, beer batter, garlic aioli
ALL MEALS SERVED WITH BEER BATTER CHIPS AND SALAD
VEGETARIAN & GLUTEN FREE MEALS available on REQUEST
CHILDREN'S MENU AVAILABLE