2018 Season Welcome
April 10, 2018
A message from the President: Phil Murdoch
25 years ago an inaugural Under 11 ran out onto Alfred Crescent which saw the beginning of the Fitzroy Junior Football Club.
Did our founders foresee that in 2018 we would field 31 teams, comprising 665 children? Did the 2 girls that played in that team believe today 206 girls would be playing?. Did any anticipate that the Fitzroy Junior Football Club would be the first Club to have 3 x Colts teams, 4 x Under 10 teams, 2 x Youth Girls teams?…I'd like to think they did.
I would commend you to read the article by Graeme Willingham – "From Very Humble Beginnings!" which provides an insightful, moving and humorous narrative on the early days of our now great Club.
As I talk to people both inside and outside the Club, I am reminded of how the Club is respected and held in such high regard. From its humble beginnings in 1993, our Club has grown to be one of the largest junior football clubs within Australia.
But our strength is not only in our numbers. It is also in our values: of Fairness, Sportsmanship and Wellbeing.
We are a Club that prides itself on participation rather than top-of-the-competition success and as a result our players of all ability are appreciated and encouraged.
Our children grow to become young adults and experience the life skills that come from playing a team sport, including the attributes of resilience, tolerance and fairness. They share the rewards of success and deal with the tribulations of defeat. They do this under the shelter and safety of our Club's umbrella, with the guidance of our dedicated Committee Members, Coaches and Team Managers and the support of our many Parent Volunteers. To all of you, I extend an early and heartfelt THANK YOU.
WILL our girls and boys be excited, be nervous, beam with delight when taking a mark, frown  in frustration when missing a goal, look to the boundary for praise or for reassuring support, be proud to wear our jumper? YOU BET!
I love that all of our players, irrespective of their skill, run out on the ground each Sunday wearing the Fitzroy jumper with pride, commitment and enthusiasm.
This is time also to recognise our major sponsors Jellis Craig and Chemist Warehouse, along with our other important sponsor partners.
Make sure you regularly visit our state of the art FJFC Website to keep up to date with news and activities in and around the Club and follow your favourite team page.  Please also remember to like us on our Facebook page.
A warm welcome to all of our players, families and extended community. Along with the Committee, I look forward to being of service and interacting with you all over the course of Season 2018.
Please don't hesitate to tap me on the shoulder to say hello and remember:
"IT'S ALL ABOUT THE KIDS"
Celebrating 25 Years.
Go Roys!!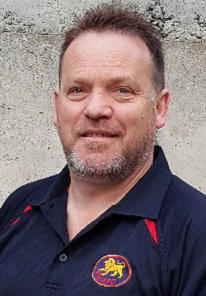 FJFC President
Phil Murdoch