U15-Murray Boys Division 3 2022
Contacts
Coach: Cameron Cook
0493 066 470
Assistant Coach: Yuri Kossatz
Assistant Coach: Trevor McDonald
Team Manager: Gary Smith
[email protected]
Team Manager: Bridget Smith
Trainer: Lana Nelson
Trainer: Trevor McDonald
Team Page Editor: Clare Barry
[email protected]
Team Photographer: Gary Smith
[email protected]
The Team
1 Dylan Cook
2 Freddy Marmo
3 Alex Vocisano
4 Gus Kossatz
8 Jack Smith
9 Chiron Scacciante
10 Harry Skaltsis
11 Henry Nelson
13 Angus McDonald
14 Rocket Hope
15 Ollie Orr
16 Jack Amiet
17 Toby Littlejohn-Sims
18 Milo Maxwell
19 Zac Bennett
20 Oscar Slizys
21 Charlie Hooper
22 Will McManus
23 Frankie Donnini
46 Oskar Brookshaw
Round 11: Sunday 25 June, Whitehorse Colts at Brunswick Street Oval
Whitehorse Colts 3.14-32
Fitzroy Murray 3.7-25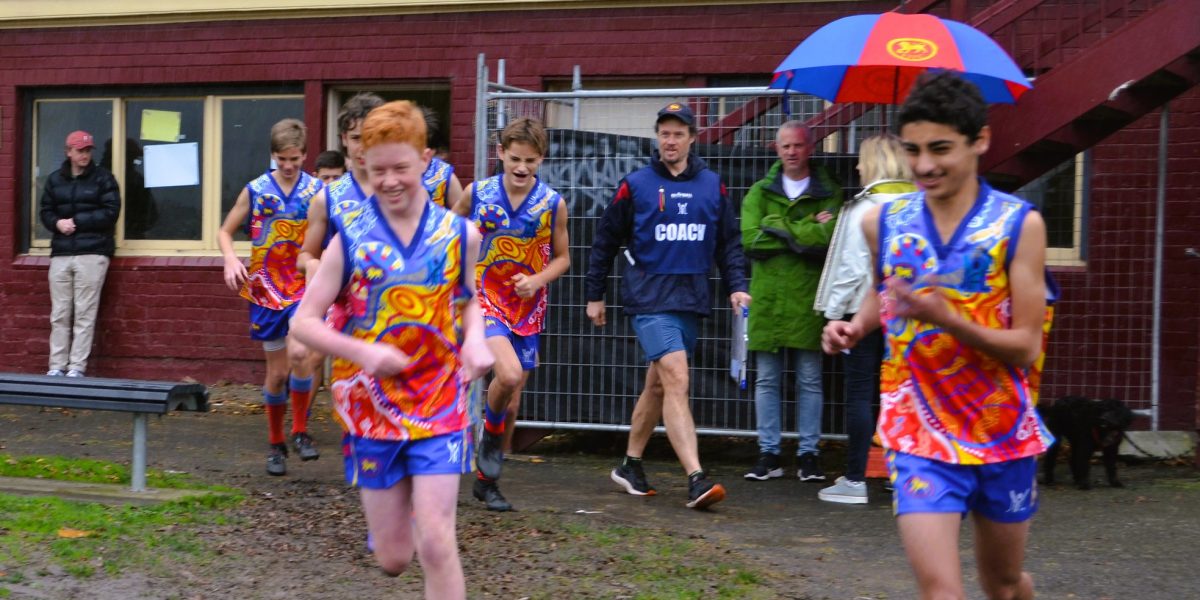 June 25 was always going to be a big Sunday. Our first outing in Fitzroy's fantastic new Indigenous guernseys, our inaugural winner of the Joe Johnson medal, and 2 Murray stalwarts clocking up their 50th games.
Jack Smith and Alex Vocisano's banner run-through kicked the morning off, a little malfunction with the merchandise notwithstanding (you should take that back for a refund guys…), then a Welcome to Country delivered by Bridget set the scene for our Indigenous round. The aforementioned jumpers designed by artist Emma Bamblett, with input from our U15s cohort, were a riot of colour and culture on our boys as they lined up with thoughts of Joe Johnson, Fitzroy premiership player in 1904 and 1905, and the AFL/VFL's first known Indigenous player.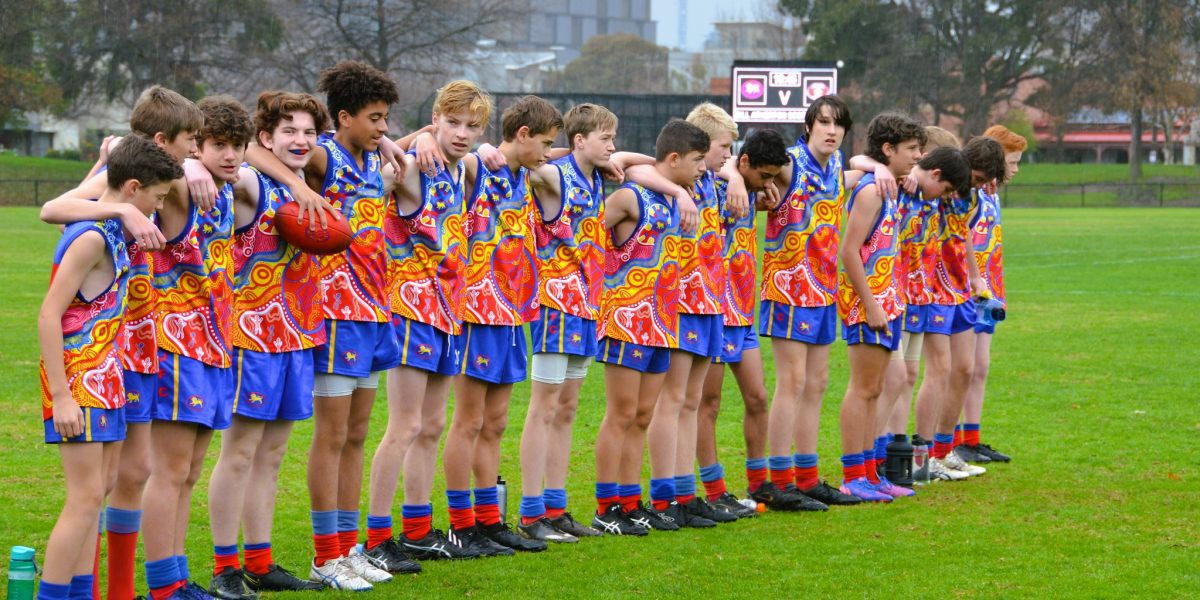 Melbourne, meanwhile, was turning on a winter day for the ages – rain, cold, mud, BSO's iconic skyline view obliterated by low-hanging fog/mist/cloud.
Our boys hit the turf like ducks to mud, turning on a masterclass of high-pressure wet-weather footy. Gus put through 2 goals and Alex, his sights set on 50 touches for his 50th game, had a red-hot go at it in a ripper first quarter and beyond.
The rain soon drove we onlookers into our recently reopened heritage grandstand to form a critical mass of Roys supporters huddled together in the pigeon poop, banter bouncing, imagining the ghosts of great players past, the dashing Joe Johnson among them.
Why don't we perch here every week? Never mind that Alex had to jump the fence to retrieve a wayward ball mid-game… not a parent within coo-ee.
Quarter 2 was more of the same excellent stuff that kept the ball out of our opponents' forward 50 until 14 minutes in. We tackled, got to every contest, shut down Whitehorse's space and easily dominated the first half, without a lot on the scoreboard to show for it. Freddy dropped jaws with an 'insane' speccy (thanks for the descriptor Ollie), Toby and Ollie were terrific in their key defensive positions, along with Frankie again throwing his weight around. Gus goaled once more, from a 25-metre penalty, to make it 3.5-23 to 2.5-18 at half time. Our sodden boys ran into the rooms as happy as pigs in…well…mud!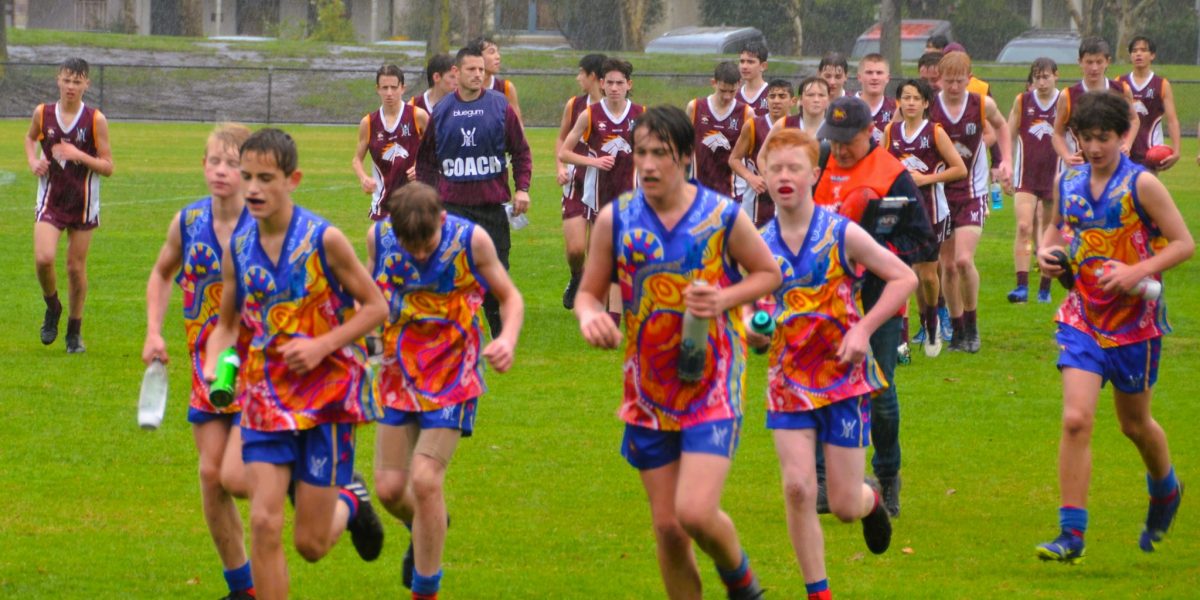 The city reappeared for the third quarter but Whitehorse took things up a notch as the slippery stuff went both for and against us. That ball was a piece of soap on an ice rink (and so waterlogged they replaced it at three-quarter time). Seven minutes in we hadn't got into our 50, and a series of Whitehorse points totted up and up until we were even at three-quarter time. But every one of our Roy boys was having fun and putting in, avoiding congestions, running wide and giving options. Chiron the Enforcer was particularly hard in the contest. Rocket, as a team-mate noted, "played like it wasn't wet".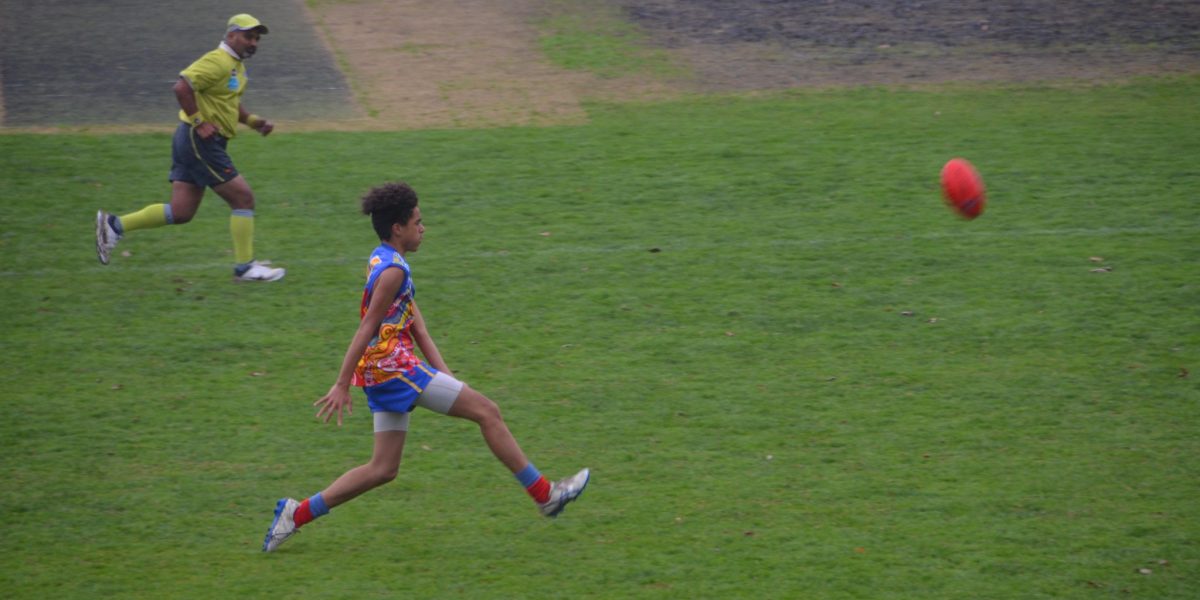 The sun almost came out in quarter 4, and a battle of the points ensued, 2 behinds putting Whitehorse ahead with 13 minutes to go, 2 from us in reply evening things out again to 25 apiece. Then the footy gods smiled on Whitehorse with a late goal and the win just slipped from our grasp. This was a gutsy effort from our Roys – everyone did their job and went in hard.
And there was more to come as Joe Johnson medals were awarded one apiece to each side. Our winner's ability to play everywhere has much in common with a scribe favourite – Adam Goodes, who won a Rising Star at fullback, a Brownlow medal as a ruckman and a second Brownlow as ruck rover. Now Rocket Hope has a Joe Johnson medal for embodying the qualities of endurance, tenacity, courage, loyalty and pride. And, like Joe, just a bit of dash.
Round 10: Sunday 19 June, Warrandyte JFC at Warrandyte Recreation Reserve
Warrandyte Bloods 13.18-96
Fitzroy Murray 3.5-23
This week's fixture brought us an a-w-a-a-a-a-a-a-a-y game in the wilds of Warrandyte to take on the fifth-placed – and wonderfully named – Bloods. Sunny was verging on warm when we left the inner north, but the trek east brought a temperature drop as our boys stepped out at a tree-lined ground circled by screeching cockies.
With 19 Roys on deck (all but Charlie, who was on a Fijian sunlounger readying himself for a late-season comeback), we had the luxury of a modest bench for the second time this season.
The league's weirdest siren started proceedings, and things got off to an ominous start with their No. 9 receiving the first tap and kicking from 50 to … hit the post! Early inaccuracy that would mercifully mark the Bloods' kicking all day.
Our first runs on the board came when good forward pressure forced a rushed Warrandyte kick out of defence to where Captain Zac spoiled, gathered the loose ball, ran to 40 and dobbed it.
But fleet-footed Warrandyte had shown their wares and a quarter-time lead of 21 points seemed apt.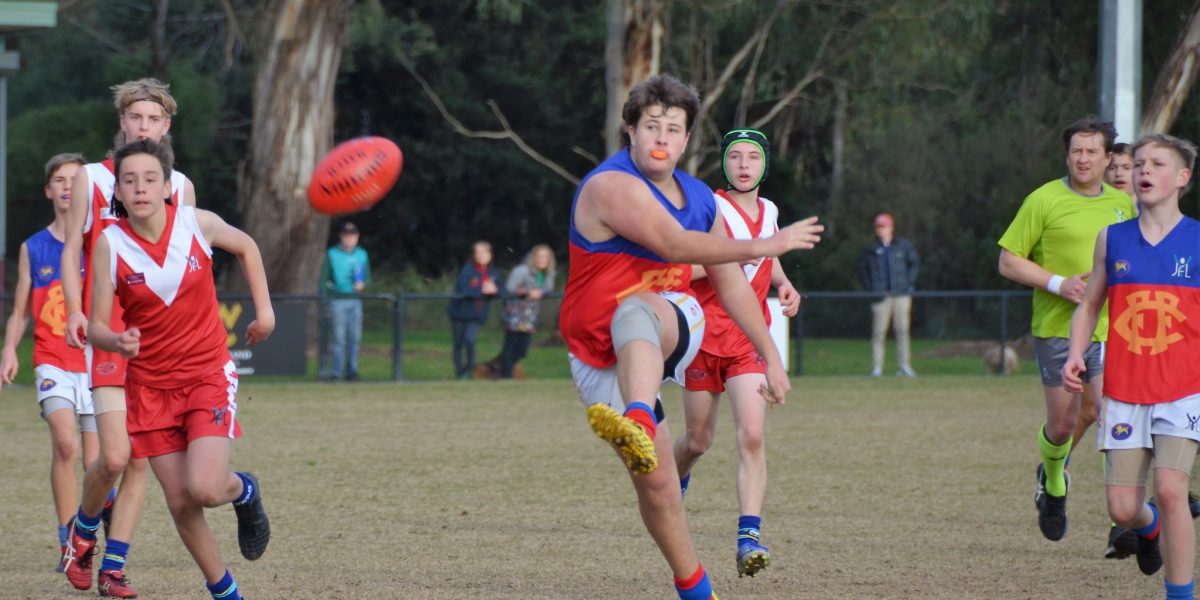 The second quarter opened with much better pressure from our Roys, plenty of strong defending going on. The first had shown the level of 2-way running the Bloods were prepared to do and it appeared to take our lads by surprise. We were regularly chasing tail and their ability to both find and make space was truly spooky.
But when Dylan kicked to Gus for our second, the scoreboard looked a little healthier at 32 to 14, until 2 Warrandyte goals in quick succession sealed a 30-point deficit at the half-way mark and it was back to the drawing board.
Your correspondent was charged with giving B&F votes and needless to say the voting was being dominated by our tall defenders at the long break. The twin towers of Toby and Ollie were constantly under pressure from a bevy of high-flying Bloods. And although we were staring down the barrel, had those 2 not been there doing what they do week in and week out, it could have been ugly. But it was the aggressive physicality of Frankie that really stood out for me.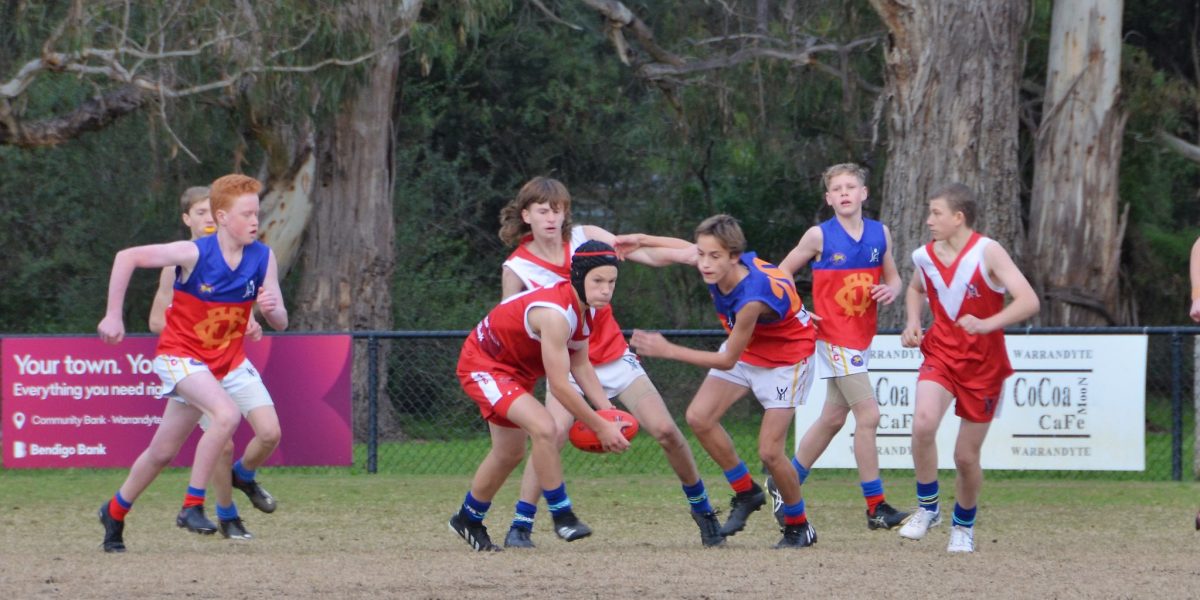 Warrandyte were not only taller, quicker, heavier – and blessed with with the nous that comes from having played together for years – but they operated with a level of controlled aggression that should serve as a lesson to our lads as to how footy is played as they rise in the age groups. They weren't dirty at all, they just knew how to throw their weight around, but well within the rules.
One sensed that Frankie was aware of that and he took it upon himself to fly the flag in a manner that he should be proud of.
Quarter three saw our third goal, as Alex found Dylan 10 metres out after good pressure from Jack A, and Dylan kicked truly. With a 3pm start this close to the year's shortest day, our light was fading fast, and at three-quarter time the floodlights flickered on…
It was a tough game for our lads, but they fought like they always do. Never giving up. And these were opponents we can learn a lot from.
So, onward and upward to next week, when we pull on our new Indigenous guernseys on home turf. Bring it on.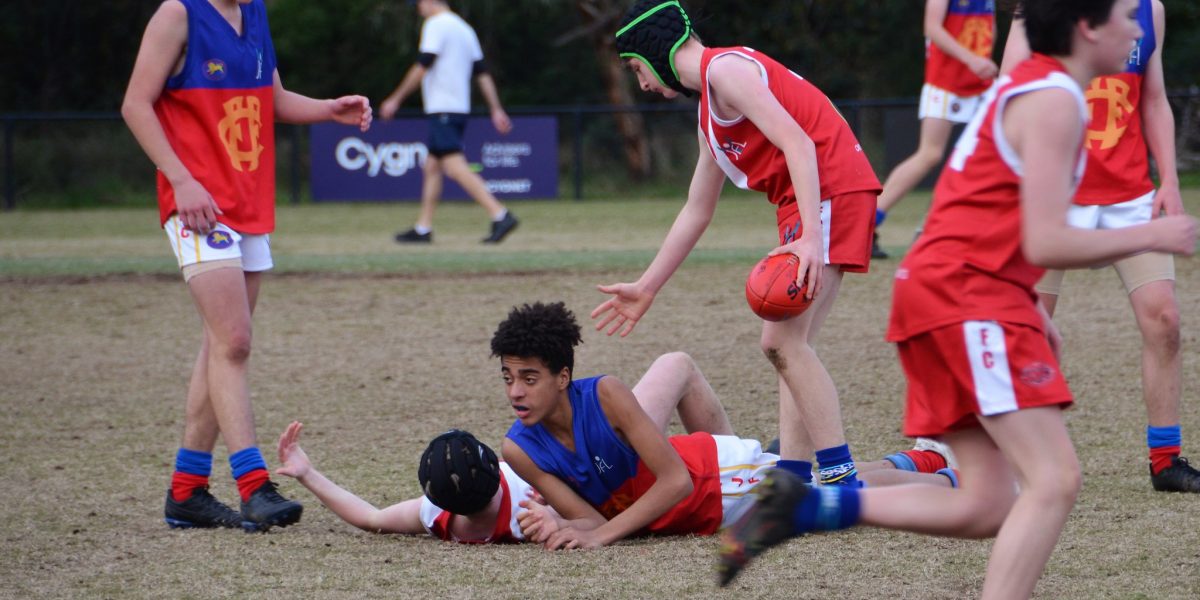 Round 9: Sunday 5 June – Preston Bullants at Brunswick St Oval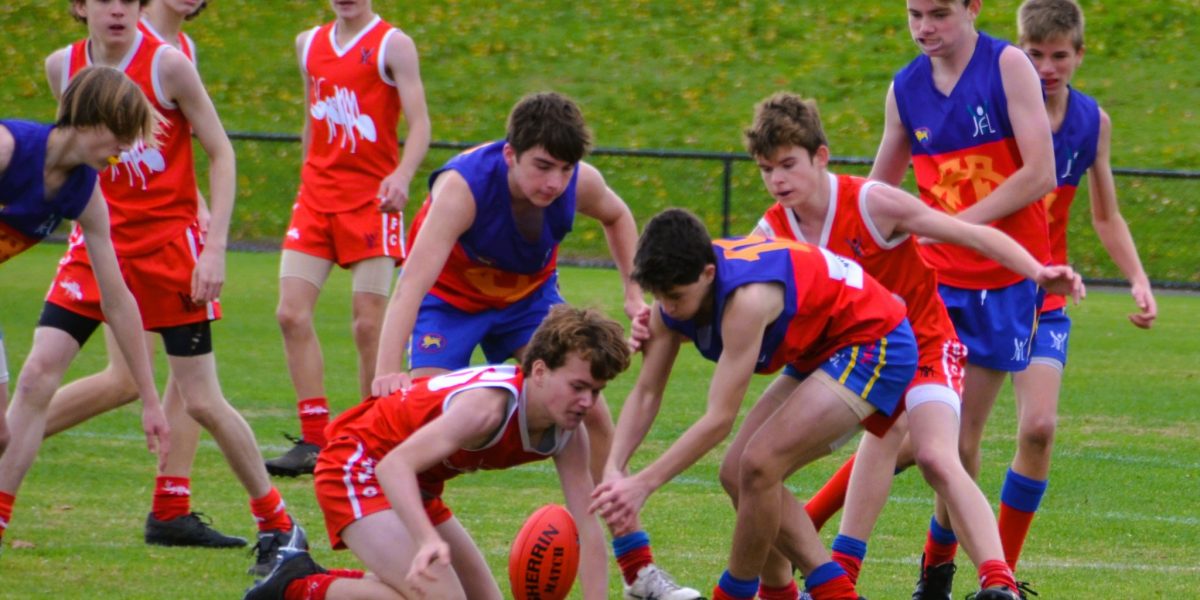 Preston Bullants 6.13-49
Fitzroy Murray 3.3-21
Okay, time for Round 9 – officially the second half of the season begins today. Jeez, last year they only played 10 games … must seem like a marathon this season
Okay, let's check a few things before we get started, Who's out? Charlie recovering from concussion, Will away this weekend and, Oscar has fallen sick overnight. Damn, that's an unfortunate out…
So that makes 17 against the league-leading Preston. Are we ready for the challenge? Boys seem up and about and vocal in their pre-game huddle… that's a good sign.
Okay, let's see how we line up…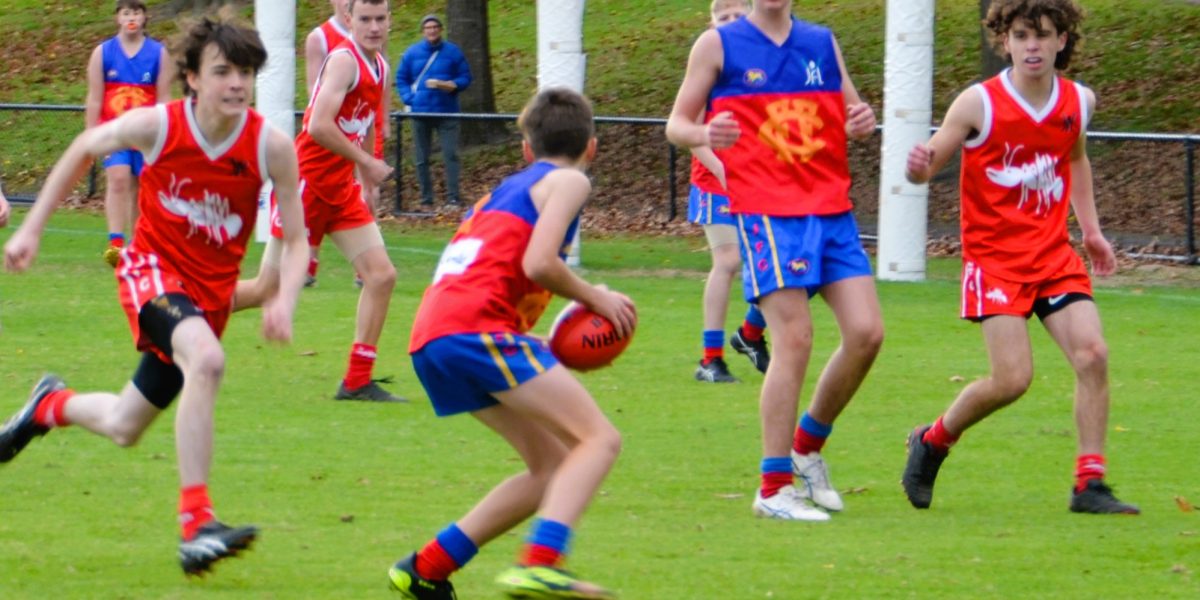 Frankie in the ruck – check! Ollie and Rocket in the key defensive positions – check! Freddy and Henry in the middle – check! Alex and Dylan on the wings – check! Jack A and Oskar occupying the key forwards spots – Check! Zak, Harry, Angus, Chiron on the flanks – Check! Gus up forward, along with Jack S – Check! Toby and Milo down back – Check!
Okay, I'm feeling good about that line-up – we've got the ingredients; do we have the recipe right? I reckon we do.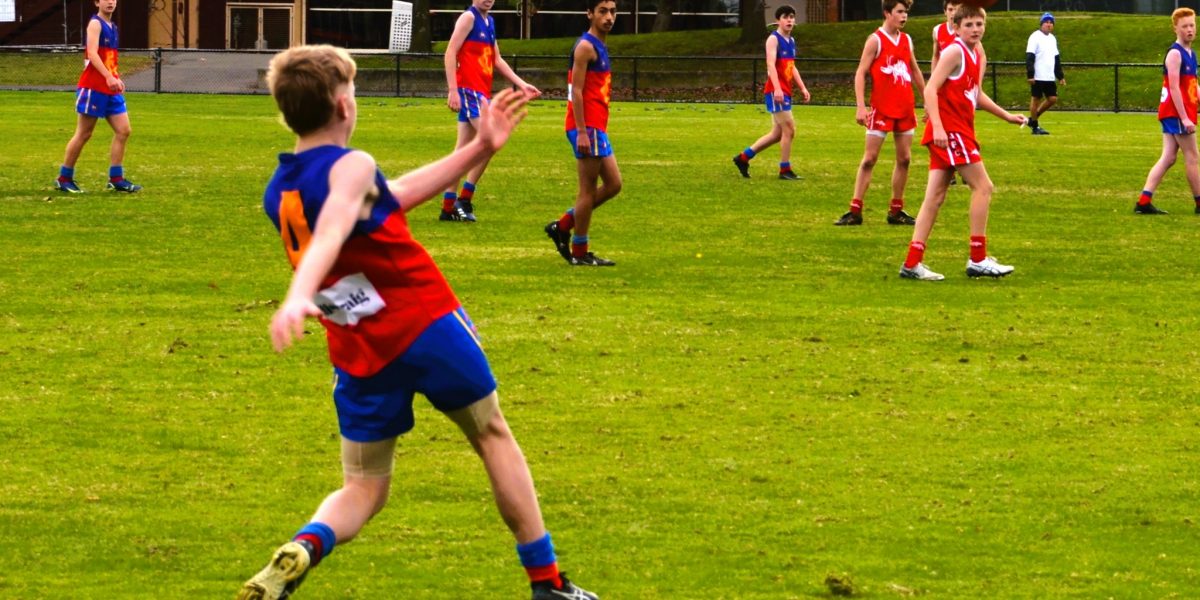 Onto the game – looks like an arm wrestle. Whoa – ferocious Fitzroy tackle, make that 2, wow! The boys are playing well. Preston surges, Fitzroy repels, holds steady and launches a couple of counter attacks. Jeez Freddy in the middle is doing well, Angus makes us tougher down back, well done Ollie under pressure. Jeez we're holding our own here. Rocket is impacting, confidence is growing, and with that comes extra effort. The first quarter ends with a soccer scoreline of 0-0.
More of the same in the second quarter, the boys are keeping it up. The versatile Toby is in the middle helping his mate Freddy. Wow, Henry is having a great quarter, so many contests. Chiron tackles hard, doesn't he? Zac does too! Smithy is working hard; Milo has come back with some serious intent. Preston looks ready to score but the defence holds. Will it be a goalless half? Nearly! Damn, the team concedes a late Preston goal and that's the difference at the half.
At half-time the pride the coaches and players have in their first half is obvious. Could we take it up further to the league-leading Preston? We sure can – belief and confidence go a long way. Good vibes from the team at the half… come on Fitzroy!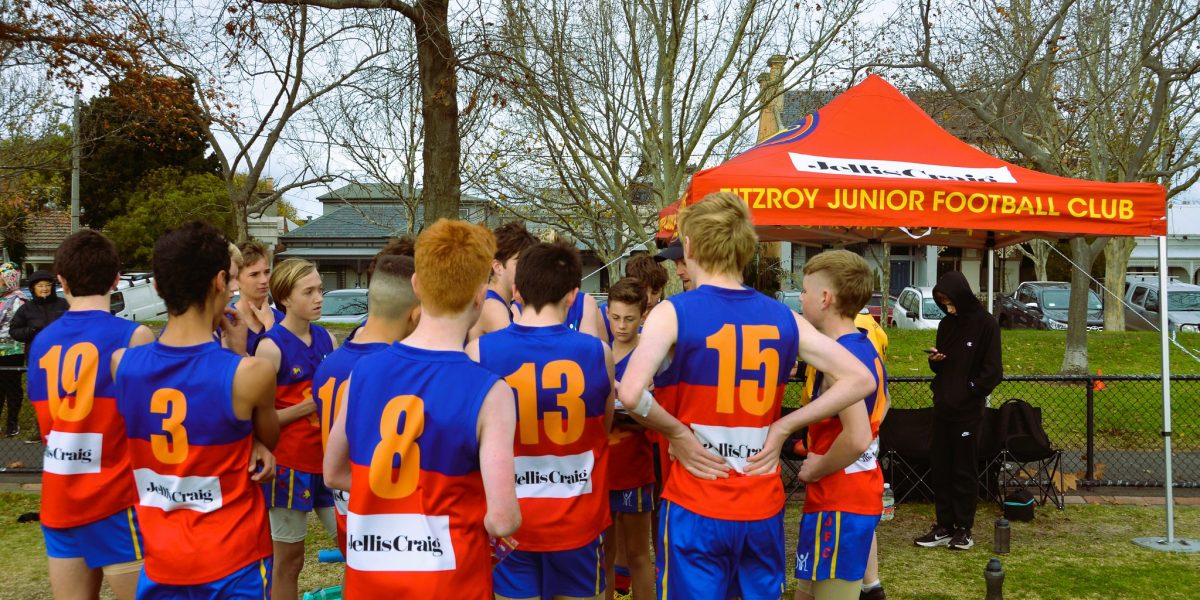 Minimal line-up changes at the half, good. Let's build from a solid foundation. Third quarter gets away from the boys a fraction, Preston hit the scoreboard a few times. Fitzroy efforts remain strong. Frankie is working hard in the ruck; Harry has a touch of class, doesn't he? Gus tries to find the hard-running Dylan close to goal, nearly! Oh wow, nearly a goal for Fitzroy, hit the post, who was that? Another goal to Preston… Okay no dramas, we're already proud of the effort. Let's hope the boys run the game out in the last quarter….and get a goal or 2 to reward their efforts.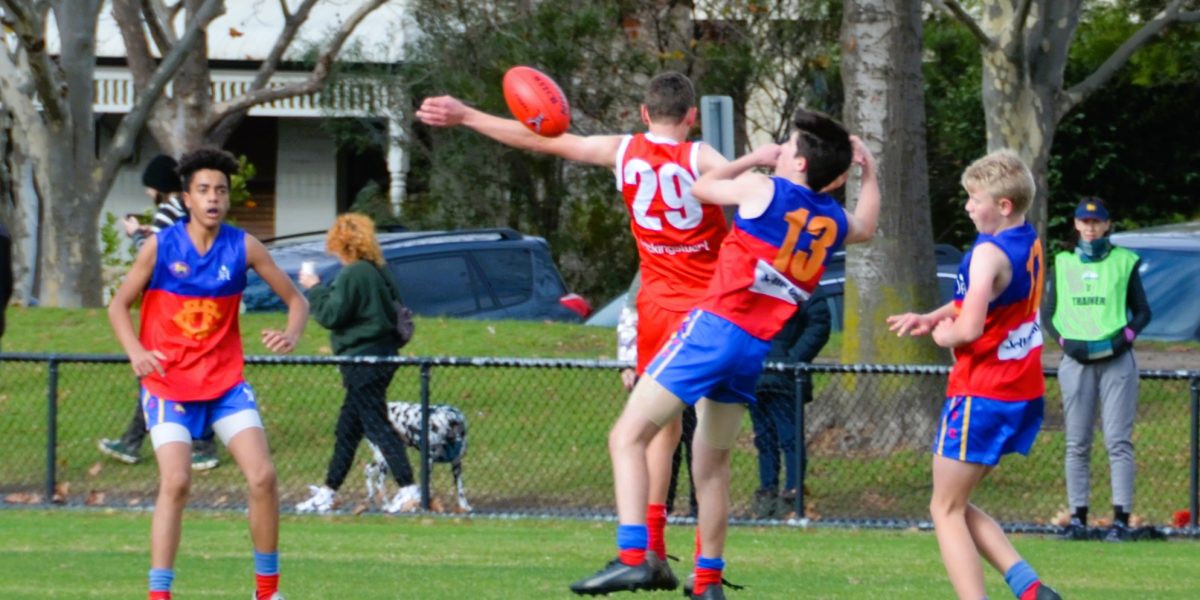 We're getting our hands on it, cool, some overlap run. Preston's got the wind but we've got the ball. Ball is in open space, Alex gets it, he's 35 out, open goal and he finds Gus closer to home to make certain of it. Great stuff boys! Let's get the ball to Oskar, he wants a goal!!! We get the ball to Oskar, come on Oskar, yes, he's got it! Another goal. Come on boys, let's get another one. Jack A marks, overlap run from Alex, onto Gus who makes it a double. Three goals, great quarter and game.
So we've proven a bit today. Be proud of the effort. That's gotta be the standard. Let's build on this, work hard, get better, have fun.
For footy to be fun for all, it takes a team effort.
Today (even in a loss) footy was fun for everyone!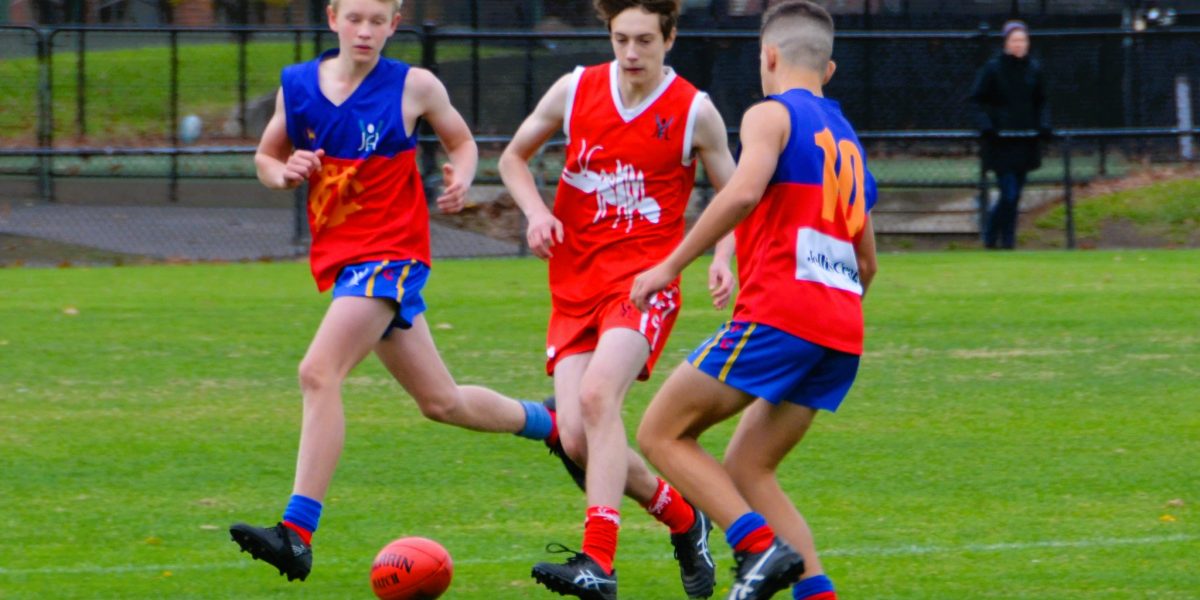 Round 8: Sunday 29 May – Kew Comets at Victoria Park, Kew
Kew Comets 11.15-81
Fitzroy Murray 7.8-50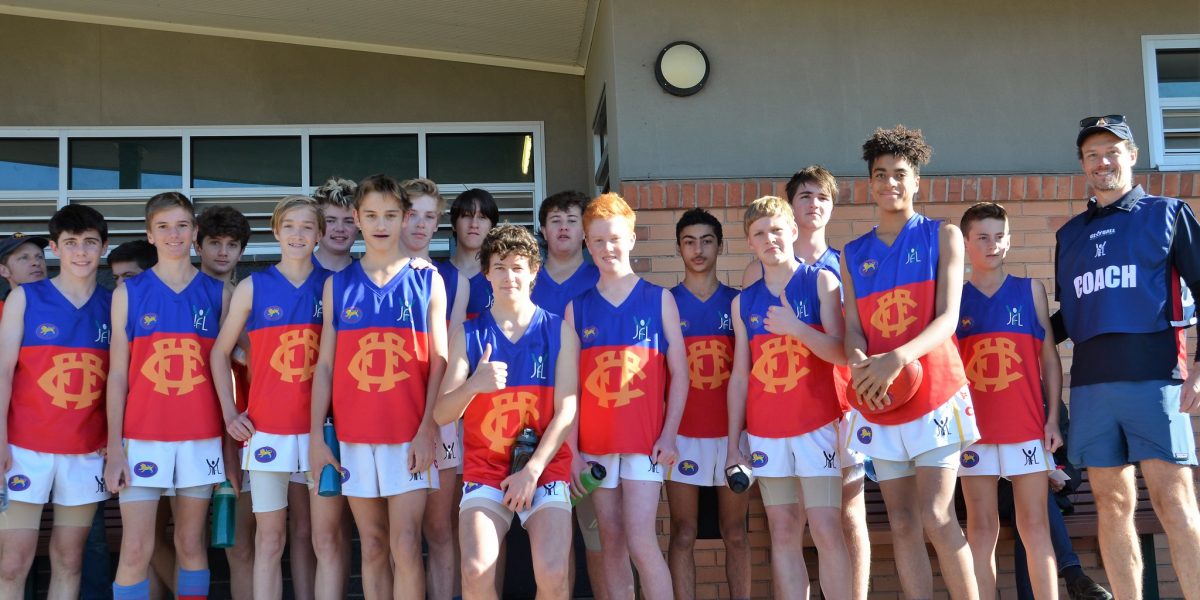 Our pre-noon fixture on the last Sunday of autumn took us to the 'other' Victoria Park and an encounter with the cosmically inspired Comets of Kew. It was our second meeting in Season '22 after a 48-80 loss at BSO way back in Round 1, a score we were set to better in more ways than one.
The sun was shining brightly in this tidy little corner of Kooyong, set behind neat garden beds and a fringe of Euro SUVs tooting politely at any Comet goals.
The match got off to a rousing start with Oscar S crashing through his 50th game banner, the boys following close behind onto a ske-wiff field that fell sharply away at the northern end.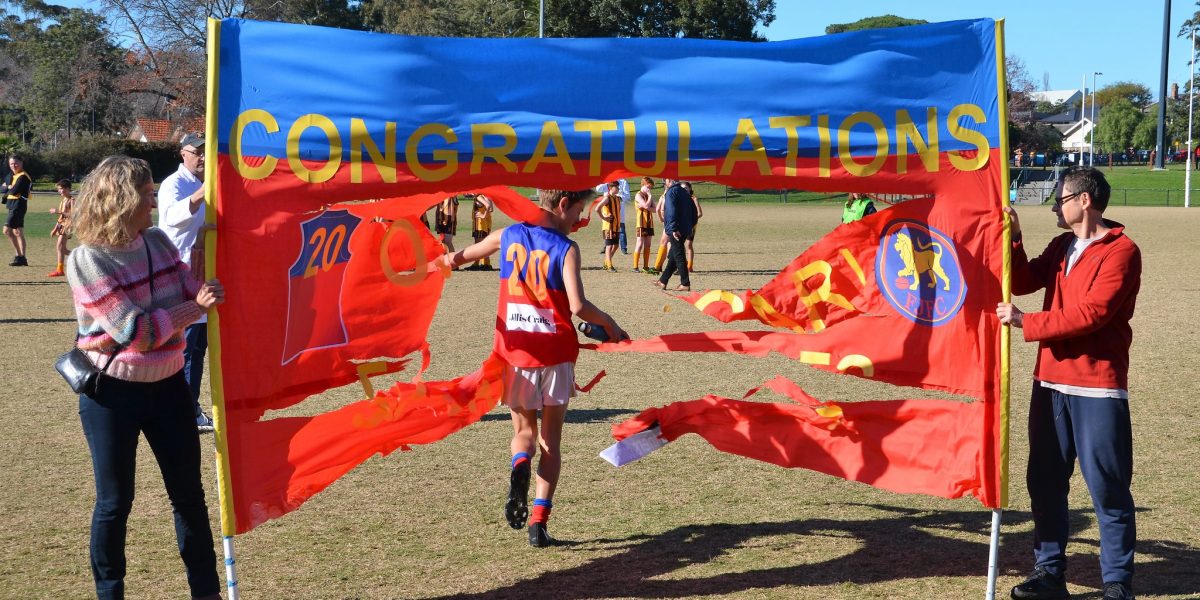 With Milo, Charlie and Toby on the casualty/COVID list we fielded a respectable 17. While 10 fresh legs jostled for space on the opposition bench.
The first quarter was uphill going – literally and figuratively – as the Comets put 4 goals between the sticks at the low-lying northern end, to our none. If not for the great defensive work of Chiron, Alex and Ollie, it could have been uglier.
"It'll be all downhill this quarter," promised Coach Cam at the first break.
At this point you scribe's rudimentary notes consist only of Roys goal sequences, so here they are…
Q2
Goal 1: Freddy kicks inside 50 to Rocket who marks and handballs to Frankie who kicks truly for our first of the day.
Goal 2: Rocket, again, marks from their kick-out, looks inside and finds Gus on the lead running towards the goal. The centimetre-perfect pass sees Gus mark 5 metres out and he kicks around the corner for our second.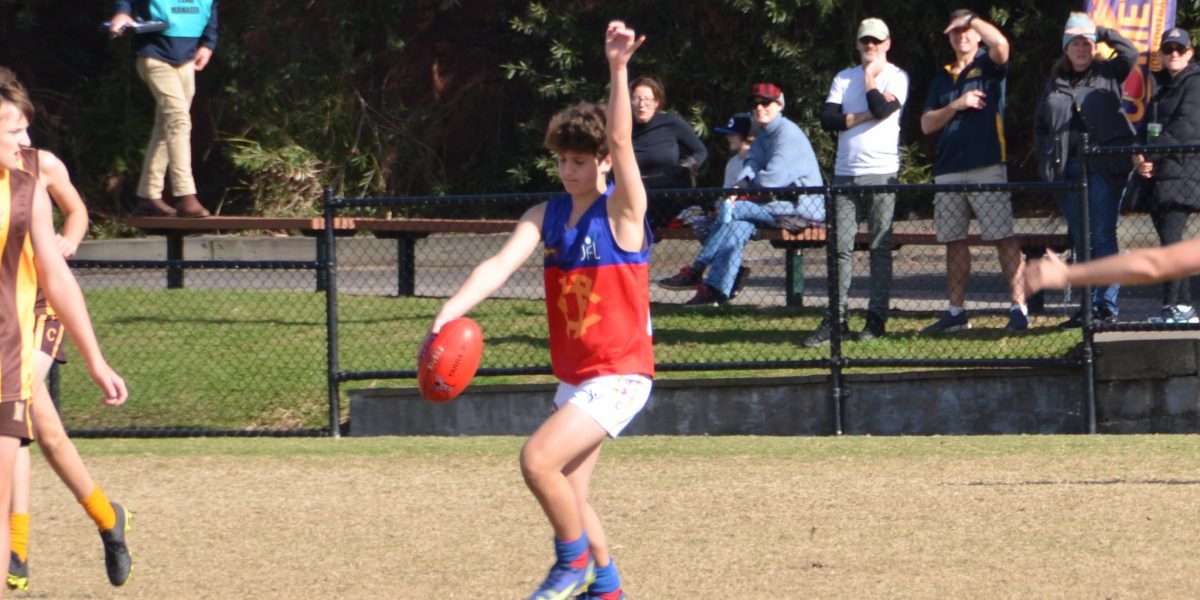 Q3
Goal 3: Jack S is the recipient of a rather agricultural push in the back – Jack looks inside and finds Gus all on his own 20 metres out, who kicks for our third.
Goal 4: Gus kicks long to the mouth of the goals, Chiron takes a strong overhead mark and kicks truly. (That celebratory kicking session with Dad Lou after the previous afternoon's Geelong win was starting to pay off.)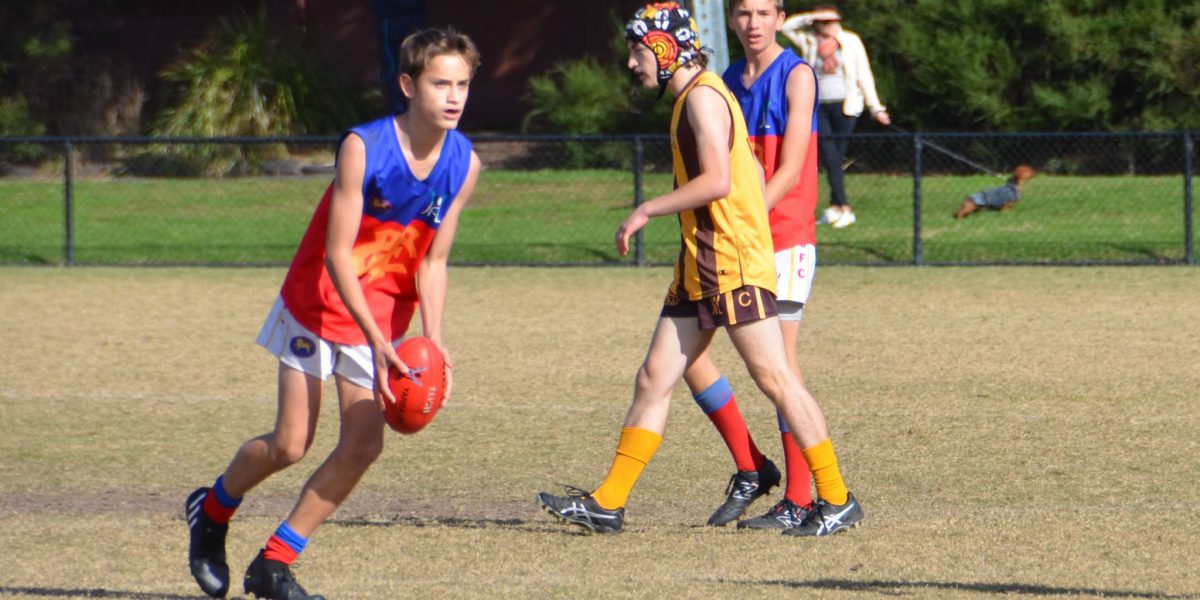 Q4
Goal 5: Fred, Dylan and Chiron mark down the wing, ending with Oscar S who scrambles, kicks into the man on the mark, regathers it and snaps a goal from 25 metres out.
Goal 6: Oscar S to Dylan to Chiron …. goal!
Goal 7: Frankie handballs to Zac who passes to Dylan, back to Zac, kicks to goal square and Chiron picks up the loose ball and snaps from goal square … hat trick!
So, after the first quarter, our Roys matched the Comets with 7 goals apiece. According to Chad: "An awesome 3 quarters of footy – every one of you guys put extra effort on every ball, and I think you guys had some fun too."
Overall, this was probably our best match of the year. Aside from the first quarter we held our own despite the vast disparity in numbers. Many players – Oscar and Oskar, both Jacks, Chiron (who did it at both ends), Dylan, Henry, Angus and Will – all played what may be their best games of the year.
They were backed up by strong games from Ollie who marked everything in defence, the usual courage of Alex/Vernon to play strong with his variety of niggles, a tireless Rocket whose ability to play anywhere is just wonderful in one so young, the ever-improving Frankie who's becoming a scribe favourite, and the usual good ball use, manic tackling and nous from Fred.
Another highlight was the effort of Harry who brought back memories for those of us of a certain age who remember the famous "Manassa's Run" in the 1977 Grand Final replay. Though Harry didn't take a bounce or kick a goal like Phil Manassa did, his effort to push the ball forward from the back pocket/flank all the way to the forward flank/pocket epitomised this team's love of the one percenters.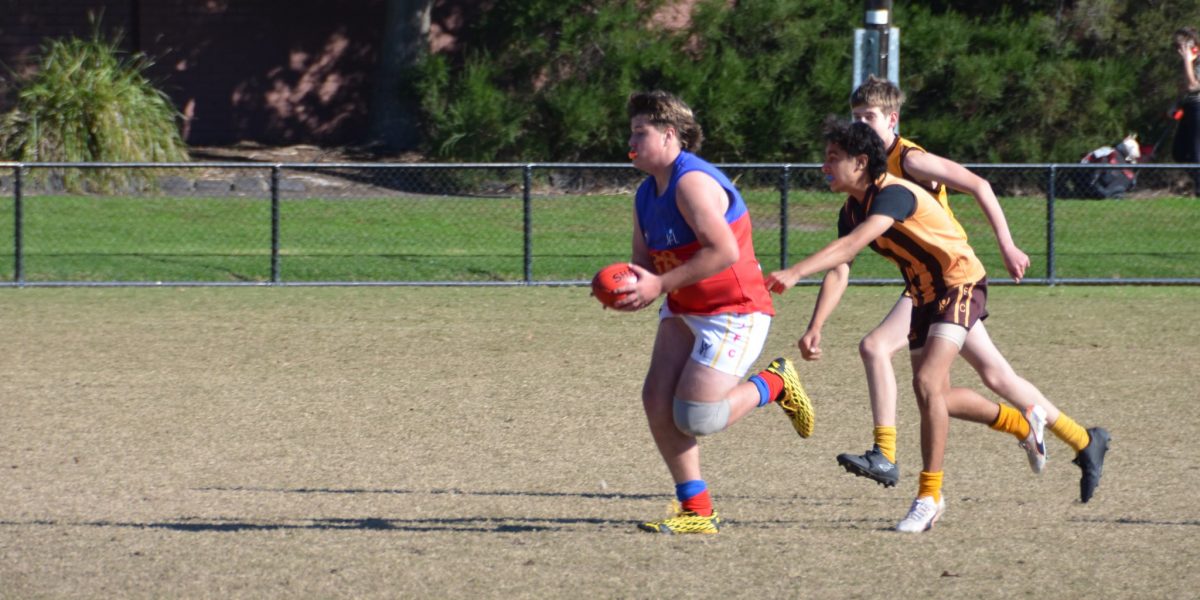 And I cannot not mention the repeat efforts made by Oskar B in the third quarter. He marked, tackled, smothered, tackled and tackled again in a 2-minute vignette of pure old-fashioned G&D. A thing of beauty indeed! He earned a 3-fingered heavy jarring/bruising he can be truly proud of.
Another thing that may not have stood out to too many, but coach Cam would have noticed, was the attitude of VC Zac who responded to Cam's 3-quarter time call to the boys to be more physical in the last. Your scribe noticed at least 3 occasions where Zac refused to accept cheap off-the-ball shots from our opponents in the last quarter. Along with Gus and quite a few others, there is some good leadership among this crew.
It has been a tough season so far due to the numbers out, but the boys are definitely improving and the never-say-die spirit is on show every week. It takes a lot of courage to keep chasing and tackling when your legs are screaming for a rest into the last quarter. This team is chock-full of that type of courage.
Who needs a bench?
Round 7: Sunday 22 May – Hawthorn Citizens at Brunswick Street Oval
Hawthorn Citizens 24.17-161
Fitzroy Murray 2.7-19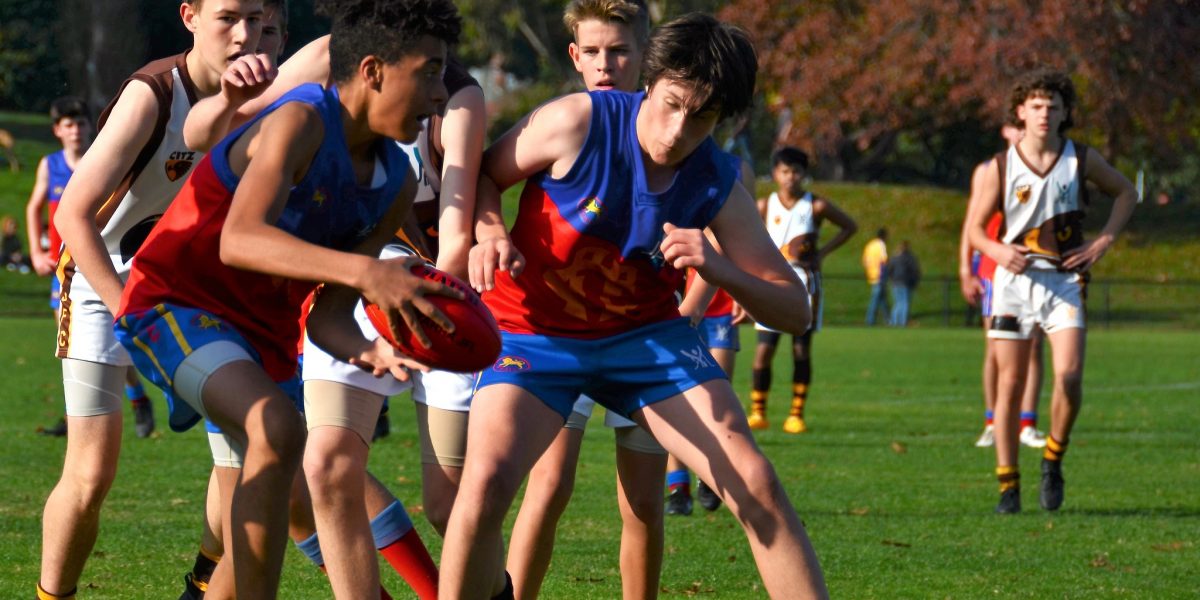 It was the morning after a history-making federal election, and who could have known that the ratio of red to blue on our Roy boys' socks and guernseys would match that of our shockingly redrawn electoral map?
No teal, but our Kooyong-based challengers Hawthorn Citizens had a little of their own in the form of a freshly minted independent MP. Were they playing their hearts out for Josh? They certainly brought their top game to BSO.
With our casualty list numbering 6 – Toby, Milo, Zac, Chiron, Charlie and Gus – we took to the field with just 14, a number our opponents matched. Officiating was the yodelling umpire who entertained us at Doncaster 2 weeks earlier.
We were fast out of the blocks in an initially tight game. Alex, carrying a knee injury from last week's Templestowe encounter, and deep bone bruising (ouch) to his right foot (bandaged and double-socked by "extraordinary Dad" Angelo), nevertheless put his body on the line from the first minute. And seven minutes in, kicking from his unfavoured left foot, he received from Freddy at the eastern end to clock up the first digits on the scoreboard. But our opponents quickly broke away and got on a roll, peppering 5 goals in 20 minutes, and it wasn't easy going from there.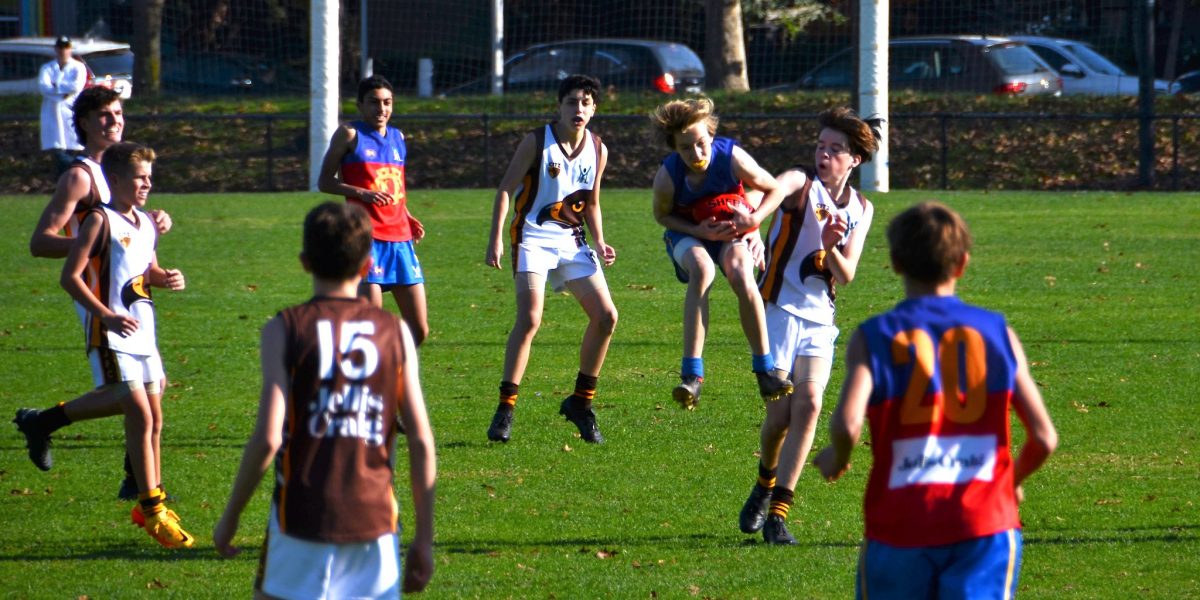 Our boys brought good pressure to bear early in the second quarter, and finished strongly right before the half-time siren after a crunching tackle on Jack Smith bought us a free kick – Jack passed to Dylan who got it to Rocket, who kicked truly from 20.
With things not looking pretty on the scoreboard, Cam, Yuri and Trevor turned on half-time pep talks and tactics – chins up, don't worry about the score, lay 4 tackles each, target a 6-goal third quarter… Harry took the message to heart for what was perhaps the highlight of the day. Chasing a fleet-footed Citizen all the way from the back pocket to the grandstand wing, Harry kept at it and at it, continuing the chase and finally after the Citizen's third bounce, he managed to the lay the tackle and draw a spectacular holding-the-ball decision – a sign that we indeed hadn't given up.
Still, on this day Josh's Cits were too big, too quick, and too strong. And drew ever-fresh legs from an overflowing bench. When a limping Alex withdrew we were down to 13 players for the second time in 2 weeks.
At three-quarter-time the coaches' call was to "have some fun" with a slew of innovative positional changes. Among them Olly went into the ruck, Fred to centre half forward, Rocket played on the ball, and Oscar B on the wing. One of those who kept his traditional position in the backline was Will who twice thwarted Hawthorn's attacks with 2 strong overhead marks.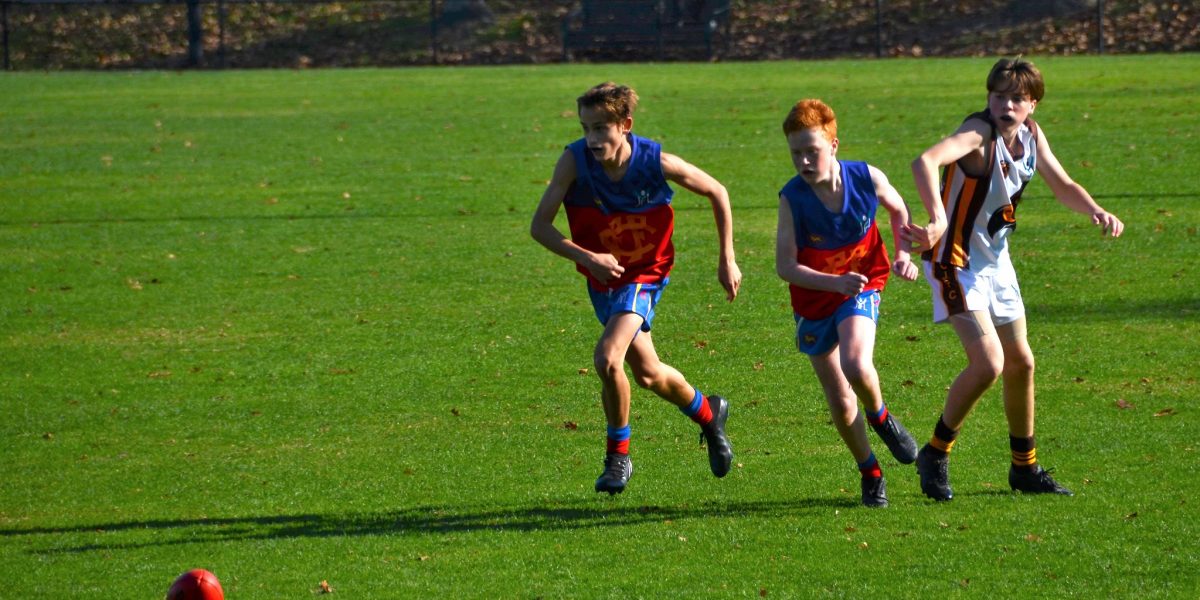 But while we have to concede the opposition was superior, it's important to say that at no point did this game look or feel like the numbers on the board. As they do every week, our boys worked hard, kept their heads up, never gave up.
Coach Cam put it well on Sunday night: "There is so much to be proud of. We have kids making huge improvements. We pushed players into things they normally would avoid and learned lots for it. Our kids consistently demonstrated the club values (our good behaviour and respect was noted by the umpires) and on plenty of occasions we skilfully moved the ball from end to end."
Rumour has it we have now played the top section of the ladder in this grade. Hopefully with injured troops returning to the fray, and matches against the lower reaches of the ladder coming up, we'll be rocking it like Saturday-night Albo in no time.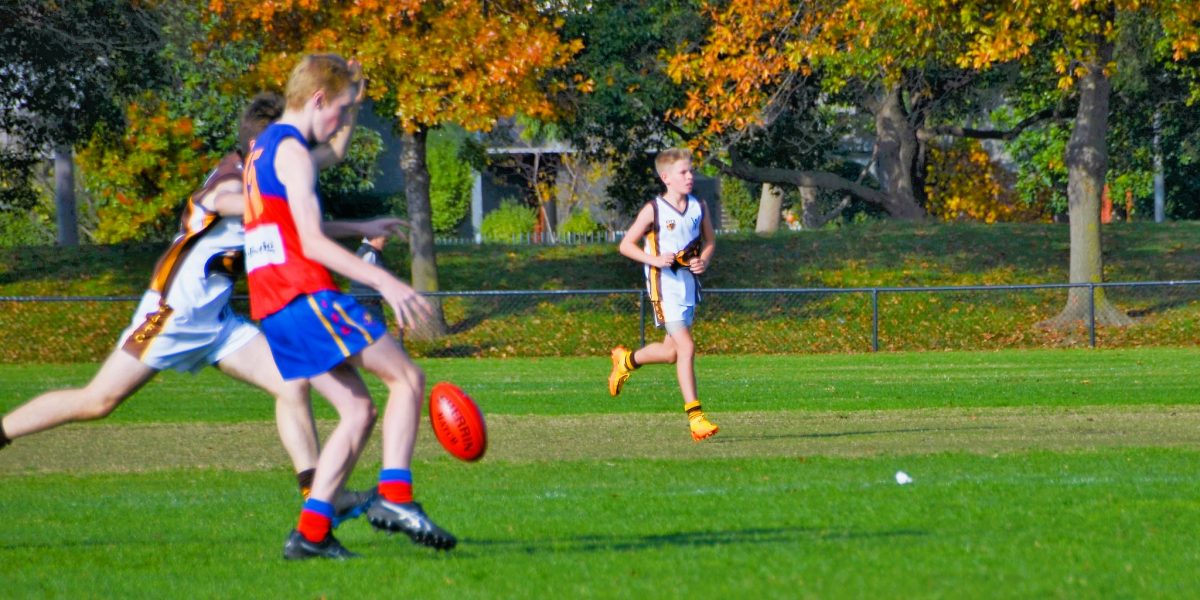 Round 6: Sunday 15 May – Templestowe at Templestowe Reserve
Templestowe 13.13-91
Fitzroy Murray 3.11-29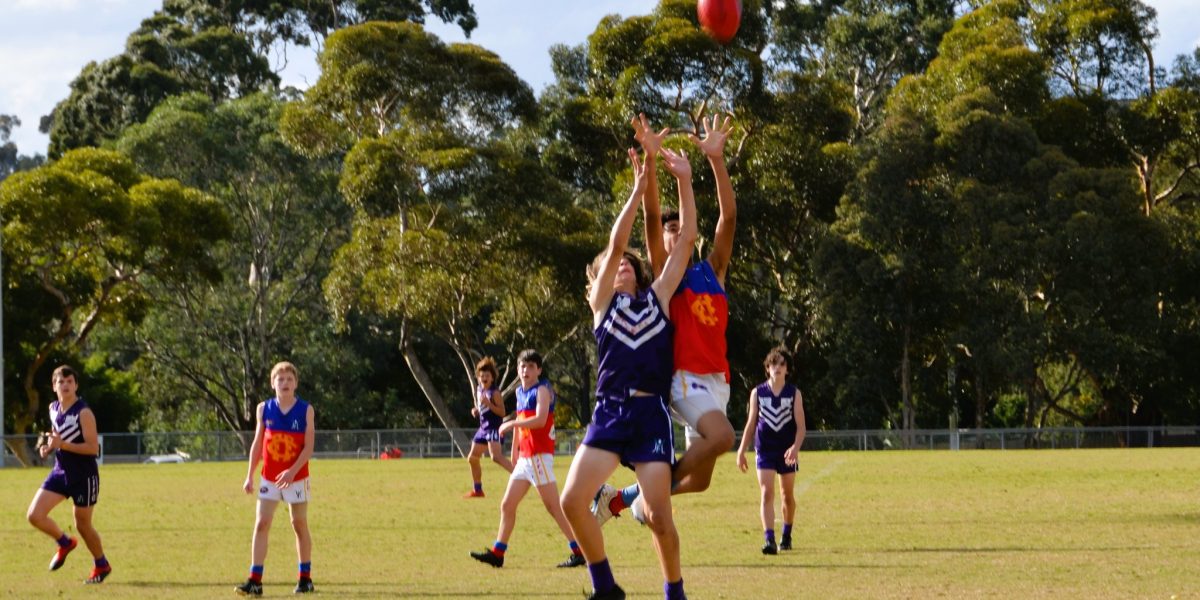 First some pre-match notes:
Congratulations to Gus Kossatz and Zac Bennett – chosen by the coaches and players as our captain and vice-captain for the season.
The team was elevated in grade during the week, and now sits in 3 – Green, the same as their Team Wilson cousins.
The list of injury casualties expanded on Saturday with Charlie and Oscar out of action, joining Chiron and Milo on the injury list. Dylan was also unavailable.
We fronted with just 15 players.
Chiron took on the running role, eager to contribute while being incapacitated with his broken wrist. Great stuff.
The local road closures and detour 'management' to just get to the ground presented a challenge to some parents, including this scribe!
To the match itself and hopes for building early momentum were challenged by Templestowe kicking with the aid of a strong wind and establishing a 5-goal lead at the break.
Notable performers in the opening term included:
Oliver: won many one-on-one contests at full back. I'm so impressed with Oliver's play all season down back, his improvement is rapid and his endeavour never in question.
Zac: playing across half back, a real captain's quarter, with a couple of tackles noteworthy for their intent.
Henry: set the tone early for what proved to be a great 4-quarter effort in the midfield.
Alex: as a half forward drifting into the midfield and despite carrying a foot injury, he created lots of link-up play between the mids and forwards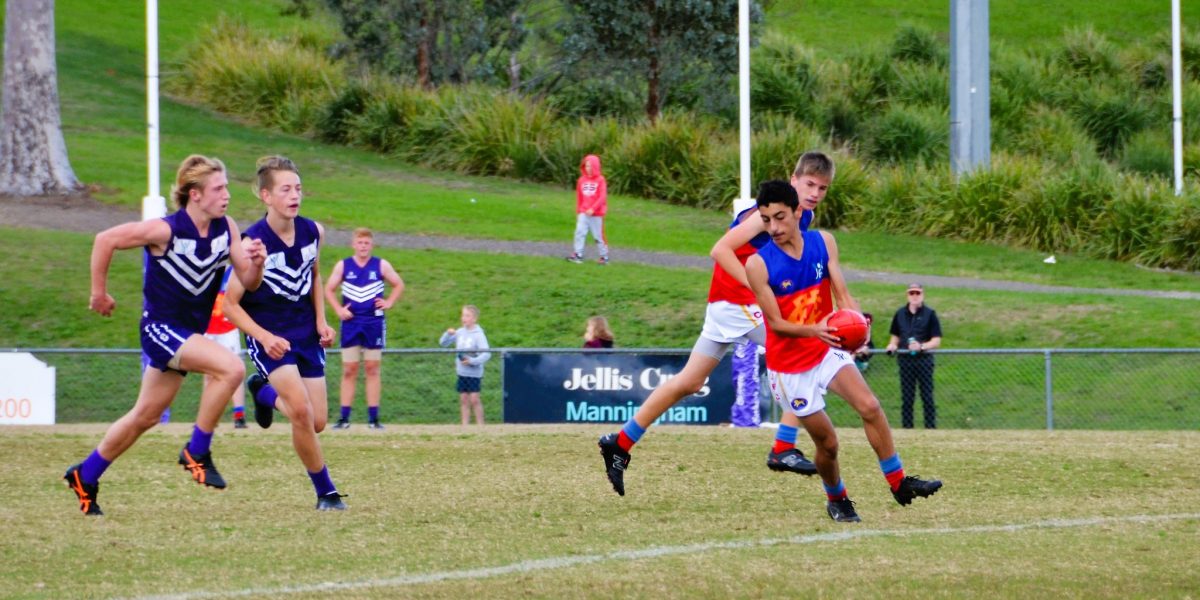 Onto the second term and the team won far more of the ball and contest, however were rewarded with just the one goal from Oscar after some great lead-up play from Gus and Alex. In defence Toby's play really stood out, here's another player who has impressed with his growing attack on the ball and improved reading of the play. Freddy exerted more influence on the contest while Frankie and Rocket were having an impact in the ruck and in key positions.
On another day we might have converted a little more, perhaps the wind was a bit tricky and caused some issues with kicking accuracy. There was some strong physical play from the opposition and unfortunately Alex was a late casualty with a knee injury sustained after landing awkwardly from a Templestowe bump.
The third term was always going to present a challenge as our boys tired and were further reduced to just 13 players when Toby sustained a horrible wrist injury from an aggressive sequence of play. What a pity, Toby may miss some games, meaning a key pillar of the team is taken away. The team was outscored 5 goals to 1 in the term, Jack A setting up Gus for a direct kick on goal. Both Angus and Zac caught the eye in this quarter, relentlessly driving the team into attack time and again. Great effort boys, what honest performers they are.
One would have forgiven the boys for trailling away in the last quarter, overmatched and undermanned as they were. However, as is typical of the team, they dug deep, peppered the goals for 1.7 (Gus kicking his second major) and outscored their opponents for the term.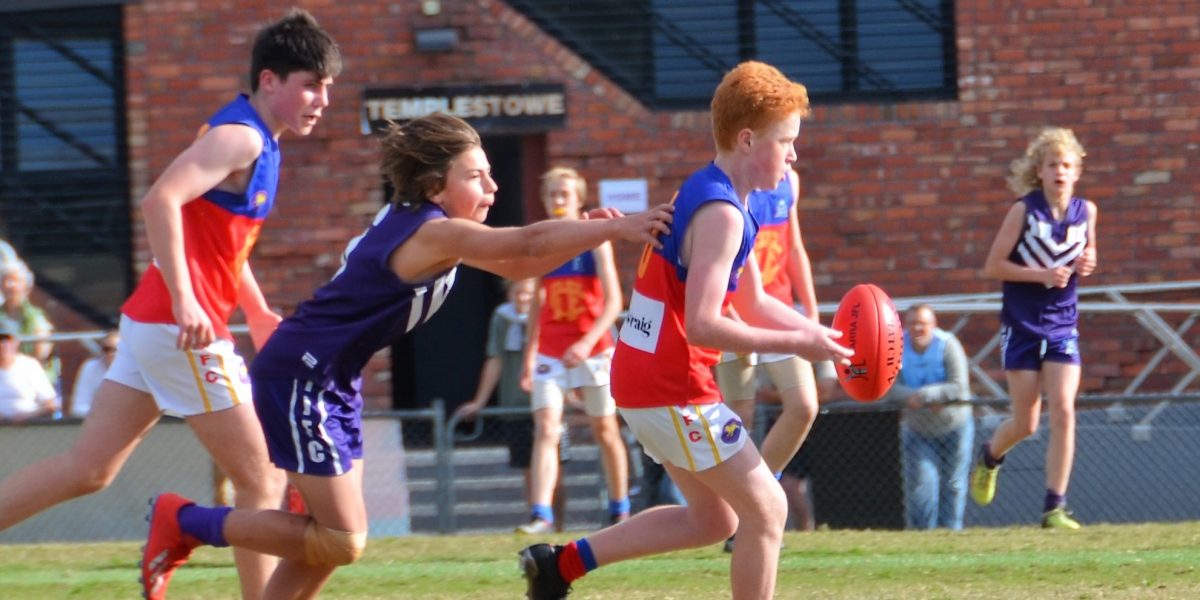 That's something to hang the hat on for next week – hopefully the cavalry is coming and those reinforcements will strengthen the team. The continued spirited displays from our players is testament to the supportive environment that our coaches Cam, Yuri and Trevor have created.
And a special thank you to our volunteers including:
Gary and Bridget, our team management team extraordinaire
Damian, for sacrificing his cherished running role for Chiron, acting as goal umpire and copping a football kicked fair square in the head for good measure
Jason, who tirelessly runs the boundary each and every week and may have been annoyed at not getting his usual 7 to 10km workout (thanks to an AFL-appointed junior boundary umpire 'helping' out), and
Lana, who always provides great care for our players as trainer.
Onwards and upwards, we look forward to Round 7!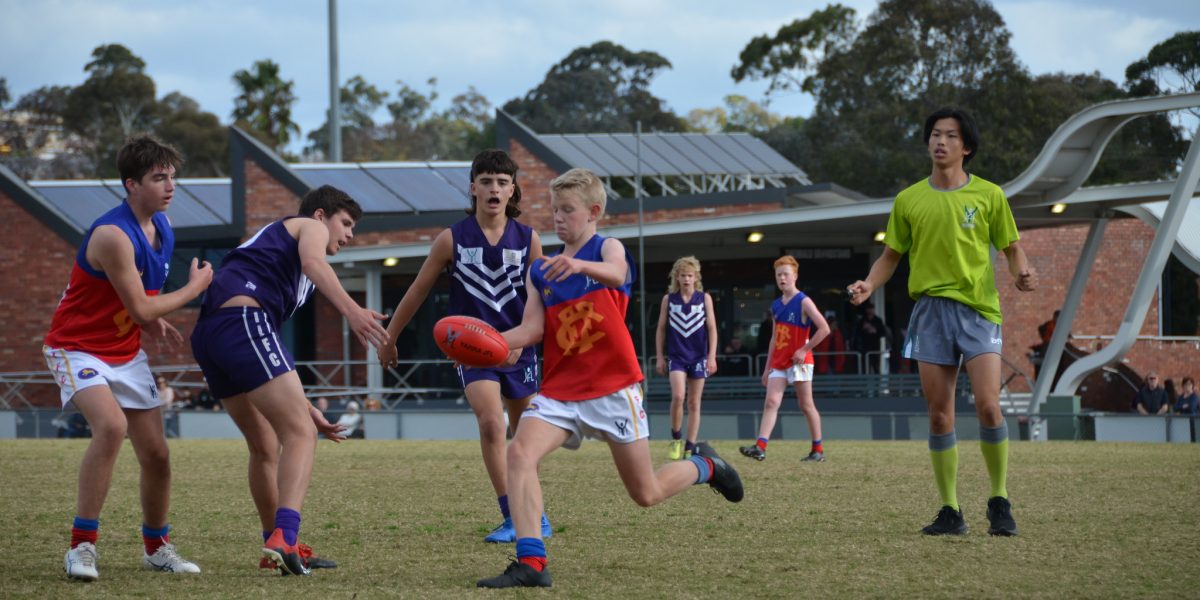 Round 5: Sunday 8 May – Doncaster at Schramms Reserve
Fitzroy Murray 14.10-94
Doncaster 10.7-67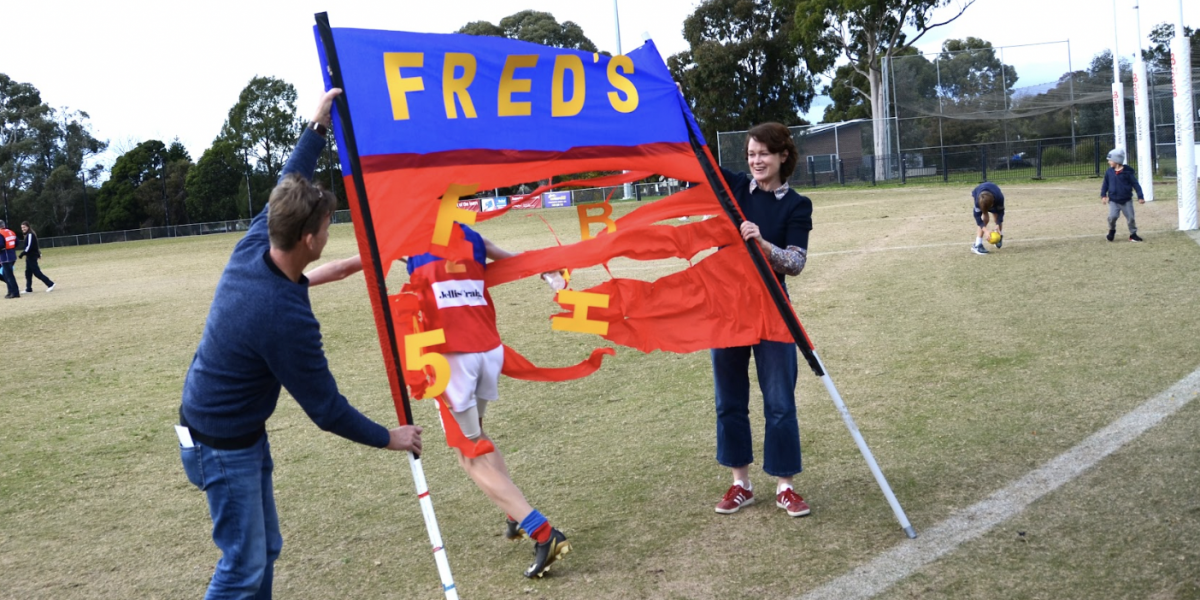 'Twas a glorious day for footy in the shadows of Doncaster Shopping Town when our lads faced off against Doncaster on Mother's Day.
A gentle zephyr ensured Freddy's 50th game banner stood strong until the hulking No. 2 managed to crash through it, making the banner appear to be made simply of crepe paper.
Adding to the occasion was the fact we finally had enough available players to have a bench for the first time in season 2022. Plus a hitherto unknown secret weapon.
The milestone man, and skipper for the day, managed to also call correctly at the toss and the Roy Boys were kicking both downhill and with the zephyr in the opening stanza.
The first 10 minutes presaged a close, nail-biting encounter with both sides seeking their own advantage while probing their opponents' weaknesses with little to show on the scoreboard for either.
Gus followed Dylan's opening point with the first of what was to be his numerous behinds before he picked up the pieces and snapped from 20 for his, and our, first goal at the 10-minute mark. And we were off.
But the next two went to Doncaster despite the domination of Frankie in the ruck and the efforts of Toby and Ollie down back.
But then Gus passed to Fred who converted from 20 metres for his first of the year and then the secret weapon (Jade, on loan from the U15-1 Girls) drew a high free and hit Gus 20 metres out on the flank who brought up the second – seeing us take a one-goal lead at quarter time.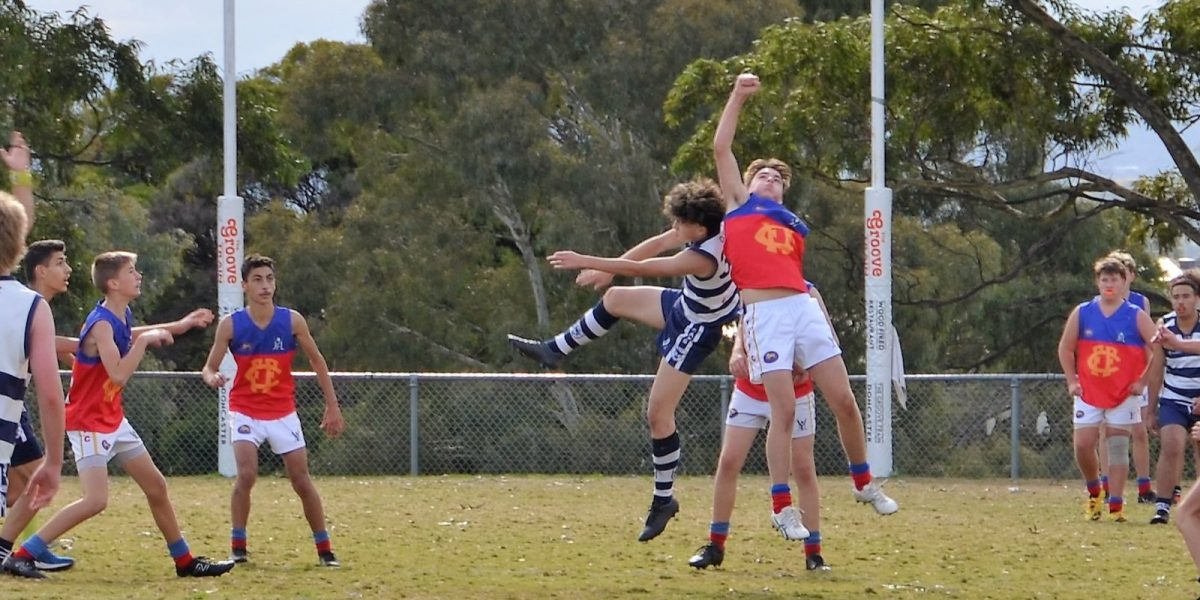 The second began as the first finished with Jade again finding Gus after some fantastic teamwork from a rampaging Frankie and some hard yakka by Jack Smith who just kept getting the ball forward.
Then another free to Gus saw him bring up his fourth and we'd skipped out to a terrific lead while going against the wind and kicking up hill.
There was some beautiful footy including a deadly inside pass from Dylan to Zac. Even the umps got on board and gave another to Gus to make things comfortable-ish before they gave a couple of frees to the opposition which saw them quickly back to level. But then Oscar S was held and converted to give us a seven-point lead at the half.
They opened up with the first before a most deserving Jade got her first and almost brought up a second in the first few minutes.
But then a couple to Doncaster saw us dangerously relinquish the lead before something happened to change the entire match as well as teach us all about how to play the game.
After one of the Doncaster players took a mark at half back another of their players had a foul-mouthed discussion with one of the field umpires, which saw the ball given to Gus in the goal square to retake the lead.
All looked well when Gus (again) put another through with about two seconds left on the clock and we went in with a 14-point lead.
Coach Cam looked happy at ¾ time but threw himself into his own "gotcha moment" when he couldn't remember his three "Cs" while trying to inspire the lads. But like Albo, his message got through to those that mattered, and the lads emerged from the huddle with a glint in their eye and a lilt in their step.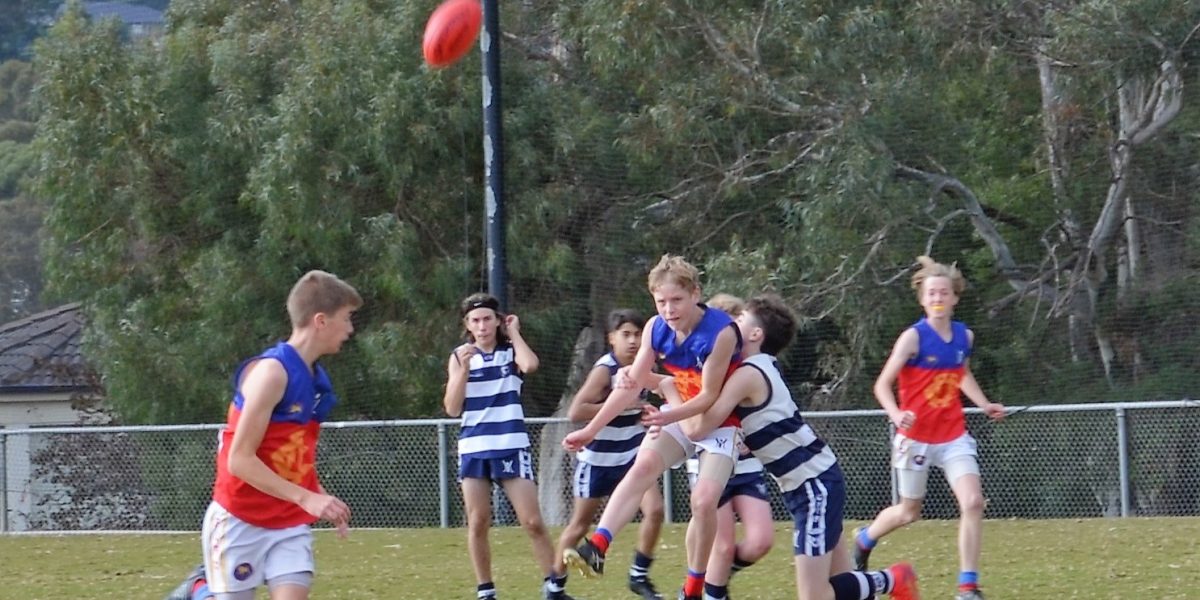 Gus to Dylan right on the line gave us a 15-point lead. Then Jade was dumped after her disposal and Oscar B converted the down-the-field free and the stress was all gone.
When Henry then got it to Oscar B for his second it became a search for percentage. A special mention to Henry for his unrelenting efforts in this great quarter
The boys had led, got behind, led again and then through the efforts of ALL managed to snap the arm-wrestle and come out with a seemingly comfortable victory.
There were some fantastic individual games, led by Gus whose 7 goals 6 was simply outstanding. The boy indeed has some talent. It was the best game I've seen from Frankie in the ruck who took his chance in Rocket's absence and shone. Freddy had a ripper in his milestone match and the gutsy defenders in Ollie and Toby once again showed the G&D they always do. Vernon's (Alex's) improvement continued apace. And whenever Jade wants to play with us again, I'm sure every boy would be proud to have her run out with them.
So the game was close but we always seemed to have the upper hand. That was due to EVERY player on the ground contributing… well… something! It's sometimes what you do without the ball that makes you a good team. And to know that your teammate, even if he's not the best kick or the fastest or the strongest, just to know he's trying as hard as he can is what makes a good footy team.
And that's exactly what happened on a glorious footy-filled Mother's Day.