U15-2 Girls Division 3 2022
Contacts
Coach: Julian Gooi
Contact: [email protected]
Assistant Coach: Jamie Nelson
Contact: 0488 277-889
Team Managers: Anna Rogers, Kath Fawcett and Terence Mullan
Contact: [email protected]
Trainer: TBC
Team Page Editor: Kylie Gleeson
Contact: [email protected]
Team Photographer: TBC
The Team
Nina Bagaric
Phillipa (Pippa) Bisley
Tilda Burge
Amelia (Milly) Clarke
Pearl Clayton
Kai Dicker
Ciara Gleeson
Harriet Gooi
Gracie Halliday
Katherine (Kitty) Ingvarson
Alice King
Gemma (Gem) Lourey
Saoirse McPhee
Iris Mullan
Claudia Panichi
Lily Sawyer
Kalyca Vi
Eve Walker
Milly Walker-Guerin
Frances Ward
Mila Williamson
Aika Wright
Zahra Zakharia
Match Report 22 May 2022
The first official win of the season! And what a win it was. It could only be said that the team thrashed Aquinas by a massive 89 points.
They went in with a strong start and had a goal on the board within the first minute or two. There was excellent team work and link up play throughout. It showed that the team is getting used to the more complex aspects of playing football.
It was quite the  thrill to hear and see the excitement of the team song after the game!
Next week will be a milestone game for Iris and Amelia who will be playing their 5oth games.
Well done and Go Roys!
(With thanks to our coach Julian Gooi for assisting with the wrap up)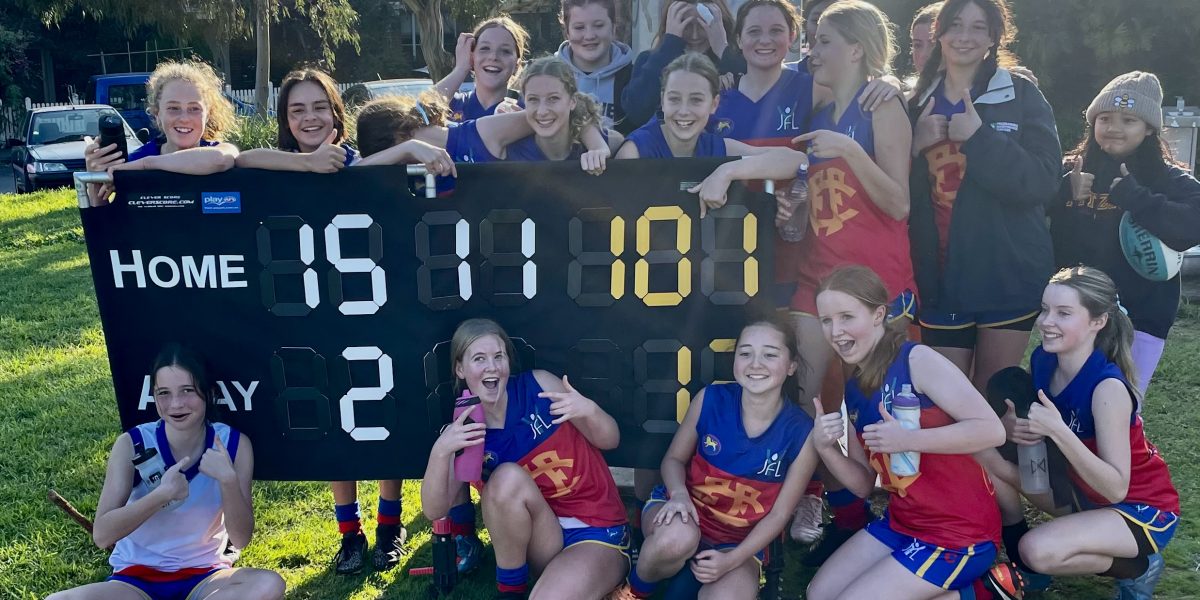 Match Report 15 May 2022
Welcome to the Inaugural U15 Girls Division 3 Match Report!
Against a severely depleted Doncaster, our team was able to make the best of a difficult situation and have a really enjoyable scratch/ practice match.
The game will officially be seen as a forfeit by Doncaster, but from what the coaches saw on the field, we would have had their measure regardless. The match allowed us to further emphasise and practice the things we have been learning in training.
Keep up the great work, and the positivity. The improvement in the team is fantastic.
Go Roys!
(With thanks to our coach Julian Gooi for assisting with the wrap up)