Contacts
Coach: Angelo Vocisano
0419 956 875
Assistant Coach: Cameron Cook
Assistant Coach: Pep D'allessandri
Team Manager: Johnny Barnard
[email protected]
Team email: [email protected]
Trainer: Bridget Smith
Trainer: Trevor McDonald
COVID Officer: Sarah Oliver
COVID Officer: Will Oliver
Team Page Editor: James Hider
[email protected]
Team Photographer: James Hider
@jameshider
The Team
1 Chiron Scacciante
2 Finbar Kennedy
3 Zac Bennett
4 Alex Vocisano
6 Dylan Cook
7 Harry Skaltsis
8 Jack Smith
9 Charlie Hooper
11 Thomas Hider
12 Oscar Slizys
13 Angus McDonald
14 Josef Hicks
15 Tyson Zacharias
16 Jack Amiet
17 William McManus
18 Chris Oliver
19 Liam Ukovic
20 Henry Harrison
22 Joey Bernard
23 Frankie Donnini
24 Tully D'Alessandri Weis
27 Noah Atkinson
Match Report Round 10
Fitzroy 2 Murray               6.11 – 47
Preston Bullants               7.17 – 59
Whilst we are missing further games due to yet another lockdown, it does make you appreciate the opportunities the boys have had to play amidst a global pandemic.
One game I'll look back in fondness was last week's Round 10 clash with the very tough and strong Preston Bullants line up. We were just 5 minutes away from a well deserved win when Liam marked strongly and kicked the go ahead goal…..
I'm pretty sure Preston must have one of the best home field advantages in our league, with a short field, a massive downhill slope going to the northern end, bumpy surface and a howling wind on an "exposed to the elements" oval. I imagine playing there more often allows Preston to understand how to play the ground more effectively.
This was a return bout, with our team reinforced with some key players from our undermanned game at BSO earlier this year.
We matched Preston in all aspects of the game, except one critical area and that was not converting a couple of extra goals in the 1st quarter when we were kicking with the wind.
We played tough, we played relentlessly, we played with resilience and we played for each other. We can't ask more from our boys than that.
We have real belief in our team and I know that if given the opportunity the boys will be playing their best football come the pointy end of the year. I just hope they get the opportunity to prove to everybody they are a team to be reckoned with.
The highlight for all was Finbar's mark, it was spectacular. It was funny in the changerooms after the game, I commiserated the boys on their loss but everybody felt like a winner, basking in the glory of that mark!!!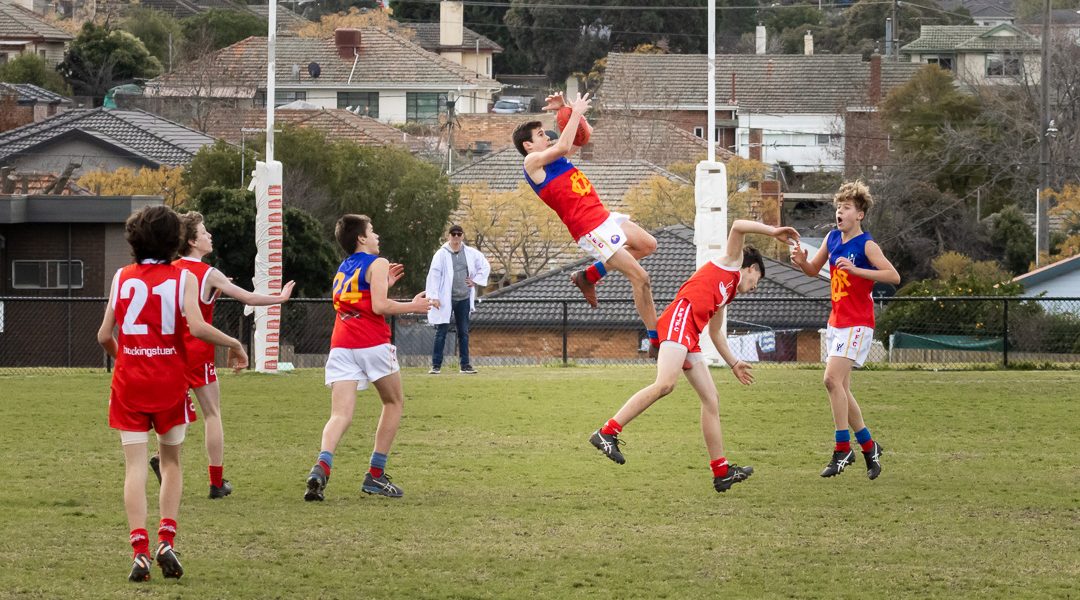 Match Report Round 9 and Round 8
20 June 2020                                         27 June 2020
Fitzroy 2 Murray 14.20 – 104           Fitzroy 2 Murray 11.11 – 77
Glen Iris Hanger 0.0 – 4                    Parade Saints 5.3 – 33
If there was a silver lining to lockdown 4.0 perhaps it was in seeing our boys come back rested, rejuvenated and ready to take on the contest, or so it appeared based on their performances
The break also allowed us coaches to take a breather and make sure we were aligning ourselves to the goals and values of the club in this Covid era, being fun and retention. We're committed to these goals and in the context of these times it's more important than ever.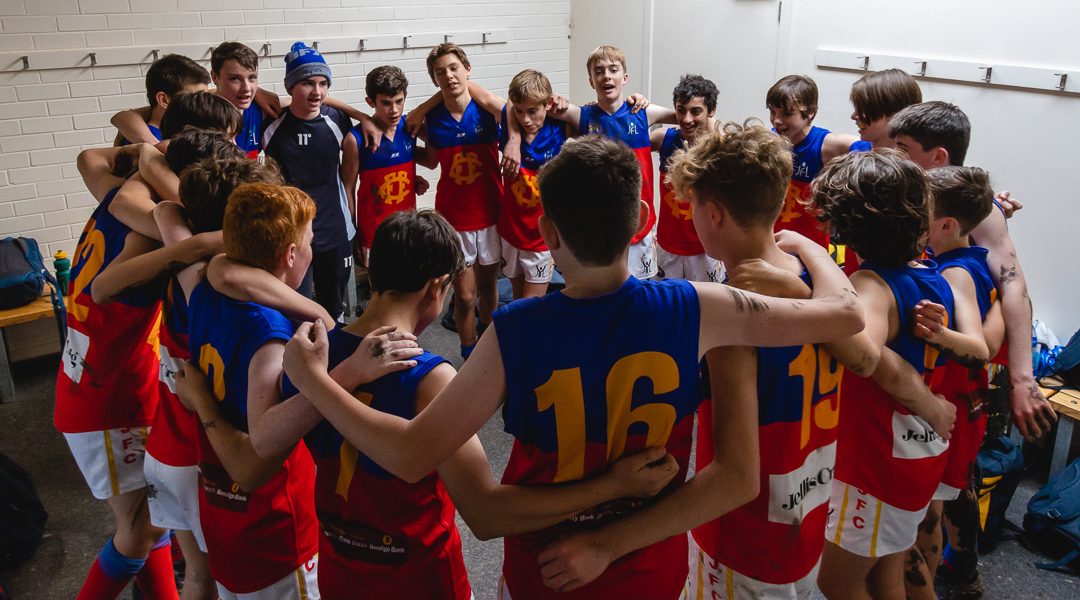 Now onto the games:
Round 9 vs Glen Iris
Leading into the game, Pep and I were determined to keep pre game messaging it pretty simple i.e. "relish the opportunity to play footy again with your mates"
The boys bounced back from their Hawthorn game with a complete performance, running out well deserved victors by 100 points.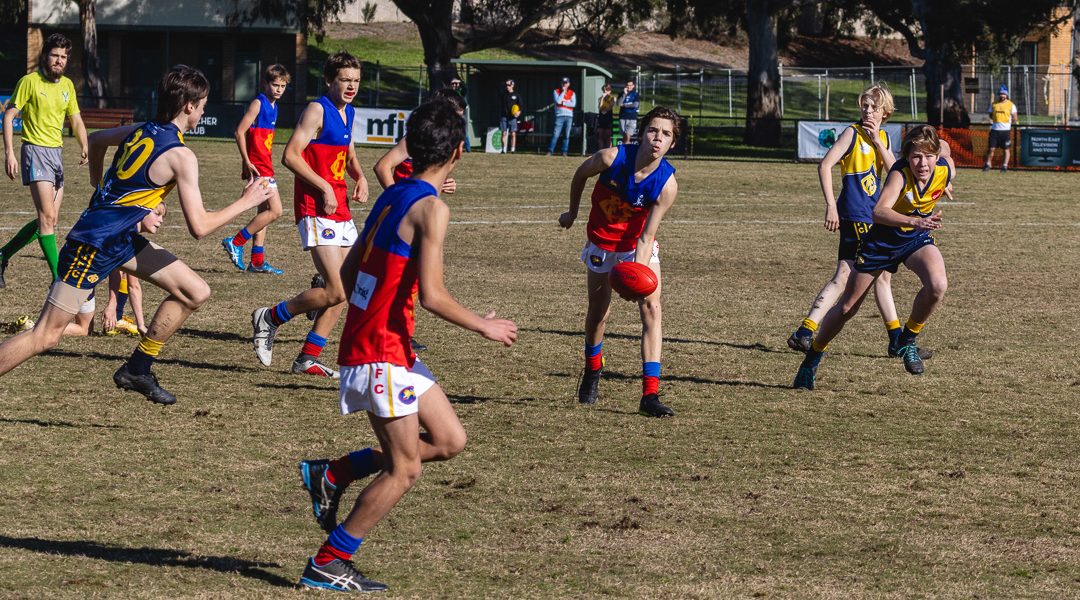 Some highlights of the game included:
The game was most influenced by our midfield – I reckon four of our midfielders played their best games of the season, being Finbar, Alex, Henry and Harry. Brilliant stuff by our small brigade who outworked their opponents both ways and also hitting the scoreboard with multiple goals – the hallmark of the best midfielders. We shouldn't forget Noah as ruck is instrumental in supporting the mids.
We fortified our defense for this game – Chris, Liam, Dylan, Thomas, Angus did so well in the first half that it allowed us to rotate them through the midfield and forward in the second half to great effect (Liam with 5 goals n the 2nd half).
Other highlights included Will and Jack A's play in the forward line, some excellent marking, presentation to the ball and handballs to overlap runners. Tyson fought hard and almost jagged his first snag of the season.
I will have missed individual acknowledgements here but this was truly a team performance, we couldn't have been happier with the boys efforts.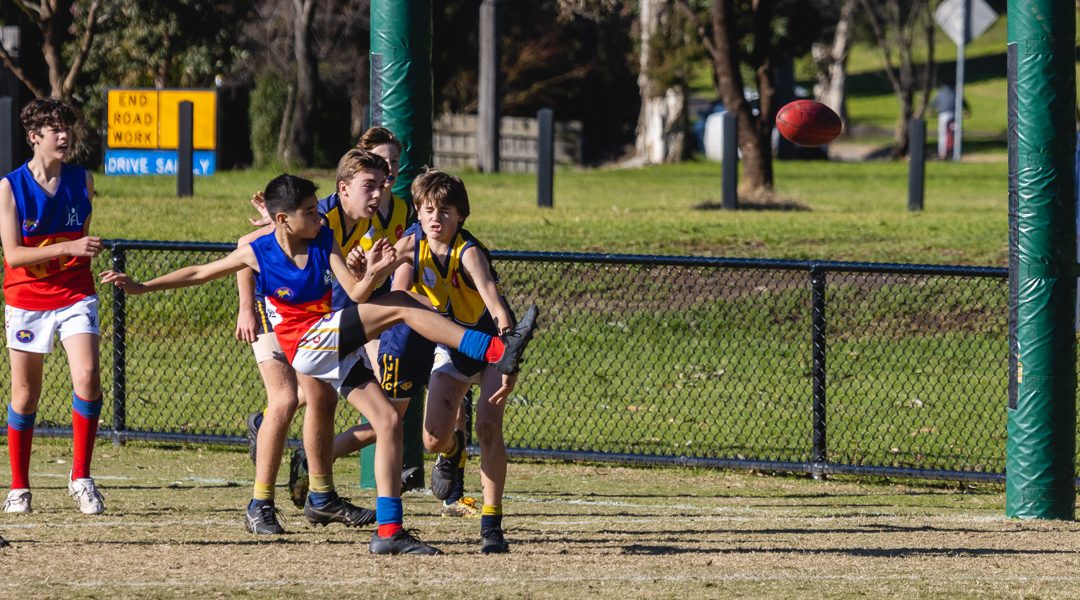 Round 8 vs Parade
This turned out to be our toughest and grittiest team effort of the year. We had just the 17 players, however, everyone contributed to grind out a very meritorious result.
I think we've reached a point in the season where we have a very good handle of our line ups and where players can best contribute to the team. We'll endeavour to reflect that as best we can when we move the magnets around and juggle our bench.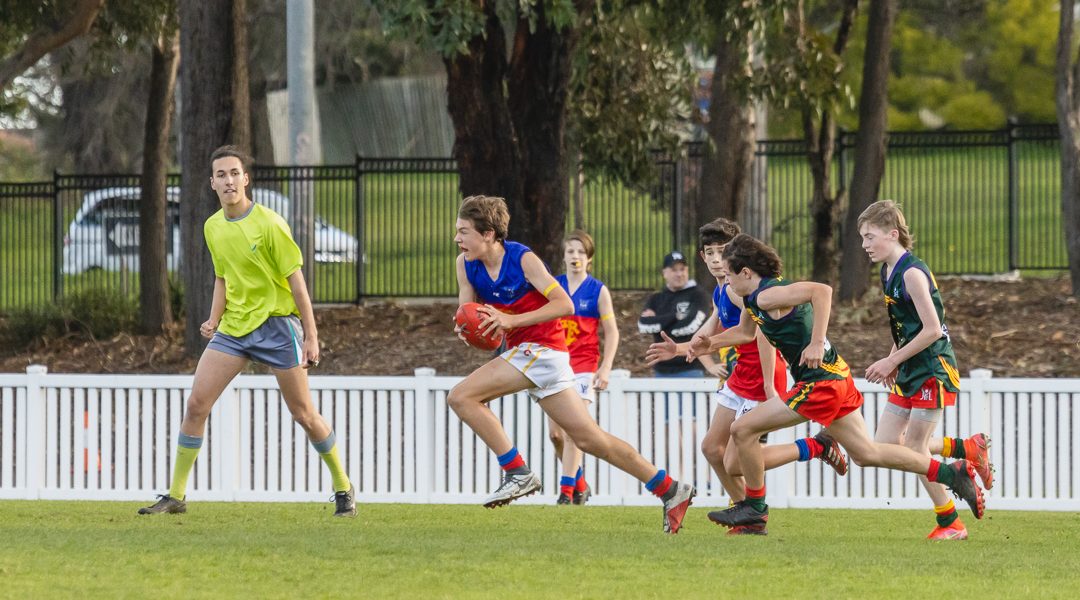 Some random highlights of the game included:
Zac was back and he was out the back, kicking 2 early goals. Great to have Zac Back!
Spike was also back in the team and smashed it in the ruck. I'm loving seeing how Spike is just taking the game on and making more and more impact week after week. It also allows us to play Noah in key defensive and forward posts, making us a far more versatile team.
Jack S kept presenting up forward and was duly rewarded with a mark and goal in the 2nd quarter. I also want to acknowledge Jack's super (crazy?) brave attempt to take a contested mark in the 4th, from the sidelines I thought he was in some danger of serious injury but much to our relief (and in particular our trainer and runner) he emerged relatively unscathed!!
Charlie played a great game up forward and at half time I highlighted his kick on goal that fell a metre short yet he beat his opponent to it on the follow up and soccered it through. Great repeat effort Charlie!
Dylan racked up a record Supercoach score in the last quarter – he just simply outworked and outran his opponents and had the ball on a string.
Tully was a formidable target up forward, his best game of the season and I feel he's on the verge of tearing a game apart soon.
Oscar played his best game of the season, tremendous drive on the wing, half back, half forward and in the middle. Loved the consistent work rate over 4 quarters.
Finbar continued where he left of against Glen Iris with another superb midfielders game, whilst Josef simply amazed with his speed, agility and attack on the ball.. He also did a fantastic job subduing Parades best player and then running off him.
Once again I will have missed individual acknowledgements but want to emphasise again how proud we are as coaches of each and every member of the team – let's keep the momentum going with a good turn up at training this week and then into the game against Preston.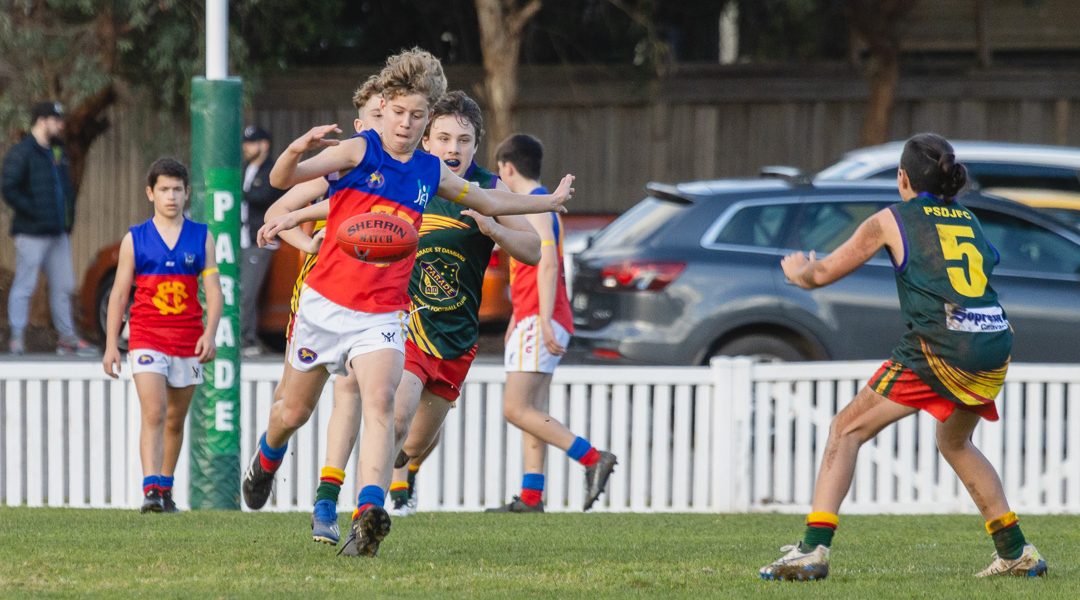 Match Report Round 6
Fitzroy 2 Murray               8.7 – 55
Hawthorn Citizens 1          15.11 – 101
If any game epitomised the dangers of looking at previous results and projecting what might happen on gameday, this game could be considered Exhibit A.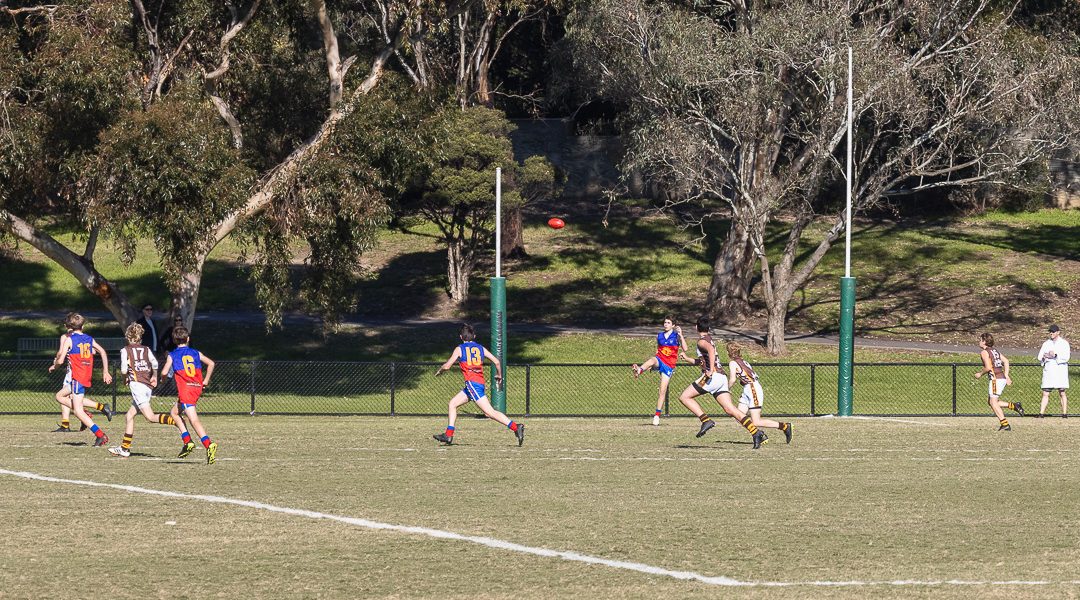 While some of our boys were expecting an "easier" game heading into this match, as a group of coaches, we  communicated to the boys that each opponent needs to be treated with the utmost respect and anything short of giving the best account of ourselves could mean pre match expectations wouldn't be met.
With a full squad of 23, we lined up and played our boys in positions where we felt they could play their best football and we will continue with that approach.
After a solid start, and a four goal to one lead, we allowed Hawthorn Citizens to kick two late goals in the 1st Quarter and from that moment on this seemed to energise our opponents whilst our boys seemed a bit flat footed. Hawthorn's impressive "run and carry" game led to some easy goals scored against us and that theme carried through to the final siren.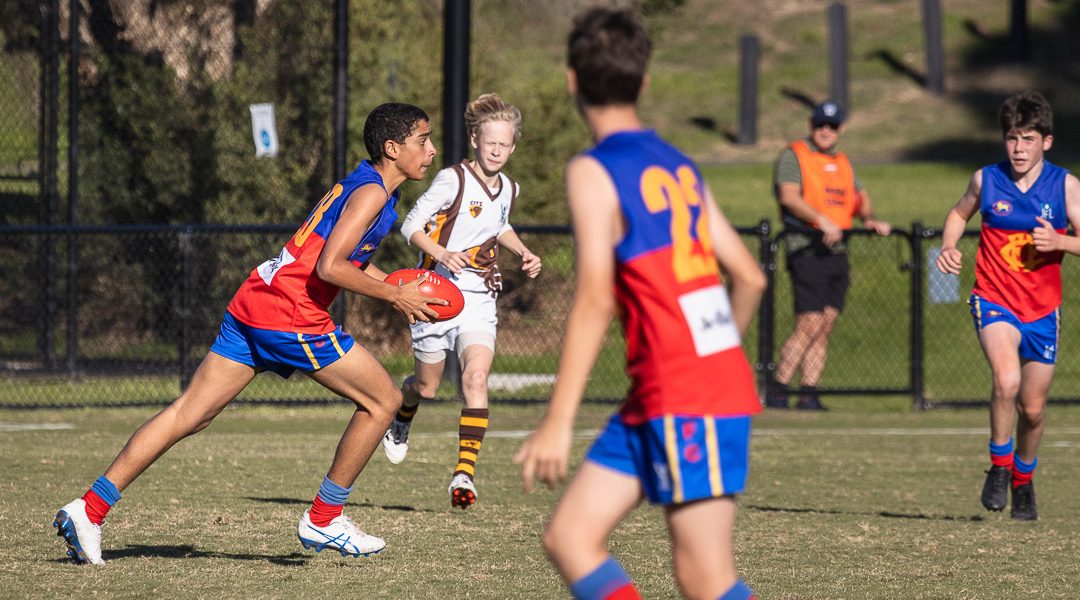 Footy Specific Takeaways from the Game
Talking to our players and coaching group during and post game identified a few opportunities for improvement:
Apply more pressure, fight and contest to win the ball back.
Further develop a sense of accountability to our opponent and to our own team mates…..man up, shepherd, block, tackle, chase, effort, contest, etc, etc
Work on our skills in contested situations, little fumbles here and there give our opponents time to apply pressure
Promote more "run and carry" from our own team, we have the ability to take the game on, play with dare and "take on" our opponents.
If we do all of the above, we'll enjoy our footy more and have fun.
With a 7 day lockdown in place, we won't hear any updates until Friday at the earliest. As per Ben's message as President, lets consider this our mid season break, a chance to recharge the batteries for players, parents and coaches alike.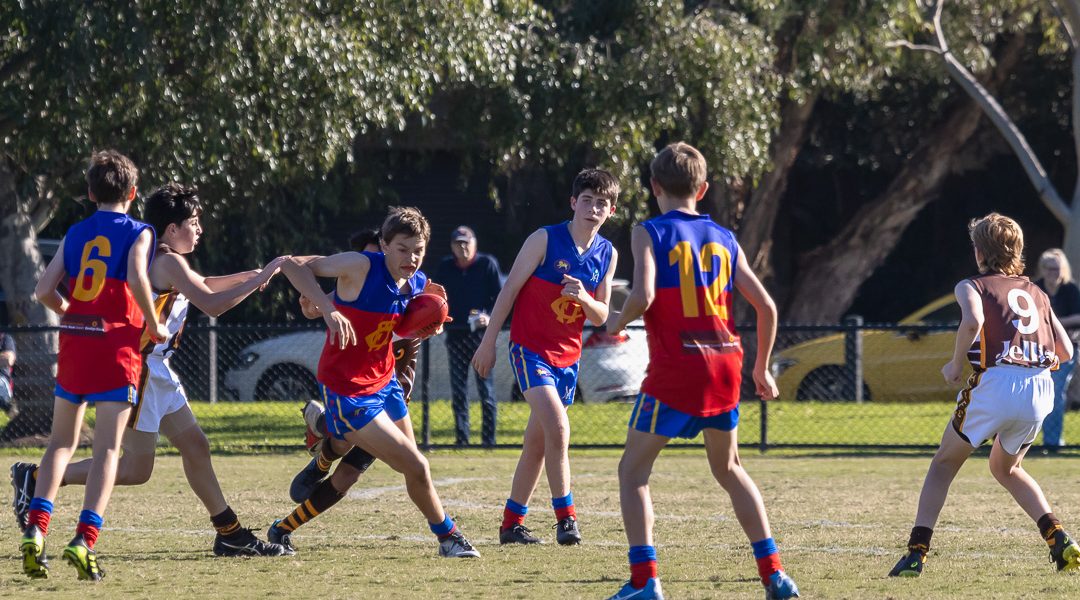 Match Report Round 5
Fitzroy 2 Murray               6.6 – 42
Preston Bullants               14.10 – 94
Before I talk about our Round 5 game, I want to communicate to all of you some news regarding our team.
First of all, a big thank you to Chris Oliver who has led us superbly in our first four rounds as our captain. As coaches, we always intended to utilise the first part of the season too learn about our players and their leadership credentials
We are very happy to announce two additions to our leadership group being Noah Atkinson and Frankie Donnini. Noah and Frankie will join Chris as co captains and will rotate the match day duties from hereon in.
Noah's leadership attributes are clear, his presence and use of voice on the field helps galvanise his team mates and responses in player surveys certainly highlight how Noah is viewed. Congratulations Noah, this is well deserved recognition!
Frankie's appointment has been driven by his example in the way he trains and plays, being thrown all around the ground without complaint and getting on with the job. Selfless, humble and gracious, Frankie will bring and share these qualities with his team mates. Congratulations Frankie!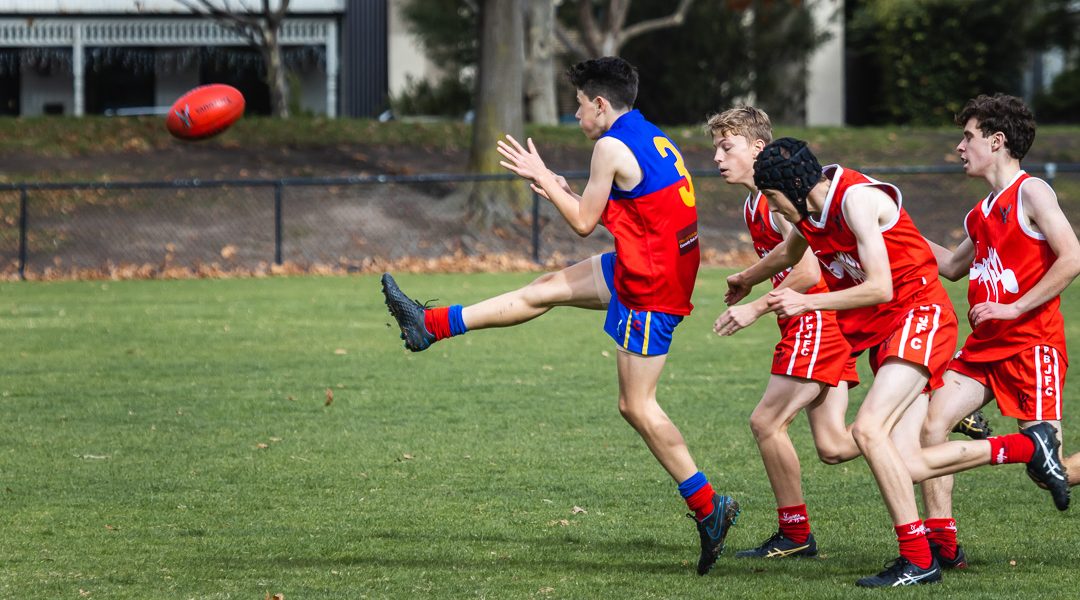 I want to put in writing my congratulations to the team on their promotion to green, I'm thrilled that the boys will play at a higher level to appropriately challenge them and promote further growth and development in their game.
Now to the game….
It's well documented we entered Round 5 severely undermanned and in essence our team took one for the wider Under 14 group this week. Our boys battled hard against a pretty good opponent in Preston and went into the half just  two goals down. Then BANG! Preston kicked 4 goals in the first 3 minutes kicking with the strongest wind of the afternoon, winning the ball cleanly in the centre square and kicking long goals from 50 metres out on the run. My halftime speech obviously put our boys to sleep (sorry boys). Is it time for some old school fire and brimstone from the coaches? Nah, not in 2021, we'll keep the messaging positive and encouraging!
The game was essentially over in the blink of an eye and in the coaches box we were scrambling to determine what we could do to help the team keep their spirits up.
We shouldn't have worried! Our team stabilised and held Preston at bay for long periods and then started developing some rhythm, run and carry in the last quarter and were rewarded with some late goals that tidied up the scoreboard a fair bit.
I know some coaches often don't highlight individual efforts, afterall it's a team game but I think it would be remiss of me not to acknowledge:
Noah – a fantastic captains game
Josef – what a valiant effort on the ball, pressure skills are special
Finbar – up against bigger bodies in the centre square, battled manfully in a 4 qtr effort
Tom – saved us on numerous occasions at full back, against overwhelming odds
And I want to thank Leo Daffy from the 13's – what a great player he was on the day!!!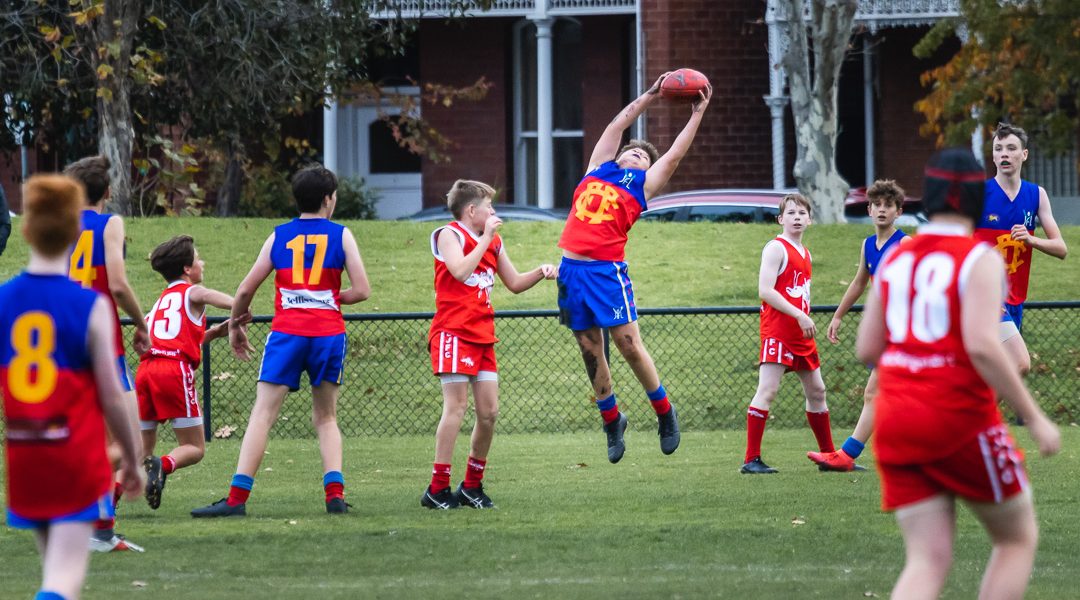 We'll now use Round 6 as the launch for the new phase of the season, now that we are in Green division.
On matchday, you'll see some different things, being:
We will endeavour to settle the team down with our boys to play in selected positions for longer, developing their craft and becoming more predictable to their team mates. So less spinning of magnets, more time for boys to play in their best position/s
As a coach, I have not really paid too much attention to our opposition (i.e. we haven't been tagging in the midfield), I've been more focused on our players playing their own games. From this week onwards, we'll focus more now on match ups and defensive aspects/accountability that each player needs to develop their games further.
Instead of using our bench mainly as a mechanism to spread playing time as evenly as possible, we'll start using the bench to provide shorter but more frequent breaks for players who need them to help them get through what will be more intense, competitive games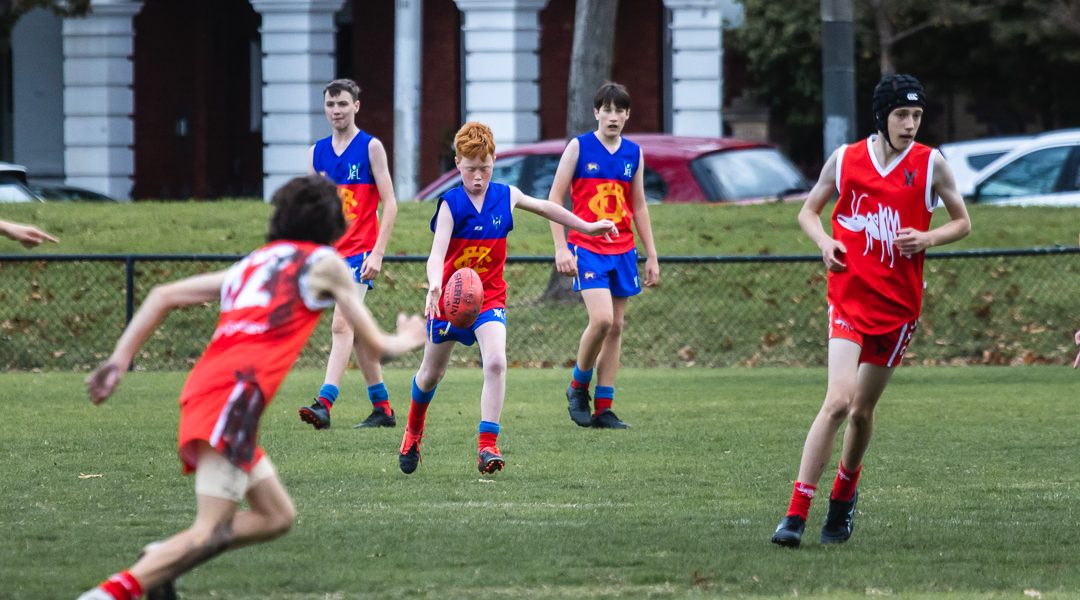 Match Report Round 4
Fitzroy 2 Murray               20.15 – 135
Richmond Black                3.3 – 21
Richmond Black was the best opponent we have faced since we played Banyule in Round 1 and our boys showed how much they have improved in 4 weeks with a classy display of fluent ball movement, running power and selfless team play. It's hard to keep the foot on the pedal, week after week, against weaker opposition, however it appears the teams appetite for goals hasn't been satiated as yet! Good fun, but we hope to be in some closer games from here on in.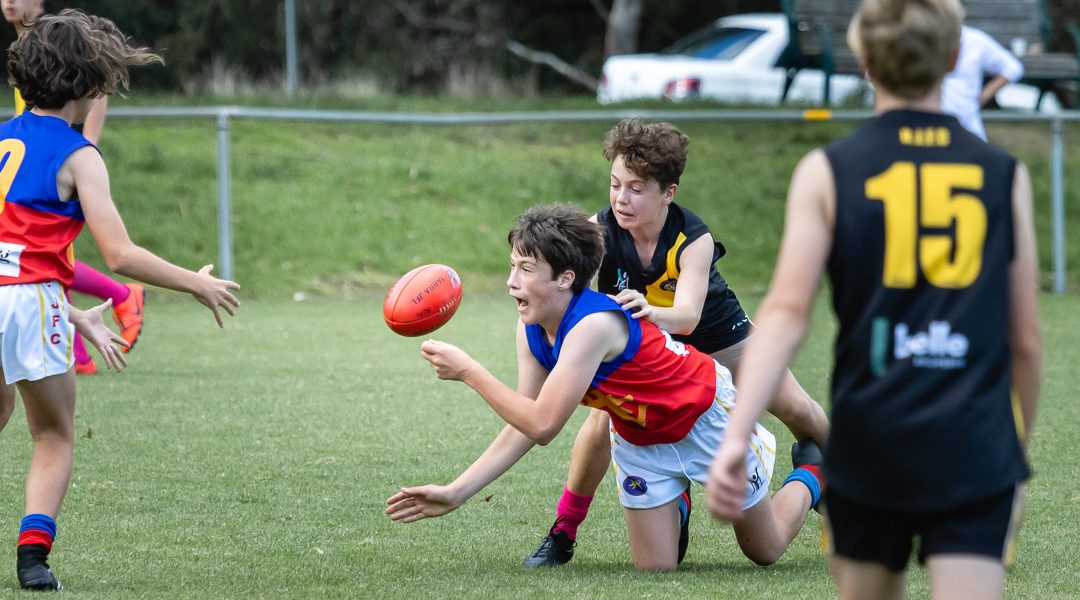 As for the players, Coach shared some individual comments/highlights.
It was great to see Tully up and about in the first half, he was threatening to kick a huge bag, however, he was stopped short with what proved to be a small tear of his quad flexor. Sadly Tully will be missing this weekend as a result. I'm looking forward to seeing what a fully fit Tully can achieve when he returns.
Dylan and Alex, wow, if we tracked their km's run in the games, I'm pretty sure it wouldn't be far short of 8-10km's. Loved how both boys distributed the ball to the forwards and linked up play from the wings. They ran their opponents of their feet,
Will played up forward and was asked by Cam to present up on the lead and make the midfield kick to him and that's exactly what he did. His reward, 2 goals! Great stuff.
Tom played a great game in defence. In the 3rd quarter he was taking a breather on the bench and I offered him his choice of position in the last quarter (i was encouraging him to say up forward or midfield). and he responded "down back". We duly played him "down back" and he must have taken 3 or 4 intercept marks in that last quarter alone. We may have found the best position for Tom
I pity any opponents of Josef!!! What an athlete, if you've got the ball and he's anywhere near you I advise you to get rid of it in a hurry!!!! Josef's harassing, and chasing talents are supreme and he dominated any position he played on the weekend.
Can't wait for Round 5!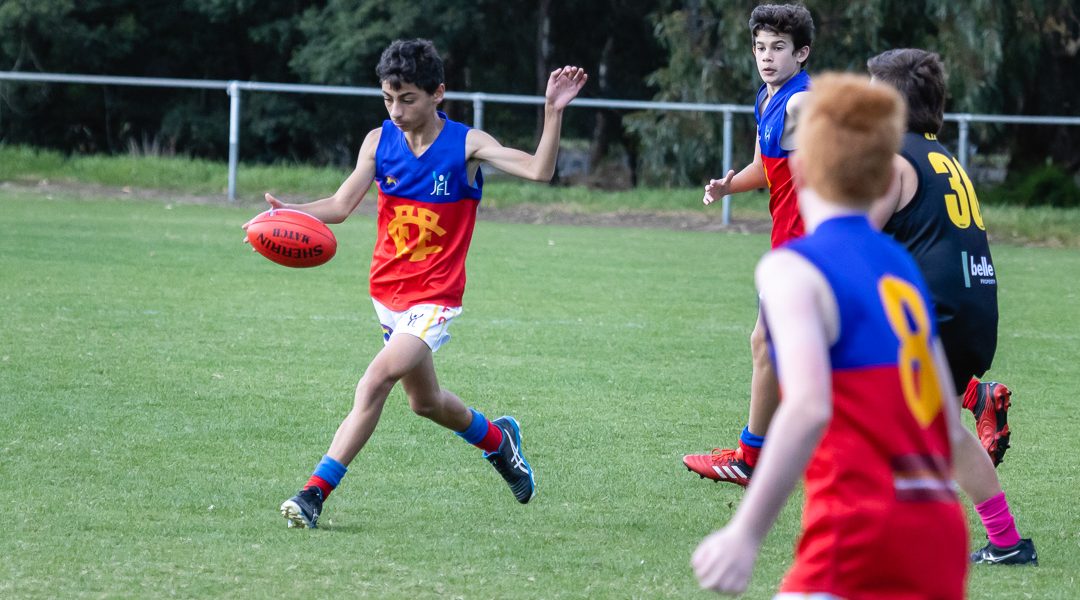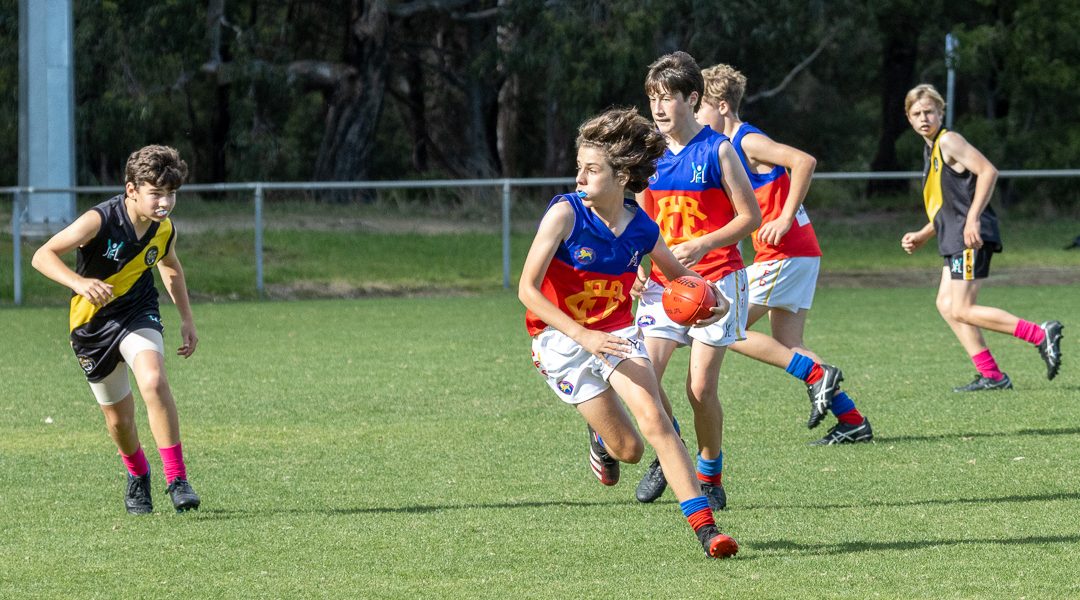 Match Report Round 3
Fitzroy 2 Murray               18.13 – 121
St Marys LP                         0.1 – 1
Before commenting on the game, a few call outs from the coaches:
Congratulations to Noah Atkinson on your 50th game, celebrated in style with a couple of snags!
Thank you to Frankie Donnini who selflessly stayed on the bench in the last quarter so we didn't sub out Noah in his 50th. Frankie had played a great game to that point, he's such a mature lad, I knew when I approached him to make this gesture, he wouldn't hesitate to put his team mate first
Thank you to Zac Bennett for selflessly keeping our community safe by withdrawing due to some COVID like symptoms. Great example! We welcome you back this week against…..RICHMOND. Zac, we know how much you love the Tigers, can you bring your best against the Yellow and Black?
Thank you to Chiron Scacciante who made an interesting choice of playing footy with his mates over celebrating Greek Easter with his family!!! Sometimes in life you have got to prioritise…..footy vs family, family vs footy? Personally, I probably would have stayed home for the lamb but each to their own!!!! Thanks Chiron, love that passion!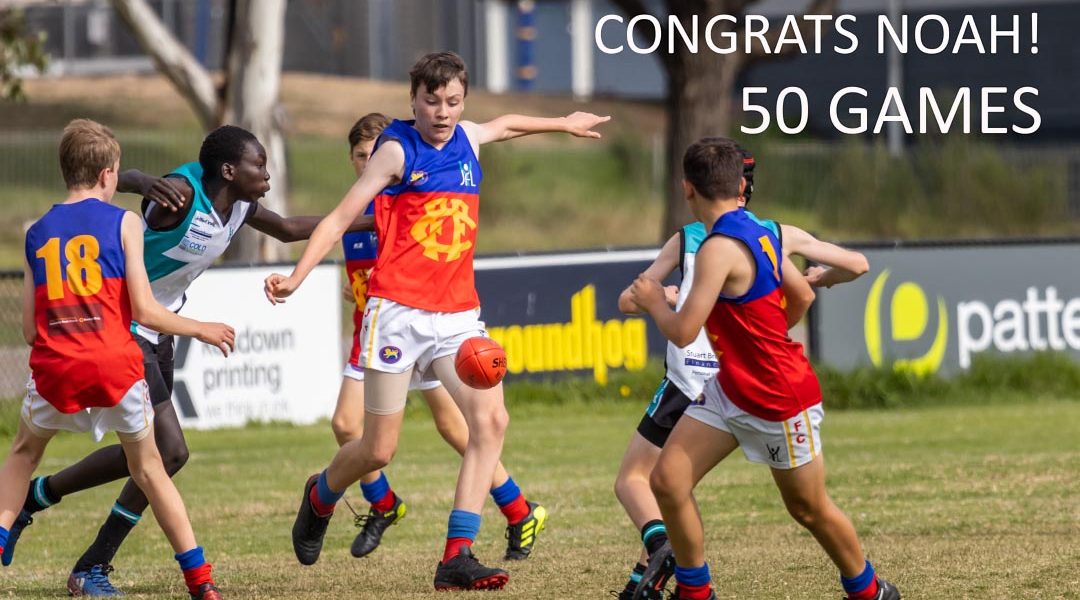 The Best Ability is Availability!!! Can we say we are absolutely thrilled we are living this mantra! Training attendance has been awesome and is sitting at 95% after 3 weeks, brilliant. Likewise, our game day availability has been at a similar level and only due to uncontrollable circumstances (being away, illness).
Round 3 saw our team carry their momentum over from last week, with another class display against a St Mary's outfit that never gave up trying.
We were very happy with the boys application on a hot and windy day, once again characterised by a very even spread of contributions to the team. Best and fairest voting is very challenging after such games.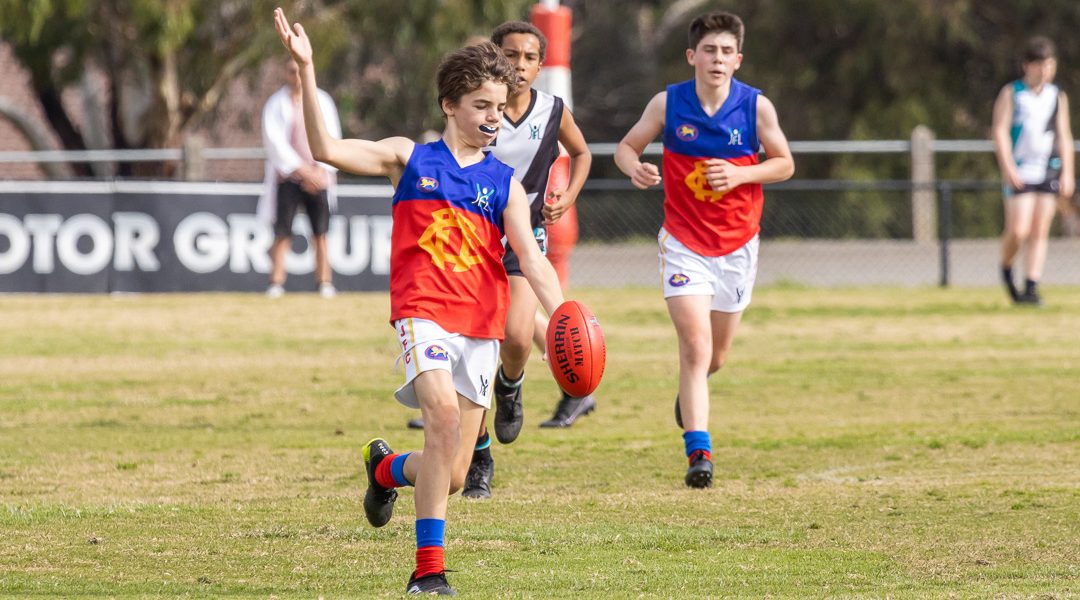 We continue to work on the versatility of the team and this week an example of that was the RUCK position. Noah  is our leading ruckman but on the weekend we had the luxury of playing Noah at Full Forward for the second half as Frankie, and then Josef took their opportunity with relish.
Other examples of our growing versatility included Thomas holding down Centre Half Back with aplomb, likewise Henry at Centre Half Forward. Harry thrived as a small forward after starring in midfield, Dylan providing plenty of rebound out of defence in the 3rd Quarter after dominating on a wing in the first half.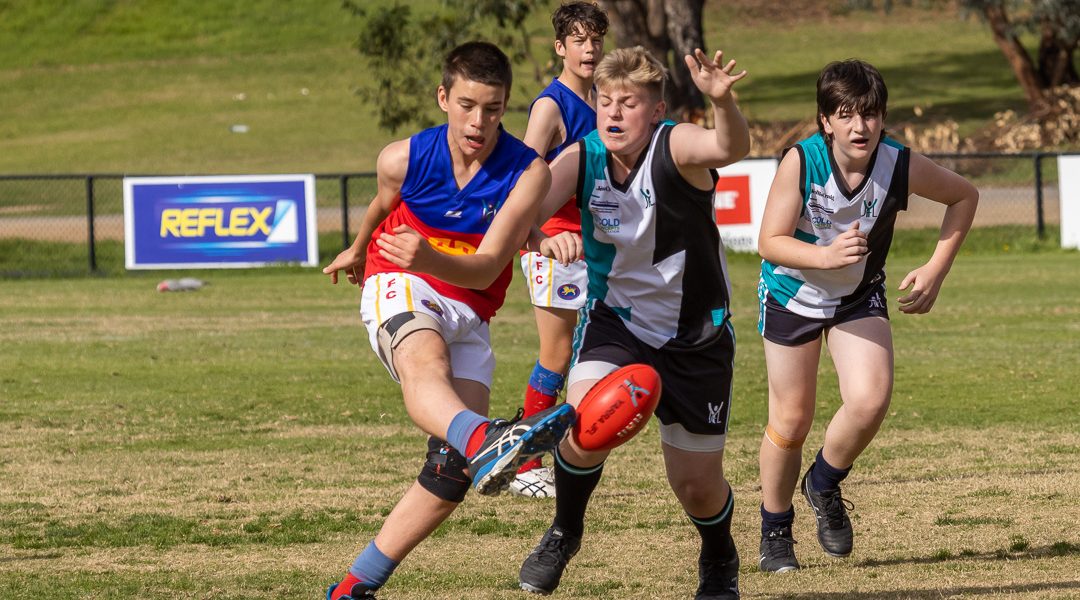 Match Report Round 2
Fitzroy 2 Murray               24.19 – 163
Doncaster                           0.1 – 1
Anzac Day Round 2 started with a fitting tribute to the Anzacs with our pre game ceremony. Thanks go to our Team Manager Johnny Barnard for speaking on behalf of our club and team and the playing of the Last Post.
Great to see Chris Oliver and Charlie Hooper run through their 50 game banner! Congratulations boys.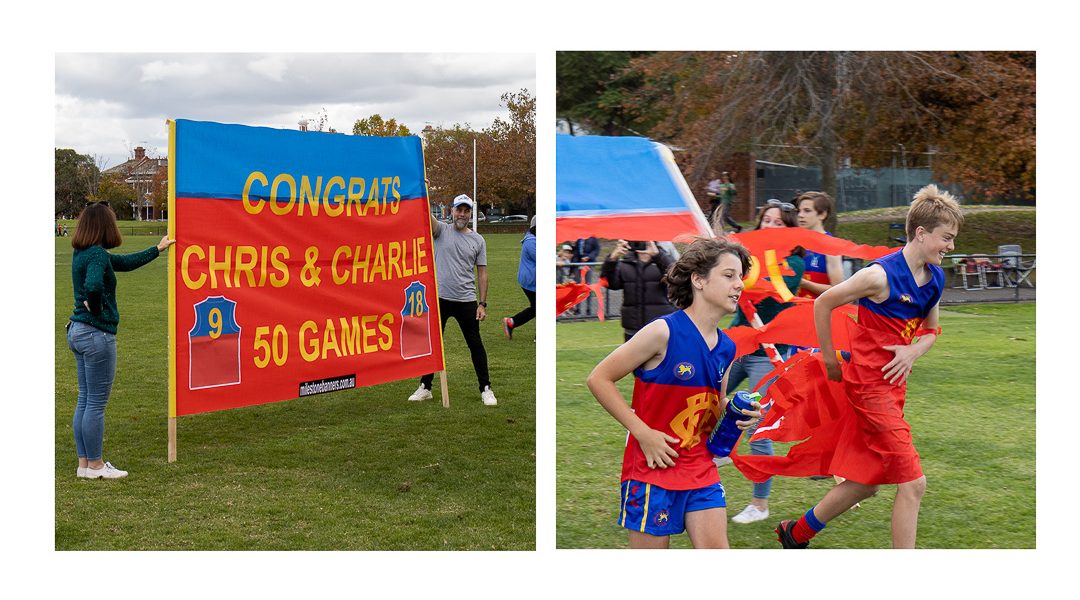 Having Johnny on board as TM is such a blessing for our team, please show your support and appreciation when he makes his weekly call out for volunteers.
Round 2 saw our team play with real fluency and skill, running their Doncaster opponents off their feet. And best of all, they did so in a selfless way with a wide distribution of goalkickers indicative of the team oriented nature of the boys. We're a few weeks away from being fully connected as a team, however Sunday was a giant stride towards that aim. More importantly I feel the team spirit is growing as the boys get to know each other and make new friends. Getting to sing the club song in the changerooms would have been a great (and new) experience for many of our boys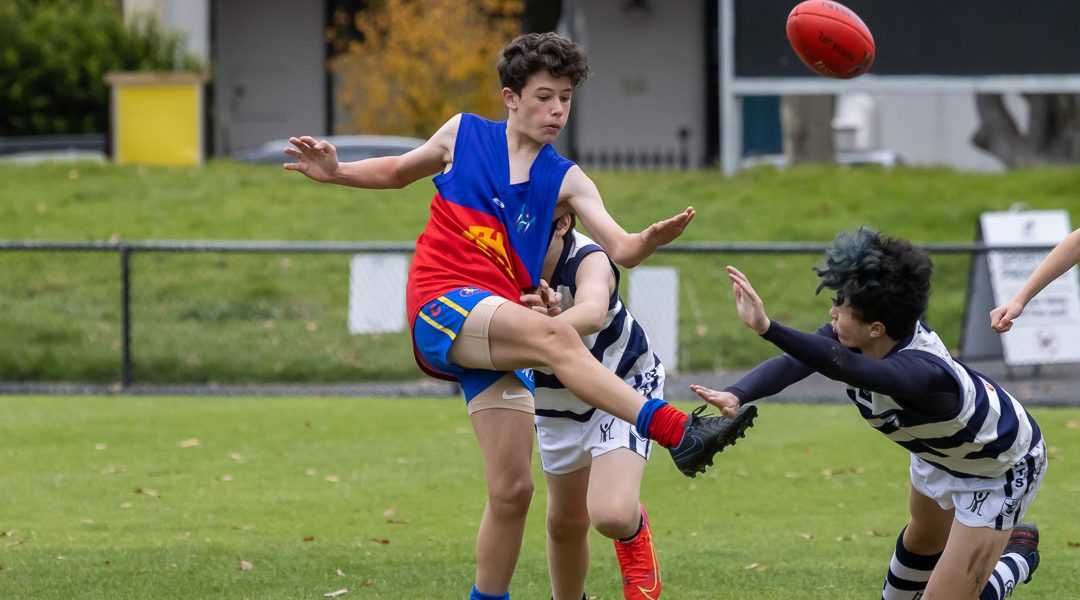 Pleasingly from a coaching perspective, the themes of the week and the focus at training really shone through in their play, being:
Developing a Versatile team – This week Angus, Frankie and Harry (in his Roys debut) shone with their first half play in the midfield. Liam and Chris played fantastically at Centre Half Forward. So many of our players had the opportunity to play in different positions, even our starting centre Finbar having a quarter at half Back. As a group of coaches we're trying to develop a versatile team with our boys being able to play multiple positions, even if sometimes that's out of their comfort zone. We have made a good start in this area.
Develop more poise with our ball movement, provide options in ball transition –  loved how the boys did not blaze away and instead lowered their eyes and hit spot up targets. In this regard Joey was great at full forward in presenting as a leading option.
Improve our own sense of accountability to our opponent, defend with urgency
Focus on pressure acts (tackling, smothering and chasing)
Help our team mates more -shepherding & blocking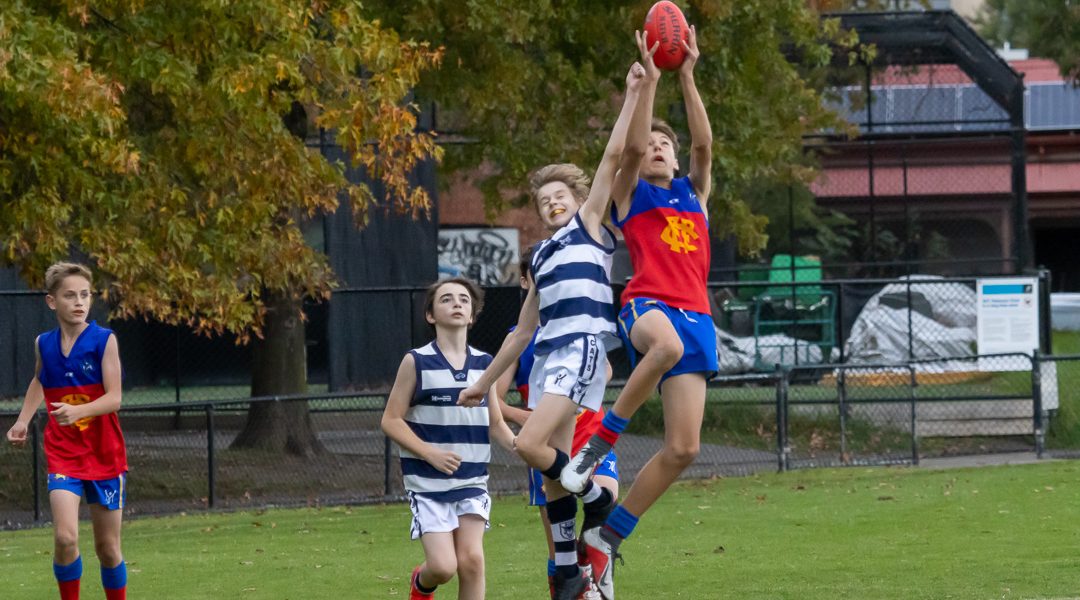 Match Report Round 1
Fitzroy 2 Murray               5.3 – 33
Banyule B                            15.9 – 99
At last the season has started with a first grading round game.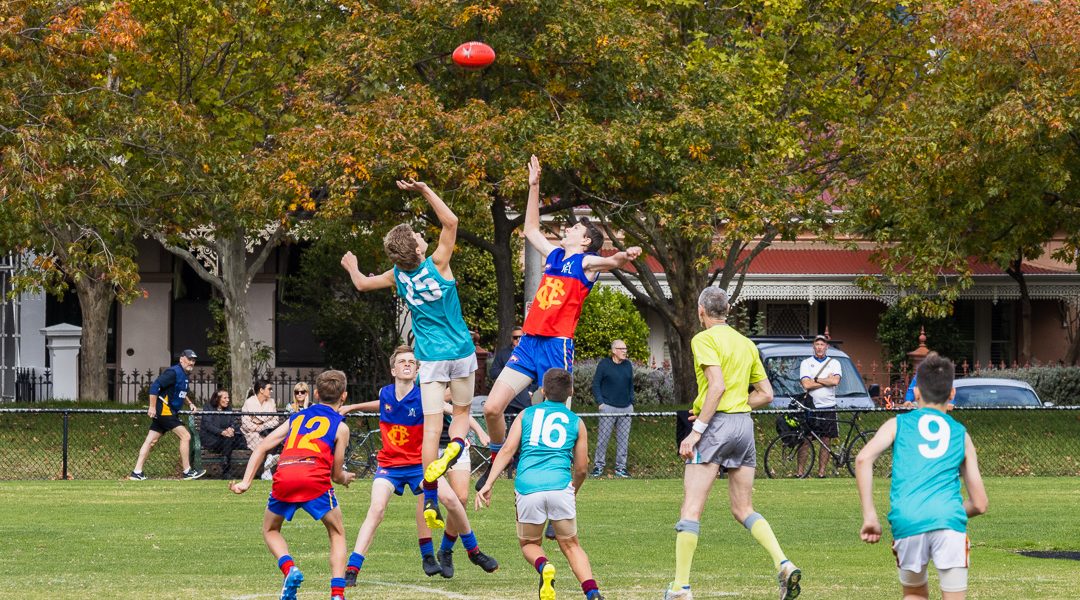 Our boys tried their heart out against the 22 from Banyule and for parts of each quarter were more than a match for their opponents. Some great ball movement and run, lots to build on.
We want to highlight a couple of the boys for their play, including:
Liam Ukovic – for anyone (let alone a first gamer) his performance at Full Back was mightily impressive.
Finbar Kennedy – another first gamer, Finbar's run and chase was relentless and a great example to his team mates.
First of all congratulations to Charlie Hooper who played his 50th game for Fitzroy JFC on Sunday, we only became aware of this Saturday night, so a little late for banners! Sorry Charlie! We called this out pre game and Charlie got to celebrate this with his team mates. Fantastic effort Charlie!!!
For our opening matches, Chris Oliver has been appointed as captain. Chris is a great team man and player and his team mates know that he'll always be leading by example out on the field. Congratulations Chris!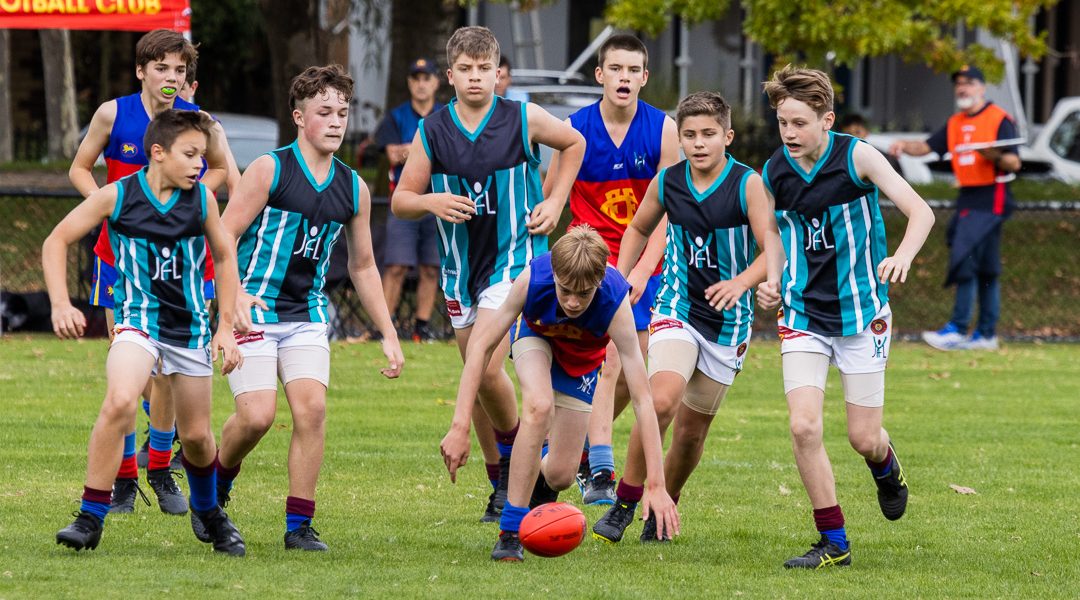 As a group of coaches we simply could not fault the  endeavour and spirit the boys displayed. Their resilience shone through in the fact that despite the strength of the opponent, they played each quarter out to the end.
It highlighted the  strength of character of the team which will serve them well in the challenges that lie ahead.
As a team and coaching group that has just formed together this last week, we learned a lot by getting out there and finally playing a game.
What else did we learn about our players?
When opportunities are presented, players will step up – Henry, Angus, Zac and Chiron did very well with their rotations into the midfield after quarter time. We'll run more boys through the midfield at times this week, including some who didn't get an opportunity to do so on Sunday
We have some clever players near goals including Jack S and Joey who hit the scoreboard along with Chris, Angus and Oscar.
Will and Charlie battled hard in defence against a relentless attack, very resilient and some great tackles and contest.. Loved Jack A's efforts and contest first up and Tom showed he's going to contribute at both ends of the ground throughout the season.
We have a lot of running power in the group, Dylan and Alex were running hard up and down those wings, Dylan's run and bunce out of the centre and lace out kick to one of our forwards was an early highlight and impressed at least one of our coaches very much! Chris was tigerish in his efforts in the midfield, Oscar was running hard until injury slowed him down.
Frankie showed great leadership and fought bravely at Centre Half Back, Great game.
Our rucks, Noah and Tully are a real presence and will assert themselves even more as we get stuck into the season.
From a team perspective, the coaches think there is opportunity to:
Develop more poise with our ball movement and thereby retaining possession for longer. Utilise our suite of runners to use the wide spaces and Make the opposition accountable and chase on the large BSO ground. i.e. tire them out
Improve our own sense of accountability to our opponent, manning up when we don't have the ball. Retaining touch with our opponent when the ball is in dispute
Focus on the unglamorous but essential one per centres (tackling, smothering and chasing)
Help our team mates more – One of the distinctive differences between Banyule and our team was their extensive use of shepherding and blocking to set their team mates free, Great lesson for our boys
Work on our ball transition, a few times we had midfielders win the ball with no one to kick to. We were just a little out of synch, this will get better game by game.
Taking the first, best option, especially in congestion!
That's a big bucket list, so we'll be working on these over the next few weeks.
Thanks to Johnny and all the parent volunteers for the roles they played today, allowing us coaches to focus on the team.