Contacts
Coach: Jon Armstrong
0432 596-312
Assistant Coach: Stewart Denmead
Team Manager: Katherine Dean
[email protected]
Trainers/COVID Officer: Catherine Edgar, Doug McClurg, Cath Ferla
Team Page Editor: Helen Kooloos
[email protected]
Team Photographer: Brigid Tram
[email protected]
The Team
Evie 3
Harper 4
Eve 5
Amelia 6
Stella 7
Polly 8
Charlotte 9
Phoebe 10
Kitty 12
Mia 13
Tessa 14
Belinda 15
Ada 16
Lily 17
Zosia 18
Lila 19
Queenie 20
Catherine 21
Isla 22
Abigail 23
Elizabeth 24
Maddie 26
Florence 27
Zara 28
Round 11 - Fitzroy vs Northcote - 1 August 2021
Northcote 4.0.24 def Fitzroy 3.3.21
Captain Queenie led the team out after another Covid enforced break. Northcote got the early break and had three early goals on the board before we could steady the ship. Then some trademark tenacity from Zara resulted in a goal to Eve. The match was lit; the team started to burn.
The tackle count is always a good barometer of how the girls are going, and after quarter time our numbers soared. Ada, Harper, Belinda and others stopped the opposition run,causing turnovers and resulting in repeated forward entries. Conversion near goals let us down again, but we're not alone on that front (think of some AFL teams).
Fortunately, the radar was restored in the final quarter, as Amelia and Zara goaled, and we were only a few points down. By now the ball was living in our forward line, but we couldn't quite get the job done.
This was the one that got away. But it was an exciting and entertaining affair, against very good opposition. Eve played a fine, well-rounded game, as did many of her teammates. And let's not forget the characters: Ella's fondness for dragging half the opposition along with her, and Kitty's circus tricks to escape packs. Sure, both need work, but who can look away?
Goals: Eve 1, Amelia 1, Zara 1
One Percenter Awards:
 Ada, for tackling
 Catherine, for sticking close to her opponent
 Ella, for lion-hearted ruck work
Round 10 - Fitzroy vs Parkside - 11 July 2021
Parkside 11.7.73 def Fitzroy 4.6.30
Captain Lily led the team out against Parkside with several girls still on holiday. But the topteam turned up with only 12 players, which meant yet another large bench to manage.
The visitors jumped us in the first quarter and established a handy lead. They seemed more at home with the reduced numbers on the field, allowing their quality runners to find plenty of space. But we switched on after the quarter time break, and an entertaining, free-flowing match resulted.
Among the absentees were a couple of the regular rucks, so Polly stepped up to support Mia. We probably won the contests, so it looks like we've added to our ruck stocks. Another solid effort from our tandem full backs too: Isla and Abigail take turns down there, and the growing understanding with the midfielders is great to watch.
Zara kicked her usual bag of goals, and also laid some powerful tackles. But she was not alone in that department, with big tackles laid by Harper, Lila, Amelia and Zosia as well.
We still have to work on converting our opportunities when close to goal. But that will come with experience, when decision-making starts to override excitement.
Goals: Zara 3, Eve 1
One Percenter Awards:
 Stella, for smart forward play
 Mia, for shouldering the ruck work
Round 8 - Richmond vs Fitzroy - 27 June 2021
Richmond 7.8.50 def Fitzroy 6.0.36
Captain Florence led the team out against Richmond in glorious sunshine. Covid has turned things upside down, so Round 8 was played after Round 9.
The Tigers belied their exposed form and were impressive, setting field structures hitherto unknown to us. Maybe they spy on us at training, hiding in the trees.
One thing's for sure: we kicked straight (six zip). And none of this off-the-ground stuff either: the girls knew where the big sticks were and kicked truly. Unfortunately, down the other end the full backs were a bit exposed, as Richmond knew how to drag our defenders away from the ball. However, we get to play Richmond again, and the coaches have taken copious notes.
The last quarter was exciting, with a run of goals nearly pulling off victory. Ella and Lila kicked their first goals for the season as the girls went about wiping off the deficit. But Richmond held firm and we ran out of time.
Many girls played fine games, with Lily and Harper displaying creative flair in the thick of the action, and Zosia having a breakout game.
Goals: Zara 3, Isla 1, Ella 1, Lila 1
One Percenter Awards:
Zosia, for teamwork in the middle
Lily, for teamwork in defence
Round 9 - Surrey Park vs Fitzroy - 20 June 2021
Fitzroy 4.4.28 def Surrey Park 0.8.8
Captain Maddie led the team out for the return match against Surrey Park. Had the girls learnt from the previous encounter? Had we kept fit during the recent lockdown? Yes and yes – big time.
Our pressure rating was off the charts. Whenever an opposition player got the ball, she would be swarmed by Fitzroy guernseys, forcing errors and whipping the ball away. Yet Surrey Hills managed to get on top in the 2nd quarter and would have made us pay on the scoreboard if it hadn't been for Isla, who twice touched the ball on the line to save certain goals. Then in the 3 rd , Isla went forward to kick a goal herself – a great day at the office.
We gradually gained the ascendency on the scoreboard, as Zara (2) and Mia (1) chimed in. When the final siren sounded the girls were still hungry for more.
Everybody played well: Amelia and Lila racking up possessions; Kitty dancing through traffic like it wasn't there; Maddie and Florence at the bottom of packs; Zara and Polly laying tackles you could feel in the next suburb; and many more.
Now to bring that pressure every week.
Goals: Zara 2, Isla 1, Mia 1
One Percenter Awards:
 Florence, for maximum effort throughout
 Isla, for saving goals on the line ('fingertips').
Round 6 - Whitehorse Colts vs Fitzroy - 23 May 2021
Whitehorse 12.13.85 def Fitzroy 2.0.12
Captain Polly led the full list of 24 out to play the strong Whitehorse side. The 'Colts' led us a merry dance in the First Quarter, with their size and speed proving a bit daunting.
Fortunately, Isla and Lily down back did their best to minimise the damage on the scoreboard.
After quarter time the girls settled down and found their rhythm. Tackles were sticking and marks were held. Eve, Mia, and Tessa had an impact as our midfield got on top and the opposition's free scoring dried up. Q3 was better still: big tackles from Stella, Lila, Maddy
and others left the door open for our forwards. Goals from Amelia and Zara followed.
We need to work on our slow starts. But that might simply be a matter of inexperience. All oppositions will have tall girls, quick girls, and skilful girls, but so do we.
Goals: Amelia 1, Zara 1.
One Percenter Awards:
 Tessa, for a saving mark that helped turn Q2 our way
 Maddy, for getting to every contest and keeping possession
 Amelia, for kicking the goal that 'woke the team up'
Round 5 - Fitzroy vs Northcote - 16 May 2021
Northcote 4.3.27 def Fitzroy 1.4.10
Captain Ada led the team on to Alfred Crescent, to play a very physical Northcote team. Numbers can be deceptive: having eight players on the bench is not an advantage. The new Covid rules have meant that evening up has effectively become evening down – something we're still adjusting to.
The scoreboard did not reflect the evenness of the contest. Northcote exploited our occasional lapses in the first half and skipped out to a handy lead. Fortunately, Polly had kept us in it with a set shot goal. After half time we got the upper hand around the ground and locked the ball in our forward line for extended periods. But we couldn't buy a goal.
Our midfield, led by Lila and Amelia, had plenty of the ball, but forward conversion let us down. Some obvious lessons there, and we look forward to the rematch.
Goals: Polly 1.
One Percenter Awards:
Eve, for teamwork (always on the look-out for a teammate in good position)
Polly, for composure in front of goal
Round 4 – Surrey Park vs Fitzroy - 9 May 2021
Surrey Park 7.6.48 def Fitzroy 3.3.21
Captain Belinda led the team on to Surrey Park's oddly sloping ground. The opposition had done their homework and caught us on the hop. Although we racked up the possessions, we rushed our disposals, letting them in for easy goals.
At the final break it was 48 to nil and looking ominous indeed. But then the girls flicked a switch, and charged home with a great display of chasing, tackling, marking, and kicking. Where had that been hiding?
It just shows how important attitude and mood can be. Skill levels don't change much in the space of an hour, but attitude can. We'll keep that in mind – literally.
Goals: Belinda 1, Isla 1, Kitty 1.
One Percenter Awards:
Phoebe, for goal assist
Abigail, for chasing down an opponent who was running into goal
Kitty, for giving the team a 'spark' that brought us into the game
Round 3 - Brunswick vs Fitzroy - 2 May 2021
Fitzroy 5.12.42 def Brunswick 1.5.11
Captain Tessa led the team on to Brunswick's Gillon Oval, a wide ground with plenty of room to move. Abigail returned for her first game of the season, on a warm and windy day.
Back to basics at training paid off, with the ball living in our forward line for much of the game. The tricky wind affected our accuracy, but the scoreboard kept ticking over. There was good ball movement through the middle of the ground, including some quality bouncing.
The goals were spread around, a demonstration of that all important element: teamwork. We saw powerful tackles, desperation in the packs, and looking for and supporting each other. For most players it was their first ever win, and the song was belted out with gusto.
One Percenter Awards:
 Lila, for bravery (took two big hits for the team)
 Evie, for vision (the only player in the middle when it counted)
 Belinda, for kicking her first goal in footy
Goals: Zara 2, Belinda 1, Eve 1, Evie 1.
Round 2 - Fitzroy vs Banyule - 25 April 2021
Captain Amelia led the team on to Alfred Crescent for the ANZAC Day clash against Banyule. Kitty and Eve returned for their first games of the season.
From the opening bounce it was evident that Banyule were in the wrong division, and sure enough, they were moved up to Gold the following week. But our girls stayed in good spirits throughout and tried their hearts out. We observed that some of the smaller girls showed that you can tackle anyone, no matter how big. And Banyule are big.
A special moment occurred when Queenie kicked into the forward line, swept down the field, collected the ball again, and goaled. Queenie to Queenie for a goal. Nice one.
Goal: Queenie 1.
One Percenter Awards:
Harper, for tackling (no matter how big)
Queenie, for perseverance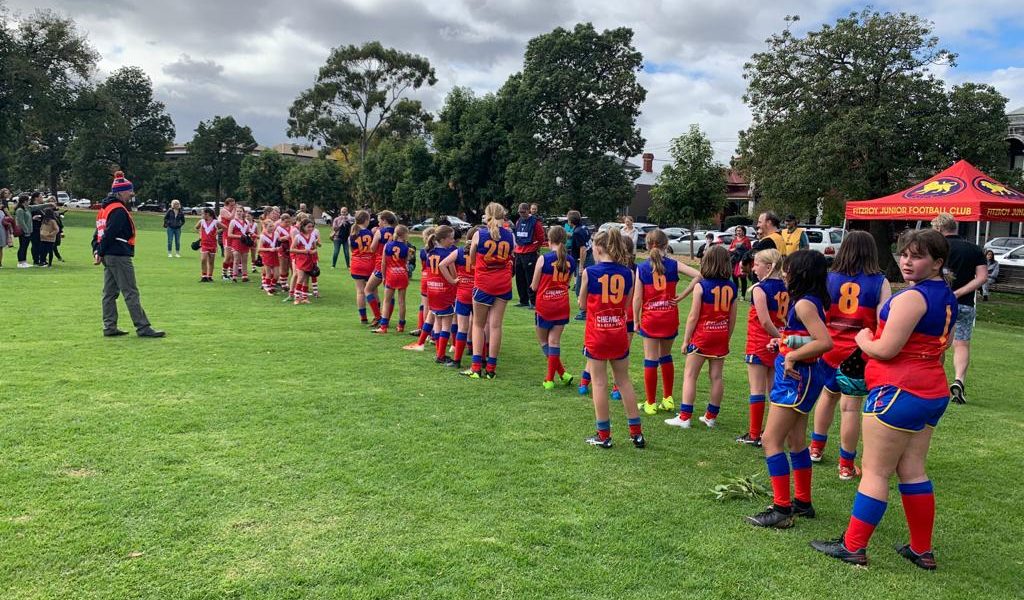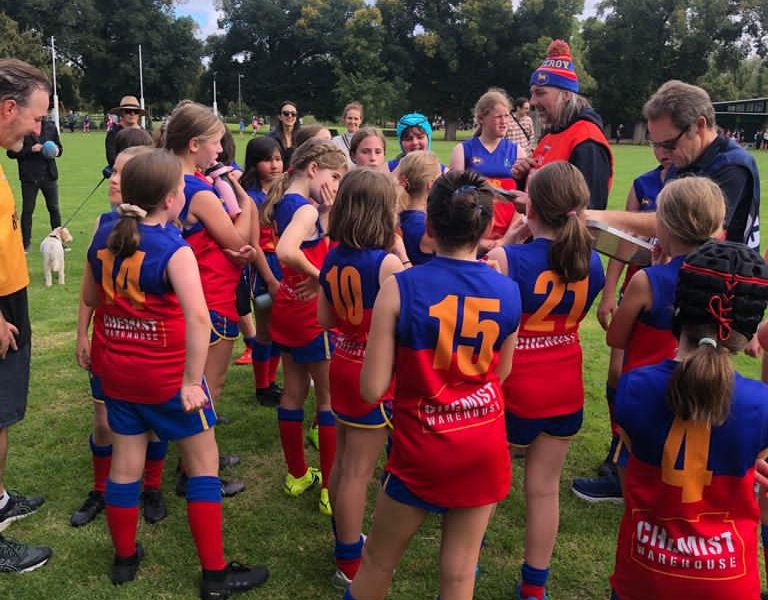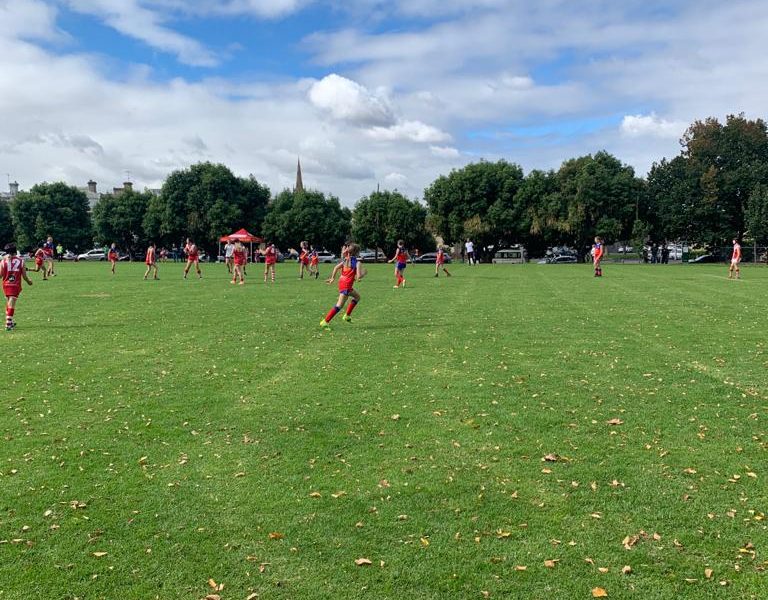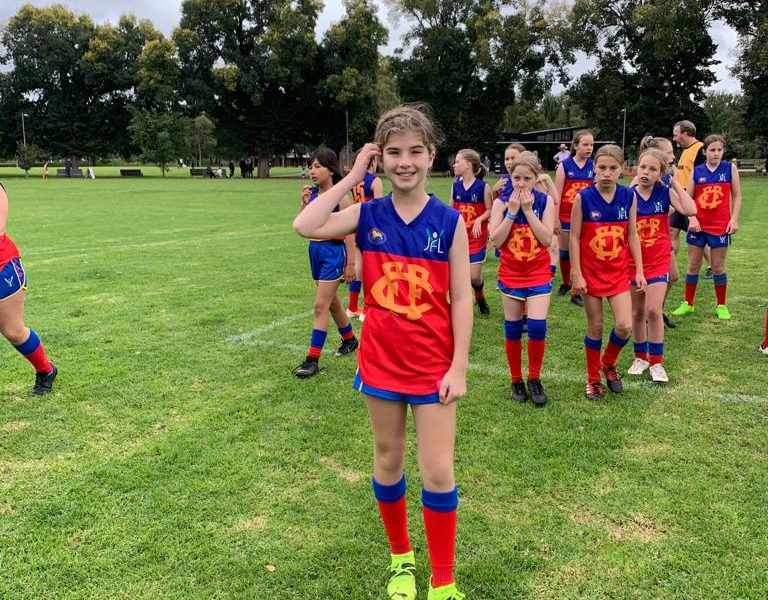 Round 1 - Fitzroy vs Warrandyte - 18 April 2021
Fitzroy 5.4.34 def by Warrandyte 6.10.46
Captain Mia led the team on to Alfred Crescent, with 14 girls playing their first ever match:
Evie
Harper
Amelia
Stella
Polly
Phoebe
Mia
Tessa
Belinda
Lily
Queenie
Catherine
Maddie
Florence
Ada (first game for Fitzroy, ex Darebin Falcons)
Isla kicked the first goal of our season, while Zara snagged four – three in one quarter. Aided by some slick ball movement from defence and midfield.
We were in front at the final break, but Warrandyte came home strongly to win a hard-fought victory. We look forward to meeting them again when we can turn the tables.
Goals: Zara 4, Isla 1.
One Percenter Awards:
 Charlotte, for shepherding
 Zara, for almost kicking her 5 th goal on the siren