Contacts
Coach: Stephen Nowicki
0467 738-760
Assistant Coach: James Henry
Team Manager: Bianca Cecchin
0412 276-356
Trainer: Sam Mehr
Trainer: Chris Cimoli
Team Page Editor: Bianca Cecchin
[email protected]
Photographer: Sarah Mulroy
[email protected]
The Team
Luke Jr Novello #
James Clayton #
Elliot Hall #
Louis Henry #
Sonny Little #
Patrick Mahady #
Cian McClure #
Xavier Mehr #
Henry Morrow #
Thomas Mortimer #
Lewis Nowicki #
Knox Pain #
Indra Sondhu #
Jack Trainor #
Thruston Walch #
Isaac Thirlwell #
Kesava Nair #
Aydin Vocisano #
Fabian Cimoli #
Hudson De Boni #
Albert Brewer #
Noah Komarnycki #
Tom Wilkinson #
Round Seven
Are we already up to Round 7? The season is flying by. After a couple of 10 am starts we were back on for the 8:30 am game. Concerns abounded we were in for a wet and cold morning. As it turned out, while it was not super sunshine it was pretty temperate and fine weather for footy. This week we were up against Whitehorse.
Despite the early start, the boys were switched on for our pre-game warm up. I am not sure what the formula was this week but it was great to see the focus and enthusiasm so early in the morning. In readiness for wet weather, we had focussed on chest marks and protecting the ball during the week at training which hopefully would still see its way into the game today.
The first quarter was a tight low scoring arm wrestle. Neither team was really able to break free and the defences dug in. At quarter time we went in with scores level at 1.1 each. Our focus at quarter time was for greater commitment to collecting the ball off the ground. Neither team was finding space so far, and the ball was bobbling around a fair bit and we just needed a bit more grit and grunt around the ball to get it out free to our runners.
The second quarter saw a lift in the intensity and some strong commitment to the tough ball gets. As a result, we started to see the pattern that developed over the rest of the game. We pushed the ball forward and set up really well to hold the ball into our forward half. The difficulty with this dominance of field position meant that our forward line remained super congested with all 36 players often in our forward half of the ground. This made it difficult for our players to get space to get shots on goal.
We started to look for space and hit up players on passes and there were some really lovely passages of play that looked really professional from the sideline. We started to look up, switch the ball across the field when we had space, and identify some great opportunities. It was really positive to see occasions where we had 3-4 players running together spreading from the middle. The extra commitment also saw a couple of players taking some breathing time as a result of some heavy collisions with their focus on the ball. I felt like during the second quarter and into the third we really lifted and we continued to pepper the goal square. Unfortunately, our forward zone remained congested and there were plenty of frustrated groans from the sideline as we witnessed point after point. I think this included six shots that hit the post, from all angles. The difficulty was a few times when we had space we didn't communicate as well as we might, and we had two or three of our players almost competing with each other. The positive out of this is how focussed they were on getting to the ball.
Like previous games, we looked very dangerous when we ran hard and moved the ball quickly through the midfield, which did not allow Whitehorse to get back into their defensive positions. Again like previous weeks, we continued to improve throughout the game, and the last quarter we played our best 15 minutes of June so far. Unfortunately, we continued to hit the post but it was really pleasing how well we shared the ball around, and players continued to look to each other.
It is noticeable that every week after the game at the presentation the opposition coach refers to our run, handball and sharing of the ball through the middle of the ground. It is really pleasing to see this side of our game shine out and bringing everyone into the game. In addition to our run and spread, what is really noticeable is how well we moved into positions to lock the ball in once we got it forward. Another impressive and enjoyable game from the 10.2s
.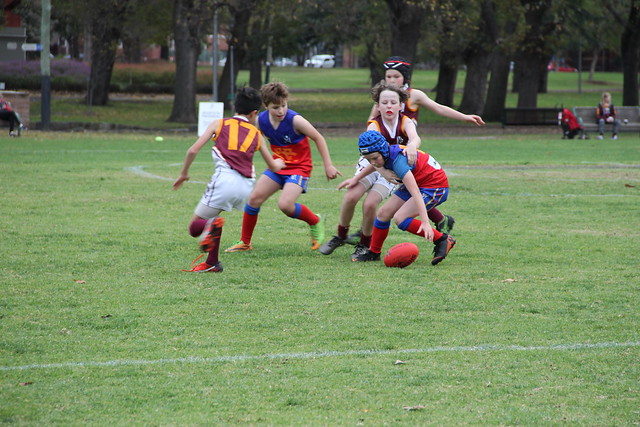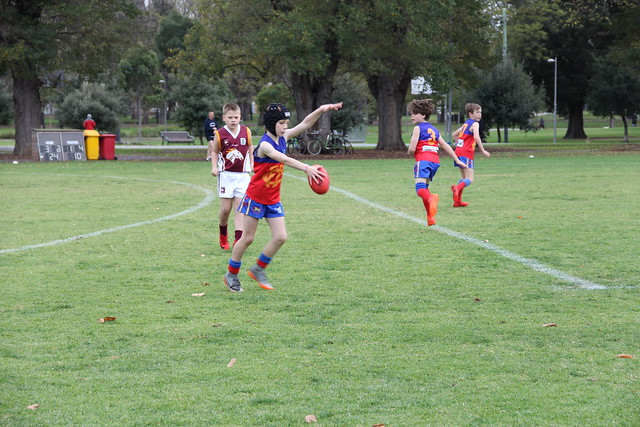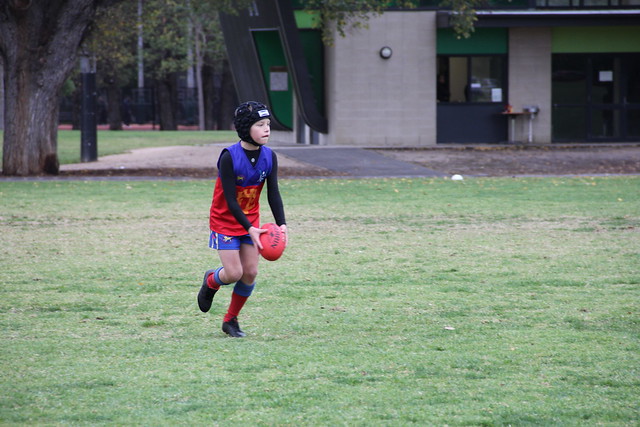 round #6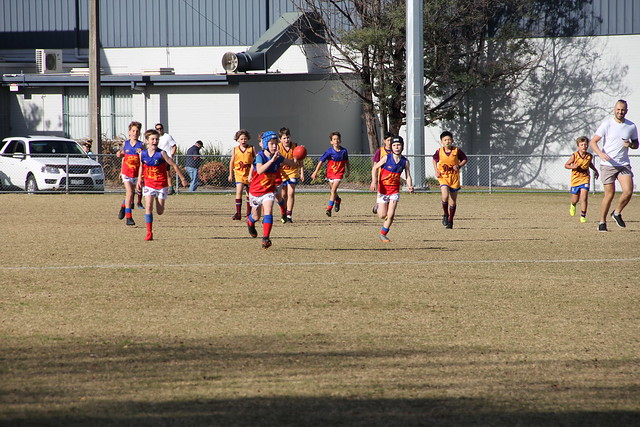 ROUND SiX
Another 10 am start and another sunny warm morning for junior footy. This was a new ground and team for us, with the boys excited about the prospect of taking on a club called Beverley Hills. This was a big ground, although not as long and wide as what we played on a couple of weeks ago. However, know that we have had that experience on a full-size ground the boys were much more confident of how to play a ground bigger than our home of Alfred Crescent.
Who knows what was in the air, but the boys were all over the shop in our warm up today. It was difficult to get focussed….some days are just like that. The predictability of 23 10-year-old boys, as well, unpredictable. Beverley Hills took the game right up to us at the start. They scored a goal out of the first take away from the first bounce. Those of us on the sideline that had seen the warm-up was a bit worried about how the next hour was going to play out.
We also noticed that key to Beverley Hills team was a couple of big strong players that were using their strength to wrench the ball out of the centre. Beverley Hills added a couple of more points and late in the first quarter some sort of switch came on and our boys understood they had to focus and play harder. We managed a goal and a few points each with the game delicately poised at quarter time. On these big grounds, the crowd was more dispersed and there was generally a quieter feel about this game. Like most AFL teams we seem to have plenty of fair weather supporters who like coming to home games but baulk at the extra travel time.
We talked at quarter time about being a bit smarter with the big ground. Using the space better and running to support each other. Following up and leading into space to be able to take more marks and possessions in space. The switch had really come on, as the second quarter was probably our best quarter of footy we have seen from the inception of our team. The boys committed to some big tackles and time and time again we saw smaller players from Fitzroy charging down, and tackling their bigger stronger opponents. We harassed and were really competitive and our defensive game turned into offence. We ran forward, moved the ball quickly and took our opportunities. We kicked five goals for the quarter which was a really immense effort on such a large ground.
While we had built a nice buffer the boys were still committed for the second half. We continued to use the space and take the play on. The tackling and contest for the ball were second to none. We kept running and we continuously saw our players outnumbering their opponents around the stoppages. It was apparent that the Roys were just running harder and realised that when you run hard, and create better numbers over and over again that it makes the game much easier. I really noticed that every time the ball fell to the ground to a contest, we had three or four players there to help each other and continuously outnumbered Beverley Hills. It was a great lesson in the effort and running.
We held Beverley Hills scoreless for two quarters and so the game was safe in the last quarter. Once the game was won we perhaps started to think a bit more about scoring our own goals instead of team goals and we split the last quarter. It was a really great effort, especially when taking on the bigger strong players on the Beverley Hills team. This game really highlighted how well we can play when we play a running game and help each other, and while the bigger grounds used to be a bit daunting we are starting to feel more comfortable away from home.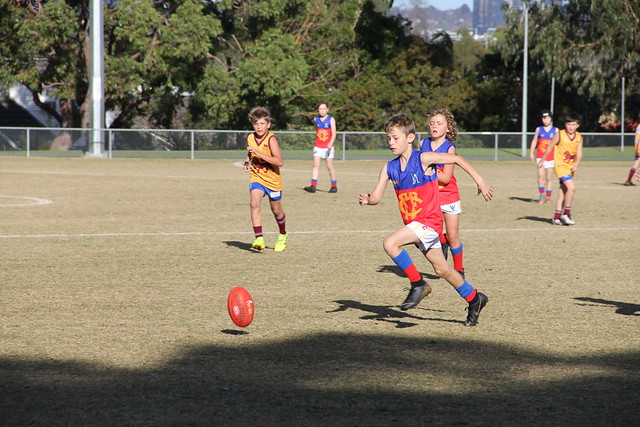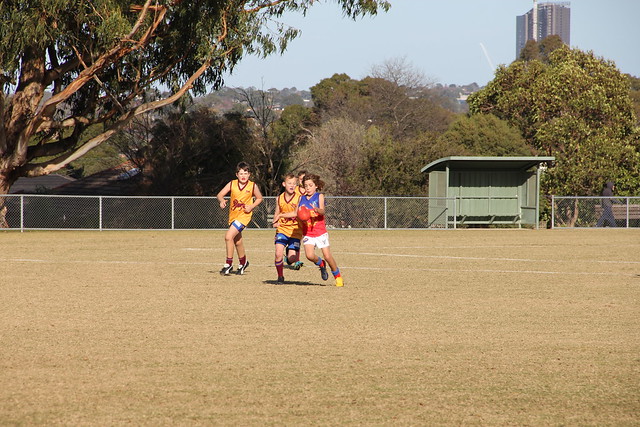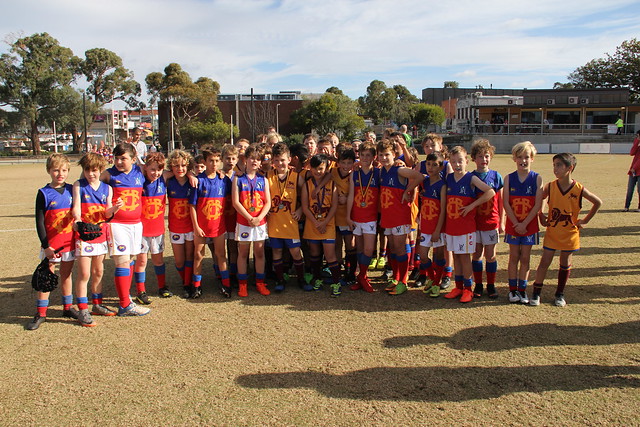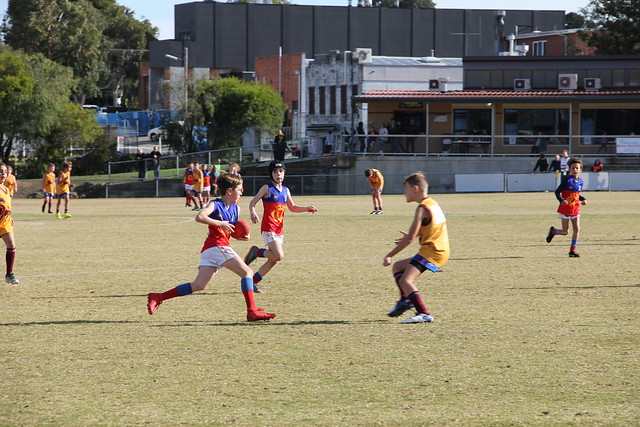 ROUND #3 COACHES REPORT
A later start commented on by many of the parents with an extra hour in our pocket for Sunday morning. It had rained overnight and it was still a bit dewy although the sun was coming through in spots so it was a reasonably pleasant trek out to Heidelberg this morning for our first away game.
An interesting pre-game discussion when we were advised we would be playing on the full adult ground. This is a very large ground, and without knowing the dimensions could well be twice the size of our home ground. When told, however, the boys were super keen to play the full ground and test their running legs.
As we expected we quickly realised that scoring on this ground was going to be very low. Heidelberg got on top in the first quarter and played the spaces much better. As a team, we stuck to our structures really well, and probably too well. With the ball at the other end of the ground ten kicks away we had not yet adjusted to the need to move right up the field in anticipation of the next kick. What also became apparent was that trying to call instructions from the sideline became fruitless as the players were just too far away. While we were slightly down in the first quarter the backline held strongly, and the game remained tight.
In the second quarter, we started adjusting to the size of the ground and players were putting into practice their follow up after their disposal. Realising that to move the ball down the field we were going to have to really run hard to get to the next contest.
In the third quarter, we were starting to work the ball even better and held the ball in our forward half in what had not been the scoring end so far. Unfortunately, we were unable to put the finishing touch to all of our strong work. The third quarter also saw us really starting to use the space better and we saw a number of chains of play of players running into space and some nice passes around the ground. The boys continued to run hard, showing strong endeavour and it felt like we had the match back on our terms.
The final quarter was a real tussle. Both teams hit the lead but in such a low scoring game it wasn't easy to get the reward for our hard work around the ground. What was super was that after giving up an early goal in the quarter we continued to fight on, and found a way to finish the game with the final two goals, and with a few opportunities to go ahead but we just could not get the luck we needed. In a tense final five minutes, players pushed extremely hard and ran more than they have in previous games. When the final siren sounded the scores were even and we had our first ever draw as a team.
It was another super effort from everyone in tough conditions and a few players got some unlucky knocks as well. Another week when we improved in each quarter as the game went on. A great sign that the boys were continuing to think about their game and learning and putting into practice what we talked about at the breaks. 
ROUND #2 COACHES REPORT
Round Two and another early game at Alfred Crescent. It was a unique game for us for many reasons. It would be the first and possibly only time all year that we played with a full complement of 24 players. We welcomed Ravi to the team and would also be temporarily farewelling Jack as he and his family head off for some well-earned travels. It was also odd because after playing one round we had then had a long break with school holidays, and easter and while we had a couple of training sessions over the holiday break for many players it was their first run back at Alfred Crescent since round one, three weeks ago.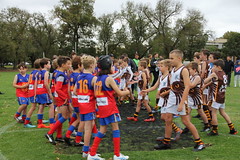 I don't know what they feed kids in other parts of Melbourne but it almost seems like every week we turn up we see an opposition that looks like they have some super tall and big kids. Our team focus at training, however, has been on pace and moving the ball quickly so hopefully, our plans will all come together.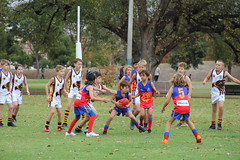 The first quarter was a pretty tight tussle. A couple of Hawthorns big tall players got on top of us in the midfield early and were getting plenty of the footy, especially in the air. We held on pretty solidly in the backline, but Hawthorn posted the first goal and a couple of points. They were proving to be really strong around the clearances. Our team really started working their way into it as the quarter went on. As a result, our players rose in confidence and worked really hard to lay tackles and get into the thick of the action. Once they realised that even when some players might be bigger and taller there are still plenty of ways to win the ball we started thinking about our team play.
The team did a wonderful job of taking on the quarter time and half time messages, move the ball quickly, follow up your delivery and help at the next contest, and talk to each other on the field then it started flowing well. Like round one, it was super pleasing to see the team play improve each quarter, and so by the final quarter, we had some very slick looking passages of play. We ran the game out strongly and it was inspiring to see a couple of our smaller, lighter kids throwing themselves in and putting some strong tackles on big Hawthorn kids that were close to twice their size. We showed great endeavour and played out the final quarter almost entirely in our forward half. It showed how our positioning was really strong and our set up across the middle excellent as players are really learning to think about where the ball might come next, and that we don't all always have to run to where the ball is now.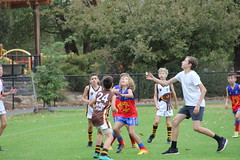 Unfortunately for us we gave up one goal and lost another, and a couple of free kicks for kicking off the ground. Something we will have to focus on to bend and protect the ball and your body as we pick up the ball at pace off the ground. But that's for next week. Otherwise, a really pleasing solid and fun game as we settle into Autumn.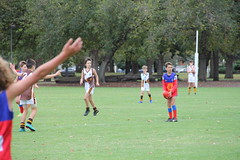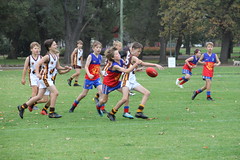 ROUND #1 COACHES REPORT
First round and it was clear the excitement in the air to get stuck into a game. It was a pretty short preseason for the Under 10's so how we gelled as a team was always going to be a bit of a round one mystery.
The anticipation to play our first match at Alfred Crescent was high. This provided the opportunity to really turn our training ground into our home ground, Even though the team had moved up to U10s it was still a bright and early Sunday morning start. The team list was full but we had lost one teammate to an overseas trip and another to illness on the morning. Richmond was one player short so we had just enough to lend them a player to round out the numbers. The players on the bench fought out some pretty tense games of rock scissor paper to pick out who played for Richmond and who sat on the bench. It was never made clear to me which was the outcome if you won, but another example of the kids learning to sort out these decisions between themselves.
The game started briskly and we had a few early shots on goal but could not quite get our focus right. It meant we started with a few points. Richmond took advantage and slotted the first goal. The Roys seemed to regain their focus and we started to hit the scoreboard. From that point on for the rest of the game, we regularly put Richmond under pressure and scored freely.
It was really pleasing to see the team take on board the instructions and comments at each break. It was really noticeable that we held our team structure for most of the game and this enabled us to keep some space and pass the ball around. Players were learning that another step up in age group means even less time to get rid of the ball, and the tackles were harder. In this end, we did not give an inch and it was great to see some strong solid tackling, and great committed running both forward and to defend.
We saw some really great passages of play of teammates passing it around, running into space and moving the footy quickly up the ground.
It was also the first game that we had a scoreboard operating during our game. Despite our pleas, the boys out on the field were getting pretty distracted with the scoreboard and at times seemed more concerned with whether the scorer was getting the points up quick enough, compared to what was happening out on the ground. A special mention to Henry, Noah, Jimmy and Tom who each took turns playing a quarter at a time for Richmond.