Contacts
Coach: Mark McNamara
0411 116 122
Assistant Coach: Stuart Welsh
Runner: Mark Brennan
Team Manager: Jenny Collodetti
0422 845 252
Trainer: Bridgette Connor
Trainer: Mary Belfrage
Trainer: Julie Savage
Team Page Editor: Tim White
[email protected]
Photographer: Cathi
The Team
1 Maisie Welsh
2 Liv Hanrahan
3 Bella Collodetti
4 Alice McNamara
5 Beth Jackson
6 Josie Armstrong
7 Zoe Carter
8 Kate Livingston
9 Dervla Belfrage
10 Molly McPhee
11 Ellie Brennan
12 Maddi Katerelos
13 Heidi Gardam
14 Ella Hart
15 Sarah Kinkead
17 Charli Doyle
18 Abbie Connor
19 Lucy White
20 Charlotte Edwards
21 Lucinda Symons
23 Elly Asdagi
26 Annika Watt
27 Tori Jenkins
Team Achievements
50 Game Players
Heidi Gardam, Maisie Welsh, Kate Livingston, Alice McNamara, Abbie Connor, Elly Asdagi, Ellie Brennan
2018 Joe Johnson Medal
Maddy Katerelos
Round 13 | 29th July 2018 Match Report
Park Orchards 10.13 – 73 defeated Fitzroy 2.2 – 14
Domeney Reserve
A great effort by the girls today in trying circumstances – not just the strong winds and heavy rain at three-quarter time.
Playing the top team with six of our players unavailable – plus losing Liv with a finger injury early in the game and Abbie for part of the game – was challenging.  Mark was also without his assistant coach and runner  – but Tim and Carmel moved seamlessly into those roles! Thanks very much to both of you.
The girls played very well and tried extremely hard in what was a high quality game of junior football.  In the first quarter Park Orchards were held goalless due to a strong defensive and tackling effort by all.
Beth did a sterling job in the ruck – as did Lucy when moved there to give Beth a rest. Elly's attack on the ball was inspiring and her two goals were just reward for her efforts. It was wonderful to have Maddi back after last week's injury scare – and what a game she played!
Maisie led from the front. When she sprinted 20 plus metres to lay a great tackle on an opposition player Maisie again reminded Mark of the Roadrunner, who he used to watch on TV as a kid. Wile E Coyote would never have had a chance against Maisie.
However, our Roadrunner did not escape completely unscathed. She has been at the forefront of getting girls into the circle after games and drenching them. Today the Karma Bus saw Maisie on the receiving end – although she did manage to drag Heidi in with her.
As was pointed out before the game, it is very unlikely that we will play a team below us on the ladder for the rest of the year; so it was pleasing to see how well the girls acquitted themselves today.
Finally, a few 'thank you's. First, to Dervla and Bella for coming to support the team when they were injured. Secondly, to all the parent helpers, especially Niall (water carrier) and Jenny (our wonderful team manager) who were there despite their daughters being unable to play. Thirdly, belated thanks to Cathi and Paul for the photos that you can see on our team page on the FJFC website. Fourthly, to the help and support that Bridgette, Mary and others provided to Maddi last week. Fifthly, to everyone else, who all contribute to the great team we have.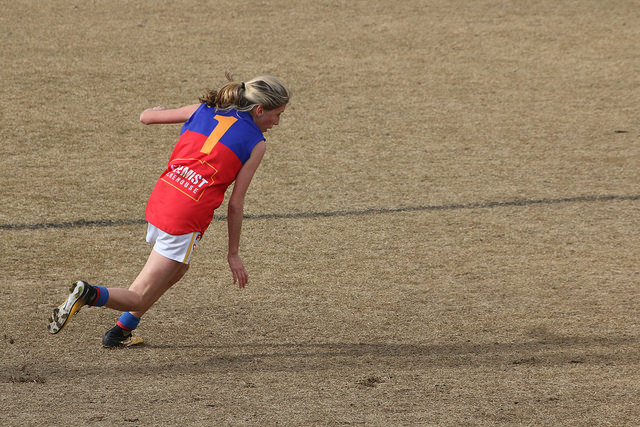 Round 12 | 22nd July 2018 Match Report
Fitzroy 9.13 – 67 defeated Richmond 5.8 – 38
Olney Oval

There is an old saying that footy is played 90% above the shoulders . This is, of course, not literally the case, but the saying was no doubt conceived in a desire to seek to highlight the prominent part that the mental element plays in sport.
Today the girls brought the right attitude right from the start and scored an impressive win. It was a great team effort. And well done to Ella on kicking her first goal!
Kicking with the wind gave the girls a good first quarter lead and when kicking into the wind they ran the ball well and restricted Richmond to maintain the lead and ultimately the win.
The win was very satisfying, but quickly had the context that there are things that are far more important than winning. 
Ironically, the area above the shoulders soon became the close focus of concern for many of us after the game.
Maddi – who played a stellar game – took an accidental knock to the head very late in the game. She initially seemed fine but was distressed shortly after the match ended and appeared to have symptoms of concussion. The precaution was taken of having an ambulance take her to hospital.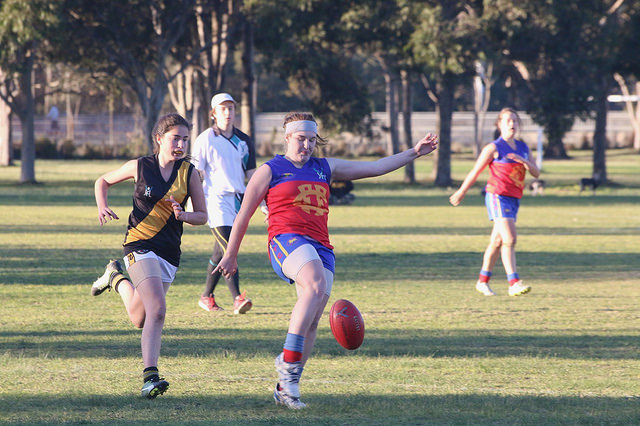 Round 11 | 15th July 2018 Match Report
Fitzroy 6.6 – 42 defeated Surrey Park 1.5 – 11
Surrey Park
Today was a tale of two halves! To quote Charles Dickens (from the opening lines of ​A Tale of Two Cities):
 It was the best of times, it was the worst of times, it was the age of wisdom,  it was the age of foolishness, it was the epoch of belief, it was the epoch of incredulity, it was the season of light, it was the season of darkness, it was the spring of hope, it was the winter of despair …
After a very disappointing first half the team clicked in a 6 goal to nil second half to score a good win.  It was as though we fielded a completely different team in the second half!
Our backs – led by Josie, Charlotte, Dervla, Ella (who played the best game of her very short football career to date) and Liv kept us in the game in the first half.
They continued that form in the second half and the rest of the team lifted. Liv played a brilliant second half on the ball and her running goal in the final quarter was one of the best of the year so far.
Zoe and Maisie won the ball repeatedly and Ellie A, Maddi and Alice provided good targets up forward – indeed the whole team played well in the second half. Lucinda did a great job in the ruck in the second half.
Round 10 | 24th June 2018 Match Report
Kew Comets 13.13 – 91 defeated Fitzroy 7.8 -50
Burwood Reserve Bottom
The girls put in a great performance today, particularly the first quarter and the second half. There was some great attack on the ball, tackling and quick ball movement.
 To have 15 shots at goal against Kew Comets was very good. With the exception of the second quarter we matched it very closely with Kew, and outscored them in the second half by the narrowest possible margin. The quarter-by-quarter scores were as follows:
 Kew                 2.6.18        8.8.56        12.10.82        13.13.91
Roy Girls:        1.0.6          2.2.14        5.3.33            7.8.50
Josie has showed great improvement in this her second year of footy and she played a great game today. Sarah saved numerous goals and we got great drive from many players around the ball including Liv, Maddi, Ellie B and Kate.
Elly A, Abbie and Lucy were dangerous in the forward line. Alice proved again that the ball in our game often bounces very unpredictably – with her shot at goal in the final quarter that did a sharp left-hand turn upon landing about a  metre out from our goals.
Charlotte did well in the backline and Lucinda's ruckwork was great. Overall it was a great team effort, with everyone contributing.
Round 9 | 17th June 2018 Match Reports
St Mary's 9.10 – 64 defeated Fitzroy 2.6 – 18
Brunswick Street Oval
The girls put in a great performance today in very wet, windy and cold conditions against the undefeated St Marys.
St Marys kicked away in the last quarter but the game was pretty even until then. Our start into in the wind was very good, and it was a pity we couldn't get a couple through the big sticks early in the game. The quarter-by-quarter scores were:
Fitzroy:    ​ 0.5.5        1.5.11        2.6.18    2.6.18
St. Marys: 1.4.10       3.7.25        5.7.37   9.10.64
The girls worked very hard and displayed good skills in difficult conditions.
Round 8 | Sunday 3rd June Match Report
Fitzroy 5.12 –  42 defeated Surrey Park 4.3 – 27
Brunswick St Oval

It was great to see and hear our girls again singing the song that borrows the tune of the French National Anthem. 
 The girls dominated general play, had the ball in our front half of the ground for much of the game; but did not quite convert that superiority into dominance on the scoreboard. That is another thing to work on!
 Congratulation to Maddi on winning the Joe Johnson medal; which on the weekend of the AFL's indigenous round acknowledges the fact that Joe Johnson was, in 1904, the first Aboriginal to play in the VFL – now the AFL. Maddi was one of many players who were today involved in some great passages of play where the girls ran hard and moved the ball quickly. That is what we want to see!
 In two weeks we will welcome back two special members of the team (yes, I know; they're all special) after they have spent most of the term off-campus in far East Gippsland.
Abbie Connor was was part of the first year of female teams at the FJFC in 2014 and is in her fifth year – a couple of which she spent at Banyule.
Zoe Carter is one year Abbie's junior in footballing terms, and is in her fourth season of footy. I am looking forwarding to seeing the alphabetical bookends of our team and welcoming them back into the fold.
Round 7 | Sunday 27 May Match Report
Richmond 4.11 – 35 defeated Fitzroy 3.0 – 18
Brunswick Street Oval

Our round 7 match was quite a strange game with the Roy Girls kicking the first three goals of the game and then not adding to the quarter time score of 3.0.18. Richmond finished strongly, and were full of run once they wrested the momentum from us.
 We were a little hamstrung by having seven players unavailable, including three who had to withdraw in the 24 hours before the game. This meant we had no interchange. Added to that, we had three players who were struggling with injury or illness. The efforts of Beth, Charlotte and Alice in those circumstances were admirable. 
 Congratulations to Ellie Brennan on reaching her 50th game and playing a great game. 
Round 6 | Sunday 20 May Match Report
Park Orchards 20.14 – 134 defeated Fitzroy 1.2 – 8
Brunswick Street Oval
Round 6 highlighted the uneven nature of Div. 1 of U15 Girls. 
 We were the only losing team to score, albeit that we suffered a very heavy loss.  Kew Comets defeated Surrey Park 11.13.79 to zero and St. Marys defeated Richmond 22.11.143 to zero. 
 I thought on the whole the girls tried very hard but we were up against a bigger, stronger, faster and more skillful team. In particular, Sarah, Charli, Josie and Dervla did a great job in defence.
 It has been suggested that we train twice a week, as I am led to believe our opponents of yesterday do, but for the time being I would like to try and focus on getting everyone to training on Thursday nights. Some girls have hardly missed a session all year but there is some room for improvement overall. 
 It is important that everyone arrives 45 minutes for the game as it is distracting and disruptive to have players arriving late. 
Round 5 | Sunday 14 May Match Report
Then Australian Prime Minister Malcolm Fraser once said "Life wasn't meant to be easy." And that is sometimes the case with life in footy.
Yesterday was a tough gig against a very very good opponent in Kew Comets – who were undefeated in our age group last year. I thought that after a slow start the effort was very good and there were some good passages of play.
Well done to Astrid for kicking our only two goals in her first game. It is clear that against the top teams the girls need to be prepared to move the ball quickly and run and run and run and run …..
Round 4 | Sunday 7 May Match Report
I would like to say that the gutsy win today was due to my stirring pre-match address about the glass half-full and the glass half-empty; urging the girls to focus on who was present and the job at hand – rather than worrying about who was absent.
However, the win was of course due to the fighting effort of the players. 
 It was a great effort with 10 players unavailable and only 13 playing – plus two each quarter from Richmond. I think we will have everyone back next weekend apart from Abbie and Zoe. And, Annika will be making her long-awaited debut.
 Today was a reminder to me of the important role played by umpires in our great game and how many of them are just young kids trying to do their best. One of the boys went to primary school with my daughter Molly and the other mentored my son Tom in round 1 when Tom was doing his first match co-umpiring with another umpire.
Round 3 | Sunday 29 April Match Report
Well done to the girls on today's effort and result.
 Thank you to Bella, Tori, Lucy, Kate and Josie who played a quarter for Surrey Park. With several girls unavailable Surrey Park had only 13 players, down to 12 following an injury, so the loan of players was important in us not having too many girls on interchange at any one time.
The boot may be on the other foot next week as we are down to no more than 16 with Abbie, Annika, Beth, Charltotte, Lucinda, Molly and Zoe unavailable. Hoping to welcome Ella and Elly A back from injury.
 Thanks to Elly A (and Vinnie) and Ella (and Suz) for coming out to support the team even though they could not play due to injury.
 Some highlights today:
 –    Lucy's great game;
 –    Heidi's play across the half-back line;
 –    The great run of Liv, Maisie, Maddi, Molly and others;
 –    ​Kate's play, particularly when playing as an on-baller;
 –     AND, Dervla kicking her first goal during a rare spell in the forward line.
Round 2 | Sunday 22 April Match Report
A balmy mid autumn day at the lovely Brunswick Street Oval with the Roy Girls in action is not a bad place to spend part of the weekend. Our win was followed by victories to Youth Girls 2 and Youth Girls 1.
I think we will probably play quite a few of home games at BSO – although I can't promise the weather will always be so good. We will probably have some home games at Ramsden Street (Clifton Hill) and/or Olney Oval.
It was great to welcome back Molly and Tori, and the win was a good way to farewell Abbie and Zoe as they leave us for about eight weeks. Thank you to Charli for the excellent job she did with the Anzac Day ceremony.
Our structure was much better today than last week and the ball movement was pretty good.
Round 1 | Sunday 15 April Match Report
The appropriate length of a match report is a matter about which sensible minds might differ. I favour brevity, and this will be a particularly short one – more focused on our next game.
 This was our third match in succession against Park Orchards (the last two games of 2017).  They now have two teams in our age group and this was apparently their "B" team, by contrast with the team that defeated us comfortably at the end of last season. So no reason to get carried away – but it was fun having a win and there were lots of good signs.
 I thought the effort was very good – although there is plenty of scope to improve on working together. Having said that, the ball movement was very good at times and there was plenty of run. All of our new players – Bella, Beth, Ella, Liv and Maddi – acquitted themselves very well. I certainly hope they get a chance to learn the words of our song as the season progresses.
 It showed that we have not yet done much work on structures at training. We will be doing so this week and in coming weeks.
Practice Match | Sunday 25 March Match Report
Practice Match – Sunday 25 March
​            Opposition: Brunswick​
Venue: Olney Oval, Deep Rock Road (off Yarra Bend Rd), Fairfield. (next oval to where we train)
Time: 2:00 pm (arrive by 1:00 pm as we need to give out jumpers and practice match day can be chaotic!)
Shorts: Blue – home game