Contacts
Coach: Damien Wright
0447 728 882
Assistant Coach: Rory Nation
Team Manager: Sophie Gammon
0419 394 402
Trainer: Rob McKenzie
Trainer: Ben de Bondt
Trainer: Jodie McErlain
Team Page Editor & Photographer:
Grant Hargreaves
0423 144 528
[email protected]
The Team
1 Charlotte Bourke
2 Evelyn Gammon
3 Sophie Hargreaves
4 Alexandra Croft
5 Molly McErlain
6 Eloise McMullen
7 Claudia Hetherington
8 Phoebe Nelson
9 Maeve Morrison-Brown
10 Madeleine deBondt
11 Maeve Sharrock
12 Kaisha Reed
13 Fionnuala McKeagney-Stubbs
14 Elyse Campbell
15 Esther Wright
16 Matilda Currie
17 Holly Larkin
19 Zoe Nation
22 Esther Bornstein
23 Annie McKenzie
Round 8 - Indigenous Round - Joe Johnson Medalists
Since 2011 the Fitzroy Junior Football Club has recognised our shared history during Indigenous Round alongside the AFL. Fitzroy Football club is known as the club where in 1904 the first recognised Indigenous player, Joe Johnson, played VFL football. Each year we honour his name in all the FJFC games during Indigenous Round by awarding a Joe Johnson medal to a player from each team who demonstrates Endurance, Tenacity, Courage, Loyalty and Pride.
In 2018 the medals in the U14 Girls Gold match between Fitzroy and Kew Rovers B were awarded to Emily (Kew Rovers B) and Kaisha Reed (FJFC). Congratulations to both girls for a great game and more importantly displaying all those magnificent traits.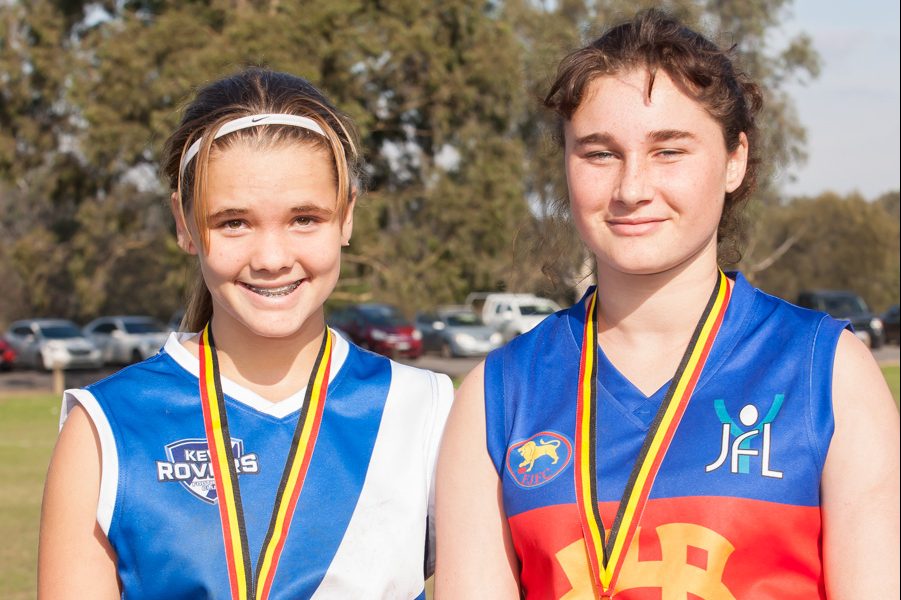 Five Things We Learnt - Round 1 v Banyule - 15/4/2017 (Beverley Road Oval, Heidelberg)
Banyule  3.5.23  defeated by  Fitzroy  4.6.30
#1 – Our girls don't mind the wet. Great win in tough conditions. Rain, hail or shine they'll come to play.
#2 – You wouldn't have known it was Maeve Sharrock's debut. Great first game, awesome goal too.
#3 – Our defensive group have grit. Fierce, persistent, never say die. Love it.
#4 – We've got a pretty handy ruck-duo too. Keep punching Fionn & Soph!
#5 – Synergy and Cohesion, these girls have tonnes. Third year together for the core of the group paying dividends.