Contacts
Coach: Matt Drew
0416 208 829
Assistant Coach: Darren Driscoll (and Sav Rocca)
Team Manager: Jon Armstrong
0432 596 312
Trainers: Sarah Nicholson, Darren Goodwin, Sally Dooley, Paula Kanizay
Team Page Editor: Jon Armstrong
[email protected]
Photographer: Rob Oldfield
Runner: Peter Lay
The Team
1 Shea O'Connor
2 Daniel Boyle
3 Tom Romano
4 Lucas Rocca
5 David Anastasiou
6 Oscar de Bondt
7 Sam Willee
8 Riley Flood
9 Jhy Lay
10 Ned Goodwin
11 Lachlan McIntosh
12 Lenny Armstrong
13 Tyler Drew
15 Archie Nelson
16 Oscar Teakle
17 Tai Hill
18 Stanley Nicholson
19 Daniel King
20 Jacob Atkinson
21 Jack Oldfield
22 George Raymond
23 Finn Cleary
24 Lachlan Kanizay
25 Mitch Lester
26 Reuben Edwards
27 Jack Driscoll
28 Joel Avery
Presentation Day 2018
On September 9th the Under 13s convened to say goodbye to season 2018. For the 13.2 team we celebrated the achievements of the following worthy winners:
Best & Fairest: Stanley Nicholosn
Best & Fairest Runner Up: Finn Cleary
Coaches Award: Jack Driscoll
Best Club Person: Daniel King
2019 awaits.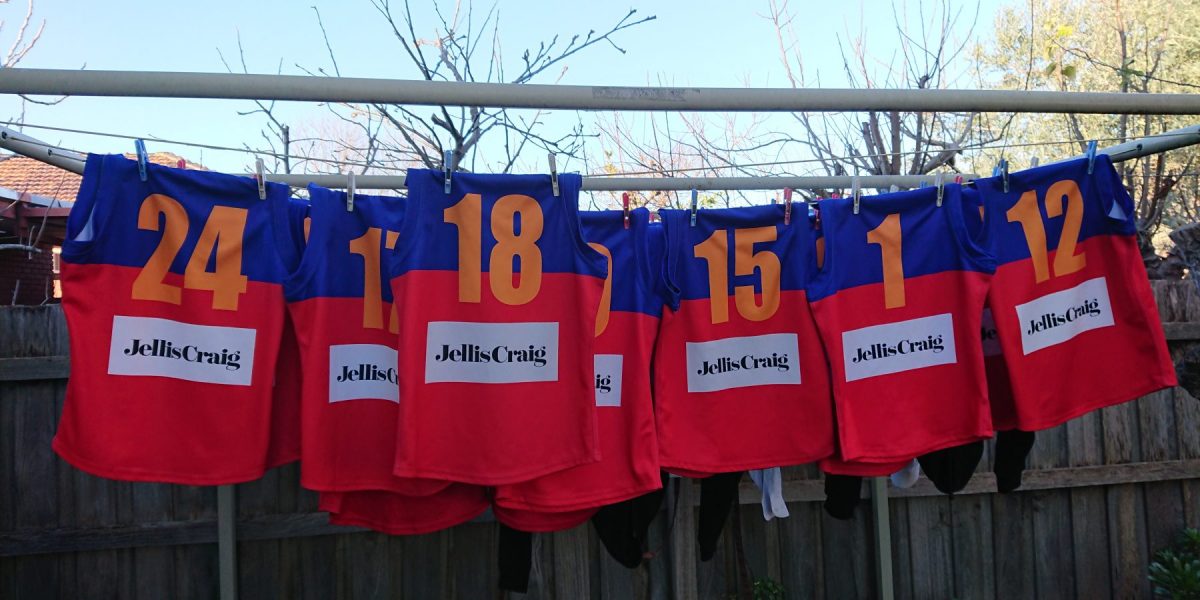 YJFL Best and Fairest 2018
Okay, so we had more than our fair share of defeats this year. But the umpires still noticed some stand-out performances from many of our players. This was reflected at the Presentation Night, held on 28 August.
Stanley was invited along, as his fine season earned him a Top 10 placing overall. And here we go:
Stanley Nicholson (10 votes)
Mitch Lester (4)
Finn Cleary (3)
Satchmo Kennedy (3)
Jacob Atkinson (2)
Lachie Kanizay (2)
Lucas Rocca (2)
Daniel Boyle (1)
Daniel King (1)
50 Games up in 2018
10 players ran through banners this season to celebrate 50 games played. They are:
Jacob Atkinson
Oscar de Bondt
Riley Flood
Ned Goodwin
Tai Hill
Satchmo Kennedy
Lucas Rocca
Thomas Romano
Oscar Teakle
Sam Willee
Congratulations to the players (as well as the crepe paper manufacturers).
Satchmo's Big Five-0
Round 3 – Fitzroy vs Park Orchards B – 29th April 2018
50 games up for Satchmo, who gets to celebrate the occasion with a good win for the team and a fine performance from himself.
Fitzroy: 8.12 (60) defeated Park Orchards B 1.1 (7)
The Drew Draw
Round 2 – Bulleen Templestowe vs Fitzroy 2 – 22nd April 2018
Enough of the bullants already! Two weeks in a row we get to play insects. Big, fast insects, that jumped us in the first quarter and although the game tightened up in the second, things were not looking good.
Then, two minutes before half time, Tyler Drew crashed to the deck and stayed there until the ambulance arrived. Later on we hear the game was declared a draw, owing to the match being terminated before the main break.
Fortunately, Tyler only misses a precautionary week.
Bulleen Templestowe: 7.5 (47) defeated Fitzroy 1.0 (6)