Contacts
Coach: Glenn Meade
0419 529 199
Assistant Coach: Todd Clarke
Assistant Coach: Ishbel Moody
Team Manager: Rohan Jones
0400 217 700
Trainer: Paul Silver
Team Page Editor & Photographer:
Grant Hargreaves
0423 144 528
[email protected]
The Team
1 Harriet Fitzgerald
2 Ava Allen
3 Matilda Teele
4 Willow Clarke
5 Anabelle Croft
6 Neve Mellody
7 Charlotte Silver
8 Amy Jones
9 Laura Pekin
10 Phoebe Jorgensen
11 Bella Lynch
12 Zoe Hargreaves
13 Mollly Hyland
14 Matilda Sekhon
15 Grace Pearson
17 Gemma Toews
18 Pippi Aucar
21 Callia Meade
22 Macy Boyd-McCaw
23 Emmerson Clarke
24 Kitty O'Neil
25 Gabrielle McCue
Round 8 - Indigenous Round - Joe Johnson Medalists
Since 2011 the Fitzroy Junior Football Club has recognised our shared history during Indigenous Round alongside the AFL. Fitzroy Football club is known as the club where in 1904 the first recognised Indigenous player, Joe Johnson, played VFL football. Each year we honour his name in all the FJFC games during Indigenous Round by awarding a Joe Johnson medal to a player from each team who demonstrates Endurance, Tenacity, Courage, Loyalty and Pride.
In 2018 the medals in the U12 Girls Gold match between Fitzroy and St. Marys were awarded to Ashlee (St. Marys) and Ava Allen (FJFC). Congratulations to both girls for a great game and more importantly displaying all those magnificent traits.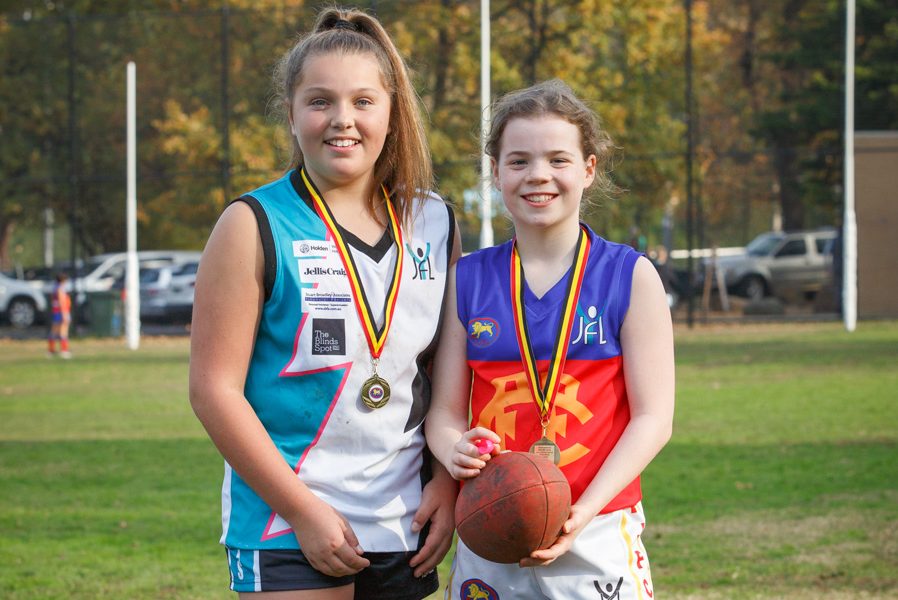 Five Things We Learnt - Round 1 v St. Marys - 15/4/2017 (Olney Oval, Fairfield)
Fitzroy  11.5.71  defeated  St. Marys  0.0.0
#1 – The pre-season must have gone well. Noticeable improvement in skills across the board.
#2 – The recruitment dept goes alright too. Great debuts from all our first game players.
#3 – Speaking of debuts, kicking a goal in your first game is aweseme …. Neve Mellody come on down!
#4 – Our girls don't mind the wet. Eleven goals in tough conditions. Rain, hail or shine they'll come to play.
#5 – Speaking of goals, Willow Clarke must eat them for dinner. I counted six!!!!!!