U11-W Girls (U12 Green) 2018
Contacts
Coach: Dale Williams
0400 576 879
Assistant Coach: Daylon Seakins
Assistant Coach: Heather Munro
Team Manager: Kate Nelson
0477 479 319
Trainer: Cass Quilty
Team Page Editor & Photographer:
Grant Hargreaves
0423 144 528
[email protected]
The Team
1 Matilda Day
2 Kalyca Vi
3 Violet Peake
4 Jada Stapleton
5 Pamy Ercolano
6 Jess Fragomeni
10 Zahra Zakharia
12 Eliza Nelson
13 Ruby Williams
16 Jade Williams
21 Grace Clayton Dowling
22 Aika Wright
23 Iris Mullan
24 Phoebe Hargreaves
25 Ally deBondt
26 Amelia Quilty
27 Pearl Clayton
28 Nina Bagaric
Round 8 - Indigenous Round - Joe Johnson Medalists
Since 2011 the Fitzroy Junior Football Club has recognised our shared history during Indigenous Round alongside the AFL. Fitzroy Football club is known as the club where in 1904 the first recognised Indigenous player, Joe Johnson, played VFL football. Each year we honour his name in all the FJFC games during Indigenous Round by awarding a Joe Johnson medal to a player from each team who demonstrates Endurance, Tenacity, Courage, Loyalty and Pride.
In 2018 the medals in the U12 Girls Green match between Fitzroy W and Warrandyte were awarded to Emma (Warrandyte) and Phoebe Hargreaves (FJFC). Congratulations to both girls for a great game and more importantly displaying all those magnificent traits.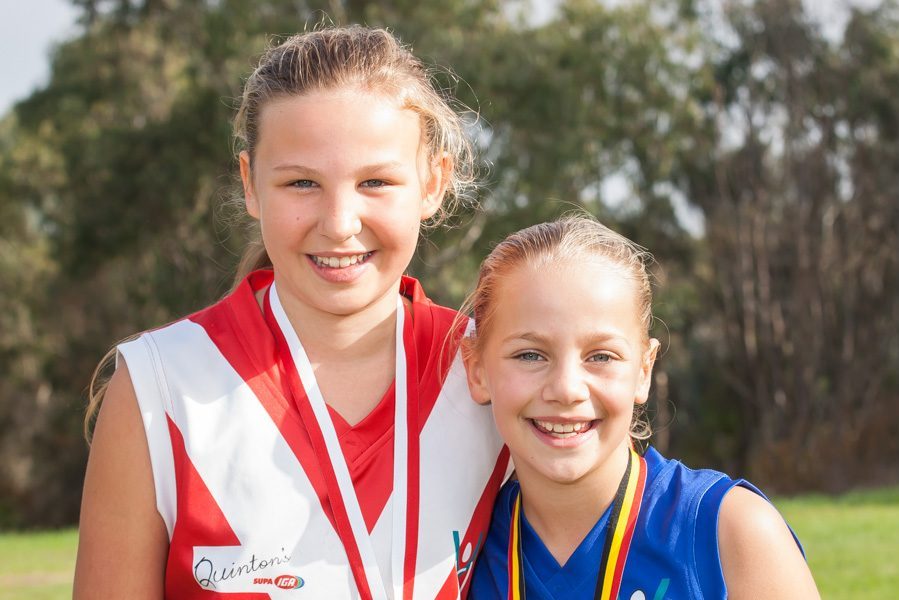 Five Things We Learnt - Round 1 v Parkside - 15/4/2017 (Cox Oval, Fairfield)
Fitzroy  3.11.29  defeated  Parkside  0.3.3
#1 – Our girls don't mind the wet. A great win in tough conditions. Rain, hail or shine they'll come to play.
#2 – Fantastic debuts from all our first game players. We've got some good ones!
#3 – Kalyca Vi and the girls know how to celebrate. Awesome first goal Kalyca!
#4 – Young girls can hold on longer than they let on. Hopefully the toilets will be back in action next time.
#5 – The girls still don't like zones 🙂