Contacts
Coach: Tim Cairns
0459 848 078
Assistant Coach: Bruno Muraca
Team Manager: Louise Dichiera
0403 155 082
Trainer: Emma Castro Williams
Trainer: Michael Christie
Trainer: Luke Smith
Team Page Editor: Katie Brown
[email protected]
Team Photographer: Rob Oldfield
The Team
1. Joel
2. Felix
3. Ted
4. Artie
5. Taj
6. Matthew
7. Lachlan
8. Patrick
9. Jay
10. Finlay
12. Jayden
15. Eloy
16. Elliot
17. Dashiell
18. Jasper
19. Michael
21. Thomas
23. Joseph
24. Angus
Round 13 Wrap Up
Second last match… Amazing photos from Rob – check out the link at the top of the webpage.
Coach Bruno gave the following message to the boys.
"Proud.
Boys, that was how the coaches, team manager and parents /carers felt at the end of the game today.
At the start of the game we spoke about giving an extra 1% today – and we did.
A few examples include:
> Our forwards manned up as the opposition were kicking out which forced the ball to run out of bounds and remain in our forward line. Well done forwards.
> We also noticed that when our full back kicked in (from an opposition point), they kicked it to the pockets and not directly infront of the opposition goal.  Well done backline for spreading to the pockets. 
>Our centre zone, were also great at sharing the ruck work, and getting themselves into clock work ruck work positions.
Finally, we were reminded at the end of the game of how much we have developed since we played this team earlier in the year.  This development shows in your football and boys you should each be satisfied with your development as individual players and as a team. "
Co-Captains were Tom and Patrick
Round 12 Wrap Up
Another game against St Mary, this time on our home turf! Great game by the boys and a huge improvement on the start of the year.
The last two games of the year are shaping up to be a fantastic display of all the skills and teamwork that they have learnt from Tim and Bruno and George and training, ably supported by Louise keeping everyone in order.
Co-captains were Angus and
Round 11 Wrap Up
It was a tough match against the Heidelberg Tigers this morning. They were very competitive and certainly kept our back line busy in the first quarter!
As coach Bruno says "Challenging games like these help us develop and you should look forward to the opportunity."
Fortunately the Roy Boy teamwork shined through in the next 3 quarters and the ball was in every zone on the ground.
Bruno's comments continued "Our captains today, Taj and Artie were great team players – and as Taj highlighted at three quarter time, "we were getting it out of the centre more…and getting it to the forward line".   
Reasons for this was our ability to "spread" and handball, "man up" and get our position right for the "clock work ruck work". We saw improvements in these skills as the game went on, so well done boys!!
One aspect of our game we need to continue to develop is kicking out of our backline zone. Ensuring we "spread" to the pockets.  Our running game has also developed over the last few rounds. We are definitely linking by handball more, which has been as a result of your practicing of these skills at training."
Co-captains this week were Taj and Artie. Richard (Joe's Dad) gave out the parent awards, a very tough job, and these went to: Jay, Lachlan, Jasper and Ted.
Thanks again to all the parent helpers who make the games run so smoothly.
Round 10 Wrap Up
It was cold. Very cold. Very very cold. But the sun was shining and our Roy Boys played their hearts out.
Coach Tim had the following to say:
"For me there was three standout features of our match today…
1) All our players that played for the oppostion team did themselves and the team proud today.  From a practical point of view if you didn't play for the opposition team then there would have been 6 players sitting on the bench, so playing for the opposition meant that you all could play 4 quarters today which was great.  The next thing was the way that you all played, you continued to run, mark, kick and tackle as if you were  a Roy Boy. Well done
2) Today I noticed the TeamWork has gone up another notch, it was fantastic to see everyone playing as a team, and bringing other people into the play.  Whilst I don't keep track of the goal kickers it definitely felt like the spread of goalkickers was the most we have had for the season, additionally I was really pleased and proud to hear a number of you saying that your development area was to help your teammates kick goals. Love it.
3) The last one is the Parents and Opposition award.   Well done to Matthew, Tom, Taj and Felix for being very worthy of being called out this week, and also to Artie and Eloy."
Thanks to the co-captains Matthew and Lachlan and congratulations to Dash on the award from the opposition!
See you all after the holidays.
Round 9 Wrap Up
From Coach Bruno…
"We started this mornings game looking at some photos from our previous games.
We looked at examples of what makes us a TEAM.  Examples of great teamwork such as marking, tackling, getting more Fitzroy players to the ball, taking the game on, spreading and manning up.
We then took these aspects of teamwork and tried them in the game.  We saw some great examples of taking the game on; spreading, manning up and kicking to team mates.
The opposition were really competitive and it was a good challenge of our teamwork.   As it was a tough game, it was really important that we kept at our teamwork for all four quarters – which you did. Well done boys!!
The game also highlighted some skills for us to further develop and build upon, such as running past for a handball and kicking to a team mate. Whilst we saw great examples of these in today's game, boys you have shown today you are ready to continue to build upon these skills and we will train for this tomorrow.
We were also well led by our captains Joel and Elliot today – who made a difference to the teamwork.
Finally, the first group of photos that we had up on the wall showed us in our team huddle and having FUN.
At the end  of today's game (when we got back in the rooms), we made sure that the sense of FUN was shared with the parents, who helped us sing the Fitzroy Junior club song.
Well done boys, once again you make the coaches, team manager and parents proud of how you go about playing the game."
Round 8 Wrap up (Umpire Appreciation Round)
Fantastic game by our Roy boys today. It was slow beginning, but once started they were unstoppable. Lots of handpasses, goals, tackling and ruck work, finished off by a loud and happy team song.
Bruno, George, Louise and Tim loved the way that everyone played their roles within the team game plan today, and the respect that was showed the umpires.
Parents award for Team Work, Development, Having Fun and Having a go went to: Patrick (the Birthday Boy), Finn, Artie and Matthew.
Co-captains were Michael and Artie for today's match.
Round 7 Wrap Up
Round 1: Greensborough Park
Round 7: Greensborough Park
What a difference 6 weeks of playing together makes…
When Coach Bruno asked the team "how our game has changed since the last time we played at Greensbough Park?" – the response he got was "more teamwork…..we spread better…and we man up more". Everyone watching can see the change ….and that is what made this morning's game such a competitive game."
Bruno's report added: "Today we saw a great display of tackling, chasing and team play.. saw some great linking play which on a full oval (in freezing conditions) was a good effort. We are also hearing more organising around the ruck work (clock positions) and more encouragement on the ground- well done boys!!
Our captains today Joe and Felix were really important, and played their role well.
I would also like to thank all the players who swapped jumpers and played for the opposition today. This display of teamwork allows both teams to maximise playing time".
Awards today were from James and were doubled because it was such an even contribution from the whole team and everyone did an amazing job!
Development: Jayden and Jay
Teamwork: Ted and Michael
Fun: Dash and Jasper
Having a go: Eloy and Joel
Round 6 - Round Robin Recap!!!
A great recap from Coach Tim on today's match…
"Gday Team
4 Games in one action packed morning.
All the Fitzroy U9 teams at the same venue
No rain.
Singing the team song
Sausage Rolls, Snakes and Egg & Bacon Rolls, and
An Amazing Team Spirit.
We couldn't have asked for better conditions for you to show us the skills that you have been picking up at training.  And show us your skills is what you did.
What was really evident today was:
– the hand passing to a team player when we had the ball, and because you were spreading when we had the ball this was making it easier for your team mates to find someone to handball it too.
– Defensively, when the opposition had the ball, you were matching up with a player from the other team, which made it harder for the opposition to keep possession.
– And our "Clock Work, Ruck Work" was implemented really well after only week of training.  We will practice this one more and this will also improve with practice.
As part of Indigenous round, FJFC asks each team to award a "Joe Johnson Award". Fitzroy Football Club is known as the club where in 1904 the first "known aboriginal" player Joe Johnson, played football. Joe played for 3 years with 2 premierships caps in1904-05. His great grandsons going on to play at Fitzroy – Robert and Trent Cummings. Lachlan won this award for the way he played, as decided by Michael Christie. When Lachlan plays he includes everyone, he gives hand passes to other teammates as well as pinpointing his kicks to a team mate, and if you watch him closely he is always encouraging everyone around him all the time. Well done Lachlan.
A special call-out to our captain's today, Joel, Taj, Lachlan and Mathew.  You all had real captains games today, attacking the footy, taking some great marks, laying some awesome tackles, and giving some great captain talks.
Michael's Other call-out's for players that lived our values today were
– Angus, Ted and Mathew.  Well done to these boys for all your efforts.
– And well done to all the boys for making Michaels job so hard, by playing so well!"
Round 5 Wrap Up
In today's game against Banyule R, each person played their role and contributed to a great game.
This week our theme of teamwork included:
1) Know your opponents jumper number
2) Spread when we have the ball
3) Man up when the opposition have the ball
It was terrific to see how we built on our teamwork from the first quarter to the last quarter.
Everyone should all be proud of their effort and teamwork today. It shows that if we stick to developing our skills at
training, and our teamwork on game day, we can be the best we can be as individual players and as the U9s Fitzroy Juniors team.
A special thank you to our team co-captains Finn & Jay. Our co-captains were required to play across all three zones and certainly contributed to our teamwork.
Round 4 Wrap Up
Wow what a great game …. We can really see the skills that the boys are learning on a Monday night coming out when we are playing the game.
Specifically:
1) Using your body to outmanoeuvre your opponent before picking up the ball, Tom was the original one to do this and now lots and lots of boys are doing this as well
2) Contested position – It is great to see everybody going for the ball when it is on the ground.  There was lots of times today when the Fitzroy Jumpers were outnumbered, but you won the ball because you were having a go
3) Centre Bounces – It was great to see different boys going up for the ruck contests.
4) Kicking, there was lots of accurate kicking, with marks being taken as a result of you practicing your kicking
Again well done to everybody, a great team effort and I can see there is a a  great team spirit within this team.
Well done to co-captains Ted and Eloy.
Round 3 Wrap Up
What a glorious morning for the Fitzroy Derby! The sun shined down on Fitzroy 2 in the green "clash" top and the game lived up to expectations. The boys tried hard, had fun and displayed amazing teamwork scoring the most goals and behinds this season.
Dash and Patrick were the Co-captains this week.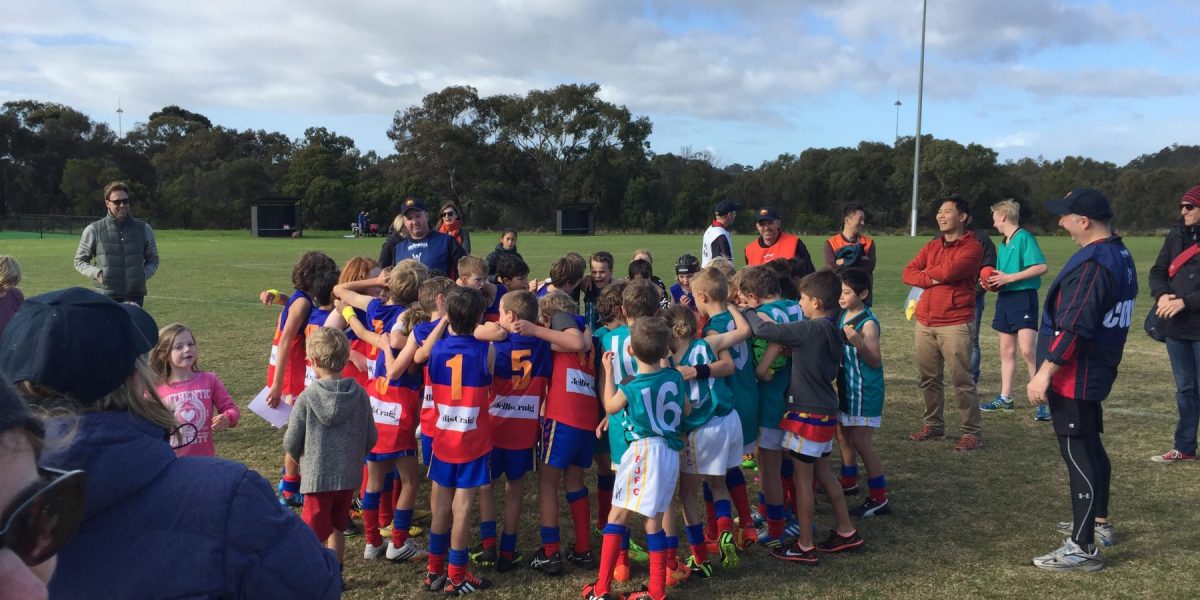 Round 2 Wrap Up
Wow what a game, it was an awesome effort.
Everyone was going with the flow of the game much better this week, you were
– Reading the play and getting in better positions
– Picking up your opposition player when the other team had possession
– Looking to get clear when we had the ball.
We also loved that you were helping each other in the contest, making sure that there was even numbers around the ball, which was our focus at the start of the match.
Values awards for this match were:
Teamwork – Lachlan for continuing to support the team even though he has a broken arm
Development –  Michael for running and taking all those bounces, which we now know is one too many
Development – Jayden and Joe for staying back in the goal square when the opposition was kicking for goal.
Development – Taj for a great mark
Having a go – Felix and Finn in the second quarter, with all their repeat efforts
Having a go – Jay for creating space in the forward lie
Having a go – Dash for going hard at the ball
Having fun – The whole team for the way that they enjoyed themselves when they played
Tom and Jayden were the co-captains this week.
Round 1 Wrap Up
Well done on a great first game against St Marys this morning!
Tim, Bruno and Louise are very proud of the teams effort and the display of development, teamwork and fun!
We had many parents comment on the great team effort – so well done boys!!
The team was well lead by the co-captains – Angus and Jasper; and the game highlighted some great tackling, kicking, handballing and marking skills.