Contacts
Coach:
Dale Williams 0400 576 879
Coach:
Shannon Swan 0401 077 402
Team Manager:
Jodie Pritchard 0409 409 149
Team Page Editor:
Tania Levens 0427 487 747
[email protected]
The Team
1 - Ben Moore
2 - Christos Raptis
3 - Ted Wearn-Jarvis
4 - James Ercolano
5 - Rex Richardson
6 -
7 - Gus Swan
8 - Harry Buttifant
9 - Lee Zong Dess Ross
10 - Joshua Hogan
11 - Jacob Clarke
12 - Cristian Perazzola
13 - Josh Watson
14 - Luke Williams
15 - Otis Styant-Browne
16 - Heath Ramshaw
17 - Ben Levens
18 - Darcy McErlain
19 - Adam Mucilli
20 - Sam Ackland-Evans
21 - Ky Gisbourne
22 - Matthew Rocca
23 - Rinchen Dorjee
24 - Oscar Bruzzaniti
25 - Alex Johnston
26 - James Marasco-Liddell
27 - Rhys Seakins
Round 6 Match Report: Fitzroy v Whitehorse Colts
This week we played a must win game against Whitehorse Colts. With both teams vying for a finals spot, this was classic 8 point game.
During the week we worked really hard on using handball to spread from the contest and our forward line structure. This paid dividends in the first term as we kicked four goals to one with the wind.
The message at quarter time was to run the ball and, despite kicking into the wind, we managed to kicks two goals to three and go into half time with a well deserved 9 point lead.
And then the rain came. Dale put it to the players plain and simply – 'Do you want to win?'.  The answer was yes.  Despite the dour conditions, the boys rolled up their sleeves and got busy. The first 10 minutes of the third quarter was an arm wrestle until back to back Fitzroy goals set up a thrilling last quarter.
With a 17 point lead and the wind against us, the coaches delivered a simple message – 'This quarter is all about contested ball, win your one on one battles and we will win the game'. What transpired over the next 20 minutes was the most pleasing 20 minutes of football we have seen for the year. The boys played their hearts out and kept the Colts to only one goal to win by 16 points.
Well done to Rhys who won the Indigenous Medal. Rhys spent some time in the middle and collected 27 possessions and kicked two goals.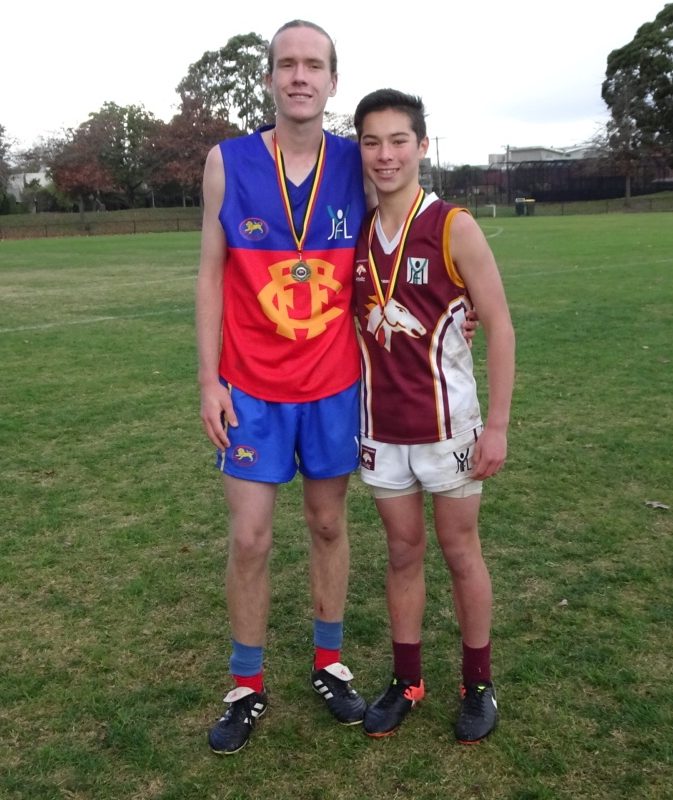 Congratulations goes to Alex for playing his 100th game, with his goal in the last quarter the sealer.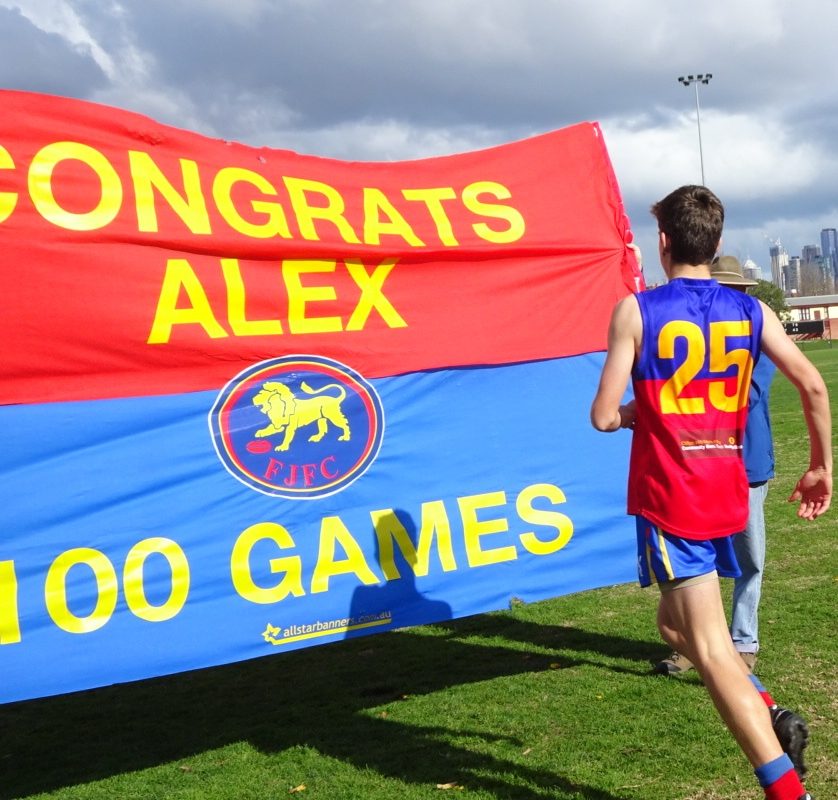 We will now enjoy a slight freshen up with a double bye, before putting in some hard yards leading into our Round 8 clash with Boroondara Hawks.
Shannon Swan, Co-Coach
Round 6 Photo Gallery: Fitzroy v Whitehorse Colts
A couple of shots from the game… (thanks to Leshaye for R6 photos)
⇑ "Heath with the ball – again." ⇑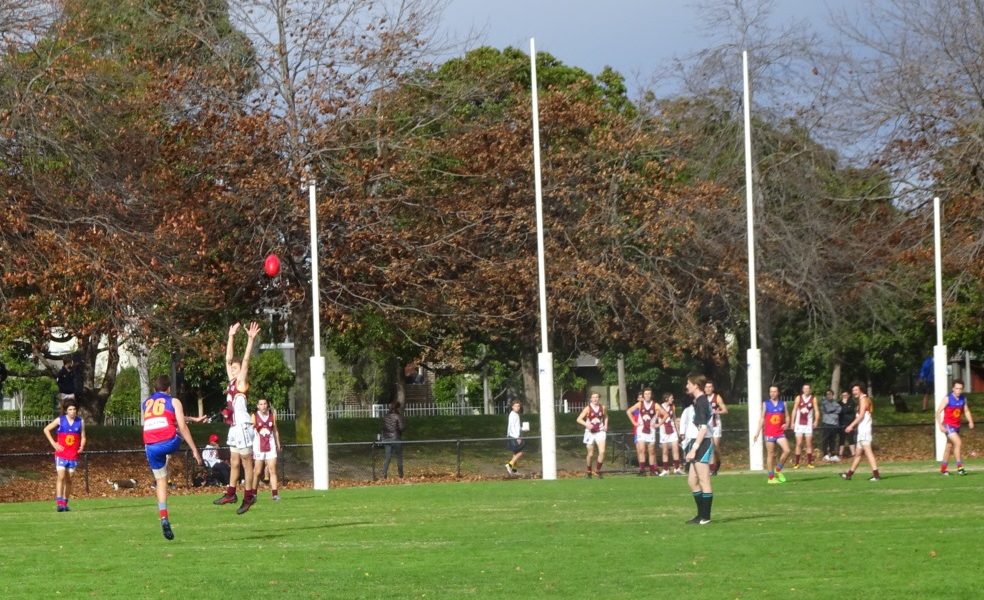 ⇑ James on his way to kicking a goal ⇑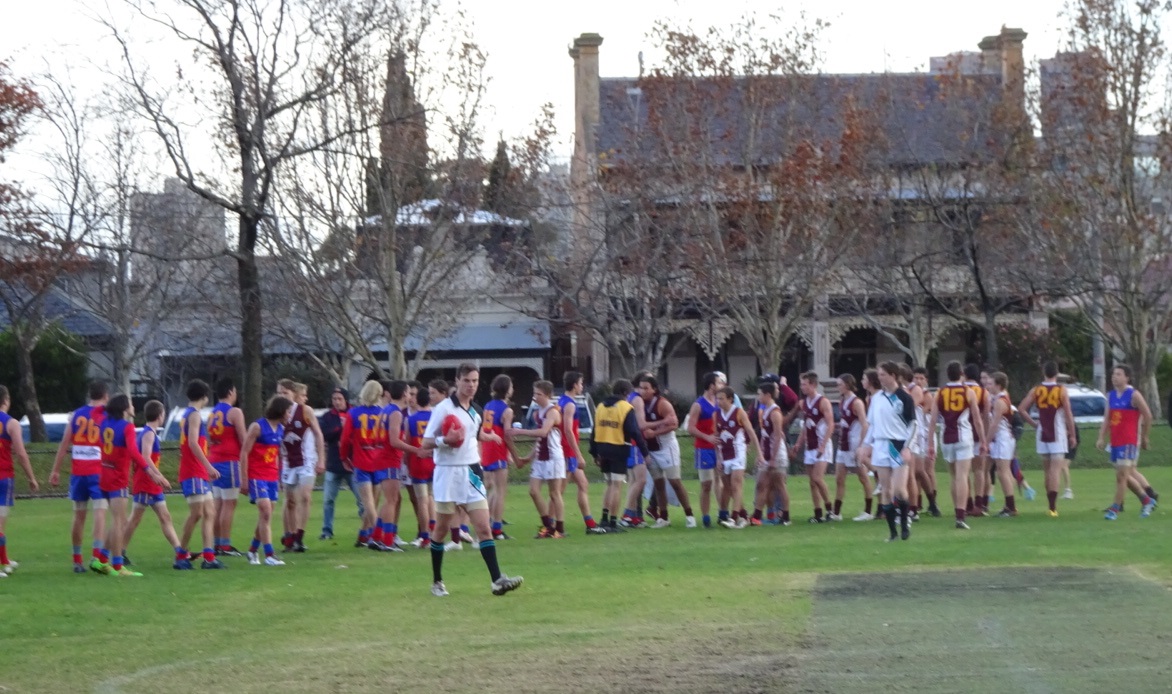 ⇑ Post game handshakes ⇑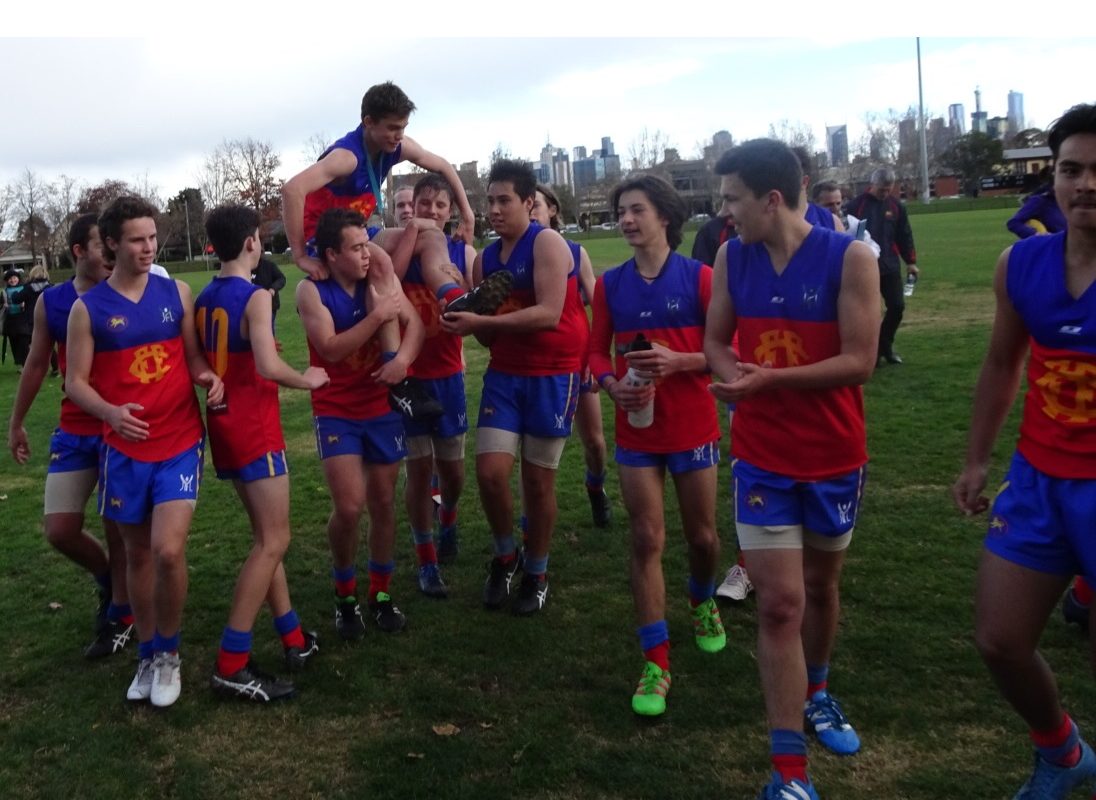 ⇑ Carrying (or dropping) Alex ⇑
Round 5 Match Report: Fitzroy v Kew Comets
This week against Kew Comets, we played two really good quarters and one OK quarter when we pressured, tackled and supported each other. Unfortunately we let far too many balls "out the back" in the 3rd quarter, and Kew were able to take control of the game. While it was pleasing to finish all over Kew in the last quarter, it does feel like an opportunity missed.
Our midfield responded well after last week, and owned the clearances and gave us excellent use of the ball. We easily won the inside 50 count. The opposition coach complemented us on how well we used handball around the contest to move into space and spread, which was pleasing.
Where we let ourselves down was with our disposal by hand and foot and then decision making. These will be areas of focus again at training this week.
This week is a must win game for us against Whitehorse Colts before a two week break. This break will give us the opportunity to work and improve some of the areas highlighted. It will also hopefully see us get back some of our injured boys.
See you all at Brunswick Street next week.
Dale Williams
Co-Coach