Contacts
Coach: Scott Hetherington
[email protected]
0438 149 405
Coach: Samira Heale
[email protected]
0427 800 443
Team Manager: Mandy Rush
[email protected]
0458 029 975
Team Page Editor: Grant Hargreaves
[email protected]
0423 144 528
The Team
#2 -- Lexie
#3 -- Anabelle
#4 -- Eloise
#6 -- Rachel
#7 -- Samira
#8 -- Poppy
#9 -- Madelena
#10 -- Harriet
#11 -- Emmerson
#16 -- Daisy
#17 -- Zoe
#18 -- Grace
#19 -- Ari
#20 -- Charlotte
#22 -- Winnie
#23 -- Inika
#24 -- Lara
#25 -- Sophie
#26 -- Keira
#27 -- Claudia
#28 -- Evelyn
Match Report - Second Semi Final v Park Orchards - 13/8/2017 (Victoria Park, Kew East)
Fitzroy  0.9.9  defeated  Park Orchards 1.0.6
Hi Roy Girl families,
It's a little emotional sitting here writing this wrap which will be my last for the year. And what a year it has been.
From the group of excited girls following the ball around the field at Ivanhoe like beagles on a fox hunt, to the tenacious warriors who held and held Park Orchards in their forward line in the dying minutes of the semi-final.
In between those two Sundays something special happened. They grew into a team of footballers. A very determined team of footballers.
There was not one minute of play on Sunday when we doubted their focus. Everyone brought their best game. You could see it on their faces at the breaks.
One result of their unity was visible on the scoreboard; 9 scoring shots to 1. The other result was visible in their behaviour on the field.
The girls were confident with many of them taking risks that paid off, diving marks, smothering and relentless tackling. There was a reason that the Park Orchards coach mentioned our tackling in his speech; it was good.
There were so many bits of play that made Samira and I go whoah, to think of how far the girls have come. We were proud of them as we are sure you are.
And speaking of you, can I just take this opportunity to say thank you again for the wonderful support that you have all given over the season. None of this can happen without you.
Thank you to Mandy our amazing Team Manager, Rohan as trainer each week, Brett and Paul as runners, Grant who has kept a photographic record of the season, Chris who has made an art of flag waving in the goals, everyone who has carried water, cut up oranges, brought snakes, escorted umpires, kept time, monitored the interchange benches, learnt the secrets of that manual score board that looks like one of those bedside clock radios from the 70s, helped us at training and generally cheered loudly while our girls do amazing things. If I have forgotten anyone, please accept our thanks as well, it's been great.
Only one more game to go. Can't wait.
Go Roys Girls!
Scott
GO ROYS!
FUN; RESPECT; TEAMWORK; DEVELOPMENT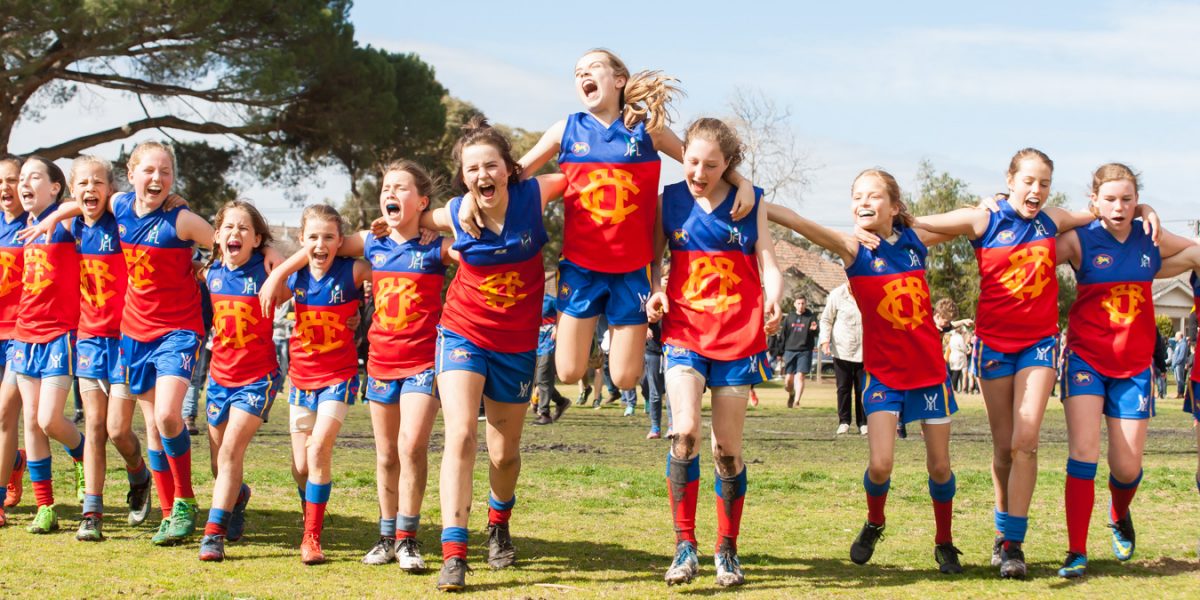 Match Report - Round 14 v St Marys - 6/8/2017 (Greensborough Park, Greensborough)
St Marys  3.1.19  defeated  Fitzroy  1.0.6
Hi Team,
For the first time in quite some time, we finally see that U12 Fitzroy 1 Girls are indeed human and not ALWAYS a choir of demi- god, warrior princess, football prodigies sent from above.
True to form and our stellar season, Sunday's game was the perfect loss, at the perfect time.
Now the true test of our commitment begins and we dig in.
What was of particular interest to Scott and I and the rest of the coaching team was the style of football we were dragged (by the back of our shirts 😉 ) into playing. A valuable lesson in being vigilant about maintaining our own style of fast, light, find space footy – under pressure – which we will continue to refine over the coming weeks.
Apologies to those girls affected by our interchange 'schermozzle' on Sunday. It is difficult maintaining the bench and coaching at the same time, especially in those high intensity games. For the finals we will be enlisting extra help with this, so fair game time is not compromised.
Next week Park Orchards and another no doubt challenging game.
Please pass onto the warrior princesses to be up for a switched on training Thursday.
If you can help at training we would appreciate some extra hands.
Heads high,
Samira
GO ROYS!
FUN; RESPECT; TEAMWORK; DEVELOPMENT
Match Report - Round 13 v Warrandyte - 30/7/2017 (Alfred Crescent)
Fitzroy  11.10.76  defeated  Warrandyte 1.0.6
Hello Roygirl families,
It feels like it's been months since I last wrote a match review which is one excuse for this being later than usual.
The other excuse is the Fitzroy Idol. It's been difficult to gather one's thoughts after such a night of entertainment and refreshments.
Anyway, the second last match of the home and away season was another fine example of how far our girls have come.
Warrandyte showed the determination that we have come to expect from the teams in our competition.
From the opening siren they placed pressure on us with some strong kicking, always looking to find a gap in our defence and moving the ball quickly when they found it.
It was fascinating to watch our girls respond by holding their structure and locking the ball into our forward line.
And their confidence! There were several instances of playing-on which showed a level of comfort in making onfield decisions that was not there six rounds ago. Great stuff.
From passages of kicking and marking to tapping the ball forward out of stoppages whilst being madly pursued, the Roygirls played a fluid game and worked hard to win.
When you consider how far we have come it is mind-boggling.
Special mention needs to be made also about the great team spirit that the girls displayed when moved to positions that they may have been surprised to find themselves in.
They were very professional and applied themselves evenly. Next week St Mary's and the end of the home and away season.
As always, a big thank you to all of the parents who fill the many vital roles on the day, (especially after the Idol – respect) you guys are the ones who make this all possible.
Looking forward to seeing you out at Greensborough.
Go Roygirls!
Scott
GO ROYS!
FUN; RESPECT; TEAMWORK; DEVELOPMENT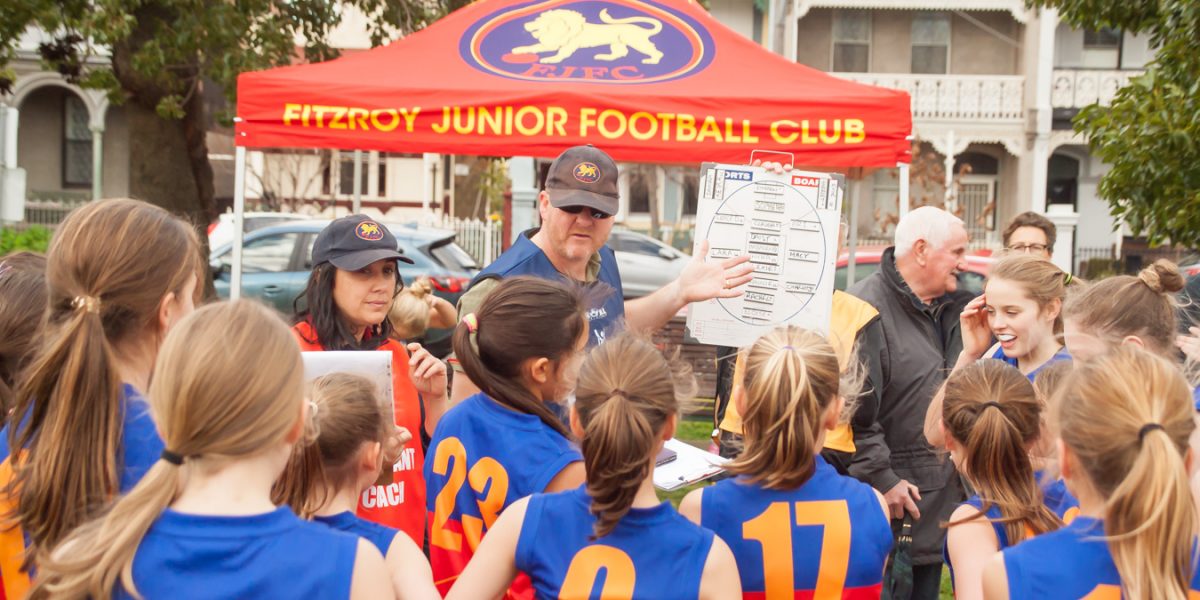 Match Report - Round 10 v Richmond - 2/7/2017 (Kevin Bartlett Complex, Burnley)
Richmond  0.0.0  defeated by  Fitzroy  18.10.118
Hey Team,
Again the Lions Roar!
The Richmond team were no match for our skills and tenacity in the contest however there were moments when they held us off with all their might ..reminding us, as a few of the girls did before the game, that we cannot afford to get complacent despite our recent string of wins.
Last Sunday proved a great opportunity to experiment with strategies, (some of which the girls came up with themselves) and unfamiliar positions, that players took on with their usual enthusiasm…with some fabulous results.
Clearly the intent of the girls, more consistent drills, and extra help we have at training continue to improve basic skills, particularly kicking, marking and tackling, and the confidence of the team continues to build.
Round 11 is our BYE  leaving us with only 3 more games to finals rounds!
We will not have training this coming Thursday but will run training in the second week of the holidays, July 13.
Proud as Punch !
Enjoy the break …..
Samira
GO ROYS!
FUN; RESPECT; TEAMWORK; DEVELOPMENT
Match Report - Round 9 v Preston Bullants - 25/6/2017 (Preston City Oval, Preston)
Preston Bullants  0.0.0  defeated by  Fitzroy  8.14.62
Hi Roygirls and families, what a great effort by our girls.
In the mid-winter bump with the trifecta of illness, injury and school camp upon us, Samira and I were struck by the Roygirl spirit this week. Not only did we have two fantastic under 10 players, Jade and Phoebe, step up and volunteer to help us out with numbers, but Poppy also turned up to cheer on her team mates who got in first with a big cheer of their own. It says a lot of good things about our team and our club.
It was great to play at the Preston City Oval, lots of space and you could feel the history in the change rooms. The weather was fine but that brisk northerly wind kept everyone on their toes.
The wind advantage however was not decisive in the four quarters of football that followed. In a continuation of last week's form, the Roygirls worked efficiently to keep the ball moving into the forward line. Avoiding the tendency to get bunched up, the girls held their structure open which meant that there was room to move the ball. It also meant that when the Bullants got the ball and kicked it, (and they had some very strong kickers) there was a Roygirl waiting to turn it around.
Structure was only part of the story though. Several passages of confident kicking and strong marking moved the ball through what appeared at times to be a forest of opposition players. Space was provided in the middle of this through the girls shepherding and creating space for the ball carrier. Of particular note in Sunday's game were the several instances of smothering. Stopping the ball off the boot takes courage and determination. It was amazing to watch as all of the girls stepped up to provide a relentless pressure. The reward for their efforts was the winning margin at the final siren's call.
As with every week, our games can only happen with everyone's support. Thank you trainers, water carriers, runners, umpires, orange and snake providers, scorers, umpire escorts, best and fairest voters, interchange escorts and our fantastic TM Mandy who does a brilliant job each week.
Scott
GO ROYS!
FUN; RESPECT; TEAMWORK; DEVELOPMENT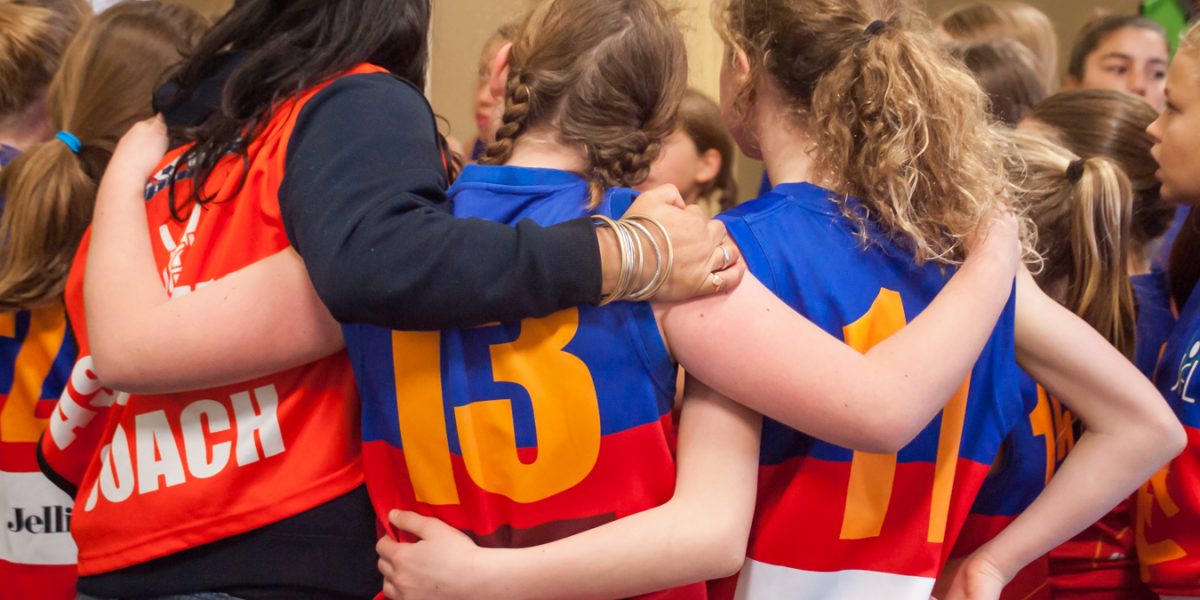 Match Report - Round 8 v Heidelberg - 18/6/2017 (Olney Oval, Fairfield)
Fitzroy  16.21.117  defeated  Heidelberg  0.0.0
Hi Team,
Well, what an extraordinary turn of events Sunday was……with barely a bench and a number of players injured or unable to attend, we rallied as a true TEAM and walloped the opposition 117 pts to zero…in case you haven't heard already…….
Scott and I were mesmerised as the ball tumbled out of the centre in the direction of our forward line over and over again. It was fantastic to see players taking risks and backing themselves in their roles, clearly they were thinking more about their role, shepherding, tapping the ball forward in the ground ball contests when it was too tricky to pick up, spreading out instead of bunching up (a big improvement) and communicating beautifully with one another during the play.
Most heartening of all was watching more players working together to contribute to the team as a whole. There was considerably more 'one percent' play not necessarily spelling glory for the individual but really helping a teammate out, and there were some almighty individual efforts too, culminating in our landslide victory.
Goals (of which we had quite the variety in our 116 points) are of course the result of whole passages of play and more than usually a lot of individual contributions along the way.
A wee reminder for players to fill in their goals for the season sheets (if you have misplaced it come and see us as we have more.) It's a helpful tool for Scott and I to see what the players aspire to over the season, what positions they want to have a go at and how we might be able to facilitate these, where possible.
Oh, and ……checkout out the ladder !
ROAR
Samira
GO ROYS!
FUN; RESPECT; TEAMWORK; DEVELOPMENT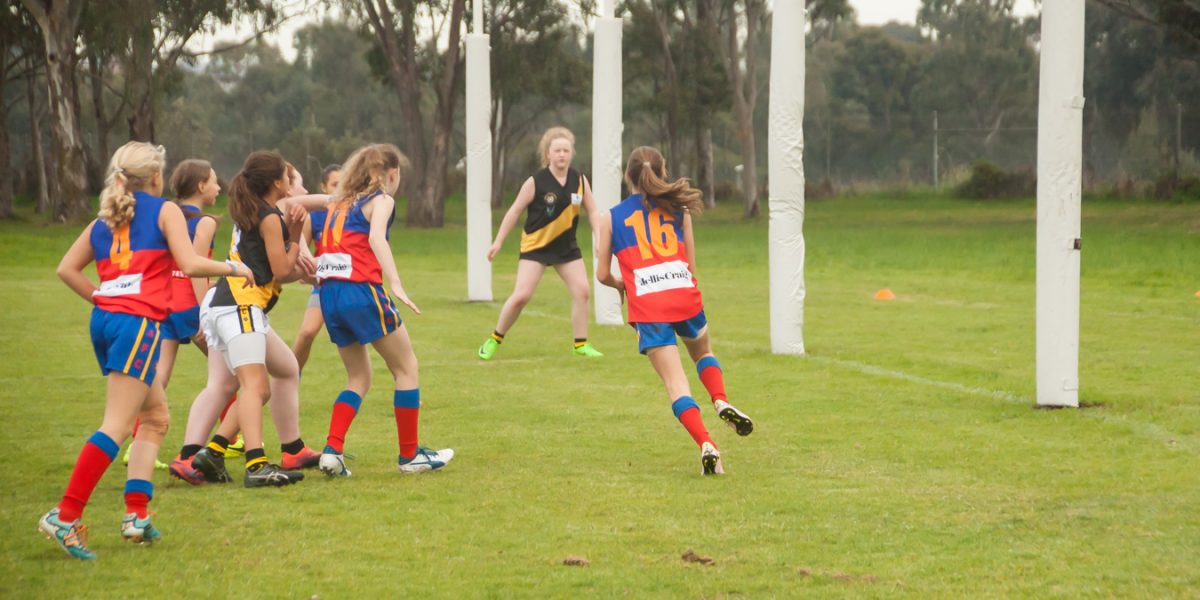 Match Report - Round 7 v Kew Rovers - 4/6/2017 (Stradbroke Park, Kew East)
Kew Rovers  1.1.7  defeated by  Fitzroy  5.3.33
Hello Roygirl families, week seven already – where did that half of the season go?
It is mid-year and mid-season. Time to take stock, have a weekend off for the Queen's birthday and think about how far we have come.
Remember the Ivanhoe practice match? One massive team and lots of excited players taking to the field for the first time, many unsure of where to be or what to do.
Seven weeks later they burst onto the paddock at Stradbroke Park and delivered an exciting performance against the number three team; won four quarters in a row. How does that happen?
Determination: From the first siren to the last, when a Roygirl had the ball they simply refused to let go of it despite the best efforts of up to four opposition players. They dominated the space over the ground balls.
Skill: The improvement in kicking of the whole team was clearly visible. Both set kicks and quick snaps kept the ball moving forward. Players who have clearly spent time practicing outside of training were bringing happy tears to their coaches' eyes.
Courage: One quality that has never been lacking from day one. No one took a step backward unless they had their eyes on the ball and were backing into a marking contest.
Structure: What a beautiful thing. While there were many moments when a vacuum appeared in the midfield, generally there was a Roygirl one kick in front and one behind play. Even with such deep wings, (have a look on a map) the ball kept moving at pace. Nice work.
Teamwork: Most important of all, the confidence that comes from knowing your teammates, supporting those in contact with the ball through shepherding and anticipation of what they will do.
The end result was a convincing win against a team who played a nice game. There was a lot to be proud of. So as we go into the well-earned long weekend break, its time to think about the next seven weeks and imagine what our amazing Roygirls will be up to by then.
Cheers
Scott
GO ROYS!
FUN; RESPECT; TEAMWORK; DEVELOPMENT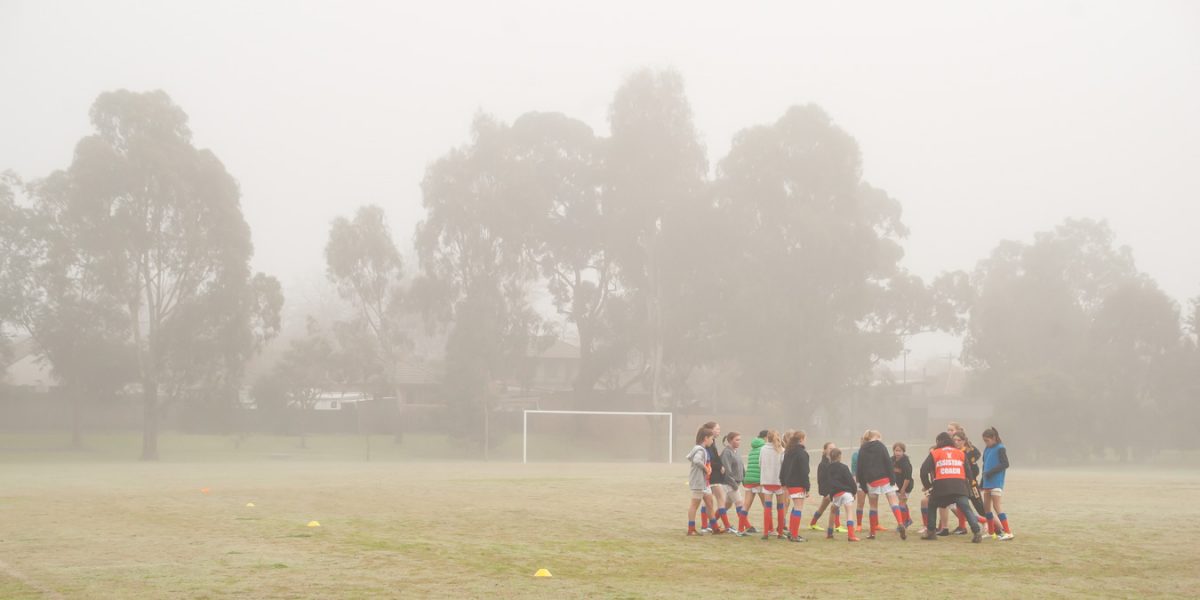 Match Report - Round 6 v Park Orchards - 28/5/2017 (Ramsden Street)
Fitzroy  2.1.13  defeated  Park Orchards  1.1.7
Hi Team,
Well….. if there were Fitzroy teams channelling the virtues of ENDURANCE, TENACITY, COURAGE, LOYALTY and PRIDE for the Indigenous Round last Sunday we were most definately one of them!
Armed with some sharp and focused pre game form we headed out onto the vast expanse of Ramsden St. Oval in the full knowledge we were facing the top team in our competition.
The first few minutes of play sent the ball hurtling toward our forward line to a somewhat shocked Park Orchards team and the omens were good.
As an ominous sky brewed and a stiff southwesterly blew, the girls fought it out through blood, tears, knocks, thumps and icy rain…..neither team scoring until the third quarter, with a point and a goal to Park Orchards followed by a hungry goal for us.
Despite the tough conditions, and a bleak outlook going into the 4th quarter (my those goals are sure hard to come by) we had the wind in our favour and an all blacks like ferocity that conjured another point and the winning goal!
There were too many team and individual acts of grit, tenacity and sheer uncompromising determination to mention and all the girls ought to be supremely proud of their efforts.
Never yet have I witnessed so many girls 'champing at the bit' to get back into play and our high rotations throughout the quarter, though a bit tricky to negotiate initially (with 5 on the bench), insured fresh legs and rests for some of our key players on the day.
Thank you to ALL parents that pitched in to enable our girls to do their thing… so very well!
A big thanks to Brett for stepping in as Assistant coach and Paul for running to and fro at our every whim and fancy. Mandy, Chris, Mark and Scott who, most essentially, kept time throughout the delicate operation that is interchange. To those that I have neglected to mention, forgive me and remind me at training!
Welcome back Scott !
Next week we play Kew Rovers.
See you Thursday
Go Roy Girls!
ROARRRRRRRRR!
GO ROYS!
FUN; RESPECT; TEAMWORK; DEVELOPMENT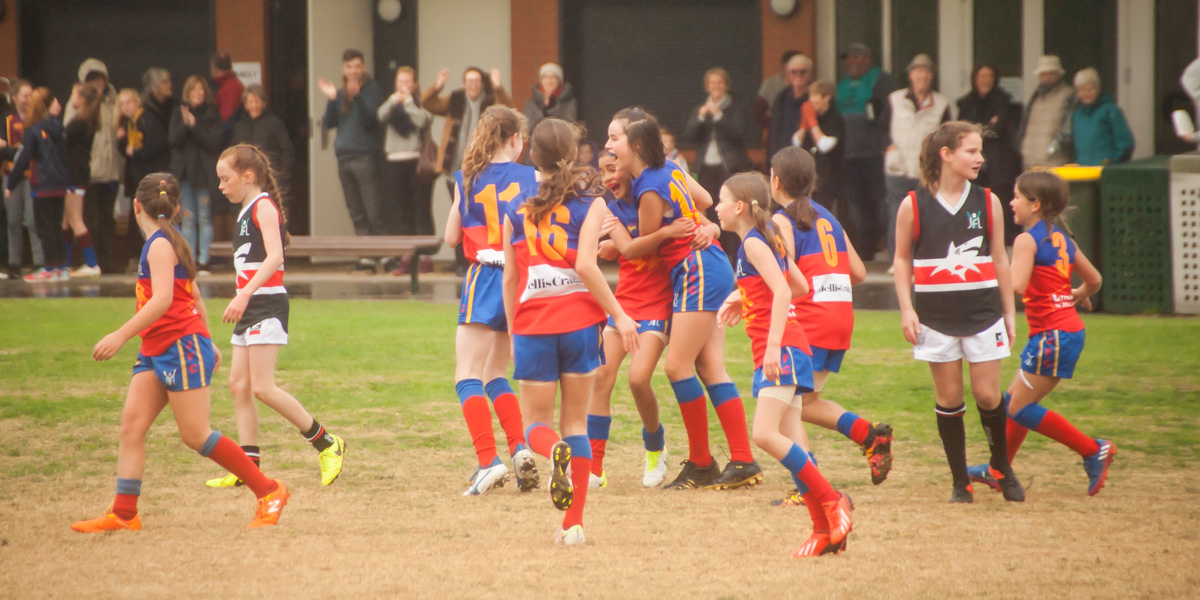 Match Report - Round 5 v St. Mary's - 21/5/2017 (Alfred Crescent)
Fitzroy  0.2.2  defeated by  St. Mary's  3.4.22 
Hi there Roy families. Arguably the most heroic Sunday so far this season as the girls went head to head with the might of St Mary's.
In football, there are few guarantees. Until those boots hit the ground, your best guess about how the day will pan out is just that; a guess.
As it was, we went into the field with no players in reserve against a team that appeared to have the rest of their club on the bench.
Not to be deterred, the Roys set about dominating the play with some fast work from the centre to the goal square and got the first score on the board.
In response, St Mary's tightened up their midfield and proceeded to block any further rushes from the centre. There are certainly some good growing conditions for children out at Greensborough and the Roys found themselves being caught up again and again through the middle.
Half time gave the girls a chance to catch their breath and take stock of the situation. If they couldn't go through them, they would have to take the game down the wings.
From that point onwards, St Mary's were unable to repeat their run from the second quarter as the Roys played some hard football. Several times the girls moved the ball to our forward line through a succession of well judged kicks, leads and marks.
With no one in reserve to take their places or give them a rest, the girls threw themselves at St Mary's. Having made one attempt to get at the ball, they followed up with second and third tries. Marks were taken under pressure, hips were used to dominate the space over ground balls and there was even some candy sold.
At three quarter time, expert goal umpire Chris Gill, made the observation that in a quarter where neither side had scored, Fitzroy was the clear winner.
The epic battle of the last quarter saw the ball moving up and down the ground without finding either team's goal but the heat of the contest never let up until the final siren.
There are some great lessons for the girls from this Sunday but one they don't need is about heart, because we see it every time they take the field.
As always, thank you to everyone who pitches in to make game day happen – expert goal umpires, runners, trainers, water carriers, time keepers, umpire escorts, snakes and oranges, photographs, statistics and last but not least our fantastic TM.
See you at training.
Scott
GO ROYS!
FUN; RESPECT; TEAMWORK; DEVELOPMENT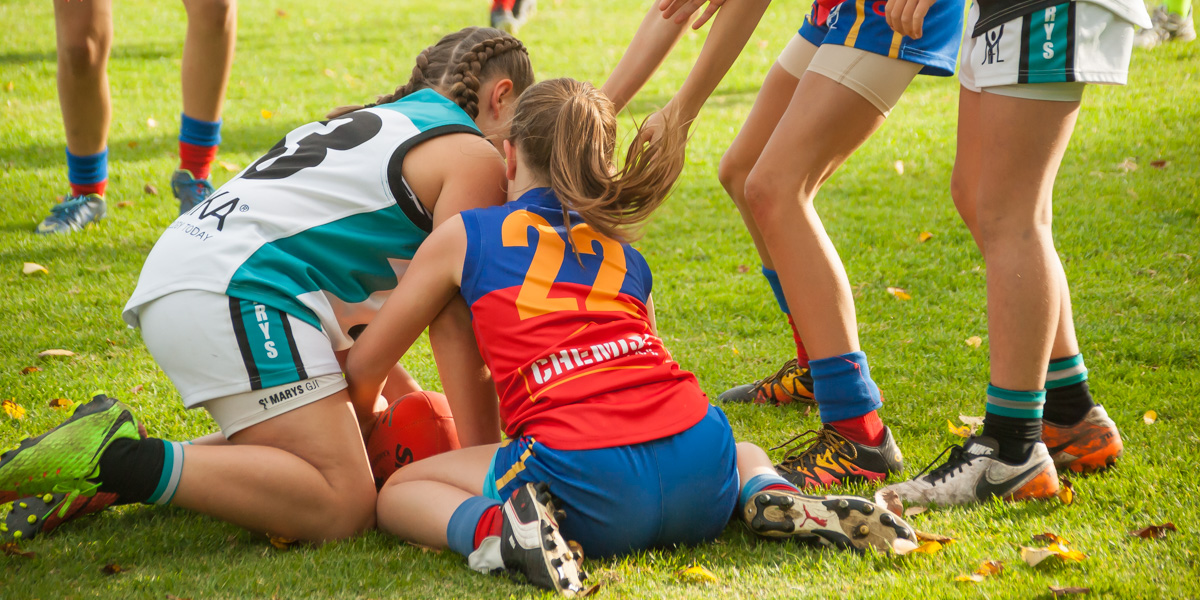 Match Report - Round 4 v Parkside - 14/5/2017 (Alfred Crescent)
Fitzroy  2.3.15  defeated  Parkside  1.0.6
Hey Team,
An excellent effort last Sunday. Lots of notes strewn across the couch here to draw upon, but will try to keep it relatively brief….
Firstly thank you to ALL the folks helping to make game and pre game run smoothly.
Having anticipated some stiff competition we initially geared up for a strong defensive game against Parkside but soon proved we were more than matching their efforts.
Our team messages were simple, get the ball, get clear, find your opponent quickly. We went through positions and broke them them down to their definitive roles and aspired to building "ladders" of play up and down the field.
Despite some impressive Parkside skills, we were consistent in keeping them from scoring.. with some nervous moments in the last quarter – a truly good game.
As a team the girls have most certainly improved their ability to spread out and make space and communicate with one anther on the field, not least their expediently growing confidence contesting the ball! GO girls !
Shepherding and marking are specific skills the girls collectively agreed they required more practice with – something to keep in mind at home too perhaps. Like all the basic skills we will keep plugging away at them at training.
On that, Scott has designed a scoring Rubric as a fun way to chart each players trajectory.
We will measure this infrequently throughout the season at training.
Grading rounds are now over and Fitzroy 1 is now placed with the bulk of the YJFL Under 12 competition, in the Brown division. Look out here we come!
Cheerios
Samira
GO ROYS!
FUN; RESPECT; TEAMWORK; DEVELOPMENT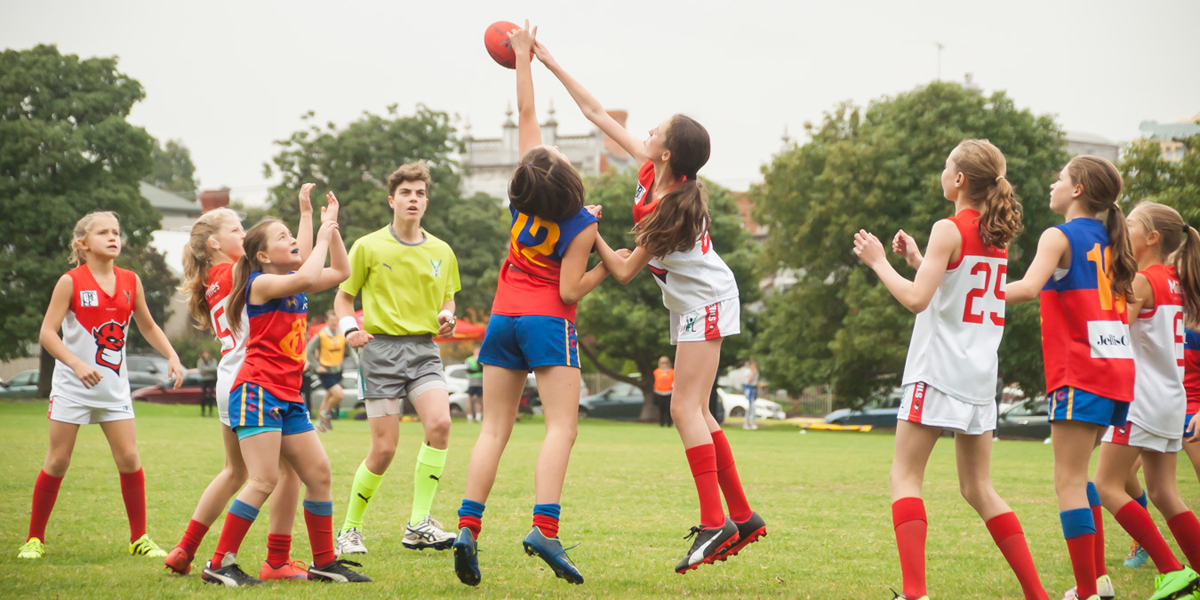 Match Report - Round 3 v Kew Comets 2 - 7/5/2017 (Victoria Park, Kew)
Kew Comets 2  7.8.50  defeated  Fitzroy  2.2.14
Hi there mighty Roy Girls, another week under the belt!
What a great day it was; a double-header at Victoria Park with the Under 12s and the Under 13s both playing the Comets at exactly the same time.
Interestingly, the main comment made by the Roy supporters on the lower ground was that by the sound of it, something amazing was happening on the upper ground. And they were right.
The first quarter opened with a blistering display of pace. The Comets charged time and again and all of the play was in their forward half. The Roy Girls stood firm, turning the ball in the half back line and throwing themselves into it but at the siren's call the Comets were firmly on the board.
Water drunk, players moved, tactics discussed – learning, learning, learning.
Quarter two, the charge of the Comets continued but their rapid run on the score board did not. The Roy Girls were working out the lay of the land. Water drunk, oranges eaten, tactics discussed.
Quarter three, coming back from the long break the Roy Girls held their own. They turned the ball and refused to take a step backward. Water drunk, snakes chewed, tactics discussed.
Quarter four SCORE! After 45 minutes of hard playing the ball came to live in our forward half. Each score felt like an Olympic triumph and the ball kept coming back.
That was what was heard on the lower ground; the sound of joy and pride at the efforts of our amazing girls. They learned as they played, they never dropped their focus and came off the ground smiling.
From a coaching perspective we could see the girls implementing skills that most have only been practicing for three weeks. Can't wait to see what they do next!
A big thank you to all of the parents who do an amazing job helping out – Grant, Paul, Rohan, Mark, Scott, Brett, Scott, Nick, Sarah and of course Mandy our fantastic TM who brings it all together. Apologies if I have missed anyone.
Also, thank you to everyone who helps with warm ups. We really appreciate your efforts.
See you at training.
Go Roy Girls!
Scott
FUN; RESPECT; TEAMWORK; DEVELOPMENT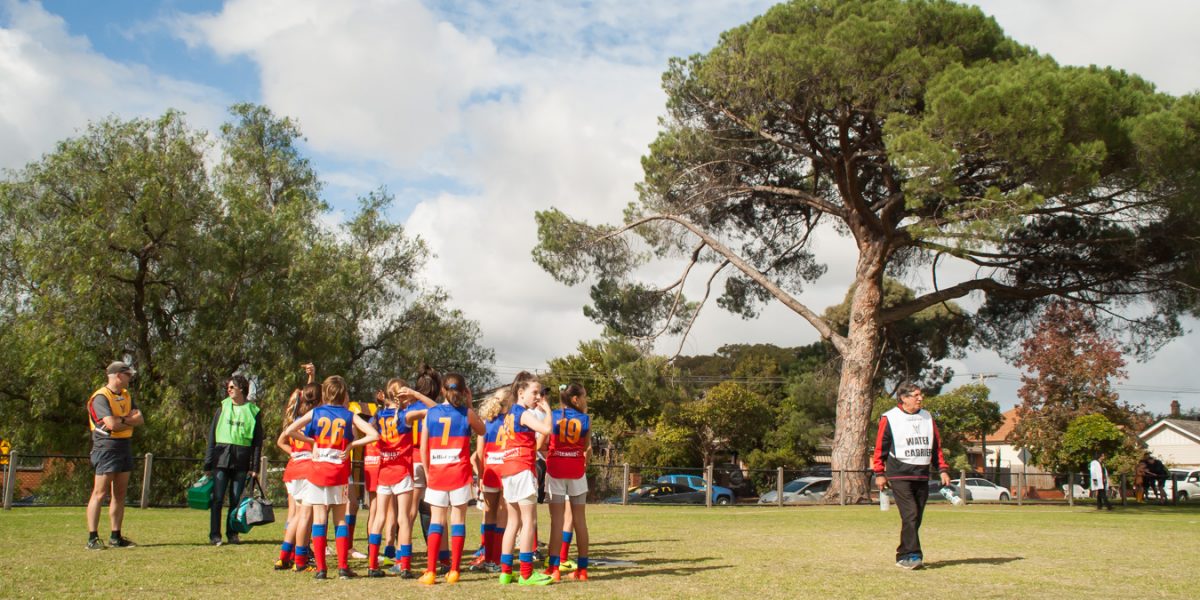 Match Report - Round 2 v Templestowe - 30/4/2017 (Alfred Crescent)
Fitzroy  8.10.58  defeated  Templestowe  0.2.2
Hey Team,
Well it IS nice to have a win under our belts, isn't it ?
I hope you have all been shamelessly basking in the glow.
It's pretty apparent the team took a fair swathe of information on board over the last week and the learning curve has been impressive.  What is very clear is how quickly we are gelling as a group, parents and players alike. The coaching team is still tweaking routines and job descriptions here and there, but by and large, we are ready to settle into the season.
Great to see the girls give their all, even when playing on the opposition team, and taking tangibly more risks with kicking, tackling and marking. Also beaut to see them hold their positions on the field but also experiment with how far they can push them before they understand the consequences of not being back in position when necessary. Something to work on. Most players had a go in the forward, mid and backline positions over the game which is what we intend to do our best to keep up over the season.
Team song …LOUD  and PROUD …
GO ROYS!
FUN; RESPECT; TEAMWORK; DEVELOPMENT
Cheers
Samira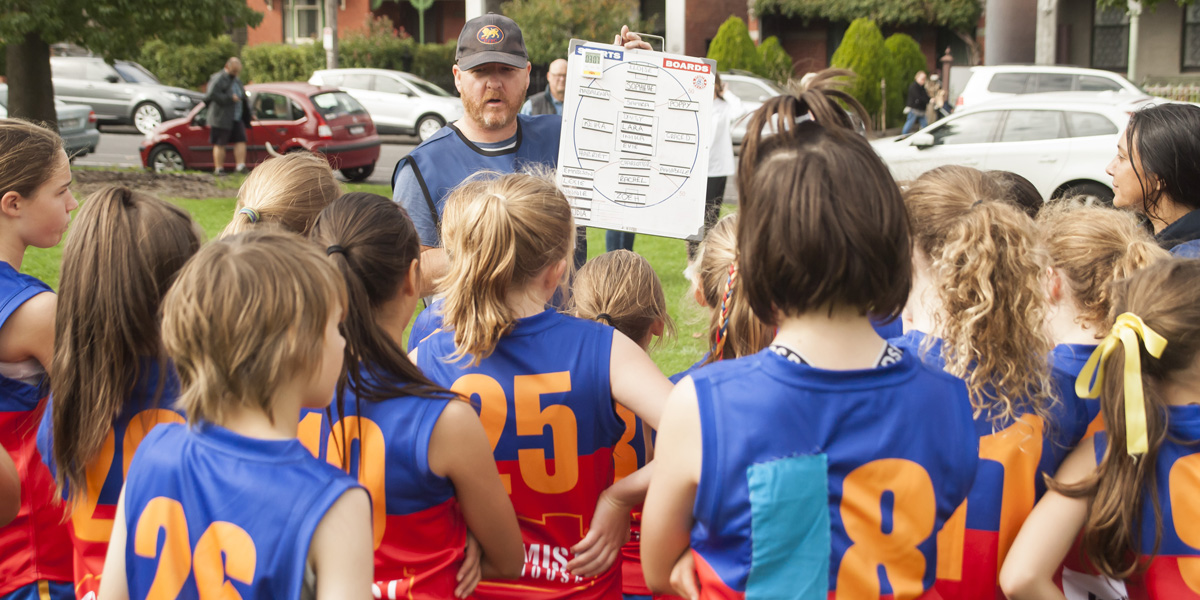 Match Report - Round 1 v Banyule - 23/4/2017 (A J Burkitt Oval)
Banyule  10.6.66  defeated  Fitzroy  1.0.6
Thank you to parents who performed match roles on the day, to Mandy for lining it all up, and to all parents for getting players to the game on time.
Despite the loss, Scott and I saw a group of players with impressive pre game focus, coolness under pressure and a determined unwillingness to give up. We managed to keep an experienced team, used to playing with one another, accountable. Our second half particularly, demonstrated this.  It was great insight into both the spirit and talent of or our team.
It will take a few games for us to gel as a group, to develop individually and as a team, and to find the positions that best suit our players when it counts, whilst staying committed to giving every player a chance to try all the positions on the field.
CONGRATULATIONS TO ALL OUR GIRLS WHO HAD THEIR VERY FIRST GAME ON SUNDAY.
GO ROYS!
FUN; RESPECT; TEAMWORK; DEVELOPMENT
Cheers
Samira