Youth Girls Division 2 2016
Contacts
Coach: Michael Reeves
Coach: Gray Barton
Team Manager: Dave Munro
Captain: Molly Eastman
The Team
#1 Josie Laufer
#2 Lara Peters
#3 Georgia Reeves
#4 Natalie Cappelletti
#5 Lola Pilkington
#6 Amelie Lay
#7 Molly Eastman
#8 Matilda Lourey
#9 Claudia Carter
#10 Maddy Guerin
#11 Abby Reeves
#12 Emily Drew
#13 Coby Lowrie
#14 Nell Morris-Dalton
#15 Tess McDonald
#16 Gabriella Stewart
#17 Kate McKenzie
#18 Maeve Barton
#19 Ruby McDermott
#20 Nasteho Hashi
#21 Heather Munro
#22 Charlotte McKinlay
#23 Jayde Jenkins
#25 Charlotte Croome
#34 Shiraz Asoulin-Moore
#35 Bridie Fitzgerald
#41 Bryanna Meaden
#? Maia Jessop
Links
How did we get here?
An end to the Roy girls run for 2016
A wet and miserable late match boded ill for the Fitzroy youth girls in their first-ever preliminary final. Not only have we had a poor showing in the cold throughout the 2016 season, but we have also had a particularly bad run in late afternoon matches. This didn't stop the team from running out hard, and although their warm-up was conducted in a chilly downpour, they seemed keen to take on last years' premiers Bulleen. Our previous history with this team was one win (at home), and one loss (at Bulleen), so we knew we were in with a chance, but that they would take it right to the wire.
Early on, there was far more play in our fifty than the opposition's, yet the lack of a score on the board can be attributed to the nerves that were running at a maximum for both teams. Abby (11), Maddy(10), Molly (7), Jayde (23) and Ruby (19) all worked hard getting to the ball, putting their bodies on the line, and creating plenty of stoppages. Georgie (3) was another player who seemed to be getting her hands to the ball, but the Bulleen defence was solid and play just didn't seem to go near our big sticks.
Our defence were certainly not sleeping on the job, with Lara (2) marking and tackling like a fiend. Kat (22) kept her cool and played plenty of good footy, too.  Tilly (8) and Tess (15) contributed to a good passage of play down field, meaning that it took Bulleen the better part of 17 minutes to get a major score on the board.
Some lovely tackling by Charlotte (25) was to set a tone of consistency for the entire match, as the Roy defenders made Bulleen work for every scrappy point.
The first siren left the shivering  spectators wondering why there weren't more points on the board for Fitzroy, given the teams seemed very evenly matched out on the field.
Quarter time: Bulleen 1-3-9 Fitzroy 0-0-0
Early in the second quarter, Bulleen worked hard to scrounge two goals from our defenders, and it seemed that they were able to steady and lift despite the worsening weather. Molly led by example, putting in second and third efforts, and her customary turn of speed seemed even faster than usual. Maddy seemed to be everywhere at once, and our entire defence line played their hearts out, but Bulleen still got 4 goals for the quarter. At a point when it seemed we would get no joy from this day at all, Molly sent a screaming kick straight to Charlie (17) for a lovely mark, but again, little result for some lovely play. Amelie (6) was instrumental down the flank on more than one occasion, however, all of our endeavours netted us only a point for the quarter.
Half time Bulleen 5-7-37   Fitzroy 0-1-1
The third quarter started in serious rain, and a temperature of 13'. This only seemed to spur our girls on, as Maddy had a tilt at goal early, only to be thwarted by a terrible bounce. The next few minutes seemed to be all Fitzroy, keeping the ball well away from the Bulleen 50.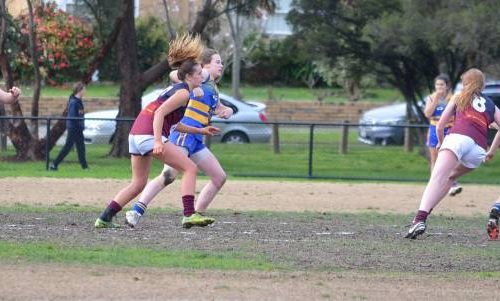 While the Roys were relentless in their attack, the Bulleen defence was right on top of them at every turn. While photographers and spectators alike retreated to cover, the game went on, and no-one on-field had the chance to shiver, as it ranged all over the slightly sloping oval. Some satisfying marking by Charlotte, and the running, kicking intensity of Tess, meant that the score never quite felt beyond the Roys. However Bulleen put all of their finals experience to work, and stacked on 2 goals 3 for the quarter. A clever read of the play by Tilly got a good pass in to Maddy who was able to goal not long before the siren, however we came together at three quarter time with a big job ahead of us. By three quarter time, the temperature was 12'.
¾ time Bulleen 6-10-46 Fitzroy 1-2-8
The final quarter saw no dampening of spirits for the Roys, who seemed determined to take this opportunity while it stood before them. A quick goal from Molly looked to be turning the tide for Fitzroy, however it wasn't long before Bulleen grappled for control of the ball, until a tidy mark from Jayde stopped their progress. She wasn't the only one, as Abby also took a lovely mark to keep Fitzroy in possession of the red pill. Coby was rucking strongly, and there never seemed a moment where we weren't fully participating in the game.
Second endeavours from players like Bree, Jayde and Emily, and great tackles by Lara kept Bulleen from feeling too complacent about the end score.  Suddenly, when all seemed lost, a huge run from Maddy led to a decent kick straight into the hands of the goal umpire, and we had our third major on the board for the day.
While we had more pairs of legs on our interchange bench than Bulleen, it was not enough to get us over the line. Bulleen had peaked at the right end of the season, and while we had been able to best them earlier in the year, we had clearly spooked them into lifting their game. They had a second premiership in their sights and they were not about to let that go (despite Fitzroy's best efforts). The final quarter scores were 2 goals 3 to 2 goals 1, which prompted one wit to suggest that a fifth quarter might have turned the tide.
Full time Bulleen 8-13-61 Fitzroy 3-3-21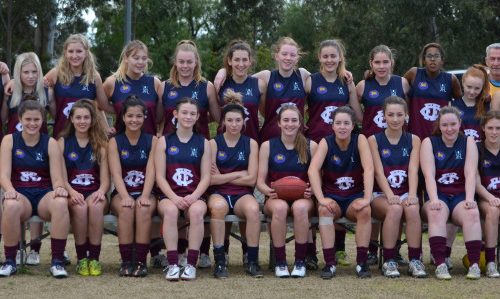 Our girls played so strongly until the finish – you made us all so proud! In particular, we leaned very heavily on Molly (7) and Maddy (10), while Charlotte's (25) safe hands in the back-line proved their worth fifty times over. The development of skills over this year can never be underestimated, and our Roy girls are not the raw recruits who started training back in March. Our coaches, Michael and Gray, and runner Mark, have provided the knowledge and skills to get our girls to a point where senior teams are watching them play and doing some serious recruiting.
It's a pretty rare thing when a team starts the season with five straight losses, yet manages to make it to the preliminary final. Our team have done the maroon, blue and gold proud. Those that are getting The Golden Boot (our seniors – Charlotte Croome, Molly Eastman, Coby Lowrie, Ruby McDermott, Tess McDonald, Charlie McKinlay, Kat McKenzie, Heather Munro, Lara Peters, Abby Reeves, and Bryanna Maeden), we hope you leave with a sense of accomplishment. For the fifteen left behind, we hope you remember all the good from this year. We are all looking forward to cheering you on in the 2017 season.
More photos here
Go Roys!
Saving their best for last
It was a beautiful day for football as Fitzroy Youth Girls and Whitehorse Colts W assembled at Victoria Park Lower in Kew for their semi-final match. The teams have similar styles of play, with fast mid-fields and strong key position players in half forward and back. Everyone knew the match could go either way.
Fitzroy lost their first game against Whitehorse (round 5) partially through fitness, but even more so from a lack of structure. Individual efforts are never enough against a team who work together. In round 5 Whitehorse ran in numbers, protected each other and used their good passing and marking skills to advantage. In round 11 Fitzroy was more focussed, particularly in the third quarter after Whitehorse got a kick ahead at half-time. The Roys used their speed and willingness for second (and third) efforts in contests to take the win.
So with one game apiece during the home and away season and an opportunity to move into the preliminary finals up for grabs, the stage was set for a great game.
The first quarter was very even. Fitzroy had more inside 50s, but Whitehorse kicked straighter, leaving only three points the difference at quarter time.  After a Whitehorse goal, the nerves seemed to settle, and Nell (14) kicked our first goal. Shortly afterwards, Emily (12) kicked a ripper, weaving through traffic deep in the forward pocket. It was a sign of things to come for Emily who ended up with three goals for the day, and was instrumental in at least two more.
Fitzroy 2.4.16 to Whitehorse 2.1.13
Coach Michael urged the players to be first to the ball. The Roys bench was larger than Whitehorse, so while the skills were even, Fitzroy had the opportunity to run their opposition into the ground if they went hard and used their rotations.  However, Whitehorse kept within striking distance of Fitzroy. The inside 50s were more even this quarter, but solid work by the defenders kept the Colts to two goals. Bree (41) raised a huge cheer from the crowd with first of three terrific marks for the day. Overhead in a pack, as strong a take as you will see at any level, I wish there was a highlights reel. Heather (21) and Charlotte (25) were also strong in the back line.  At the other end of the ground the Roys added another three goals thanks to Ruby (19) – twice! and Molly (7) to stretch the lead at half time to ten points.
Fitzroy 5.6.36 to Whitehorse 4.2.26
Fitzroy kept Whitehorse's hopes alive in the third quarter by kicking 1 goal 8.  They peppered the goals with six points before Claudia (9) finally hit the big sticks (her first for the year, by the way, congratulations!).
Fitzroy 6.14.50 to Whitehorse 5.3.33
Clearances were pretty even until the final quarter, but being able to rotate the rucks, Nell, Abby (11) and Coby (13), made a big difference as the Roys started winning clearances all around the ground. Molly (7) seemed to be receiving the ball from every one and finding space to have a run.  Nell (14) and Maddy (10) both put in excellent second and third efforts. Josie (1), Lola (5) and Bree all had turns too. A couple of sweet set shots from Nasteho (20) resulted in satisfying goals. It was a delight to see Emily (12) collect the ball, put her body on the line and turned to kick as lovely a goal as has ever been seen in Aussie rules. Our indomitable Tess (15) also had her tilt at the big sticks, which helped keep the team's spirits running high. With quarters running a little longer in finals than during the season, Whitehorse went as hard as they could. While all the players' legs must have been hurting by then, the Roys' bench kept up their high speed rotations and kept at the contests to run out the game strongly.
So Fitzroy move on to meet Bulleen, and Whitehorse have to ponder what might have been.
Fitzroy 10.14.74 def. Whitehorse 6.6.42
More photos here
Finals Preparation Starts Now
It was a magnificent Sunday at the Brunswick St Oval as the Roy girls ran out for the last match of the home and away season 2016. Scarcely a breeze, blue skies, and a cohort of Fitzroy senior match-winners on the hill to encourage our girls. But our traditional rivals Ivanhoe were never going to let us waltz off the ground, and ran on with an attitude that was always going to be difficult to beat.
After a depleted couple of matches, we had a stronger cohort this week, while Ivanhoe seemed to have picked up their numbers and intensity as well.
"God they're fast" was the opinion of the Roys on the hill as they watched Molly (7) break out of the pack and make a quick pass to Maddy (10), who handed the ball on to Nell (14). All of the speed took a long time to be converted, though, and the first score for either side only came at the nine minute mark, when Ivanhoe scraped a behind, and followed it in with a goal.
With an opportunity to reset, we saw a lovely tackle from Emily (12), and plenty of work in worrying the ball towards the goal. Lola (5) had plenty of touches, but again the team found it difficult to get the ball inside fifty.
Ivanhoe pressed their advantage, only to see a lovely mark into the very safe hands of Charlotte (25). There was plenty of determination by Bree (41) all day, and a great tackle by Jayde (23) was typical of her endeavour.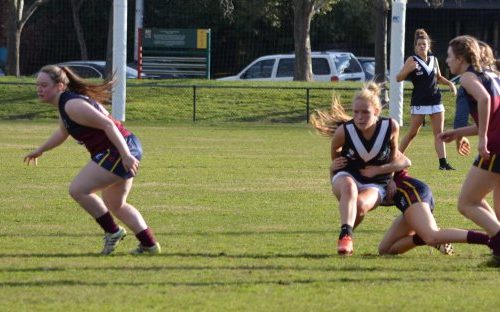 Ivanhoe managed another point, and tried out the "lock-it-in" trick so favoured by coaches, but our defenders were solid in their endeavour, and sent the ball forward. As the ball was rucked out into the midfield, we saw Nell kick a stonker way up the field, shepherded beautifully by Kat (22), giving Ruby (19) the chance to have a tilt at goal. While we only managed a point, the "lock-it-in" proved its worth for us, as Nell took a fabulous mark and sent the ball straight between the big sticks.
At the end of the first quarter, scores were near tied, but the sense was that Ivanhoe had had more control of the quarter, especially in terms of structure and making position to receive the ball.
Quarter One: Fitzroy 1-2-8 Ivanhoe 1-3-9
The second quarter saw renewed endeavour on the part of the Fitzroy cohort, although we still had difficulty converting a ball arriving in the fifty into actual scores. Some nice work by Amelie (6) in the tackle and smother department meant that Ivanhoe had to work for every crumb. Still, the ball made its way into the hands of their full forward more than once, and she was not slow to capitalise on the possessions. The usual suspects in the back line worked seriously hard, rushing behinds, and giving Charlotte (25) the chance to create some lovely clearing kicks, but it seemed that the marks just weren't sticking further up forward.
Halfway through the second quarter, the score had blown out to 29-8, and there was a palpable energy drop on the field across both teams. Perhaps it was the brilliant sunshine, or perhaps they had all run too hard in the early part of the quarter, but there was to be only one more point for the quarter, and that to Ivanhoe. That's not to say that there weren't some nice notes in the play – Charli (17) took a lovely mark and passed it on to Ruby (19) who was playing her usual hard game, and we saw several players including Georgia (3) Heather (21) and Lola (5) in the middle of contests.
At half time the players stayed in the centre in the sunshine, with the scoreboard standing still for Fitzroy.
Half Time Fitzroy 1-2-8 Ivanhoe 4-6-30
There was no fairy tale ending for Fitzroy this game. Read the first half again if you want the story of the second half. The score was similar too: Fitzroy collected another 1.2.8 while Ivanhoe added 2.2.14. Maddy (10) kicked Fitzroy's second goal after good teamwork to push the ball into our forward 50. All up, individual efforts weren't rewarded as an energised Ivanhoe kept the pressure on Fitzroy all day, to gain a win and end their season on a high note.
Full time: Ivanhoe 6.8.44 def. Fitzroy 2.4.16
Football is a game that is played in your head as much as on the field. We could all feel the game getting away from us, but with two quarters to go Gray observed: "Finals preparation starts Now". Michael reminded the girls that it was the small things that would let them get back into the game. Run to help. Congratulate good work by team-mates. Enjoy your footy. You may not win, but you can still carry the Fitzroy Pride.
Finals start this weekend, and we are lucky enough to be a part of them. And we have the capacity to go all the way – but each and every player needs to find that finals intensity. It wasn't on the field much on Sunday, but we know you are capable of it. Go Roys!
More photos here