Contacts
Coach: Stephen Nowicki
0467 738 760
Assistant Coach: James Henry
Team Manager: Bianca Novello
0412 276 356
Trainer: Sam Mehr
Team Page Editor: Bianca Novello
biancacecchin89@gmail.com
Photographer: Sarah Mortimer
The Team
Xavier Mehr #6
Thurston Walch #13
Thomas Mortimer #8
Sonny Little #3
Patrick Mahady #2
Luke Jr Novello #25
Louis Henry #9
Lewis Nowicki #12
Knox Pain #4
James Clayton #10
Jack Trainor #5
Indra Sondhu #14
Harvey Scarborough #11
Cian McClure #17
Elliot Hall #19
Auley Brown #7
Henry Morrow #20
Tom Wilkinson #21
Coaches Report Round #8 INDIGENOUS ROUND
It could not have been a more perfect morning for football. Well apart from the fact that the U9's start early and it was freezing cold. Thankfully our match was scheduled for a 
10 am
 start this week, and it warmed up quickly.
Since 2011 FJFC has recognised Indigenous Round alongside the AFL. Fitzroy FC is the club where – in 1904, Joe Johnson played as the first recognised Aboriginal player in the VFL. His family are today still connected to FJFC.
First up a big thank you to team manager Bianca for coming along to set up even though she was not going to be there for the game this week. And thank you to Anthony, stepping in as the team manager for the day.
It was great to be playing our neighbour, Brunswick footy club and the boys certainly noticed the electronic scoreboard overlooking the oval, although it was not going to be used for us.
We kicked off with 17 players today, with two players taking their turns on the interchange each quarter. In this game, we really jumped out ready to play, and as a result, delivered what was probably our most impressive first quarter of the season so far. Brunswick held us a little in the second quarter but we kept on pushing and running in the third and fourth quarters to really round out a great game.
A couple of things of note were some really solid commitments to marking efforts. A number of players really attacked the ball and are learning to run hard at the ball, get their first and keep it in front. There were a few really great chains of play this week, with a number of players linking up with handball, running and collecting possessions on the run. It looked really great and it was really appreciated by the spectators. The other thing I noticed was players thinking about their positions and thinking about moving into space and not just chasing after the ball. We created some great opportunities with players both forward and back sitting a kick ahead or behind of the play, learning how to link up.
A couple of special mentions this week. In commemoration of the AFL Indigenous round, FJFC hands out a medal. Brunswick first awarded a medal for the day to Indra, our team captain who rose to the challenge and led the boys marvellously. And a second special medal went to Elliot, the Joe Johnson medal for his efforts on the day. It was really notable that everyone contributed today and a number of players that were less confident in matches at the start of the season are really getting in the thick of it now.
A great team effort.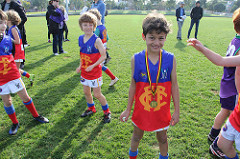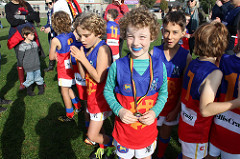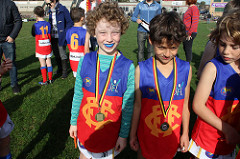 An enjoyable morning, especially as all the parents can now turn their minds to the following two weeks of 
Sunday
 sleep-ins.
ROUND ROBIN #7
Our first round robin carnival. Many of us were not quite sure what to expect. A morning of footy games, lots of teams and kids running everywhere. I think we were expecting it to be pretty hectic.
It was another sparkling morning at the Bulleen parklands, with a fair bit of frost on the fields on arrival. Fitzroy 9.2's had four games ahead of them, and we were leading off the carnival in the first game at 

9 am

 v Warrandyte. Everyone was looking forward to the format and the chance to play some teams that we would not play against during the normal season.
We started brightly against Warrandyte in what turned out to be a low scoring game, with only one goal scored in the 12 minutes. It was noticeable that the goal posts seemed closer together than normal, which was going to make scoring a bit more difficult. The kids were a bit thrown by the quick halftime turnaround of 30 seconds but managed to stay on track.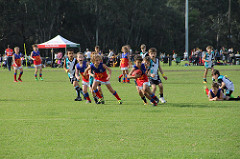 A 45-minute break and then we were up again, playing Macleod. Macleod proved to be a strong, tall, and quick ball moving team. They took some strong marks on the ground and it was a tough game for our forwards.
By now the spectators were realizing that playing in the middle ground that we were on, was the most difficult to watch the game from. With spectators being required to stay off the whole ground, behind the barrier and with no access to the side of the ground, it was really difficult for spectators to see what was going on at the opposite end of the ground. Still, the support they demonstrated was fantastic, and as I was fortunate enough to be allowed to stay by the ground it was really noticeable when we had some good play at the spectator end of the ground, and our supporters cheered our boys heartily.
Game 3 we played St Mary's and we looked really slick and focused on this game. We also adjusted a little to identifying that in these conditions to score goals the team had to get to the ball to the hot spot, at the top of the goal square for someone to kick for goal. For the final game, we were up against the Kew Comets. This was a high scoring and close game. The boys played well in patches but by now our team structure was a bit loose, and the boys started following the ball in packs. There were some great skills on display and it was great to be able to test our hand against a range of clubs that we would not normally get to play. Well done to everyone and thank you to those players that committed to the early games but were unable to stay for the full carnival.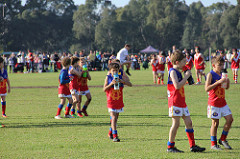 Coaches Report Round #4
It was another super Autumn morning, which was great for our first hit out for season 2018 at Cox oval. It was easy to tell the boys were really looking forward to it, and the parents had really enjoyed the extra hour we had up our sleeves for the game start this week. There seemed an extra spring in the step. It was also great to be able to watch the last quarter of the other U9 Fitzroy team.
If we were playing AFL for a tv audience I expect Banyule would have been required to wear their 'clash' strip but in U9's we are a bit more forgiving. With our full team of 17 again this week we had two players resting on the interchange. Although it got a bit confusing when we were able to introduce 16  a quarter time as Banyule had their 16th player turn up, then Banyule picked up an injury so it quickly went back to 15 for a bit until their player had recovered and we went back to 16 later in the game. Confusing, hey. More so when you are trying to explain to the kids who is off or not each quarter, but they adapted really well.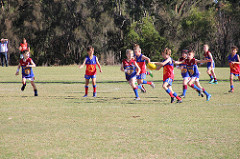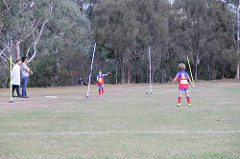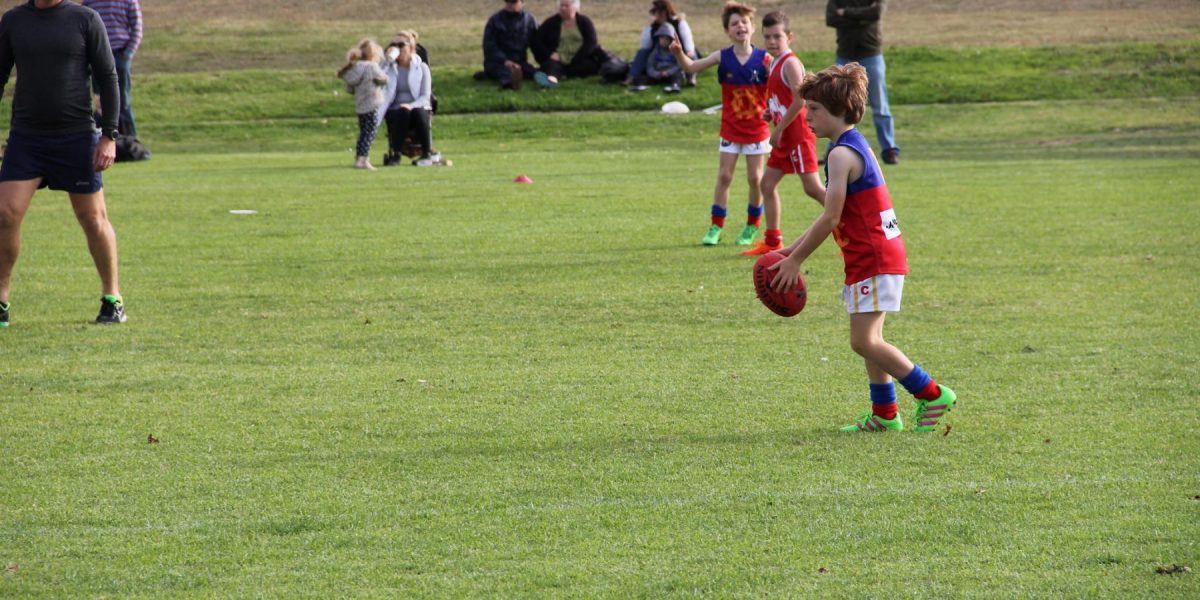 In a first for us, we had our first injury and Sam stepped in for official duties as the team trainer. The organization and process worked seamlessly, so thank you to all who helped.
As for the game itself, Xavier captained the team this week and led with aplomb. He started by winning the toss and choosing to kick to the southern end, which proved to be the scoring end.
The boys worked really well at looking for teammates and trying to pass to teammates in space whenever they could. It was noticeable that with each game the boys are improving their understanding of where to run on the field, and leading into space to get the ball. Each group ran hard through the midfield and made lots of space, and created plenty of scoring opportunities.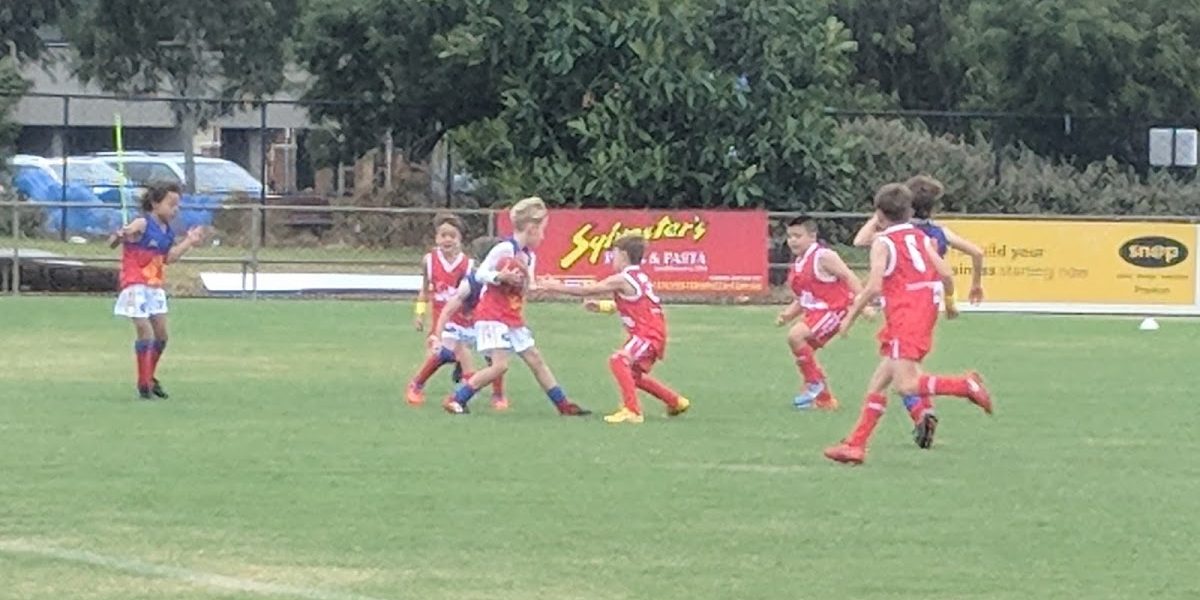 A big thank you to Phoebe for umpiring and really rewarding players making every effort to mark. The boys are really learning to try and play in front, and get to the ball first. A great Round 4.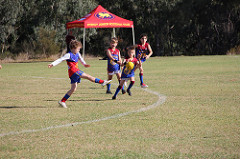 Coaches Report Round #3
Some words from coach Stephen Nowicki.
Another sunny morning had the 9.2 Roys travelling to H.P Zwar Oval in Preston to take on the Bullants. Named after Henry (Dick) Peter Zwar a prominent local businessman, community advocate and politician the oval was a lovely setting for morning football. Zwar was a prominent Preston local, as a significant employer at his tannery that had been on this site, and amongst other duties was President of the Victorian Football Association from 1944-47. The boys were keen to test their mettle against the Bullants second side in our group, having taken on their other side in round one.
Although with a piercing rising sun spectators had to think carefully about where they would stand on the sidelines, and players had to be extra mindful when looking for the makeshift goals at the eastern end of the ground.
It was also notable as being our first match with our full side playing, and with one new player, Henry, joining us on the morning of the match. It would be the first time as a coach I had to think through rotations on the bench.
The boys started brightly and in an extremely encouraging display looked to bring into the game the specific things we had talked about and practised at training. The team really focused on lowering their eyes and trying to pick and pass forward to teammates in space. In the first two rounds they had been slamming the ball onto their boots, but with some match practice and training efforts,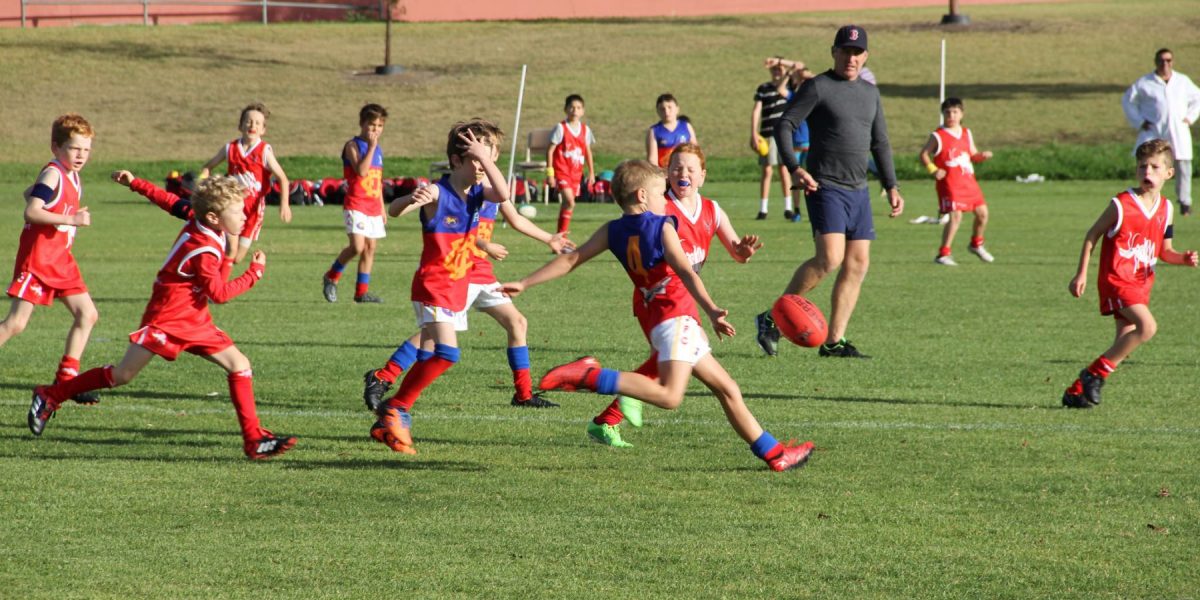 they were really thinking about passing the ball around and looking for players in space. It was super satisfying to see as sometimes it is hard to tell if they are paying attention to training or not, but this was the proof that they were.
The Bullants coach spoke highly of hour teams ball movement, and run through the middle of the ground. As everyone took their turn in the middle it applied to the whole team, in what was a very enjoyable match to watch for the improvement and effort from all the players.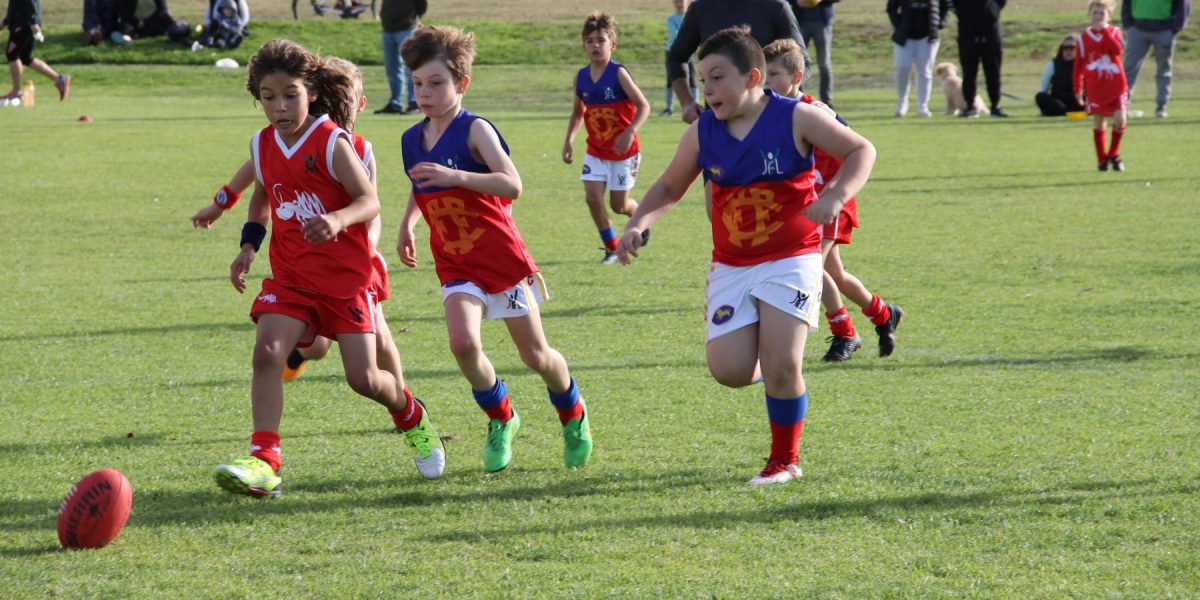 Coaches Report Round #2
A special occasion for round 2, getting to roll up and play on the historic Brunswick St Oval. Even more special given the late change of ground, everyone was still on schedule and there was no need to chase any players wandering over around Yarra Bend. There were however a few mouthguards and playing tops left at home. The machine is still a little creaky.
After round one's drizzle, Melbourne sent us a beautiful sunny Sunday morning. If only it is like this every week. The boys were super keen, and involved and respectful of the ANZAC round service. Linked arm in arm they looked focused, even if a few did ask later what ANZAC is.
The game itself was a turning back of the clock to see Heidelberg (Richmond) Tigers take on the Roys. These teams last seen at this ground on 4 June 1966, when 14,000 turned out to see Richmond beat Fitzroy by 24 points.
Today, the 9.2 Roys started brightly. They moved the ball around, and handballed between teammates really well. They ran, tackled, held the ball in and put lots of pressure on. With most of the play in the Roys forward half it showed they were playing well. However, for some reason that remains unknown as there was no wind to speak of, the southern end remained the dominant scoring end all day. The benefit of an extra season of U8's began to show and Heidelberg slowly got on top in the game. The Fitzroy boys did fantastically well and learnt alot that will be able to put into practice next week.
Stephen Nowicki