Contacts
Coach: Joe Phegan
0416 250 279
Assistant Coach: Alastair Henderson
Team Manager: Tamara Hodgson
0408 007 524
Trainer: Scott Davis
Trainer: Ben Hodgson
Team Page Editor: Andrew Cole
liv.andrewcole@gmail.com
Team Page Editor: Stephen Warne
stephenwarne@netspace.net.au
Photographer: Bridgette Vaughan
vaughan.bridgette2@bigpond.com
Round 9 Match Report
Date: 17/6/2018
Opposition: Templestowe, the weather
Venue: Alfred Crescent Oval
Captain: Thomas Wavish
TEAMWORK – RESPECT – FUN
Last Sunday, Fitzroy had one of their hardest, wettest and coldest games for the season. As Thomas led the Roys out to the ground we all knew it was going to be a tough and cold game.
The first quarter it was pretty even thanks to massive TEAMWORK in the backline and one of the best goals of the year from Alessio, which earned massive RESPECT from everyone. The second quarter, Templestowe got away a little bit but not a lot thanks to a confidence boosting goal from the skipper.
In the third quarter the ball was mostly in Templestowe's half, but only led to one goal thanks to our awesome backline. In the fourth quarter, Templestowe definitely got away from us, mostly because of the wind, and they kicked about 5 goals.
Despite everyone trying their hardest (especially Zac, Seb and Elliot who put their bodies on the line for the team) we didn't come away with a win. I don't think anyone had as much FUN as expected, but, that's footy!
Round 8 Match Report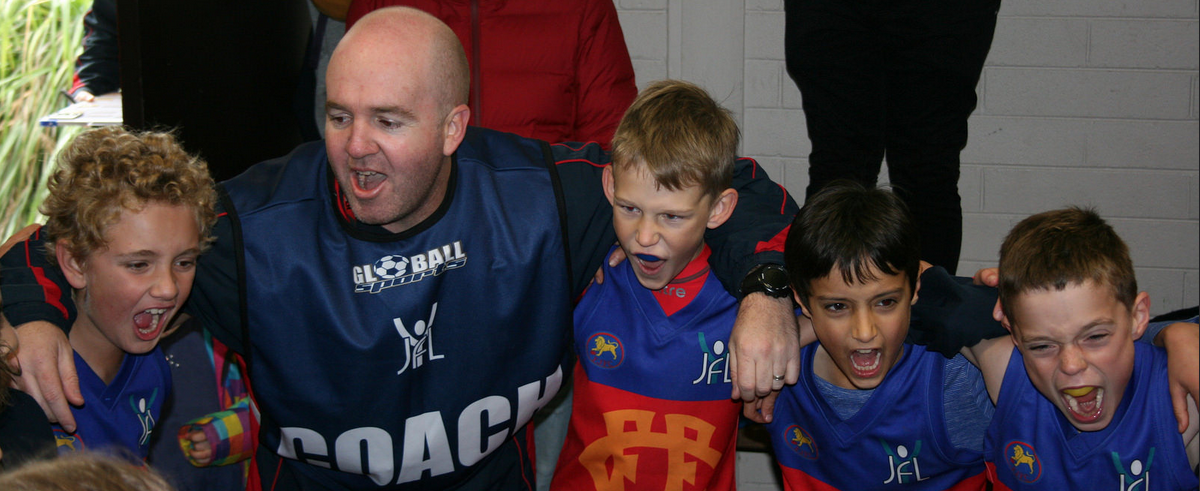 Opposition: Camberwell Sharks
Venue: Lynden Park Upper
Captain: Angus
TEAMWORK – RESPECT – FUN
On Sunday we had a super intense match against the Camberwell Sharks. It was Indigenous round so we pay our RESPECT to the Aboriginal and Torres Strait Island people. Joe acknowledged this with a speech after the game about the traditional owners of our land on which we train and play our footy every week.
During the warm up it was freezing cold. Angus led the way into what we knew was going to be a tough match against a tall and previously undefeated Sharks.
Some of our boys were playing on very tall opponents. Our defenders were under immense pressure when the ball came down on fast breaks from the Sharks and everyone showed great TEAMWORK by getting back to help in defence. One highlight was when Charlie Chesna held the ball up to let everyone get back.
During the match we lost Misha and Will to injuries. We are really pleased to hear that they're okay. Alessio, Darcy and Seb kicked our goals.
At the end of the game, with only 16 players left Elliot touched it on the line and Alessio took a goal-saving mark with ten seconds left. Both of these efforts saved us from defeat.
The Joe Johnson medal is awarded to a player that shows Endurance, Tenacity, Courage, Loyalty and Pride. It's no surprise that Alessio won the medal because of his amazing 4 quarter effort. I won the opposition medal.
We all had heaps of FUN as did coaches and parents while singing the song after the game.
Hamish#22
Round 7 Match Report
Date: 27 May 2018
Opposition: Kew Rovers B
Venue: Stradbroke Park
Captain: Freddie
TEAMWORK – RESPECT – FUN
Perfect conditions for football greeted the Roy Boys at Stradbroke Park but the size of the footy ground and the quality of the opposition provided a genuine challenge. This time we were jumped in the first quarter while Angus showed immense courage in a marking contest, earning massive RESPECT from everyone.
Our midfielders, Hugo, Daniel, Freddie and Elliot battled hard all day, running unchanged on the big oval. Alessio put on a powerful display of marking and with Zac, Zion and Misha, kicked truly for goals, Misha's shimmy and Zion's 'back snap' definitely highlights. However, despite some great TEAMWORK shown by all players with strong marks then handballs to our runners including the Hindson boys it was tough to bridge the gap.
In the back line Tom Wavish and Hamish showed great poise and determination and Charlie put in a great game, acknowledged by all post match. It is never FUN to lose but we played hard until then end and look forward to the return match.
Go Roy Boys. #Freddie11
Round 6 Match Report
DATE: 20 May 2018
OPPOSITION: Park Orchards B
VENUE: ALFRED CRES
CAPTAIN: Elliot
TEAMWORK – RESPECT – FUN
As the siren rang, we proudly ran on to the ground ready to show Park Orchards our best. In the first quarter, we jumped to an amazing start by making space and tackling hard. The ball spent a lot of time in our forward line and our backmen did an awesome job sticking on their players. Well done guys.
In the second quarter, we kept our structure and had some good examples of teamwork. Ollie – what an amazing mark, but what a way to bring your teammate into the game, by passing to Hamish. He nearly scored an awesome goal. Great effort Hamo! Also, Hugo took on two backmen and got it out of there – awesome job.
In the Third quarter, we seemed to get a bit too cocky because that's when Park Orchards quickly rose their score. We didn't show the opposition enough respect. Still, with some coaching from Joe (our awesome coach),we got back on track straight away. In the 4qtr, we did an excellent job of locking it in our forward line, by not letting the defenders get it out.
It was close game and Park Orchards really took it up to us. It was fun playing "Roy Boy footy" Max #18
Round 5 Match Report
DATE: 13 May 2018
OPPOSITION: Park Orchards
VENUE: Domeney Reserve
CAPTAIN: Hamish
TEAMWORK – RESPECT – FUN
This week we took on Park Orchards at their home ground. They came down from Gold and we moved up from Green. In the first half it was a fight for the ball. Our TEAMWORK was great all across the ground, particularly on the wings where we moved the ball quickly. We were able to score goals and our defence held them scoreless. Alessio and Zion had a fantastic game stopping the Park Orchards' tall forwards.
After half-time we had to work harder and give full RESPECT to our opponents. They started hitting the scoreboard and pressuring us with the ball. The siren sound and we put in a great performance even without Darcy and Elliot. We had a FUN time singing the song with Mums in the middle.
Zac #3
Round 4 Match Report
DATE: 6 May 2018
OPPOSITION: Kew Comets
VENUE: Alfred Cres
CAPTAIN: Alessio
TEAMWORK – RESPECT – FUN
Today we played our first home game and everyone was very excited. The ground is the perfect size and the sun was shining!
We got off to a great start, but Kew were a hard-tackling team so we had to show them RESPECT and man up. At half time, we had a good lead on the scoreboard. Oscar's handballs to other players being the best example of our TEAMWORK.
In the last quarter, Seb and Max both kicked goals. I'm not sure who was having more FUN, the boys or their parents!
Ollie #21 & Joe